Bio
Hi! My name is Katie. I am a 28 year old health fanatic/healthy foodie/exercise queen from the beautiful state of Maryland! I think that about sums it up? So why am I here? Like I said in my first post, I am asked all the time how do I maintain my shape, what do I eat, what workouts do I do? Well my friends you will find all that in my blog.
Let me start from the beginning…
I have never been overweight. IN FACT the nickname Minnie (actually my parents branded me with Minnie Pooh but let's leave that part out, K?) came from my small size as a child. It was said a few times "oh she is just a mini thing" and BOOM Minnie Pooh is my death sentence! No really… I think the name is actually cute and I proudly wear my minnie mouse necklace 🙂
Anyway like I was saying, I was never heavy. In high school I started packing on the pounds just out of pure laziness. I played field hockey and lacrosse, but let's face it folks, my school wasn't known for stellar athletes and I did it to keep busy during the school year. I ate whatever I wanted, and basically my metabolism wasn't as great as the rest of the girls. So senior year of high school I decided to change that. You guys may laugh but I alternated Tae Bo Billy Blanks VHS! (wow, does anyone still own these!?) and running/walking on my moms treadmill for an hour a day. At 17 metabolism is wonderful if you start working out. The pounds just fell off. I felt confident and great.
Welcome college. You are probably thinking oh the freshman 15, beer, pizza! NOPE. Not this girl. I hate beer, I hate parties. Pretty much anything social I avoid. Hey it's okay to be a hermit right? I'll hug my DVR for you. But seriously, college I pretty much kept a normal weight. That was until senior year of college. I became an aerobics instructor at the University of Maryland (GO TERPS!) and I became obsessed with working out. I was always in the gym. I specifically picked all my classes to be done by 3 so I could spend the rest of the evening in the gym before studying. Size 2 jeans were a new world to me, so were cheekbones! (round face anyone?) It started to get away from me. Pressure of college, people telling you that you look great, it happens. But you can't keep that up forever. So yeah I left college, started working full time in a doc's office and bam ate my way back up to plumpville.
Enter the worst two years of my life… Between 24-26. PA SCHOOL! What is this you say?
Physician Assistant school, AKA Grad School, AKA pure HELL. Was it worth it? Yes… but I will never ever look back on those two years of life and laugh. Awful studying times. Literally locked myself in my bedroom every night after coming home from school to study, every weekend the same thing. No life at all. Basically it is 4 years of med school crammed into 27 glorious months. Right before I started in May 2009, I had dropped the weight again and was back at my "normal body size". Doing it the right way. Exercising, eating healthy (fruits, veggies, grains), and not overdoing it. But those two years take a toll on a person and wouldn't ya know I graduated in July of 2011 a plumpty dumpty again.
So here I am… 2 years out of PA school and I have finally found success. Working as a full time PA, but no more studying! I have time to workout, I have time to make healthy meals, I have TIME! I lost the weight again by balancing my workouts with yummy DIFFERENT meals. Avoiding the same boring salads, and experimenting with foods that are good for you but taste good too! So I want to show you how I am doing it. Am I 100% satisfied with my body? I don't think anyone is. But I am confident now and I'm determined to keep this up!
So referring back to my nickname, Minnie… Am I a SkinnyMinnie? Well yeah now I would say I am, but I am also FIT! and STRONG! I don't believe in just trying to be thin. I like muscles. I like feeling in shape, not like a twig. As I say, Buff is Beautiful! So do I want you to be SkinnyMinnie? If that's what you want I hope I give you the tips to do that. BUT, everyone comes in all shapes and sizes. Sometimes we just cannot fight our natural body shape. Every shape is beautiful as long as you are healthy about it. So no, this is not a pro Ana, or thinspo site. It's a healthy lifestyle blog. Be smart, and don't hurt yourselves! The key is to just GET UP AND MOVE. 
I love to be active. I like to move. So whether it's a pilates reformer session, a spin class, or a visit with old Mr. Stairmaster (oh he is evil, but works oh so well), I get my bum off the couch to do it. So folks.. SkinnyMinnieMoves
Oh and you will see LOTS and LOTS of the love of my life… my 1 year old Pomeranian Phoebe Buffay (please tell me you know this name!). She is a feisty little thing, just like her mama, but we are best friends  🙂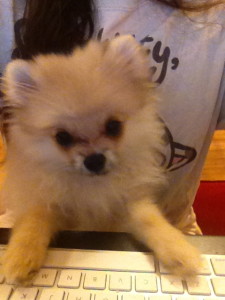 I hope you enjoy the journey, as I try to successfully bring forward my passion. Feel as good as I do…
XOXO with a cherry on top,
-Minnie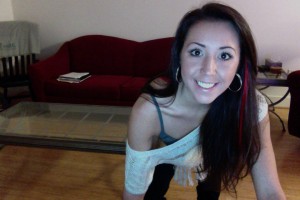 Disclaimer: I am not a dietician, nutritionist, or personal trainer. These are rules I follow and workouts I do to maintain my shape. My day to day job is in no way associated with this blog, and medical advice will never be given. Please visit your doctor before starting any weightloss program, diet, or exercise program.