What I Eat
I'm asked all the time.. What do you eat?
One of my favorite lines someone said to me is "Well I know it's half a piece of toast and a tic tac" Try again lady!
Just because I'm SkinnyMinnie now doesn't mean I don't enjoy wonderful yummy meals. But G-Mama and Dad raised me right, and I've always been a fan of fruits and veggies.
First I do want to say, I did not calorie count to lose my initial weight! Number 1 it was too much work to do that, and number 2, if I went over I felt extremely guilty. And this is not about guilt! It's about feeling good. I just watched everything I ate and made smart choices. During bikini prep I do count my calories using My Fitness Pal on my phone, but also during the offseason I do not count. I know when I over eat and when I under eat!
Also, I don't buy all "fat free" products. Some are okay, but look at labels. Most of the products I buy are "reduced sodium", "all natural" or "1/3 less". You need SOME fat in your diet to keep a fit shape. Plus a lot of the fat free products are LOADED with extra sodium and sugar to give the product some taste. You're better off sticking to the light or full fat stuff!
So to give you a glimpse into what I eat:
Breakfast:
(of course I pick one of these! Not all!)
Only the best oatmeal with fruits, almonds, and chia seeds/ baked oatmeal (same thing just cooked in the oven)/ or slow cooker oatmeal— try this one!
4-5 egg whites with veggies, goat cheese for a tangy topping, one egg with yolk a piece of whole wheat toast, ezekiel bread, or pita for dipping into the yolk 🙂 sometimes i'll add in an apple or other fruit
Protein shakes with fruit on the side. I buy protein powder in bulk online (I like Cellucor the best), and mix it with one cup of unsweetened vanilla almond milk
Greek Yogurt with fruit and chia seeds (usually 8-12 ounces). I like plain greek yogurt and I'll add fresh fruit, cacao powder, pomegranate powder, or goji powder to flavor it up some without all the added sugars the flavored greek yogurt gives you. The natural fruit juices from the added fruit give you flavor as well.
Cottage cheese (no salt added) with jam
Some type of fruit smoothie- try this one with Green tea, or this Peach milkshake version!
2 pieces of wheat toast or Ezekiel with 1 Tablespoon of almond butter/soy peanut butter/or homemade jam. Fruit on side (can ya tell I'm big on fruit?)
Protein waffles
AND OF COURSE anyone that knows me will tell you I have to have my coffee in the morning. I have never been a coffee and food person though. I have to have my coffee first, and alone, then I'll eat.
Lunchie Munchies:
Any of my "snackies" (see below) can also be combined to create a yummy lunch. I often do this because I like variety and I like to pick.
Pita or whole wheat wrap with hummus and grilled veggies (I like grilled zucchini/squash/onion) with fruit
Egg whites folded into a sandwich with a pita and fruit on side
4-6 ounces of any protein, 2-3oz of any carb, unlimited veggies!
Salads with mixed greens, protein of choice, cucumbers, and fruit on side. I make my own vinaigrettes!
Pita pocket or wrap with tzatziki, chopped cucumber, and sprouts, fruit on side
Avocado, goat cheese, and strawberry slices on whole wheat toast– RECIPE
Winner Winner Chicken (Or TOFU?) Dinner:
So when I first started this blog I was still a vegetarian. I am not anymore, but I still eat tofu! I love it. I made the decision to switch back to eating chicken and seafood because I wanted more protein in my diet to gain muscle. My
RECIPES
section is loaded with entrees. So check that out!
Shirataki Noodles with marinated protein of choice, side of Brussels Sprouts, Broccoli, or Squash and a pita with hummus on the side
The Katie Wrap with more veggies on side, a side salad, or quinoa
A big salad with grilled veggies in it with goat cheese, to give you an idea, here is one of my big salads with my homemade dijon dressing and of course… a pita on the side with hummus
Black Bean burgers with a side salad or Peanut Slaw
BBQ pulled tofu shreds in a wrap with grilled veggies on the side
Marinated tofu/chicken/fish, oven roasted cauliflower or broccoli, and a sweet potato on the side
Oven roasted sweet potatoes with your protein
Seitan— WHAT IS THIS…. IT SOUNDS LIKE A DEMON!— calm down it's normal I promise. Basically Seitan ('say-tan') is a meat substitute, sometimes called "wheat meat". It's super simple to make, I make my own rather than buying it in the market. Just made from gluten flour and water! That simple! I eat it with shiratki noodles, a salad, or grilled veggies.
Brown rice/Quinoa/Freekah(a green wheat that looks like rice), bulgur (quick cooking whole wheat, again looks like rice) with a protein and veggies
Baked onion rings (thanks G-Mama), with a protein
Turkey Burger! with a salad on the side
Soups with low sodium broths, I love my clean corn chowder recipe
Snackies:
FRUITS! I love all fruits. My favorite is a banana of course. I'll dip it in peanut butter powder. YUM. But I love all berries, plums, peaches, mangoes, apples, oranges, grapes, melons, kiwis. I don't believe in those crazy muscle blogs that say you can't have certain fruits because they are high in sugars, or heavy in carbs. As long as they are natural, and clean, eat 'em!
VEGGIES! Gosh I've never met a veggie I don't like. I steam them, I sauté them, I eat them raw. I'm big on broccoli, cauliflower, squash and zucchini, Brussels sprouts, pepper slices, sweet potatoes, etc. A lot of the time I'll end up dipping these things in hummus, my favorite bean dip, or my own greek yogurt dip.
My favorite snack lately is Apple Slices with natural peanut butter, PB2 or a tablespoon of Justin's almond butter
Sugar-free Jell-O
Frozen Monkey (Fake Fro-Yo) topped with a little sugar free coolwhip
Sweet potato chips
Jam with a banana bread muffin
Edamame! I swear it's like candy! You can find these anywhere now. I like the one's from BJ's or Trader Joe's that aren't frozen. But frozen works too
Tzatziki with cucumber slices
Greek Yogurt with cacao powder or fruit
Almonds (I like the pre-packaged 100 calorie pack ones)
Dried fruits like mango slices, goji berries, raisins
Freeze Dried fruits
Protein shakes
JAM with corn cakes
My homemade granola or granola bars
So what's my downfall? Everyone has one. Yes I love salt over sweet. Yeah I'd like to rip open that potato chip bag with my teeth every now and then, but really my major issue besides portion control (duh) is dipping things. I dip EVERYTHING. If you put a yummy cheesy dip in front of me chances are my finger is gonna be in that dish within 5 seconds so watch your back jack!
To keep my dipping habit in check, I modify things. I find healthier dips, like my FAVORITE DIP IN THE WORLD featured in The Katie Wrap. And I sometimes make my own. Use plain Greek yogurt as a substitute for mayo (I hate mayo, like my sissy, so this isn't a problem for me), Sriracha (Thai chili hot sauce) to add spice to dips and thicken things a bit, even light sour cream sometimes. I also am a huge fan of Cholula (clean hot sauce)
I also LOVE Hummus. But, I am extremely picky about brand. Once I fall in love with a product, it's hard to change my mind.
Try this brand: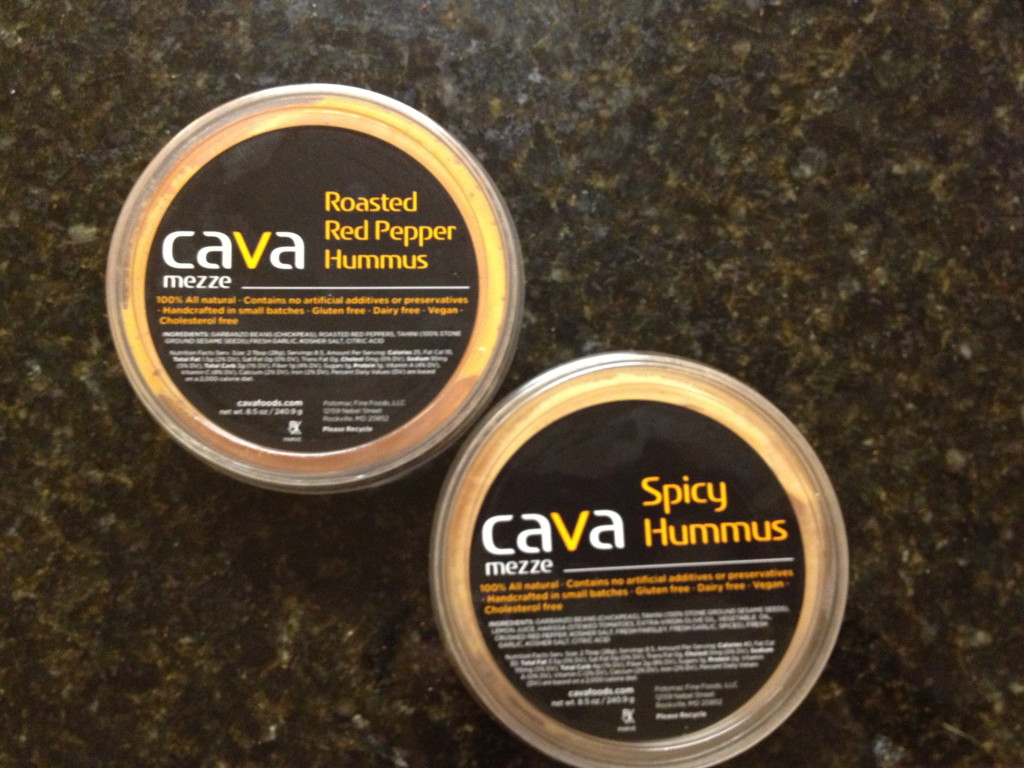 You won't be sorry.
Is this everything I eat? Well no. I experiment with new recipes all the time… but, this gives you an IDEA of what I eat daily and all the variety there is. And no.. I don't just stick to a raw piece of celery!
Happy eating…
XOXO with a Cherry On Top,
-Minnie