Slow Cooker Apple De-Light Oatmeal
My Christmas present is being put to use right away! I've wanted a slow cooker for some time, and I know you are thinking why didn't she go to Walmart, buy a cheapie? Well I'd rather have one that lasts, plus I am paranoid about leaving things plugged in, so it puts my mind at ease if it's a nicer model.
PLEASE be careful with slow cookers. One Christmas my mom burned her hands pretty bad from grabbing the crock pot. It was just awful, and it was a year where we had a huge snow storm so there was no way to get to an ER. Luckily we knew a doc and he called her in something right away 🙂
So lesson learned. Wear pot holders, don't grab the sides, and be careful!
I really am a huge oatmeal fan. It is a gym rats best friend. Loaded with nutrients and keeps you full! I also am a fan of things that taste like dessert for breakfast. Growing up I never ate breakfast, G-Mama had to force me to eat something before school. How times have changed 😉
This recipe is crazy simple. Just prep some apples, throw them in the pot, have sweet dreams and like magic you will have awesome apple delight oatmeal in the morning.
For this recipe you will need:
– 3 apples, peeled, cubed (mine were small, I used 2 granny smith, 1 honey crisp because that's what I had)
-1 cup of old fashioned oats
-1/2 teaspoon of cinnamon
-1 Tablespoon of Splenda Brown sugar
– 3 cups of water
– slow cooker (crock pot)
My crock pot!
Start by peeling and chopping your apples, throw them in the pot

Next add your oats
Add the cinnamon and brown sugar Splenda 
Add water and stir all this up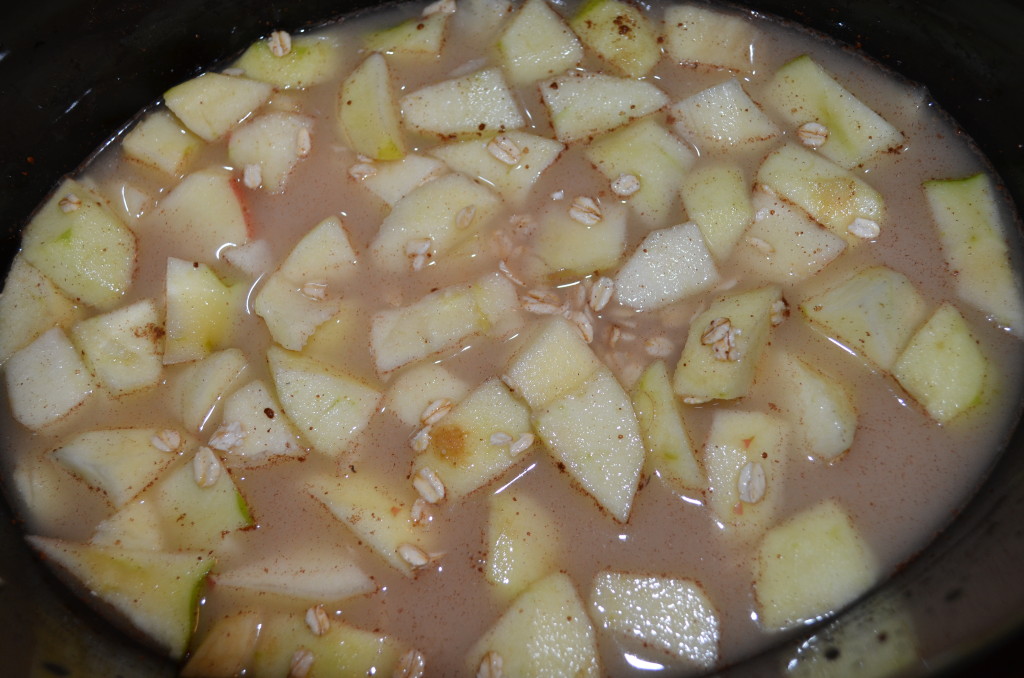 Cover your crock pot, turn on low, let it cook for about 3 and a half hours (I ended up stirring every hour or so just to see how things were coming along)
Then turn it on warm or the lowest setting while you are sleeping.
In the morning you wake up to this!
Once you uncover the lid, your whole house is going to smell like wonderful scrumptious apple pie. You might have to mix a little bit because there will be a light thickened layer on top, but just mix it in and it will be fine.
It's really not even oatmeal, it's an apple pie filling, like I said dessert for breakfast! SCORE!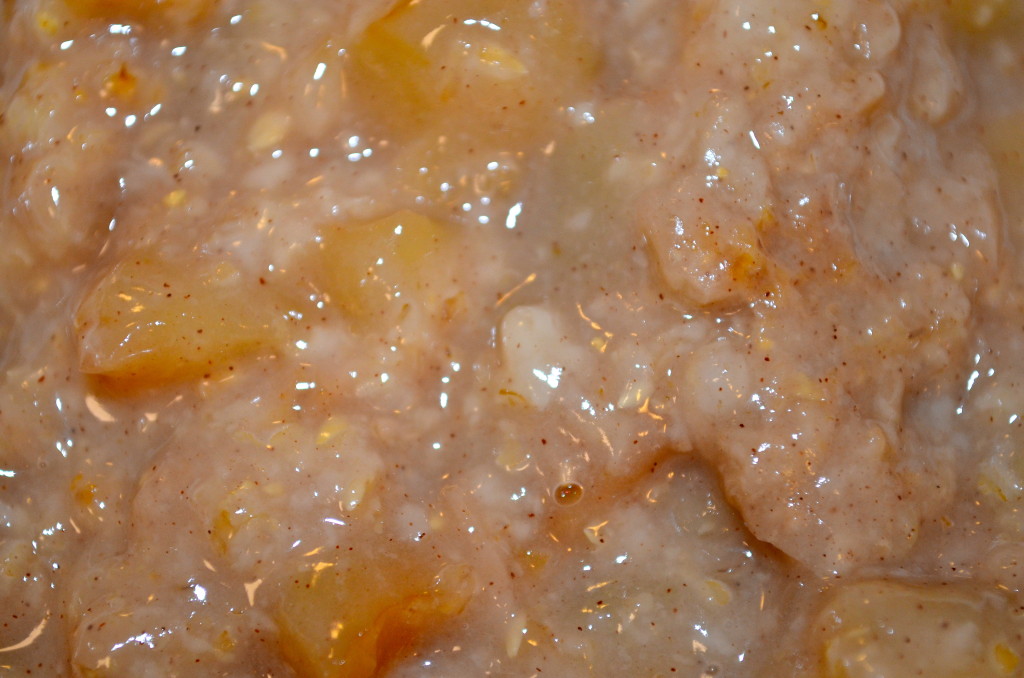 This makes about 2 huge servings guilt free! Beautiful apple delight oatmeal!
Nutritional info: 230 calories, 3.2 grams of fat, 48 carbs, 5.5 grams of protein
Happy eating…
XOXO With a Cherry On Top,
-Minnie