Green Tea Smoothie
Almost every single morning I've had a protein shake since I bought my new Strawberry natural powder! Well time to change it up for one morning!
Lately I've been a green tea ADDICT! I can't stop drinking it. It's so good and wonderful for you! I just read today that green tea also gives you healthy skin! I noticed I was starting to get a nice glow to my skin:)
At Wegman's I also came across some beautiful kiwis! I absolutely love the fruit, but they can be a pain in the butt to peel! I usually do the scoop method with a spoon. Makes it a tad easier.
This smoothie also gave my food processor it's final breath. It had been on shaky grounds for some time (hey what do I expect for 30 bucks at Target?), but the ice in this recipe pushed it over the edge. I don't know how I am going to live now. I use my food processor for EVERYTHING! Basically the sides cracked and green tea smoothie went every which way. I still have a successful smoothie for you guys though 🙂 Nothing stops Skinny Minnie!
For this recipe you will need: 
-1 medium frozen banana
-2 kiwis
-1 cup of fresh spinach (stem removed)
-1 1/2 cup of FRESH brewed green tea (don't use the bottle stuff! full of sugars)
-1/2 cup of unsweetened vanilla almond milk
-1 Tablespoon of chia seeds
-ice cubes
Basically you just throw everything in! Simple right?
I always mix in batches though so I don't overwhelm my food processor… guess that doesn't matter now huh?
I give it a good mix, then add the chia seeds
Next add your ice. I did a good amount because I like it almost like a slushy! Eye ball it 🙂
Serve it up beautifully!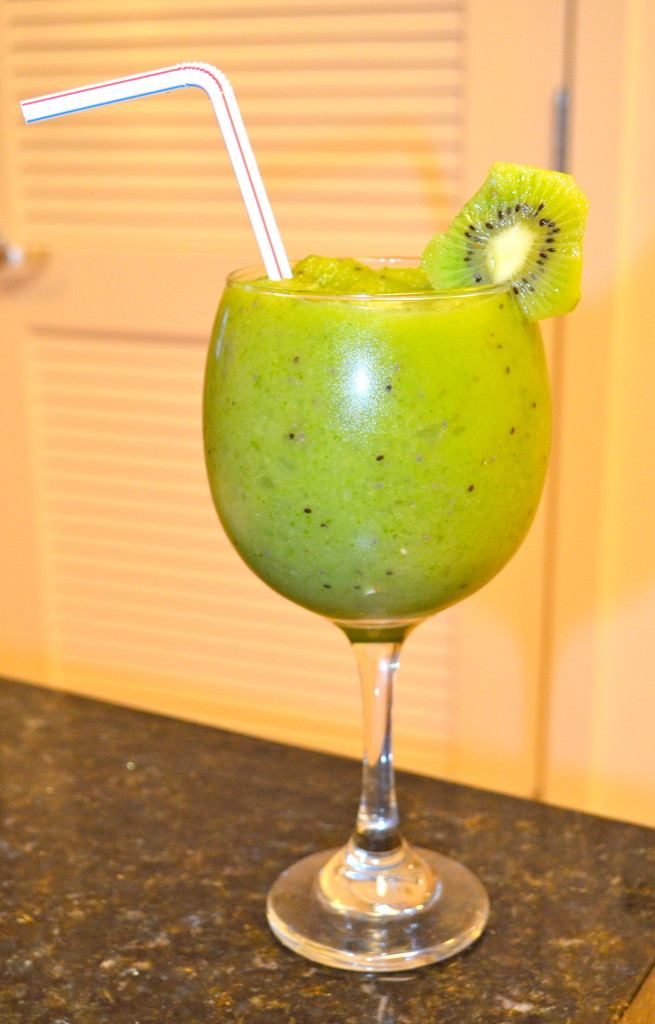 You don't taste the spinach by the way, it just gives it a health boost 🙂
My up close shot of course…
Have leftovers? SOLUTION!
Freeze this for a nice little slushy treat. It's like a green tea kiwi granita! Awesome 🙂 Two treats in one recipe!
Happy Eating… Drinking… Eating?
XOXO With a Cherry On Top,
-Minnie