RAVENS NATION!
BAL'MORE HON! WE ARE GOING TO THE SUPER BOWL!!!!!
I scared Phoebe screaming!
This post will be all purple in honor of the Ravens! My state is really heavy on Ravens pride. Fireworks were going off everywhere, you could hear screams all over. And if I listened close enough I'm pretty sure I heard my Dad's screams and excitement all the way from their house! 🙂 
Superbowl here we come 🙂 OK back to the norm…
Welcome back to the week Skinny Minnie's! Monday's are always rough. I'm lucky enough to only work 4 days a week, so I have off on Monday's but that will soon switch to off on Friday's. Can't wait!
I overslept yesterday morning and it was awesome. I heard Phoebe whining at one point, but rolled over and slept a couple more hours 🙂
I started the morning with my protein shake (after coffee of course) and was feeling a tad fancy
And had a Coconut Berry Protein Muffin!— Click here or the picture for the recipe! They are good for you and delicious!
I went to the store to pick up a few things that I can't get elsewhere. Later today I plan on taking a trip to Wegman's to stock up on goodies for the week. I absolutely refuse to go there on the weekends. I compare it to the MVA on a lunch break! Just don't do it!
Anyway, I wanted to test out Miss Buffay, so I let her roam the apartment while I was gone. I will usually let her do this when I am in the building using the gym, because I know I can just run up the steps. This time I left the building and it was the fastest trip ever. I only live a minute away from the store, but I ran through it and was back within 30 minutes! (She did somehow get her paws on a piece of clothing.. geez). I felt relieved she was okay.. I'm such a helicopter mom!
We headed to G-Mamas and Bella and Casey showed up a minute behind me! We all played Pictionary for a little while and this was one of G-Mama's drawings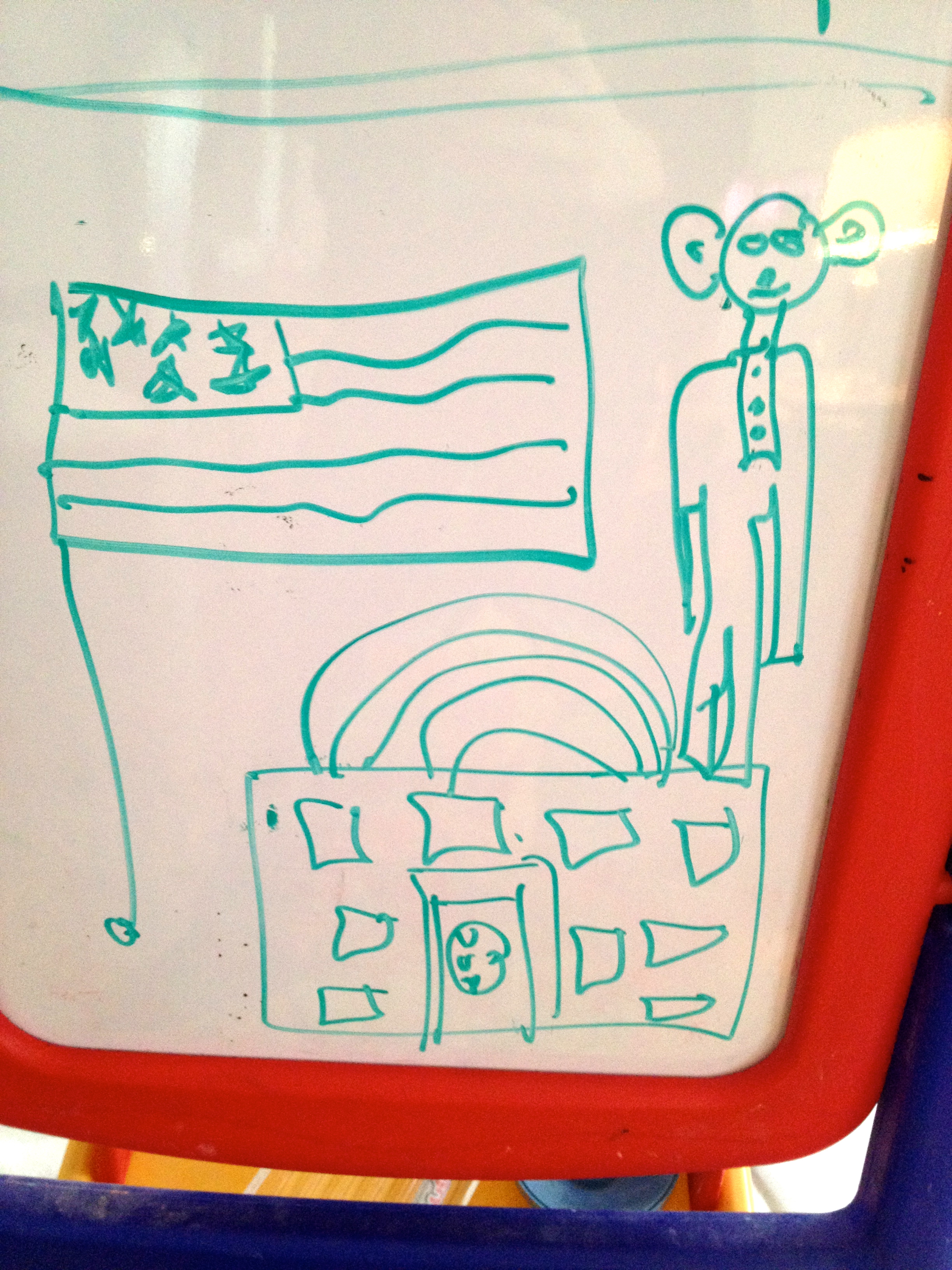 It's supposed to be the Prez @ the White House. I couldn't believe Bella knew it within 5 seconds. I was staring at it like it was a mouse with a briefcase! Only 5 years old and beating her Aunt KK in Pictionary 😉
It was then time to give Phoebs a MUCH NEEDED BATH! Just look at my little dirt ball:
Well I chased her all around G-Mamas house. Bella helped me corner her
Phoebe actually does really good with a bath. She doesn't try to claw her way out of the tub, she doesn't shake water everywhere, she just sits and waits for it to be over! Good girl 🙂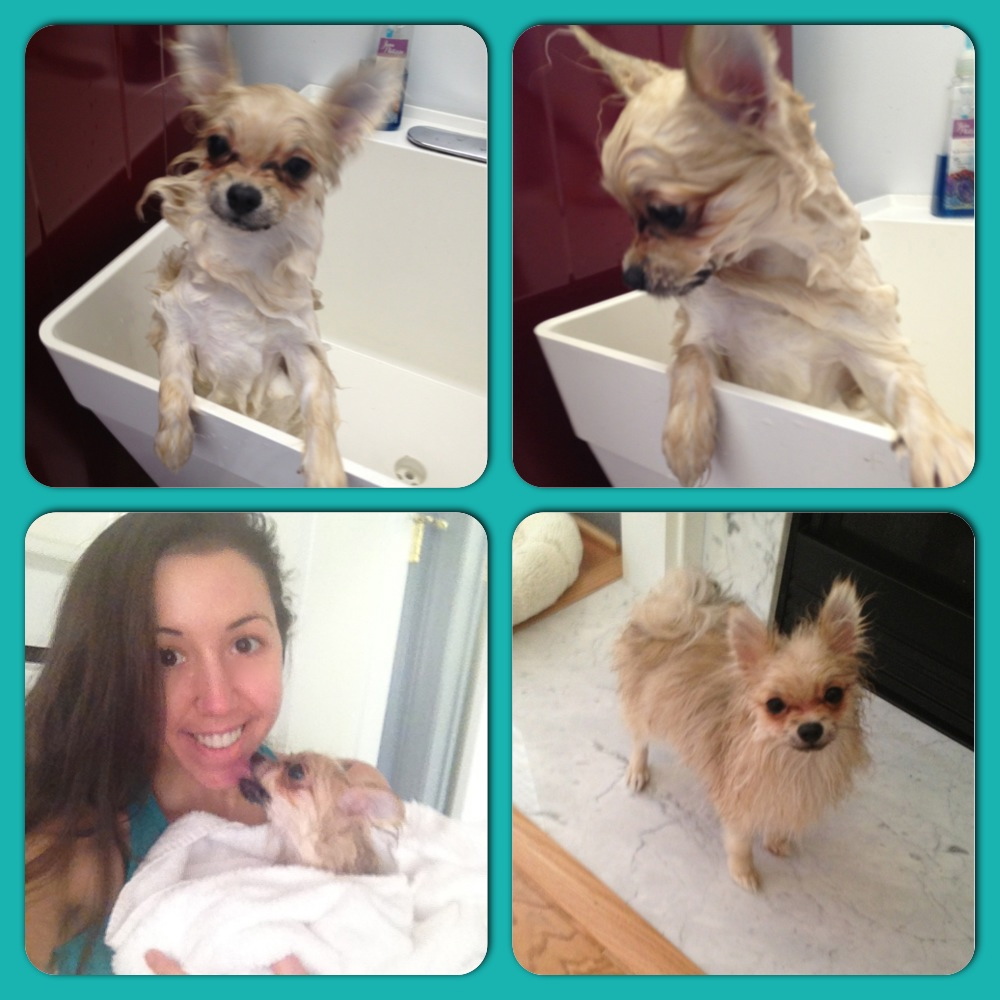 I let her air dry because the blow dryer freaks her out
While Phoebe dried, I headed to the gym for leg day! I started with a 32 minute stairmaster session 🙂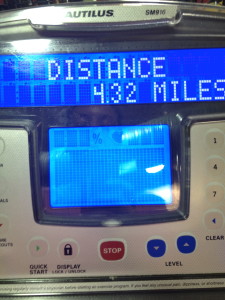 Then I hit the weights:
Leg extensions- 80 lbs, 12 reps x 2 sets, then 100 lbs, 10 reps x 2 sets

Hamstring kickbacks (using hamstring machine with loops)- bend knee and do a donkey like kick, 20 lbs, 12 reps x 4 sets each leg

Hip

add

uction with hamstring machine (foot through loop), 12 lbs, 10 reps x 3 sets
Hip

abd

uction with hamstring machine (foot through loop), 17.5 lbs, 10 reps x 3 sets

Squats with 44 lb bar, 12 reps x 4 sets, 8 pulses at the end of 2 sets

Alternating lunges holding 10 lb weights, 20 reps x 4 sets

Overhead squat with 44 lb bar, 12 reps x 4 sets

Dead lifts with 88 lb bar, 12 reps x 4 sets

Calf presses, 160 lbs both legs, 12 reps x 3 sets, then 100 lbs single leg, 12 reps x 2 sets each leg

Leg presses, 220 lbs, 12 reps x 4 sets

Plie squats holding 25 lb kettle ball, 12 reps x 4 sets with 8 pulses after each set
PHEW! LEGS!
I hit the elliptical for a few minutes just to get my legs moving a little bit after all the heavy work. Felt good 🙂
Make sure you please stretch this out! Your body needs it
At home I made my Clean Corn Chowder again. I just LOVE this dish, and had a little chicken on the side.
Then I took some pics of my beautiful clean puppy!
She looks beautiful doesn't she? I'm such a proud mama! I do have to brush her thoroughly to get out the knots, but I'm going to wait because she's gone through enough today 🙂
Have a wonderful week. I hit arms later today!
GO RAVENS!!!!!
XOXO With a Cherry On Top,
-Minnie