Minnie's Strawberry Melt
I'm glad you clicked me! I promise I won't disappoint. This melt may look like an odd combination but these FOUR easy ingredients come together to make the perfect bite!
The first time I made it, I said wow! Why have I not made this before?
You will need:
-2 slices of whole wheat bread
-1/3 of an avocado mashed (use your judgement)
-1 goat cheese pinwheel or 1 oz
-1/3 cup of sliced strawberries
That's it!
Now take 2 slices of whole wheat bread, I like this kind:
Mash up your avocado until it is almost like a spread. Make sure you buy ripe avocados or this won't happen! (Tip: When in the store, squeeze the avocado, if it has a little give, it's good to eat, you don't want rock hard avocados)
Put this on top of your bread, followed by your sliced strawberries.
Now top it with goat cheese. I like the individual pinwheel goat cheeses because if you buy a log of it, it goes bad quickly! If you don't have the wheels, this is 1 oz of goat cheese. The little pinwheels are good for individual use and portion control 🙂
Now all that's left to do is toast this! (so you have two pieces you have completed, but don't put them together yet or it'll be a huge mess). Pop that baby in the oven or toaster oven until toasty brown and the goat cheese has started to melt.
Cut that little mama in half (diagonal always looks prettier to me!) and Eat!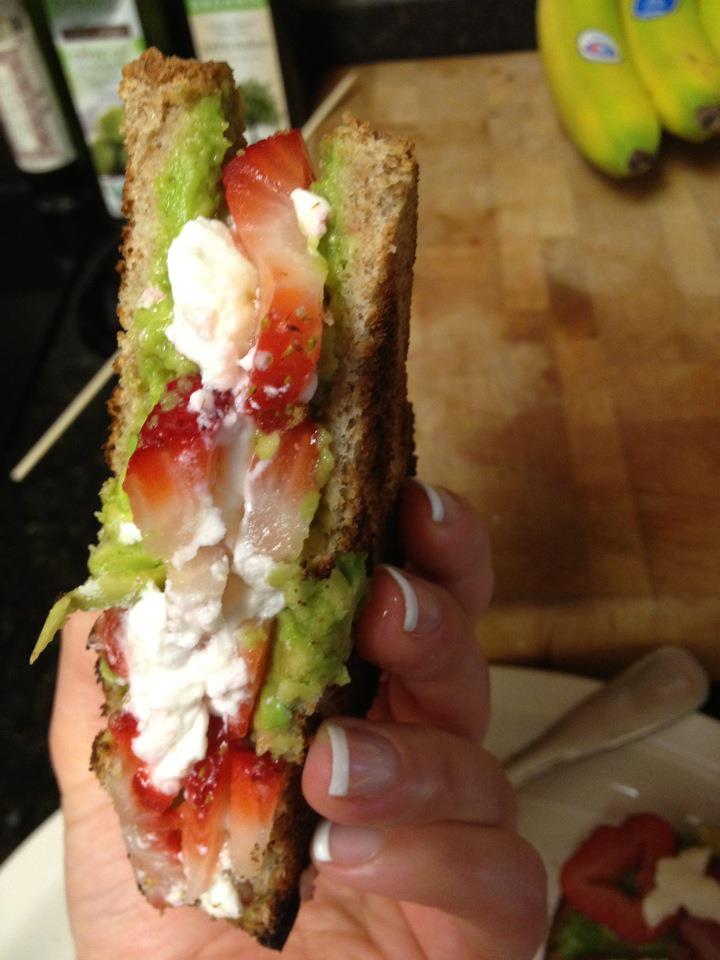 You get a wonderful mixture of sweet from the strawberry, the smooth buttery avocado, and tangy creamy goat cheese! It's a combo of some of my favorite flavors! You can pair it with some sweet potato chips, a side salad, or grapes!
Happy eating….
XOXO With a Cherry On Top,
-Minnie