Clean Eating Granola Bar
Granola bars are the perfect snack. Loaded with yummy ingredients, nutrition, and they're convenient too! Good for on the go. I decided to make some to keep in my lab coat at work so I can have a morning snack after rounds.
Problem is, if you look at the ingredients on any type of bar, they sneak in the not so healthy ingredients! Extra sugars, chemicals, and preservatives so it keeps in your cabinet till the apocalypse.
I decided to make a clean eating alternative to this so I could have them during my 30 day challenge (still going strong by the way and I feel great!)
A couple of hints before we jump into the ingredients. You will really have to SEARCH like crazy for natural dried fruits. If you go to the regular grocery store, almost every single brand has the extra sugar, if you get lucky you can find a few that are just dried and have the natural sugars. 🙂
For this recipe you will need:
-1 cup of whole grain old fashioned oats
-1 Tablespoon of ground flax meal
-1/4 cup of dried currants
-1/4 cup of dried cranberries
-1/4 cup of dried cherries-chopped (or any type of dried fruit without the sugars)
-1 packet of stevia in the raw
-1/2 cup of unsweetened vanilla almond milk
-1 fairly ripe banana, chopped as small as you can
-2 Tablespoons of natural peanut butter
-2 Tablespoons of natural honey
-1 teaspoon of vanilla extract
-1 tsp cinnamon
Also grab some parchment paper!
Start by heating up the almond milk in a pan for a minute or two, then add the banana and vanilla
Once it starts cooking some, try to mash the bananas down further. This is going to be easier with a fairly ripe banana. Mine wasn't as ripe as I needed it, but I still used it and it worked fine.
Things should be bubbling a little bit, but don't have the heat too high, keep it on low to medium so it doesn't burn.
After things start mixing, add the cinnamon, peanut butter, and honey. Stir it up.
Natural peanut butter is a little thicker than regular, so while this cooks down some, prepare your dry ingredients: oats, dried cranberries, currants, and cherries, and stevia in the raw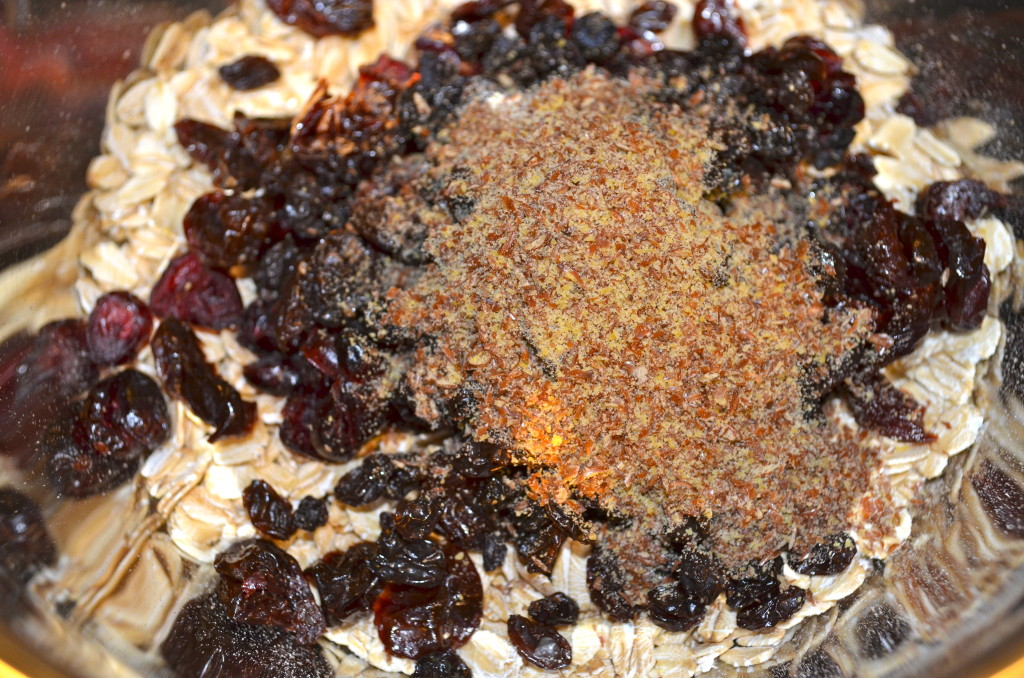 Mix this together
By now your peanut butter should be melted. If not, keep stirring to help it out some!
I then mashed my mix with a rubber spatula a little to get the chunks of banana down to a minimum
Now you are going to add this to your oat mix
It will be quite sticky, but that's good. We need to hold the oats together!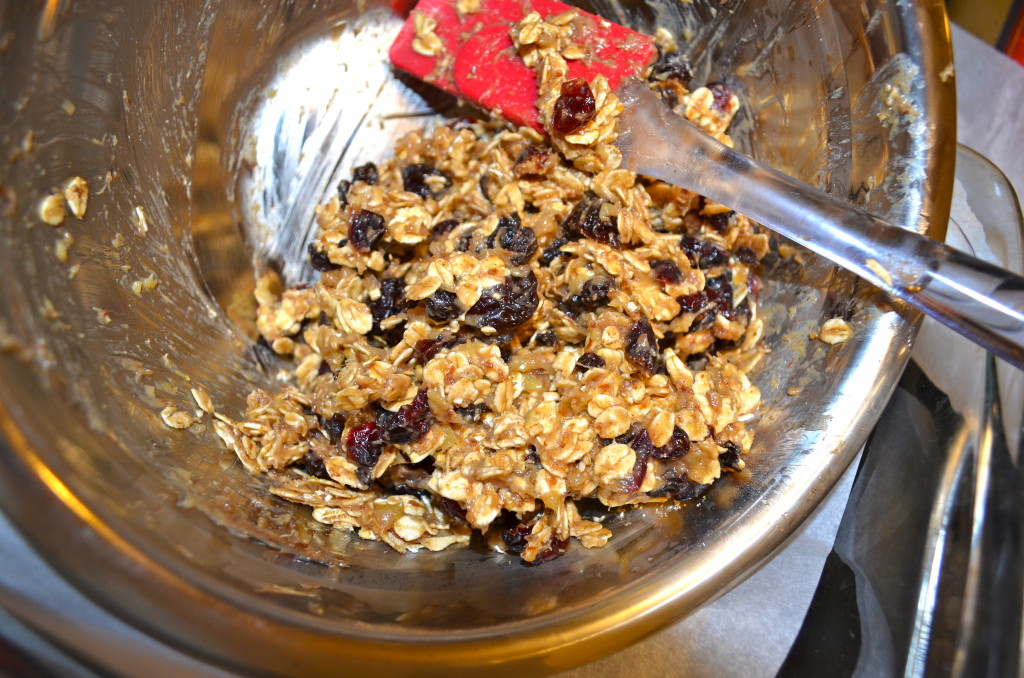 Next line a baking dish with parchment paper and slide the mixture in the dish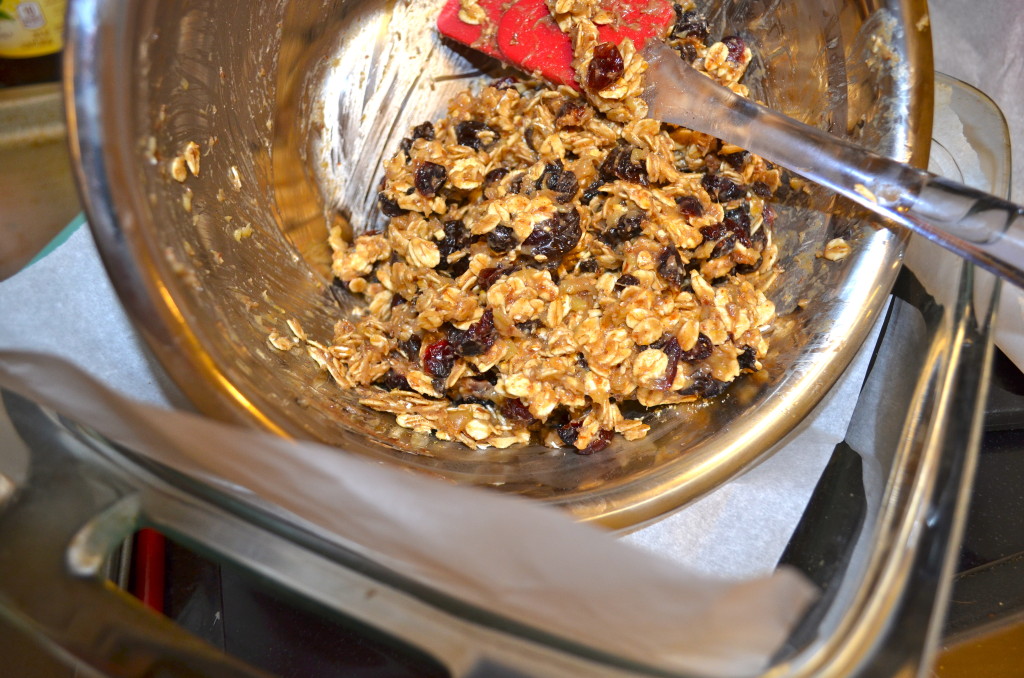 Flatten the mix out evenly and press down with a spoon or your hands. I used my hands even though it was sticky (worked the best)
Pop this in the fridge overnight to set
In the morning take it out and it'll slide right out of the dish!
Peel away the parchment paper
And cut into 8 equal bars
And EAT one!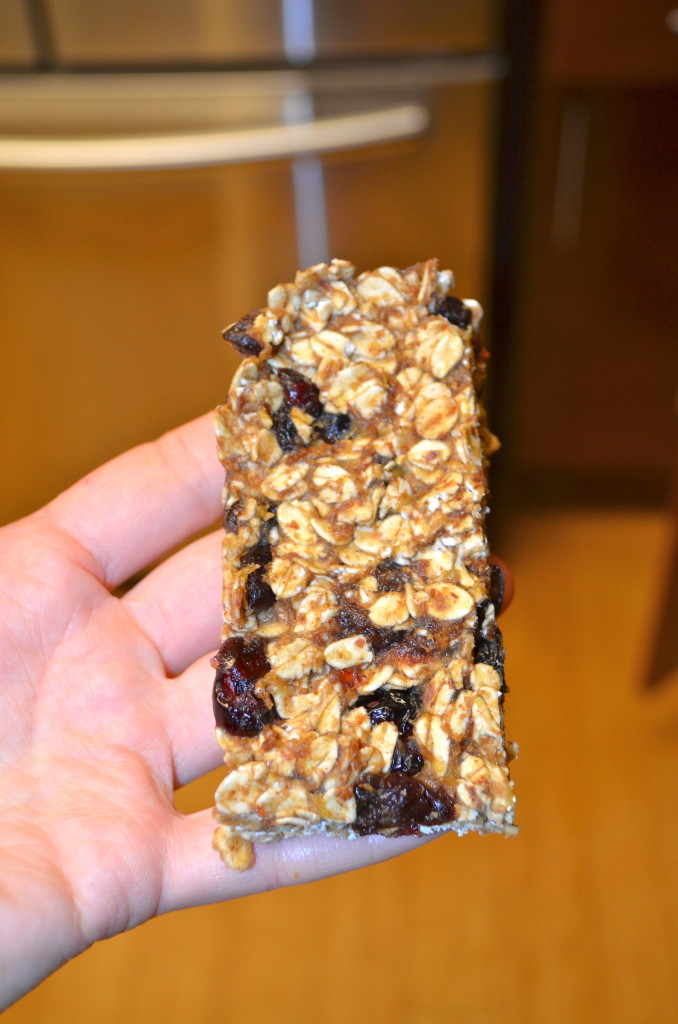 Here's the thing about these. You MUST keep them in the refrigerator. Especially because there are no preservatives and it has the banana.
Because they are so sticky, I put them in individual freezer bags and placed a few in the freezer so they would stay fresh for the week. Don't worry they will not get super hard. I suggest you do this and then just grab one each morning out of the freezer.
I lived on them all week long! So sticky and sweet 🙂
Nutritional info: 102 calories, 3.2 grams of fat, 16.1 grams of carbs, 3.2 grams of protein
BETTER THAN ANY GRANOLA BAR YOU CAN BUY!
Happy eating…
XOXO With a Cherry On Top,
-Minnie