Clean Turkey Chili
More crock pot madness coming your way! Sorry if you are sick of these. It is just so convenient to throw everything in a pot and let it cook overnight or while you are away. It's great for work days, and perfect for busy moms!
Crock Pots aren't expensive, so I think you should invest in one ASAP to make your life a heck of a lot easier. I have been missing out all this time!
I bring a clean turkey chili to you today. It's great for easy dinners, or to pack in lunches with more veggies. A great source of protein, and loaded with veggies and beans to supply your body with the fuel it needs for the day. Plus ground turkey has the good fats in it! I buy 93/7 ground turkey, not the 99% fat free. That stuff has zero taste!
For this recipe you will need:
-1 1/2 to 2 lbs lean ground turkey, 93-7
-1 1/2 cups of water
-3/4 cup of tomato sauce (no preservatives!)
-1/2 zucchini chopped
-1/3 cup of white onion chopped
-1 medium tomato chopped
-1 red bell pepper chopped
-1 small yellow bell pepper chopped
-16 ounces of red kidney beans
-4 ounces of black beans
-1 teaspoon of minced garlic
-1 Tablespoon of paprika
-1 Tablespoon of ground red cayenne pepper
-1 1/2 Tablespoons of chili powder
-1 Tablespoon of red pepper flakes
Start by chopping your veggies
Drain and rinse your beans
Add the beans to the crock pot, followed by the turkey meat, and the garlic
Top with your veggies and spices
Now add the tomato sauce and water
Mix it up, cover, and place on low for 7-8 hours.
Tick Tock Tick Tock…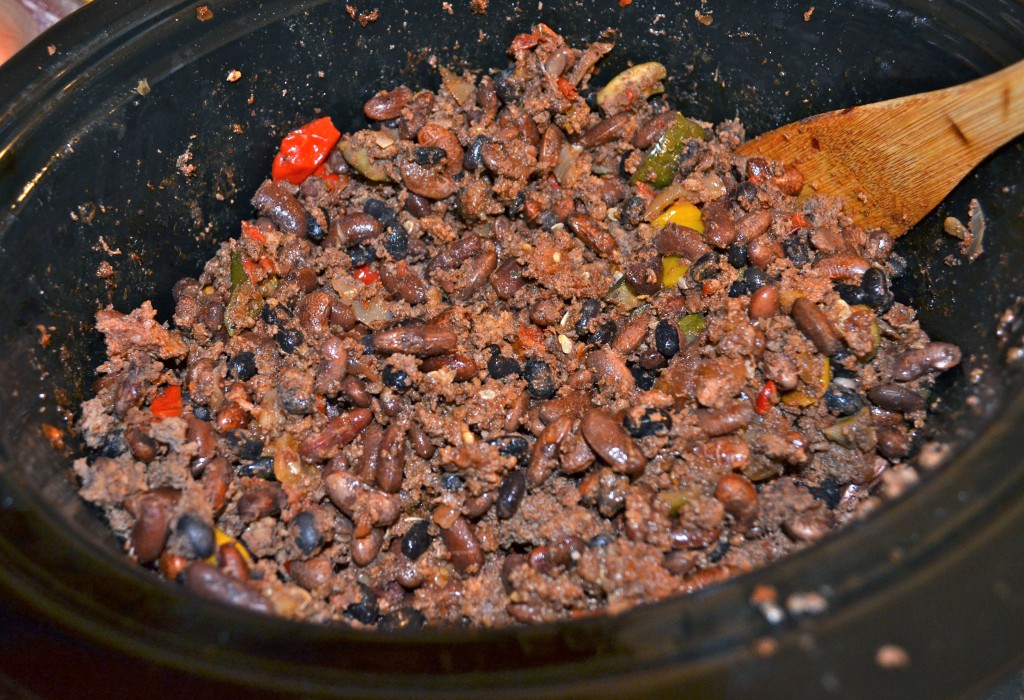 Yummy!
Just look at this chili up close! It's full of delicious veggies, and I just love the beans 🙂 Since they are put in dry they are not mushy!
I had some bites, but it went right in the freezer for emergency dinners and lunches
Enjoy!
Happy eating…
XOXO With a Cherry On Top,
-Minnie