Sexy Treadmill Legs
Hi everyone.
So I thought I'd share with you my current obsession at the gym. A treadmill workout that goes by so fast and it doesn't involve one minute of running or jogging. I despise running on the treadmill. Even when I try it, for the next week my knee kills so I've said goodbye to those days. I have to do what my body can handle if I want to stay healthy!
I created this 40 minute workout I call "Sexy Treadmill Legs". You're getting double the workout- cardio and strength training. Now I do have people stare at me when I do this, but I like to think they are probably saying to themselves "why didn't I think of this?".
Here's this workout that'll change the shape of your legs!
5 min warm-up, 4 % incline, 3.5 mph
3 min lunges, 2 % incline, 1.6 mph
4 min curtsy lunges, 2% incline, 1.6 mph
8 min walk, 10-12% incline, 3.9 mph
4 min squats, 2% incline, 1.8 mph
4 min side skip, 2 % incline, 3.0 mph
2 min lunges, 2 % incline, 1.6 mph
10 min walk, 10-12% incline, 3.9 mph
And here are some screen caps of me doing the various moves: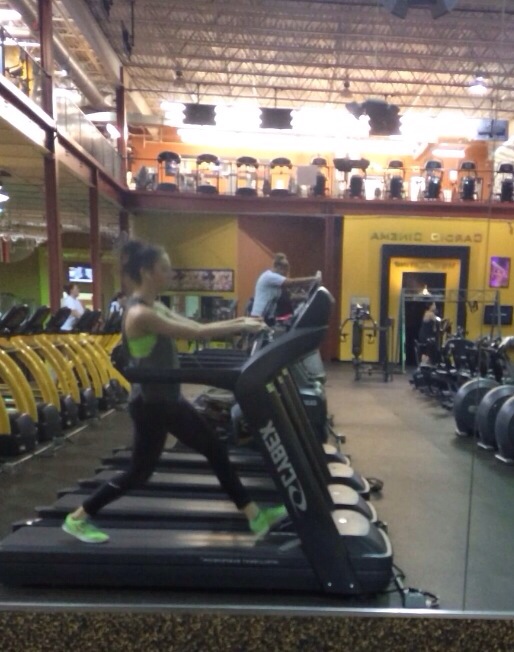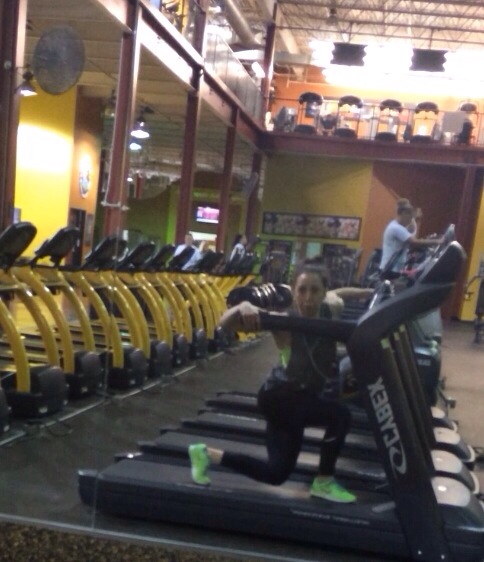 40 minutes of hard work. Make sure you do both sides for the squats and side skip. Also for the walk there is NO HOLDING ON TO THE TREADMILL! Cannot stress this enough. It defeats the purpose if you hold on. For the lunges I do place my hands on the treadmill for balance only, but not a death grip.
You would think this would hurt my knees more, but actually it's EASIER on my knees. Much better than walking lunges on the floor. So try it out and let me know how it works for you 🙂 I love how the time goes so fast too.
And if you're interested in what I'm wearing in the above pictures, this is a top from Express. They had a 40% off sale and I couldn't resist some tanks that I could workout in! I made them take this one off the mannequin because it was the only one left in the store.
Who doesn't love a good muscle tank?
I'd also like to note my hair in the above picture. I kept getting compliments all day about how pretty my hair looked. The trick? Ummmm it was DIRTY. 😉
Yesterday I had to skip my workout because Phoebe was SO SICK the night before.
I had to rush right home from work to make sure she was okay! Sure enough she was wagging her tail and jumping around when I walked in the door. We went for a walk…
And then she was back to her goofy self in no time!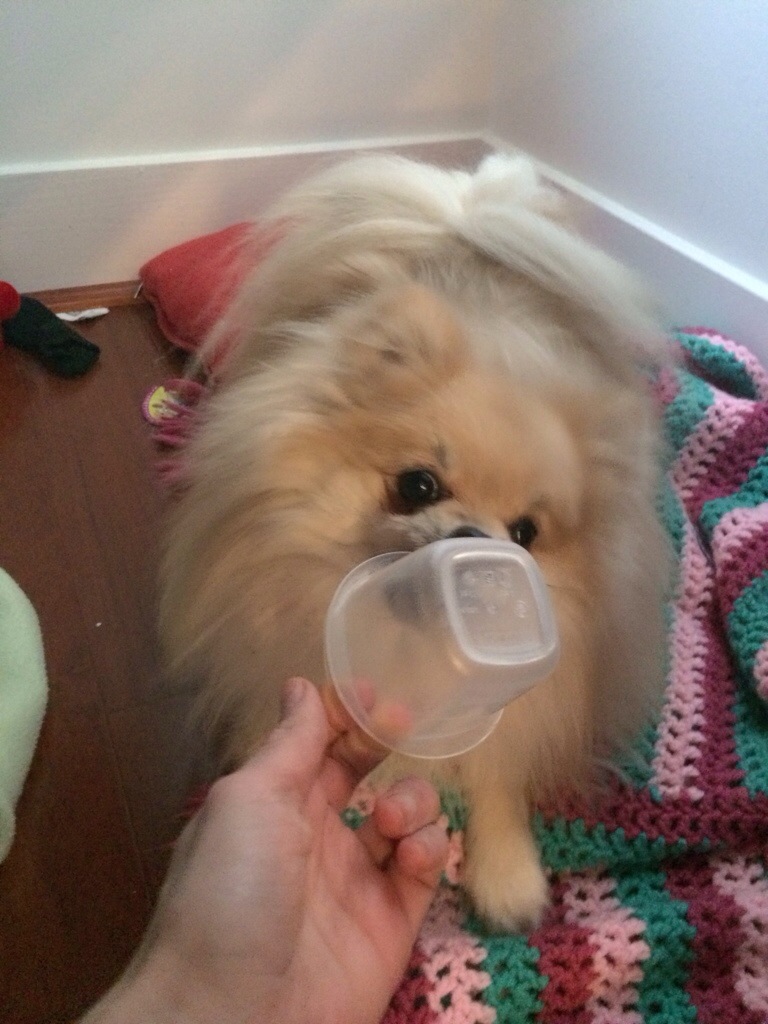 Yes, that would be my Tupperware. She somehow got it and played with it like crazy, throwing it around and chasing it.
So that's been the past few days for me!
—-Just a quick note because I haven't mentioned this yet. For those wondering, I am not competing June 1st. I was sick back to back for 2 weeks and was not able to work out like I wanted to. My body's way of telling me to slow down I guess. I will however be supporting my better half Mary, who will be competing that day. I'm excited to cheer her on and see the show from a spectators point of view. I'll be back to the stage in October, stronger than ever!
For now I will be enjoying June and counting down the days until my Georgia road trip to FitBloggin 14!
Have a great Thursday!
XOXO With a Cherry On Top,
-Minnie