The Big Fat Positive
Good Morning and Happy Tuesday!
Today I thought I'd rewind to the beginning of my pregnancy. I'm sure you've all read the tall tales about how women normally get a "feeling" and know they are pregnant. This was actually the case with me. Well technically my mom knew before I did, but I still had those feelings as well.
I found out pretty early, I mean if I date back it would put me at 3 weeks pregnant, which is kind of impossible, but we will just say I found out the earliest you possibly can! Tony and I were in NYC and I felt off, like something wasn't right. I tested and it was negative, but I wasn't convinced. I can remember staring at the ceiling in the hotel room the night I tested in disbelief. I knew something was going on, and I felt waves of disappointment because was I completely wrong here? Turns out I wasn't, I'm a trust your gut type of person.
Funny enough, I sent my mom this picture the night I took that test and she later told me when she looked at it I had a certain gleam in my eye. She knew I was pregnant too. I'm a firm believer in that kind of stuff.
I waited another two days to test in the morning on a day I was headed into work late around 11am to work a partial shift. I got up first thing, took a test, and while waiting for the "5 minute mark" I actually FELL ASLEEP! I opened my eyes to my alarm and thought "crap, did I fall asleep?", sprinting in to the bathroom to see the faintest line. It was faint, but there was no mistaking there was a line where there wasn't before. I cried hysterically, looking over in the bed to see Phoebe and Hazel tilting their heads. Tony was working already, he worked into the wee hours of the morning and then I had to work again the next day, which was Saturday. Then he was called into work that night as I was coming home. Of course we kept missing one another! Let me tell you it was the longest two days of my life holding that secret! I wanted to tell him right away. I wanted to call, text, something! But there's no way you can tell that kind of news without being in person. It was worth the wait though 🙂
I'm sure you're wanting to know "how I told', but as I said in Fridays post, I don't plan on sharing everything and want to keep that just between Tony and I.
We told our parents right away, and like I said my mom already knew before I even told her. The rest of our family had to wait until after the first trimester. It was a little hard not shouting it from the rooftops, especially at Christmas time, but we wanted to wait until my first trimester sonogram and genetic testing at 13 weeks. I respect anyone who tells before that, because it is indeed the most exciting news to share! However, if you remember correctly I work in OB (labor and delivery to be exact) and I felt uncomfortable sharing it before I knew everything was A-Okay!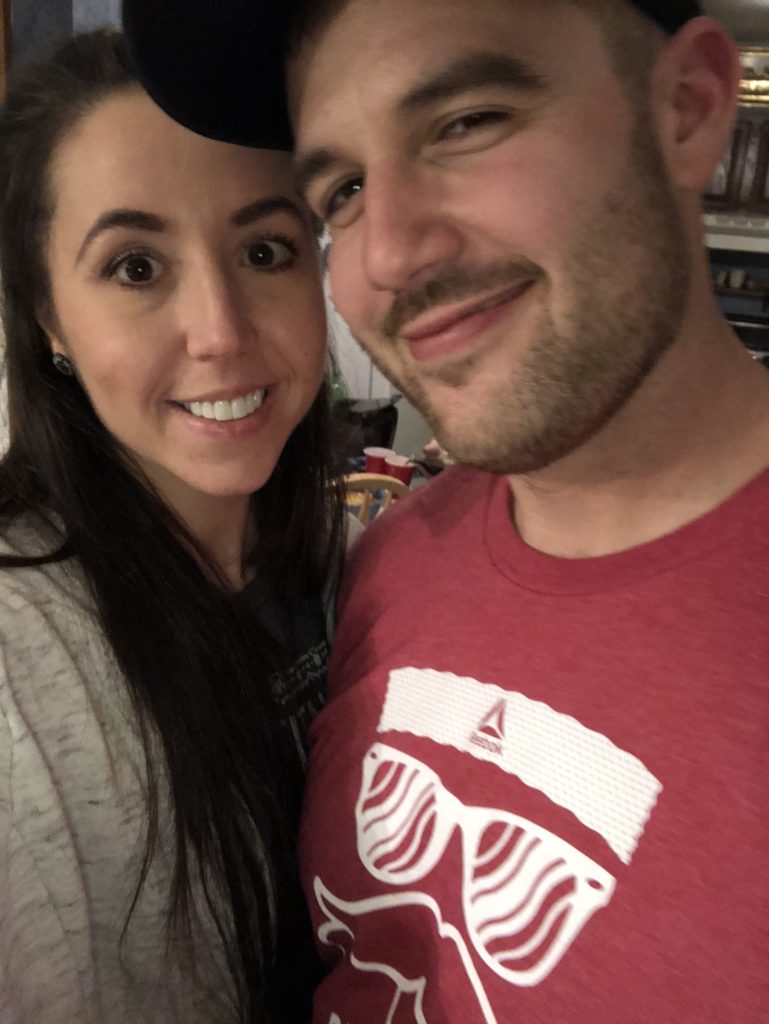 Christmas Eve! 
My biggest concern in the very early stages (besides making it through the early stages without extreme anxiety and worry) was the pups.
"You're getting us a human!? WHAT?"
I kept thinking…how was this going to go!? Especially my Phoebs. Phoebe was my fur child from day 1. Hazel is as well, but Phoebe has a bit of an attachment to me that could be described as obsessive. It's my own fault, because I've treated her like a baby. My worry turned into panic, confusion, and thoughts of how to handle some of her behaviors. We have had quite a few talks. And by a few, I mean I talk to both girls every single day about being big sisters! Some people may think it's silly, but I know they understand, and they love going in the nursery to check out where their future best friend will sleep 🙂
As time passed, I became less obsessed about it and more at ease dealing with the situation as it arises. I'm in a good place now that Phoebe will love baby girl like she loves me. She just has to learn how to share! Hazel I know will be a little angel and so curious to see the baby, mamas little helper!
So that's the beginning of our story! I have more to tell and I hope you meet me back here.
XOXO,
Minnie