West Coast Visits
Hi everyone!
Well here I sit 36 and a half weeks. I can hardly believe it. I am not really panicking as much as I was, it's finally starting to subside some. I'm in the stage now where I am SO anxious to meet this tiny little gal. I keep telling myself wow it really could be any day now, or it could be weeks from now. I am a planner by nature and this is all new territory for me. I can plan on what to bring with us and what to have at home, but that's pretty much it. I feel like I'm living in G-Mama's favorite tv show theme, Big Brother "expect the unexpected". That's how I'm living life right now. Baby girl is going to make me more spontaneous I guess!
It's been two weeks since my best friend Sarah came to visit us. Where does time go? She stayed with us for 5 days and it felt like 5 hours!
I was lucky enough to leave work early that day and pick Sarah up from the airport. Whenever she comes we never have any "BIG plans" because we really don't need any! Just spending time together is what we need and it's always the best time. I did have my shower while she was here, but that was just 1 out of the 5 days.
Tony took us to Saint Michaels her second day here. It's an area on the Eastern Shore of Maryland and has beautiful views, good seafood, and lots of fun little shops. We went last year for my birthday and thought it would be fun to take Sarah.
Sarah got her first taste of crab imperial. It was actually gluten free which we were pretty excited about! A lot of yummy things she can't have because of her gluten intolerance.
For those non- Marylanders, it's kind of like a crab dip plopped on top of anything delicious. Sarah had it on top of a burger. Lump crab meat is a MUST. There's no other way to eat crab here.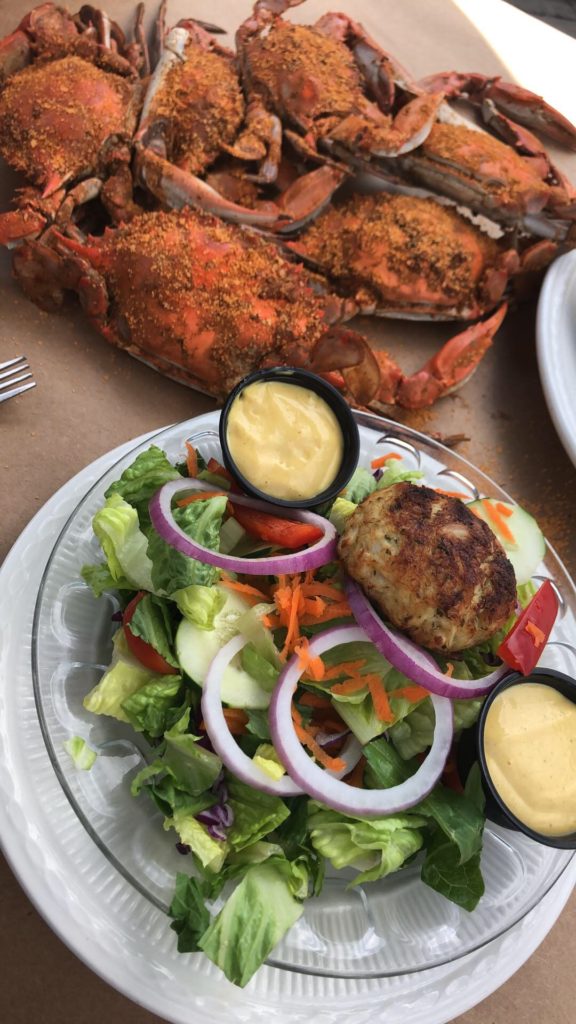 Tony picked crabs, and I stuck with a salad and a crab cake on top. I normally do not stick to "just a salad" when we are out to eat, especially with pregnancy, but the night before I over ate and was in so much pain I thought my stomach was going to pop! I honestly don't know how pregnant women "eat and eat and eat". If I over eat I get so darn uncomfortable and tight I can't move for hours, sometimes even for a darn day! I guess there just isn't enough room in there anymore 😉
The weather was absolutely beautiful that day and we found this gorgeous tree to take some pictures.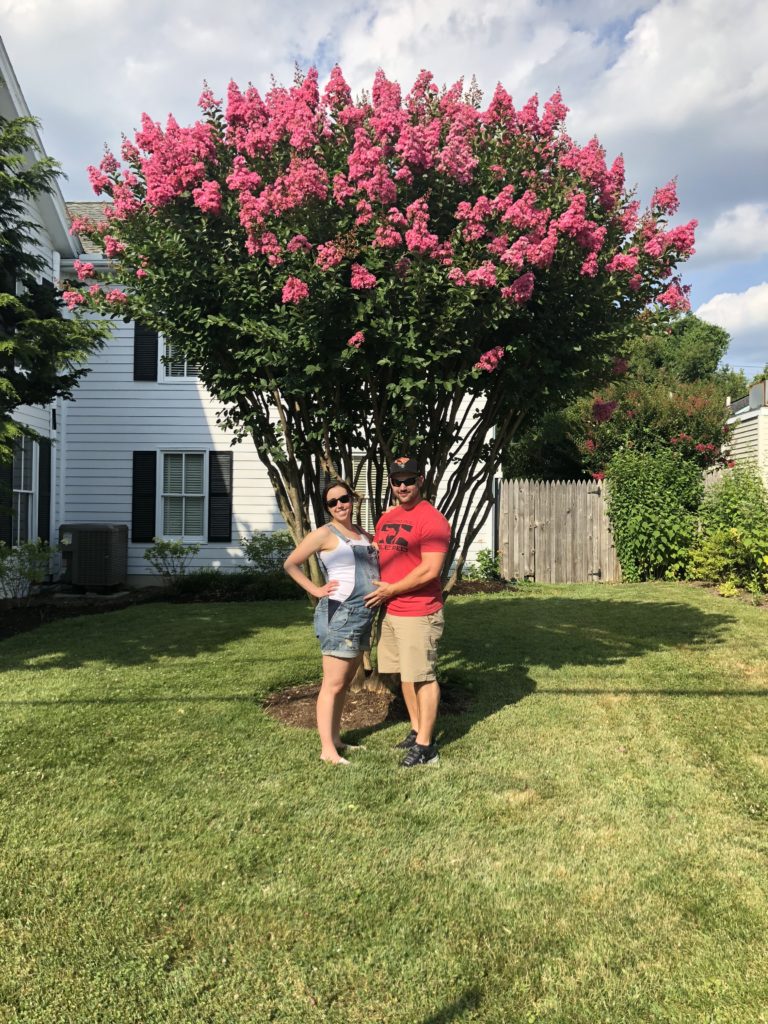 Overalls have been one of my "outside of gym shorts" outfits. Pregnancy is one of the few times in life you can get away with wearing them.
Most of our nights with Sarah at the house were spent at home on the deck. I am currently looking back at these pictures and wishing for that weather back because Maryland has been nothing but nasty storms on and off for the past week!
That's Sarahs wine, obviously NOT mine!
The girls are always crazy about her when she comes. It's like they have a new best friend.
This was the first time Sarah was able to visit in the summer and you better believe we hit up my favorite snowball stand. We also took my friend Hannah, who is originally from Ohio, but has lived in Maryland 10 years. She's also never had a snowball. For those unfamiliar this is NOT a snow cone or Hawaiian shaved ice. A traditional Maryland snowball is a crushed/shaved ice but still with a bit of a "crunch" to the pieces. It comes in a styrofoam cup (sorry environment), loaded with a sugary syrup and topped with marshmallow fluff (or it can be in the middle). Classic flavors are egg custard, tutti fruiti, and my favorite, Skylite which can only be described as BLUE. It's not blue raspberry, it's not blueberry, it's BLUE.
No one in Maryland has ever been able to successfully describe exactly what Skylite is without saying it tastes like blue, until Hannah said what it tastes like. "Wow this tastes like a CLOUD". I shook my head yes, Tony nodded his, and a few other people I've told that to have said "yep, that sounds about right". If you are ever here in the summer make sure you stop and get yourself a cloud!
I was so happy to share these Maryland summer experiences with one of my closest and dearest friends. Each time she leaves I cry until I can't breathe and this time was no exception. Enter those pregnancy hormones. I treasure our friendship oh so much and I know we will be friends for life.
Things are going to be so different the next time we see each other in person, but it's all wonderful things coming our way. I'm excited for this next journey of my life and I'm looking forward to sharing my joy with such a wonderful friend!
That's it for today. I'll be back this week with more memories from the past few weeks. I hope everyone has a great Monday. 🙂
XOXO,
Minnie