Can I Go Back to the Weekend?
My title pretty much sums up my feelings these past two days. I've been stressed to an all new level.
I read a lot of other blogs in my spare time and I often see how happy these people are blogging for a living, going on awesome vacations, and working from home. I think the reason my blog is successful is because I am like every one else and I'm honest about it. I have a hectic work schedule and yes I'd LOVE to just blog for a living, but it's not realistic, stable, and I've worked really hard to be a PA.
Maybe ONE day when I'm settled down and want to raise a family, from home I could do this, but even then I feel like I'd have less time! My mom was a stay at home mom and she had the hardest job of anyone I've ever known. She didn't clock out, she couldn't walk away, and her days never ended. I am extremely grateful for her raising me though (and my Dad!). They made me determined, and I turned out to be one strong chicky! Both physically and mentally 🙂
On Monday since my day was… well, stressful, I went to the gym as planned and nixed the chest day. I needed to lift heavy. I needed to get that stress off my mind, and I needed to do something I love. So shoulders it was again! It definitely helped. I also had to turn my phone on airplane mode. I am always attached to my phone and will reply to texts during cardio or in between sets. This time I said no, just listen to the music and lift darnit. There used to be a time when I kept my cell phone separate from my iPod and for those 1-2 hours I would not be able to be contacted, but times change.
Here was my shoulder workout:
Shoulder shrugs, 40 lb weights, 10 reps x 4 sets
Lateral straight arm raises, 10 lb weights, 10 reps x 6 sets (I actually broke these up into 3 sets near the beginning of my session, and 3 sets at the end)
Rotator cuff abductions, single arm. 17.5 lb weight, 10 reps x 3 sets each arm
Front delt raises, 30 lb bar, 10 reps x 4 sets
Shoulder press, 30 lb bar, 10-12 reps x 4 sets
Upright rows, 40 lb bar, 12 reps x 4 sets
Side bends, 25 lb plate, 12 reps x 2 sets each side
Cardio was 20 minutes of the step mill, 10 minutes of HIIT sprints on the arc trainer.
And well I just HAD to wear my new top.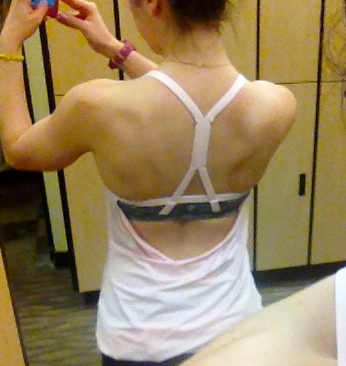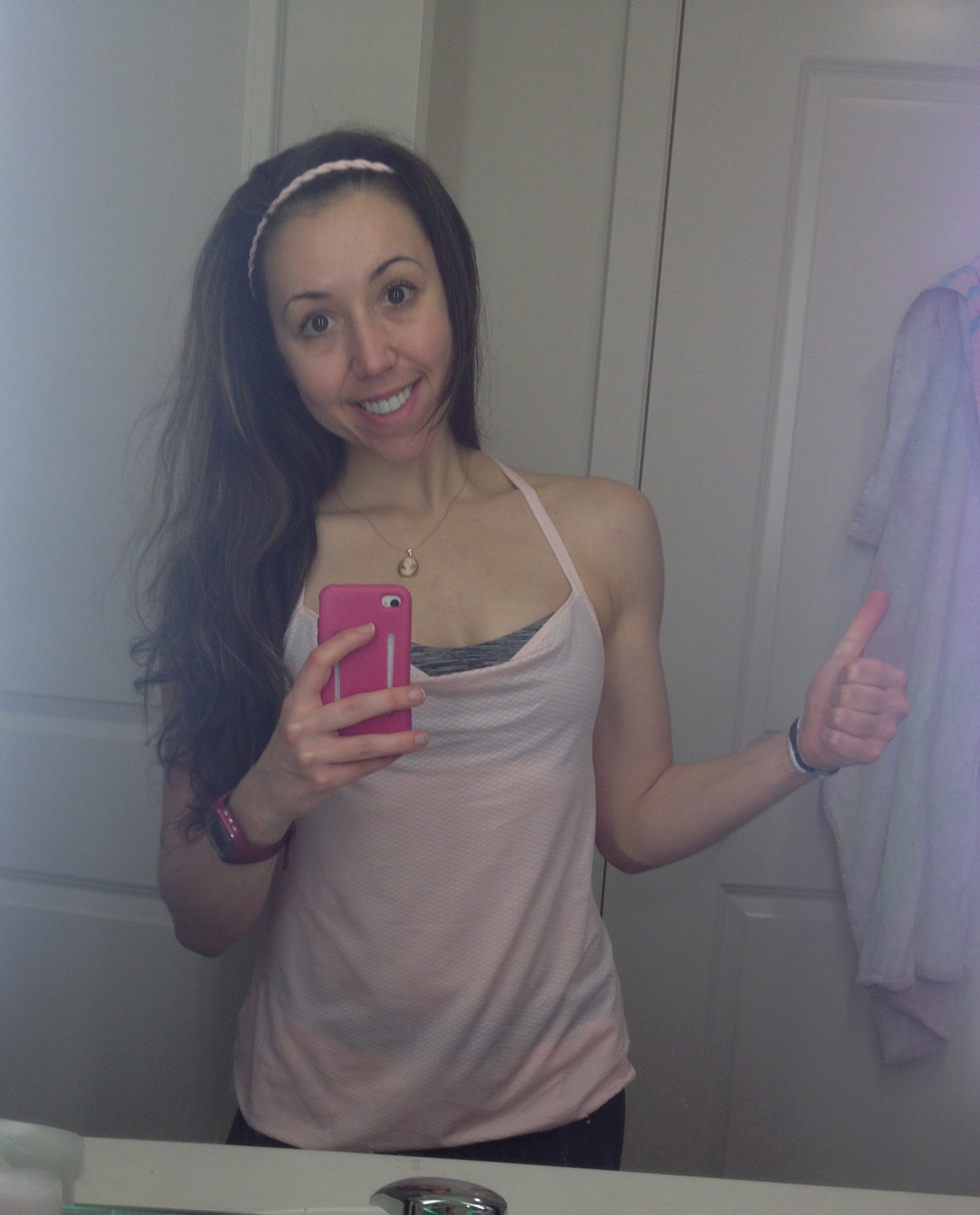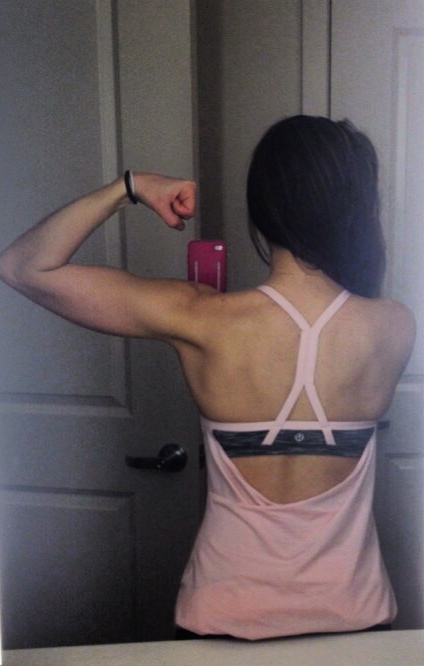 It's Lululemon, you guessed correctly! 
I am definitely buying another one. Yes it was pricey, but I got a million compliments! So cute and flattering to my back and shoulders.
Once Monday was over, I jumped into Double T. (Terrible Tuesday). It wasn't as terrible as Monday. Please let me save myself the embarrassment of reliving that work day… I cringe thinking about it.
I had this awesome lunch which included chicken breast, juicy asparagus, spaghetti squash, and some mushrooms.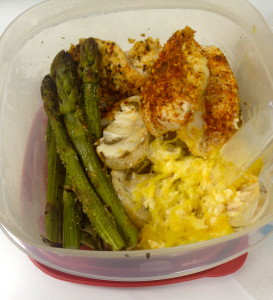 All of my work was done by about 3:30, and I planned on taking off from the gym like always on Tuesdays, but I chilled out, got a second wind, and went! I didn't really lift, I did cardio, intervals, and a little abs. Here was my workout, a fun change!
33 minutes HIIT spin bike
V crunches on captains chair, 10 reps x 2 sets forward, then to the sides, 10 reps x 2 sets each side
Kettle bell swings (gets heart rate up!) 30 lb kettle, 15 reps x 4 sets
In between each set of swings, 10 side bends with the kettle bell
10 minutes HIIT sprints on the treadmill
Alternating small box fast toe taps. This is an interval exercise. Basically toe taps with hops in between each foot change. 20 reps x 3 sets
In between each set, stability ball oblique crunches, 12 reps x 2 sets
Small box high knee intervals, 20 reps x 4 sets
In between each set, standing oblique crunch using 10 lb weight (opposite knee to elbow), 12 reps x 2 sets each side
I forgot how much I missed interval training. I need to do more of it. It makes time go by super fast and gets your heart rate up. I normally don't incorporate abs into my weekly routine, but it's fun when you alternate with some intervals. I might keep this little routine around!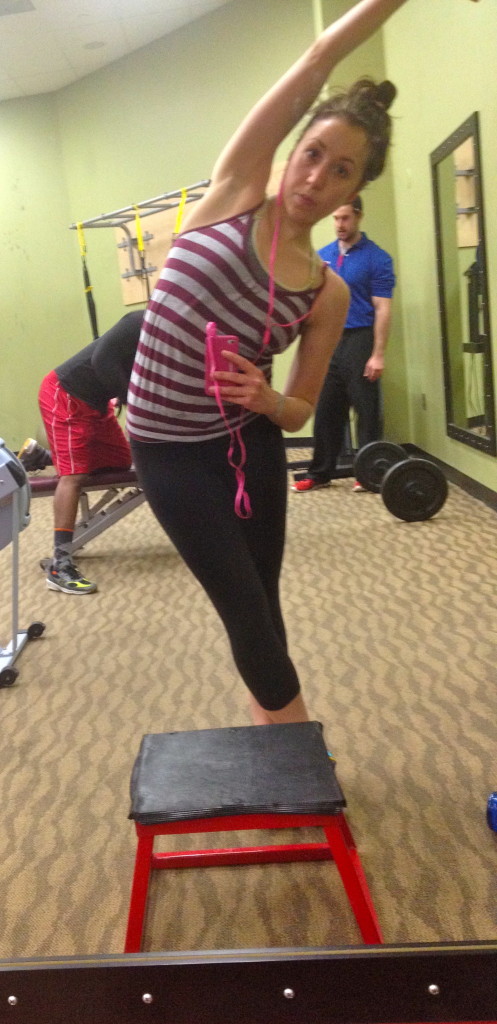 Of course I finished with some stretching. And you will see at the bottom this is the "small box" I refer to.
It was time to hit the road and go home to my "baby boo boo"
 She was super happy to see me
And she doesn't understand the meaning of "up in my grill" or "in my bubble"
She DEFINITELY "misssshhhhhed mommy!" For non regular readers, every single day I come home I say to her "did you mish mommy?" Yes MISH not miss. 😉
Have an awesome HUMP day! We are half way there folks. Yahoo! Bring on the weekend already.
OH and in case you missed it, yesterday I featured my low carb Protein Packed Cereal.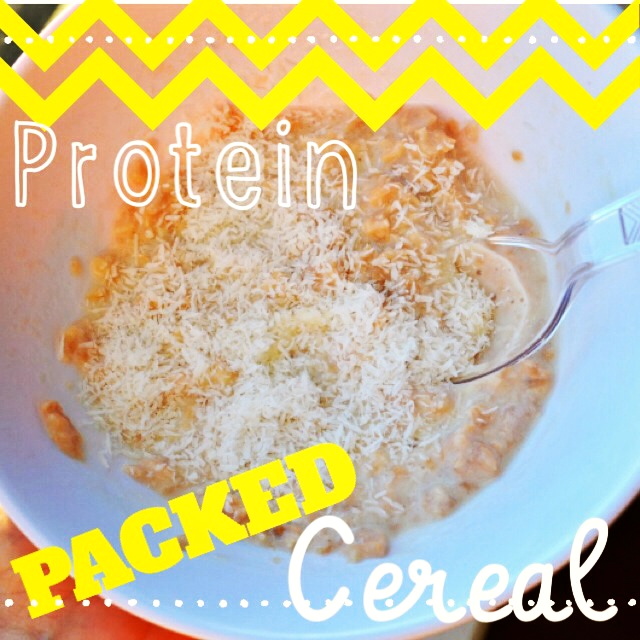 XOXO With a Cherry On Top,
-Minnie