FitBloggin' 13 Saying Goodbye
WOW
That is the best way to describe my FitBloggin' experience. If you've followed these past 3 days, I've said multiple times I've had the time of my life and I truly mean it. When I signed up I was excited. As the date approached I was nervous, and the night before was full out panic (not joking- I sent my mom a text at midnight saying I wasn't going). Did I make a stupid impulsive decision by going across country alone? Was I going to sit in my hotel room alone and cry all weekend because I wanted to go home? It couldn't have been more opposite. Tears were shed because I wanted to STAY. Not only had work been very stressful the week leading up to the conference, but I was feeling stressed at home too. The mini vacation was just what I needed.
Sunday morning I woke up at 3:30 am to catch my cab by 4am for the airport. I was seriously dragging. Because of all the SWAG, I had to do the old sit on my suitcase and zip it shut trick. It worked, and thankfully I was in under the 50 pound limit.
I had a layover in Salt Lake City, Utah and would have loved to see the city some, the view from the plane had to do!
During my short layover I stopped to pick up Mom and Dad some chocolate almond and cashew clusters. They are my Dads favorite!
During my flight I had my meals again which included another White Chocolate Raspberry Quest bar. YUM YUM! Can't wait to order these when they finally come out. The rest of the flight I dozed here and there, did a little bit of web surfing, and anxiously awaited landing. I could see my apartment building from the plane which was pretty cool.
When I arrived at the airport my mom and dad were waiting for me outside along with my girl! It was so good to see her little face. I grabbed her but she didn't freak out like I expected. The same thing happened when we left our dogs growing up. I'm not sure if they do not know how to process it or something like that, but I knew she'd perk up in no time. It also felt really good to see my mom and dad because I'm used to seeing them on the weekends! Driving back to my place we stopped by Starbucks (I had serious jet lag), and when I got out of the car Phoebe started squirming and crying. That's the girl I know! She missed her mama for sure.
Once home we snuggled for a little bit, and I got back to normal, catching up on things and preparing for work the next day (groan).
All I could think about this week was the wonderful time I had, especially going back and blogging my experience. I tried to be as detailed as possible with my blogs so I can  remember it all one day. This blog is like my own personal diary I share with the world.
I learned SO much about myself and life in general by attending the conference. Here are some highlights:
Beauty comes in all shapes and sizes. When you think fitness conference, you think fitness Barbies. The conference was filled with a good mix of people. Those who are just starting their fitness journey, those who got there and bounced back, and those who are trying to maintain. It was refreshing to interact with different people and realize we all have one thing in common no matter what we look like.
I need to be more spontaneous. I signed up for this conference on a whim and ended up having the time of my life. Nothing is stopping me from doing this more often!
A smile and a hello goes a long way. I consider myself to be pretty socially awkward, I am a blogger after all. I have problems just walking up to people and saying hello. I decided to nix this thinking and just go for it and talk to people. Every single person was incredibly nice and friendly. I hope I can continue to be social at home!
I LOVE being a blogger. I realized with my prep I lost a lot of who I am as a blogger. I've been so busy with work and prep that I haven't been able to do the things I love like share my workouts and recipes. This weekend I was so inspired that I am going to bring more recipes to you guys this coming week and do my own workouts again.
I've come a long way as a woman. I'm 28 years old now and I am a totally different person than the exercise addict I was senior year of college (7 years ago). I used to march to the beat of someone elses drum, now I do what makes ME happy. I don't feel pressure to get married or have children even though I am approaching the dreaded 30s single life. I am happy with the way things are and will never do something just because it is "the norm".
My blog is better than I realized. Not to toot my own horn, but I was introduced to a lot of blogs this weekend and I definitely need to give myself more credit. I consider myself a smart cookie anyway, but I'm good at what I do and it shows.
I need to sleep more. This is a given. The jet lag didn't help, but I stay up very long hours working on my blog and getting things done. It's not healthy for me. Minnie needs rest in order to function properly.
So that wraps up FitBloggin' 13. I am happy to say I will 100% be back NEXT YEAR! Word on the street is the city is between Austin, Texas and Nashville, Tennessee. Both fabulous choices, but I'm hoping for Nashville!
I thought I would have a really hard time getting back into the swing of things at work this week, but since today is a holiday (Happy 4th of July by the way!), it was only a 3 day work week for me! 🙂
The first day in I was a little sad and I had my "stink face" on.
I didn't really prep my meals this week either because I didn't have time. I basically threw stuff in my lunch box and went.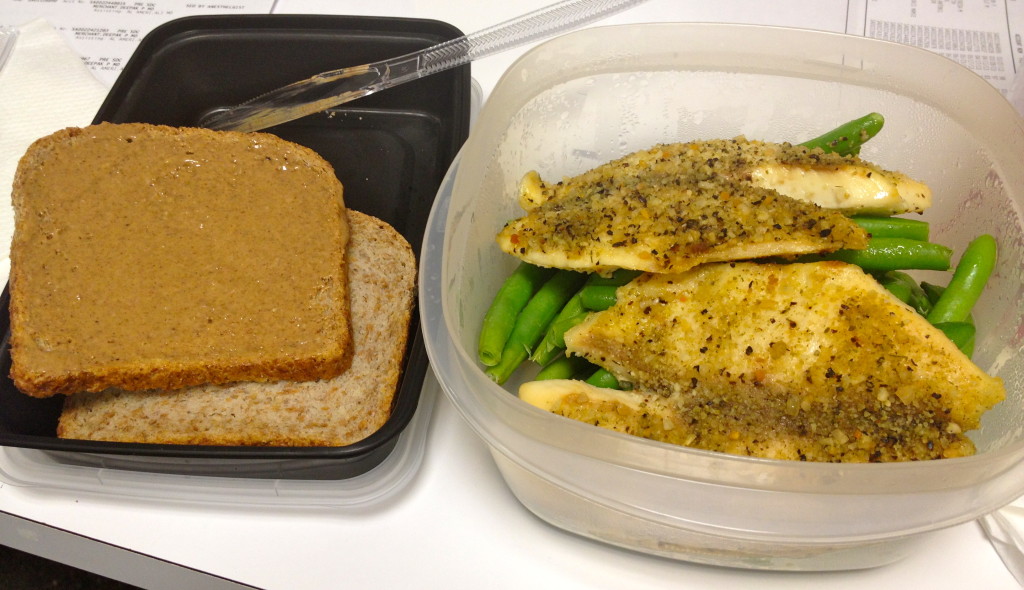 After taking 3 days off from the gym (yes THREE), I was ready to get back at it. I actually was super stressed towards the end of the day yesterday and thought about skipping again, but a good sweat usually helps me feel better. I'm still sleep deprived, but I did it anyway. Just an hour 🙂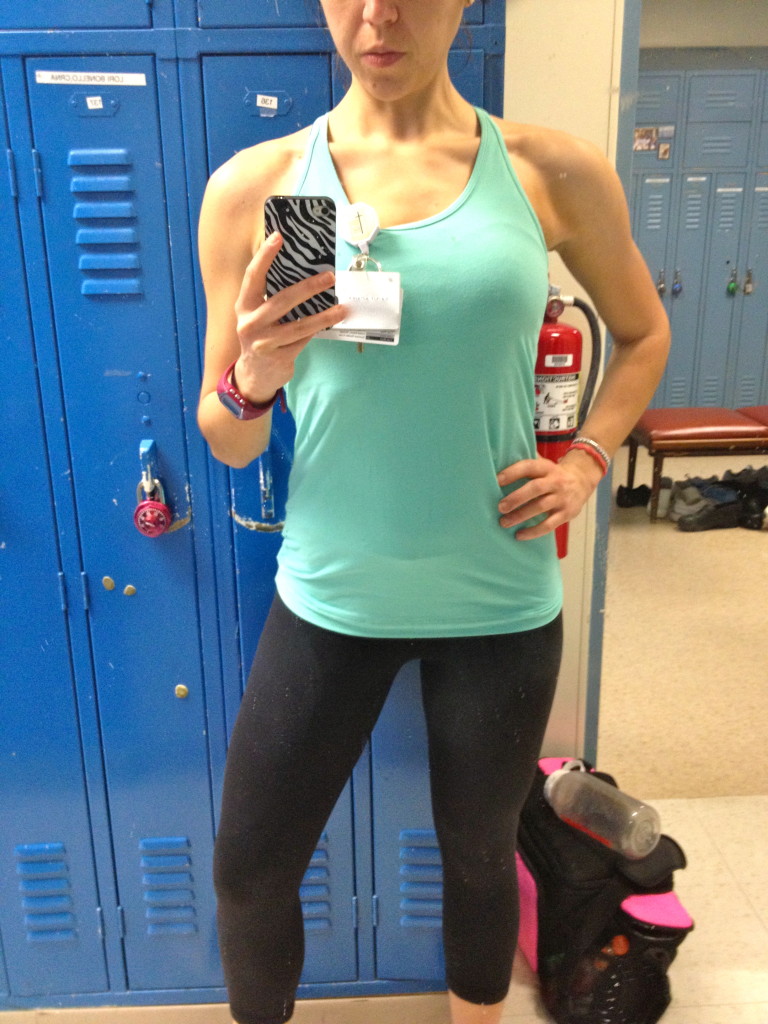 I did 30 minutes on the stairs, then some biceps and a few squats and lunges (no weights, just air)
Then I went home to my boo boo and we snuggled and watched Big Brother and worked on our blog 🙂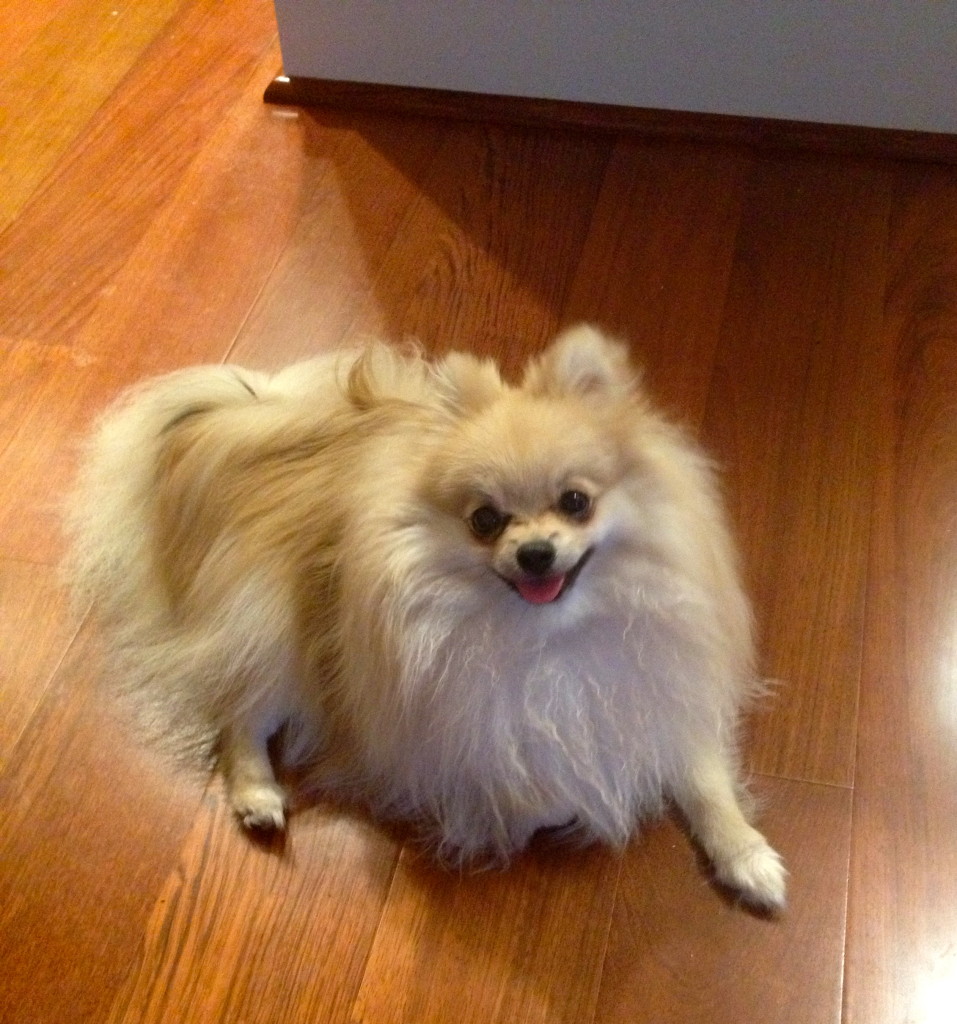 Today I will be celebrating the holiday by sleeping in (YES FINALLY!), going to the gym, and spending time with my family. Going to be a good day 🙂
New Recipe Tomorrow!
XOXO With a Cherry On Top,
-Minnie