Glad That's Over
My Monday back was not fun. I spent the entire day in the OR in one case. Usually I love the OR! But I already felt sick, and by 11am my knees were throbbing from standing in the same position all morning. I wasn't out until 3 and I pretty much ran out of there!
I consumed my lunch in a whole 2 minutes, finished up some floor work, and called it a day.
I needed to pick up some cheese at Walmart and of course they didn't have the kind I needed, so I ended up making a random purchase. I'm just one of those people that if I make a special trip for something, I cannot walk out empty handed. It's the principle!
I already gave Phoebe one of the chewy bones to keep her chewing off my darn socks. She loves those little balls too, but saving those for when I need some "me" time. And well the bunny molds, I couldn't resist. 🙂
I had a quick pre-workout snack which included that "fitness" bread I bought the other day. I had half of it toasted with peanut butter spread, and the other half not toasted with jam to see which I liked better. I preferred it toasted, but overall I probably won't buy again. Ezekiel bread tastes much better!
I worked out in my apartment gym to slowly get myself back into the swing of things. I didn't want to push it too much but it felt great to be back! I did an hour and that felt just enough for day one post-sickness. I did arms because they have seriously deflated over these past few days!
bicep cable curls, 50 lbs, 12 reps x 2 sets, then 60 lbs, 12 reps x 2 sets

tricep overhead cable rope extensions, 40 lbs, 12 reps x 2 sets, then 50 lbs, 12 reps x 2 sets
Hammer curls, 15 lb weights, 10 reps x 4 sets
Tricep cable rope pulldowns, 50 lbs, 12 reps x 2 sets, then 60 lbs, 12 reps x 2 sets
Bicep pushouts, 15 lb weights, 12 reps x 4 sets
Tricep bar pulldowns (long lat bar-standing), 35 lbs, 10 reps x 4 sets
Alternating uppercut punches, 15 lb weights, 20 reps x 4 sets
Tricep Dips, 12 reps x 4 sets
Alternating diagonal hammer curls, 10 lb weights, 20 reps x 3 sets
Tricep pushups, 10 reps x 3 sets
I also did 35 minutes on the ellitpical!
Deflated muscles.. I'll get it back soon!
After showering I made this delicious Skinny Pasta Bowl 240 calories for ALL this!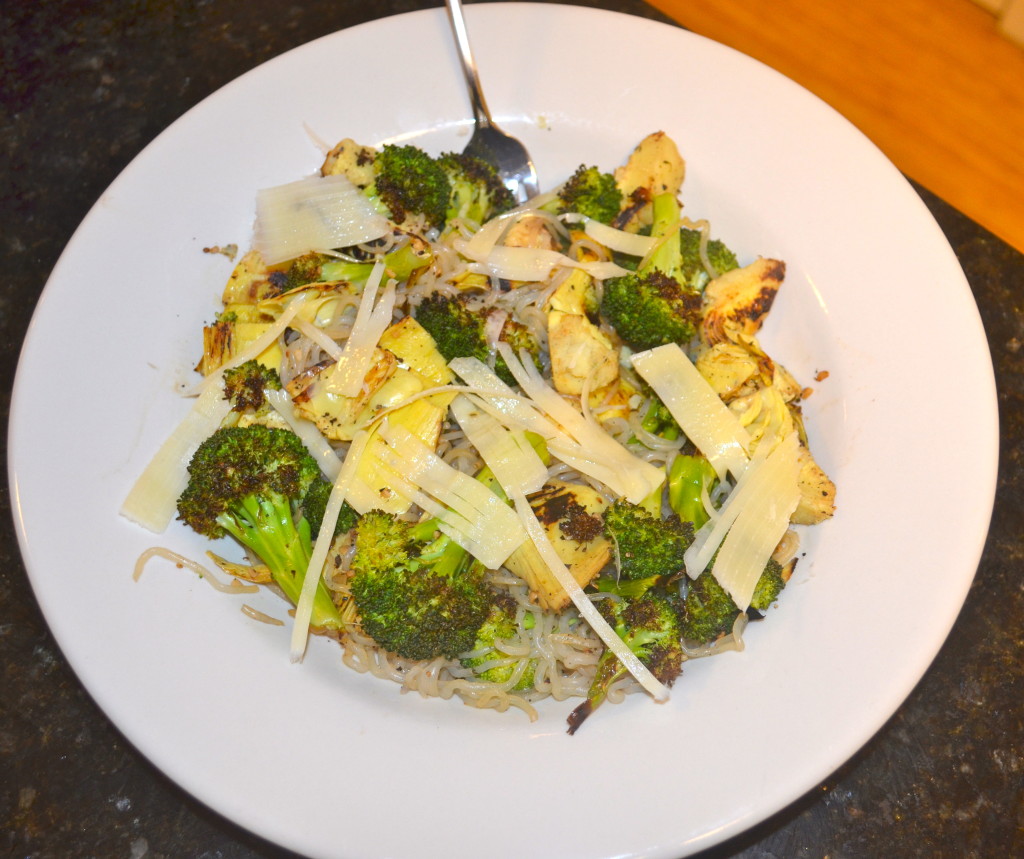 I also watched The Bachelor Finale OF COURSE! I have too much to say so I won't say anything because I will ramble on for pages… all I'll say is that I love reality TV, even if it's extremely staged or NOT  🙂
I plan on going back to my REAL gym tomorrow! I was just looking forward to coming home to Phoebe after a long day and cooking dinner. Here's hoping this Tuesday is better than the last!
XOXO With a Cherry On Top,
-Minnie