Homemade Crackers
It's no secret I love to dip things. I also love carbohydrates. You go in the store, pick up a box of the "low-fat crackers" and as you peek at the label, they are loaded with all kinds of preservatives and words you cannot pronounce. Who needs all that stuff? Not me!
I wasn't sure how these would turn out when I started this project, but they turned out really good! Nice and crunchy, similar to a pita chip!
The perfect snack for dipping, or for an addition to a healthy party tray!
For this recipe you will need:
-1 cup of garbanzo bean flour (find me in the health food aisle, Bob's Red Mill brand)
-1 cup of whole wheat flour
-1 teaspoon of baking powder
-1 teaspoon of salt, or more for sprinkling on top when done
-1 Tablespoon of garlic salt
-2 teaspoons of herbs provence
-1 teaspoon of pepper
-1/2 cup + 1 Tablespoon of water
-2 Tablespoons of extra virgin olive oil
Start by pre-heating your oven to 350 degrees Fahrenheit
Sift the whole wheat flour, garbanzo bean flour, and baking powder
Nice and soft!
Now add your spices
Next create a well in the flour and add 1/2 cup of water and the oil
You will have to add 1 more Tablespoon of water to get all the dough to come together
Let this rest for 10 minutes! I only used half the recipe and popped the other half in the freezer for another batch later.
Next sprinkle a little flour on the counter and roll your dough out. You want it pretty thin, but not paper thin either or the crackers will burn.
When it's rolled out, place on a cookie sheet with parchment paper
Take a pizza cutter and make squares. You don't have to cut all the way through, they will break apart once they are baked. Puncture each square with a fork
Now place in the oven for 15 minutes. Keep an eye on them, if they start to get too brown, take them out! When you open the oven you are hit with a fresh bakery smell. One of my favorite smells in the world.
I really loved these crackers. They are savory from the herbs provence, but salty too from the garlic salt! A great combination with hummus 🙂
Here's my little Instagram collage I made!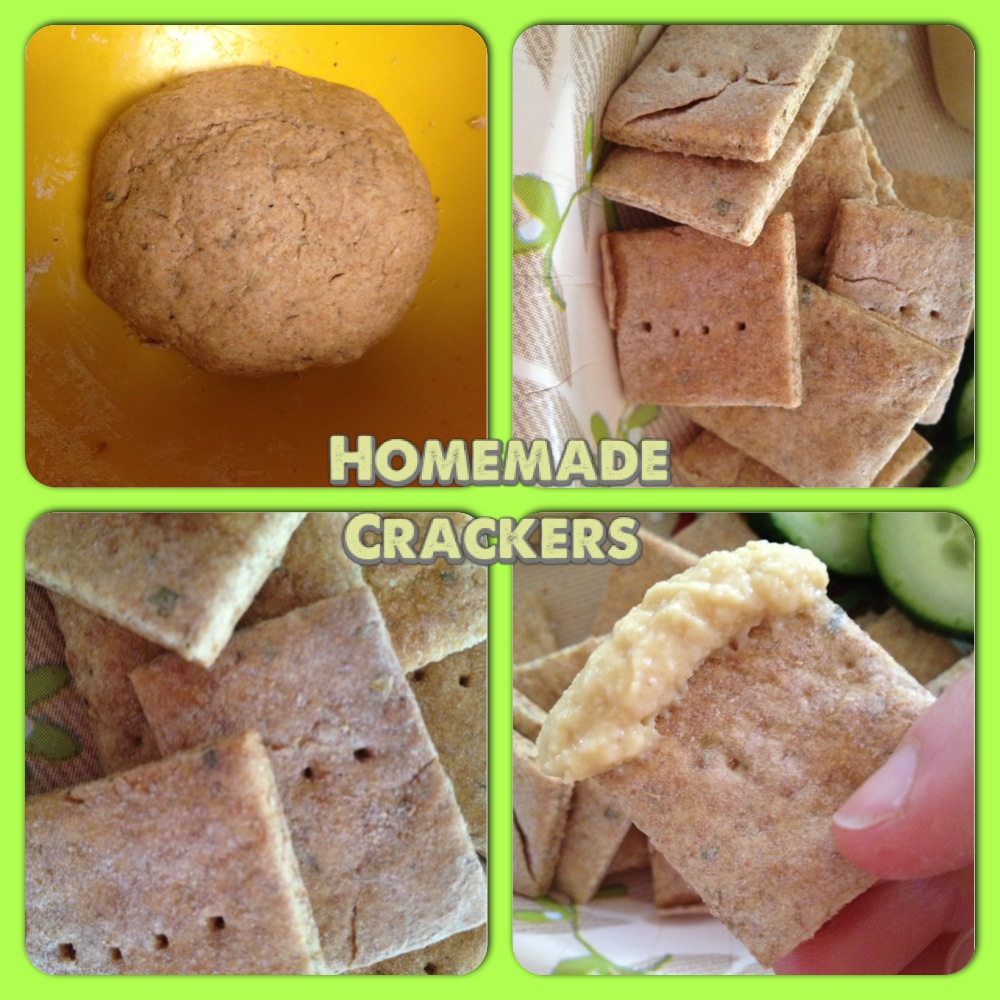 Phoebe liked them too! 😉
Happy eating…
XOXO With a Cherry On Top,
-Minnie