Little Lentil Sloppy Joes
If you aren't a fan of lentils, that is about to change!
Not only are they yummy in this recipe, but did you know 30% of the nutrition that comes from a lentil is protein? Sign me up! They also are loaded with fiber, vitamin B, and folate. So Jamie Lee Curtis, you can have your fiber yogurt! I'll stick with lentils.
This is my favorite way to eat lentils, like a sloppy joe. The list of ingredients may look like a lot, but it's still fairly simple. You are pretty much going to throw that list in a pot and cook on low for 45 minutes.
For this recipe you will need:
-1 cup of dry lentils
-1 cup of vegetable stock or water
-14oz of crushed tomatoes
-1/2 large diced white onion
-1 Tablespoon of minced garlic
-1 Tablespoon of apple cider vinegar
-2 Tablespoons of sweetener of choice (I used Nectresse)
-1/2 Tablespoon of brown sugar
-1/4 teaspoon of salt
-1/2 teaspoon of cinnamon
-1 Tablespoon of chili powder
-1/2 Tablespoon of cumin
-1/4 teaspoon of cayenne pepper
-1/2 teaspoon of cornstarch
-pepper to taste
First you need to rinse and cook your lentils. Just place them in a colander and rinse them off. You will then place them in 2 cups of water and boil for 15 minutes or until soft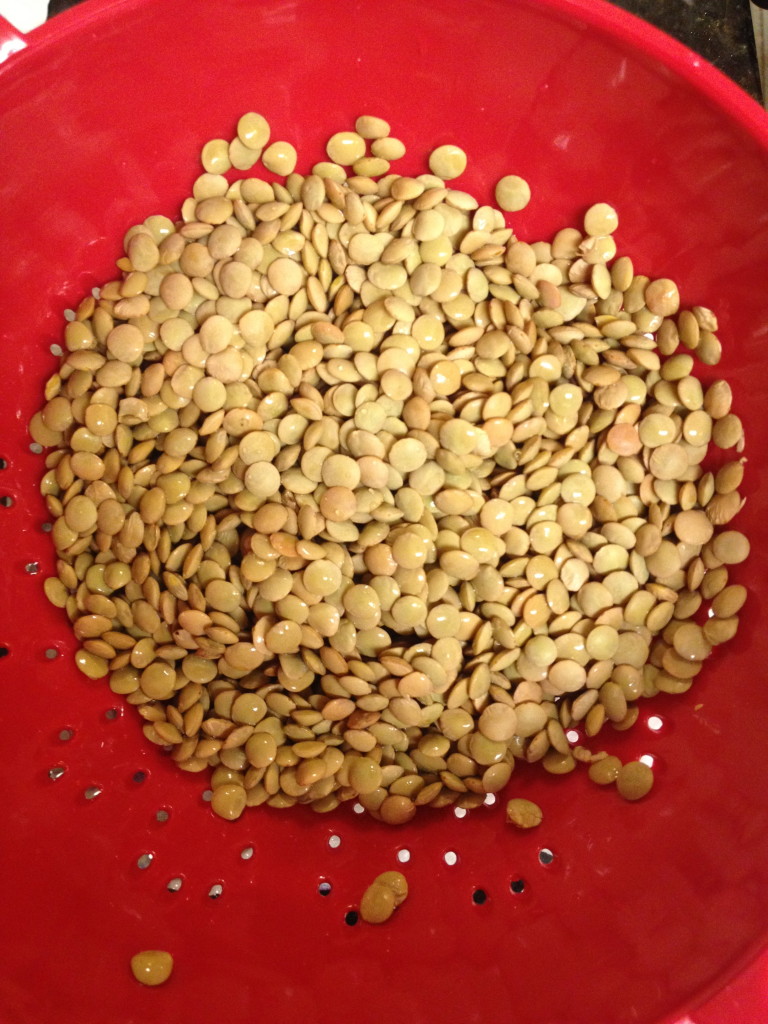 Once they are almost soft, you want to get another pot (I used a pretty large one because it's what I had) and cook your onion and garlic with some olive oil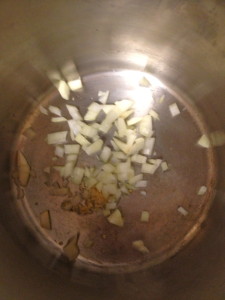 When lentils are fully cooked they will look like this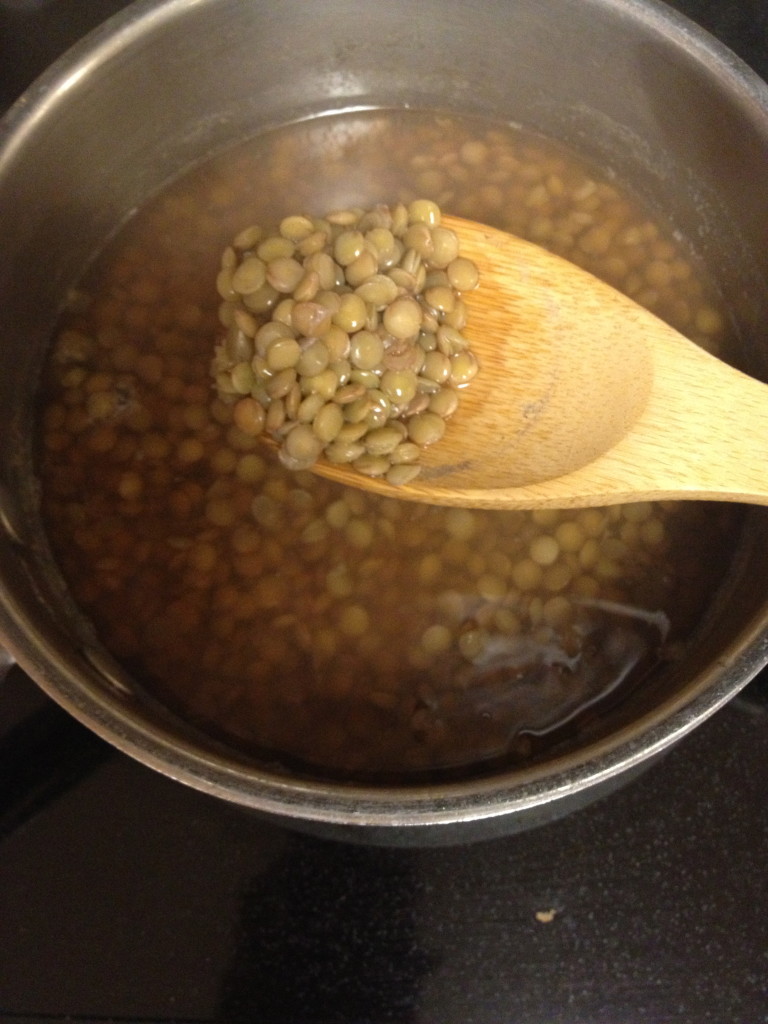 Now you want to add your crushed tomatoes, vinegar, water (or vegetable stock), to the large pot with the onion and garlic (medium heat)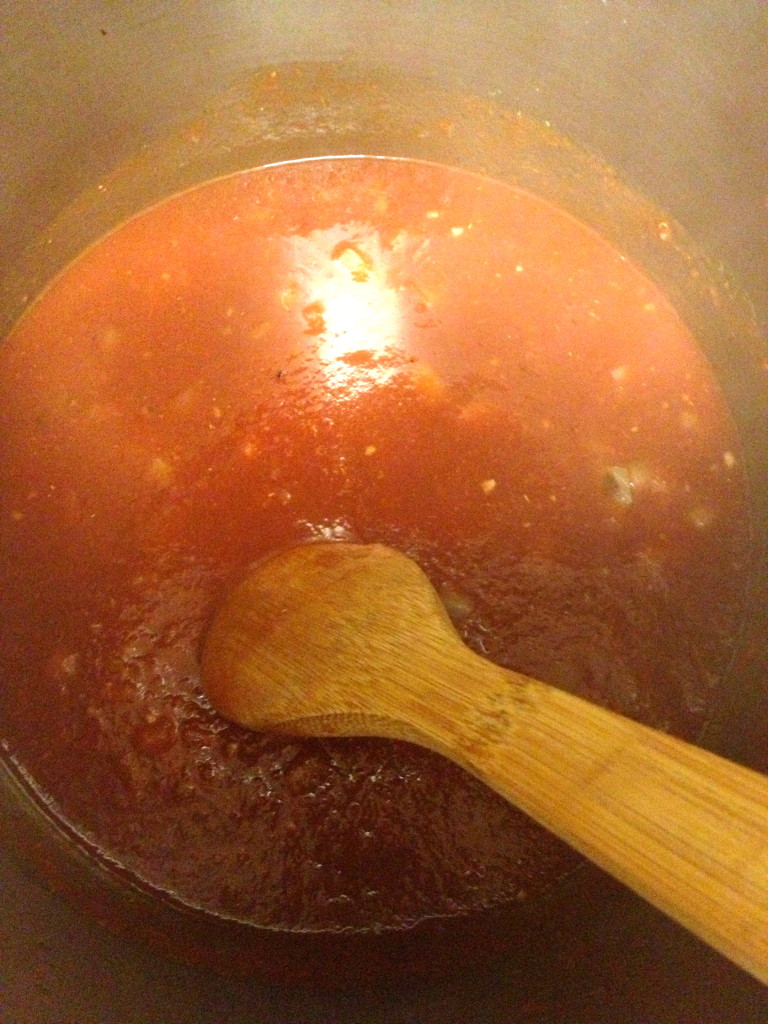 Drain the water from the lentils pot and add them to your large pot (medium heat)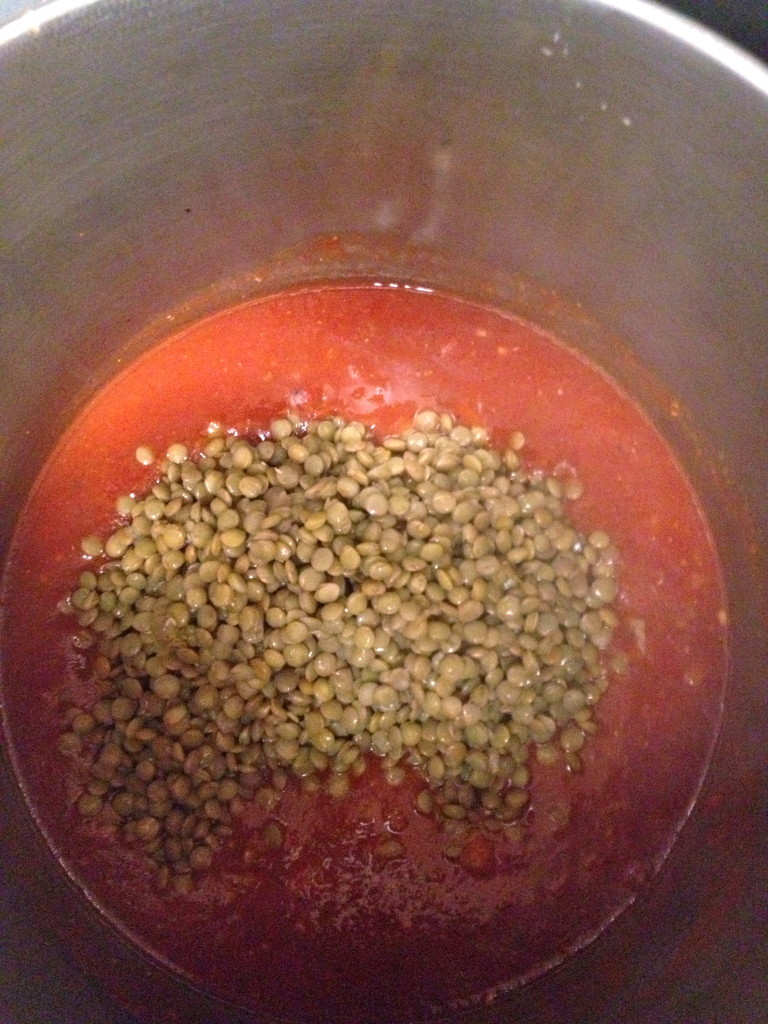 Next add the sweetener and all those spices! (not the cornstarch)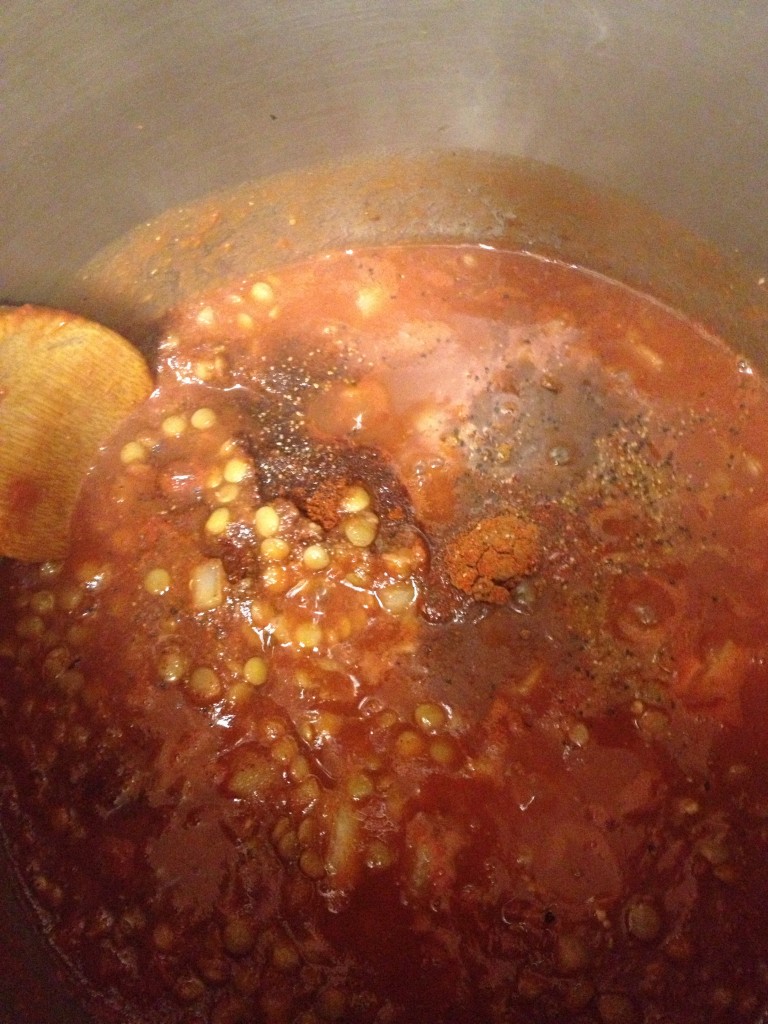 You need to reduce the heat down to low here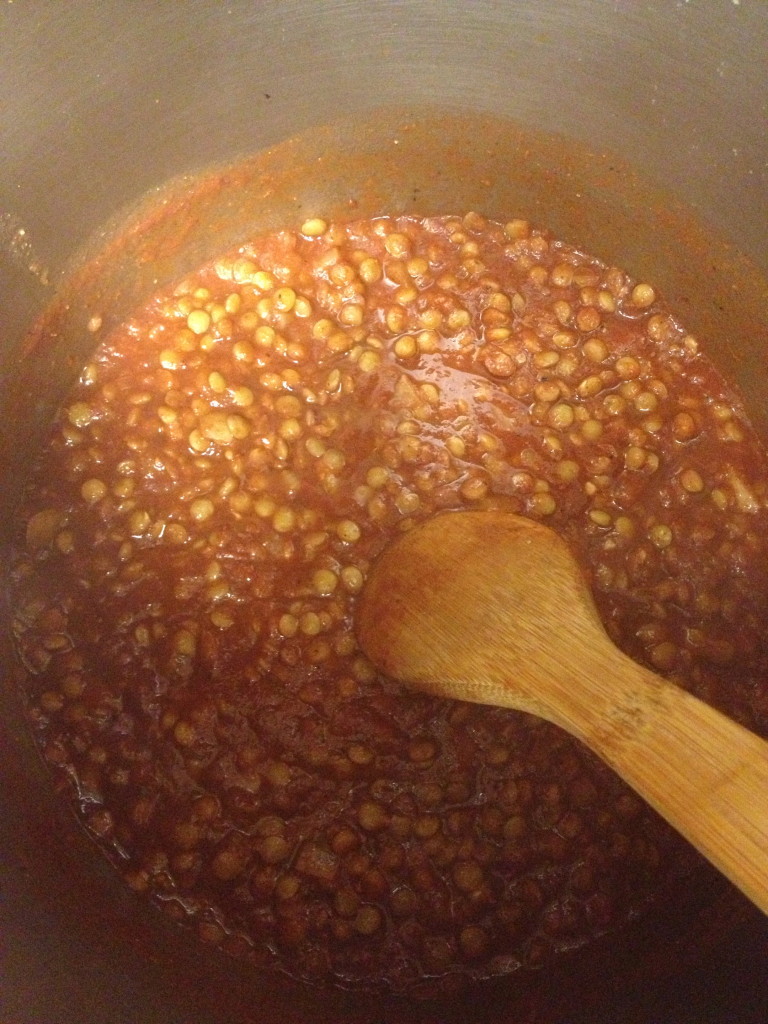 And now add 1/4 teaspoon of cornstarch and mix it in, this helps to thicken
You will continue to cook this on low heat for about 45 minutes, no need to cover it. You will have to go back and stir every 5 minutes or so, you need to stay close by. Once you've been cooking for about 30-35 minutes, add the remaining 1/4 of the cornstarch for thickening.
I then put this in a container for the next day. You can eat it right away, but it will taste better the next day once it has had time to set up! (Kind of like how lasagna always tastes better the second day!)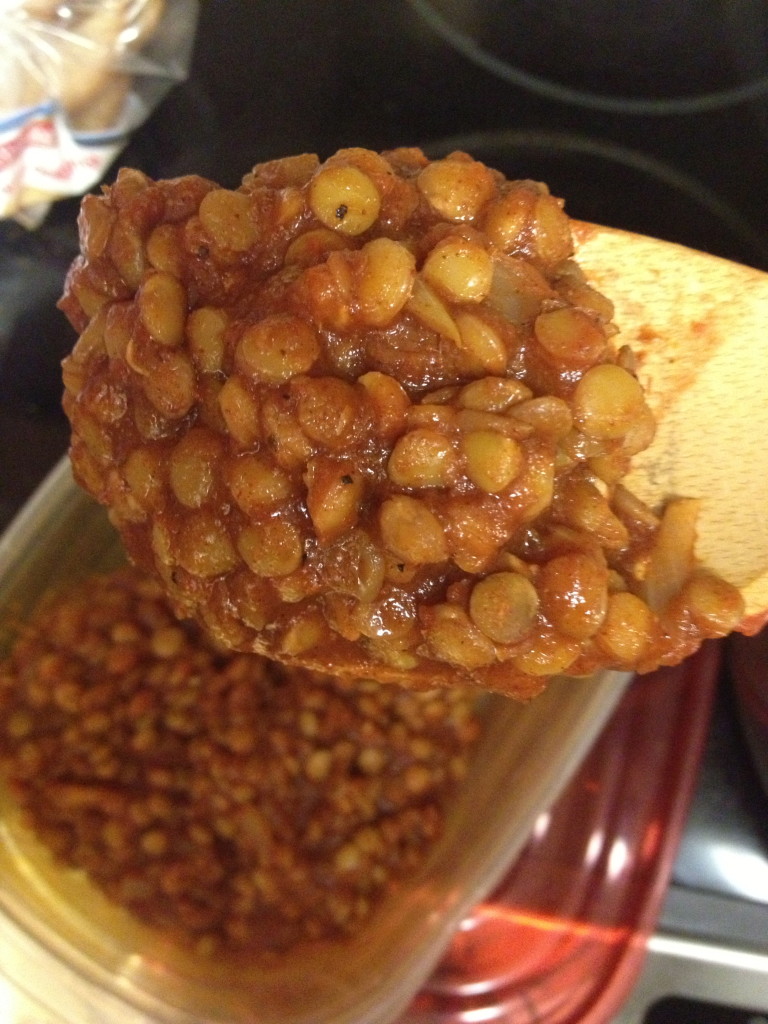 The next day just re-heat a little and throw it on a sandwich thin!
This HUGE serving is ONLY 270 calories (including the sandwich thin!)— Whaaaaat? and 2.5 grams of fat! Why aren't you making this right now?
The whole pot makes about 4-5 servings. It really makes a lot. The first time I made this I did two cups of lentils and it was way too much, but you can also freeze for another time 🙂
Happy eating…
XOXO With a Cherry On Top,
-Minnie
P.S. Don't forget to enter to win packs of Justin's nut butter! Go back to the blog from today featuring the Giveaway! Or click HERE. UPDATE: contest CLOSED.