Monday Excitement
Hi friends!
It was quite the weekend for me over here. I did absolutely nothing exciting until last night, since I was stuck at home with kidney stone pain. I THINK it has finally passed. Or I at least hope it did! Pregnancy can be hard enough and then I got that little friend. Geez.
Tony and I spent the afternoon cooking and doing more stuff for baby girls room. I did a really easy prep of sautéed zucchini and squash, ground turkey and marinated sirloin. Pre- pregnancy (and even early pregnancy) I'd whip up an easy marinade for steaks or chicken, but hey you have to take shortcuts where you can now!
This is the marinade I use. They also make an island teriyaki version that is pretty good too. It has hints of pineapple. Tony always marinates our chicken in this, but I think it pairs REALLY well with strips of steak. I typically will throw together steak, rice, and a veggie and work lunches for the week are a cinch.
While I cooked that, Tony put this together in the nursery.
Lots of extra storage for those "little things". Room for bibs, washcloths, receiving blankets, diaper creams, etc. This probably excites me way more than it should, but I do love that it's a hidden storage behind the closet door so there isn't stuff everywhere. We definitely want some kind of storage in the actual closet too, but since it's pretty narrow, I'm at a loss of what to do with it. Any ideas are welcomed!
Later that evening, I had my maternity photos done and I'm so glad we did it! It was a last minute decision (well I decided about 2 weeks ago- which is still pretty late). I thought if I don't do them I will probably regret it. I maybe have about 2 or 3 photos of me pregnant that someone else took. Like anyone else, I have selfies that I've taken each week, pretty much just to send Tony and my mom, but hardly anything else. I didn't stand next to a chalkboard and say "33 weeks pregnant" etc. with the fruit baby's size is equivalent to, like you see all over instagram and Pinterest. So I'm really glad I took an hour out of my evening last night to have some photos to look back on. I am pretty excited about the area we had them done. A really cute private beach area in Annapolis.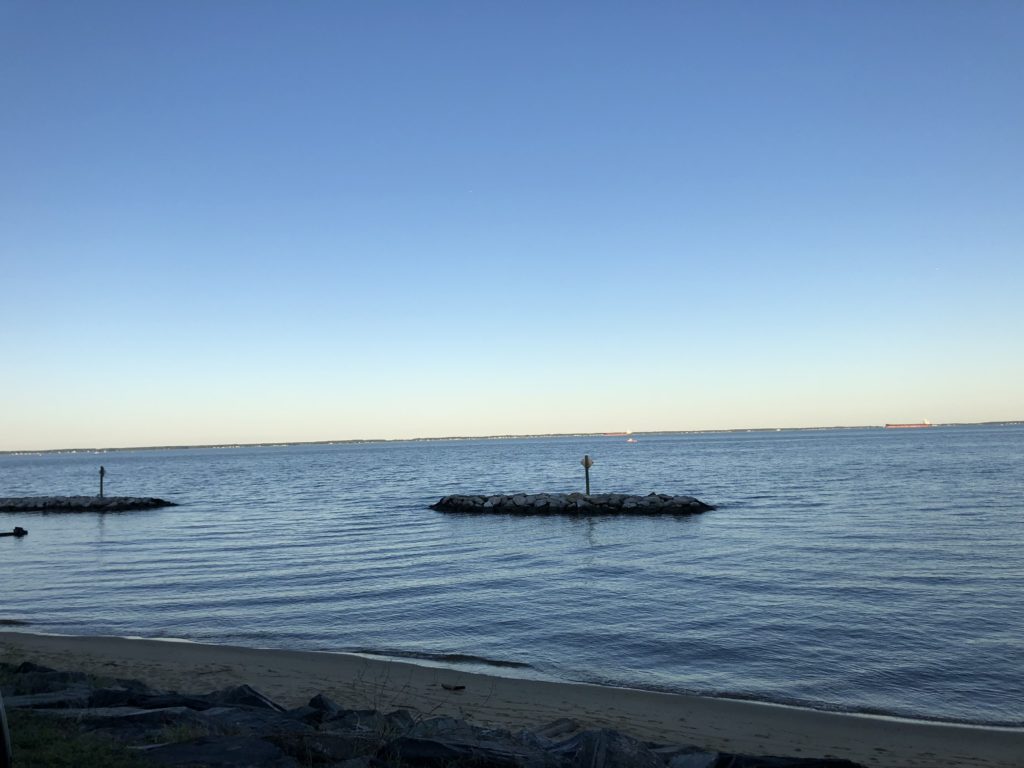 Initially I wasn't going to share them, but we went very tasteful so when I get them back, I probably will share a few here. I didn't have my belly out, I'm not really into that. Not to say there's anything wrong with it, it's just not for me. I just wore a long peachy gown, curled my hair, and kept my makeup natural and simple. Hopefully we get some pretty shots and a few pictures of Tony and I at such a special time 🙂
That's all I have for today. A quick little catch up post. I'll be back tomorrow to talk more about earlier in my pregnancy.
XOXO,
Minnie