My Favorite Day of the Whole Year
Today is my absolute favorite day of the entire year. It's time for the Golden Globes! You can think I am a little ridiculous, or laugh at me, but I'm perfectly okay with it! You see, the Golden Globes is Minnie's version of the Superbowl! Better than the Emmy's or Oscar's by far because television and movies come together in one big room, where celebrities sit at tables together and get drunk off of really expensive champagne!
Every year there is always a celebrity that has a bit too much and gives an awfully embarrassing acceptance speech and I will be there to witness it thank you very much!
Actually, the best part of the Golden Globes is the red carpet on E! Who is wearing what, who showed up, who looks gorgeous in their gown, and how will Ryan Seacrest make a fool of himself. It's my anniversary with DiPeppe too! (DiPeppe is my BFF for the non-regular readers). We met in PA school and instead of studying one night, we both realized we were watching the red carpet. Well our friendship took off from there and every award show ever since we are glued to our phones, texting back and forth about what people are wearing. It's madness and I love it. We typically have very opposite tastes too, but that's why I love her 🙂
So yesterday morning I had a delicious breakfast! I tried my new Ezekiel cinnamon raisin english muffins, and a natural strawberry protein powder. I was super pleased with the strawberry flavor! I ended up ordering it online I liked it so much.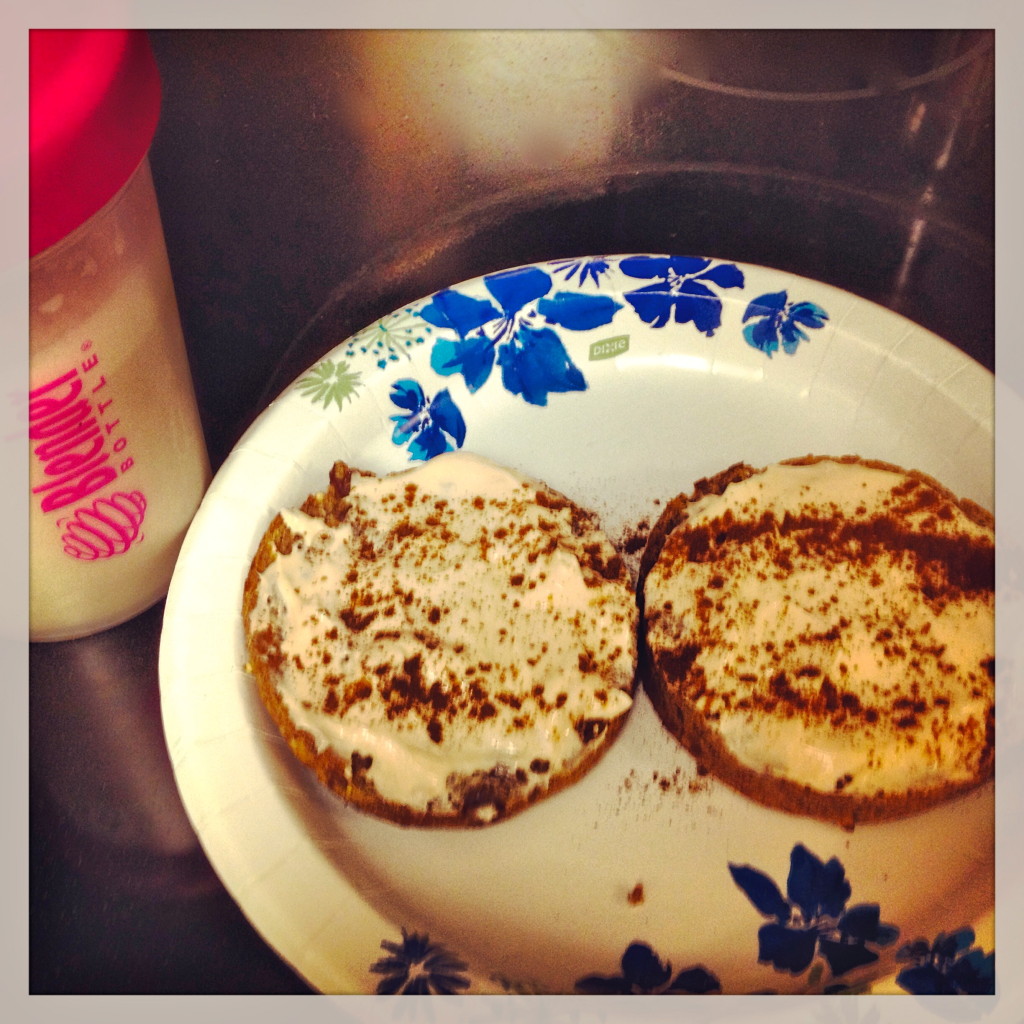 Cream Cheese!? That's not clean! Ha fooled ya! It's not cream cheese. It's greek yogurt mixed with my Goji powder! Then cinnamon sprinkled on top. I really liked it!
I mentioned the other day Phoebe has not been eating, so I have to give this dog something! Don't judge me, but I swiped Lucky Charms from G-Mama's house. She devoured them! Of course she is like a little kid and picked out all the marshmallows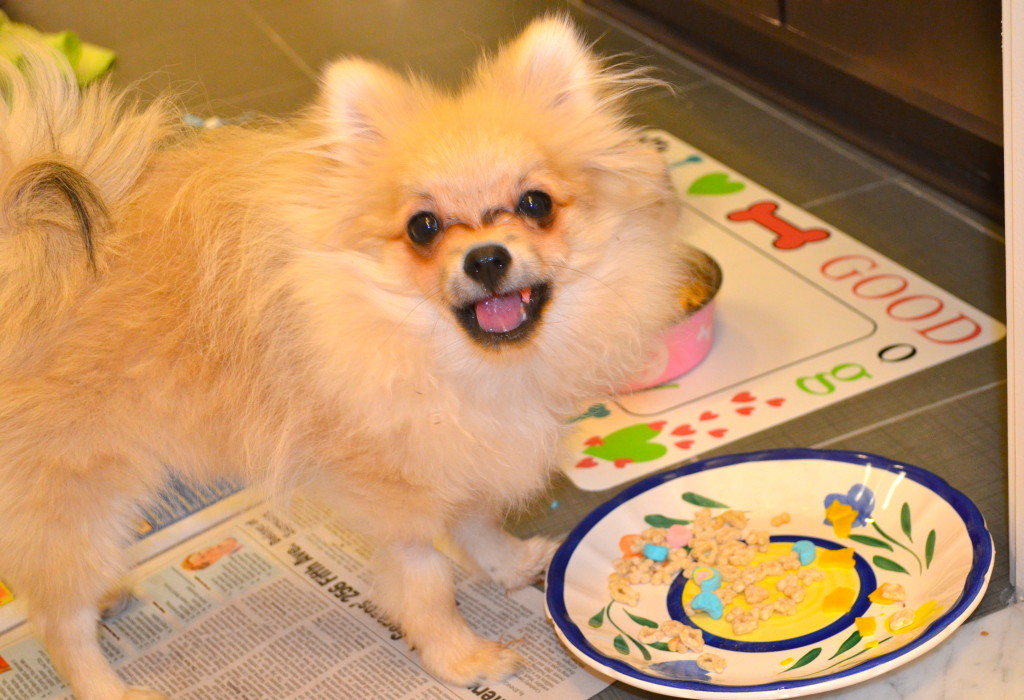 And in the car on our way to G-Mama and Pop Pops I noticed she was trying to steal Christina Aguilera's blue tipped hair look 😉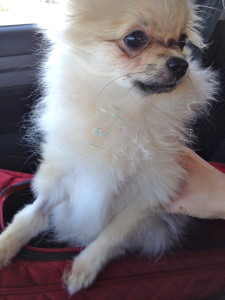 I'm so lucky to have my mom and dad (G-Mama and Pop Pop). They watch my little monster for me and let me go to the gym and take me time! Puppy sitting for me. Love you guys 🙂
So I went to the gym for LEG DAY! I tried some different things to give you guys more ideas than just your basic machines. I was super sore from my workout yesterday (abs were incredibly sore for some reason!), and by the end of my workout I was pretty drained.
I started with my 20 minute stair master session and headed to do some squats and stability ball work.
Plie Squats using a 44 lb bar, 12 reps x 3 sets with 8 pulses at the end of each set
Overhead squats with 44 lb bar (bar straight up to ceiling), 12 reps x 3 sets
Lunge and shoulder press with kettle bell. Holding a 10 lb weight to your side, lunge forward with one leg and press the kettle bell up in the air at the same time (same arm, same leg)- Here's some pics to help you! Alternate sides.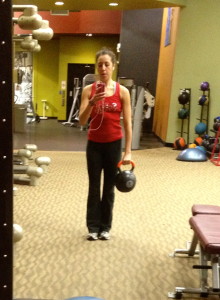 Leg raises on the ball. Lean your left arm on the stability ball, left knee on the ground. Lift and lower your right leg. 12 reps x 2 sets each side, with 8 pulses after each set
Standing hamstring toe touches using stability ball. This one is difficult, you have to have really good balance. Standing straight up, bend one knee and place that foot on the stability ball behind you. Now push the ball out and bend over and touch your toes. Works the hamstrings! 12 reps x 2 sets each side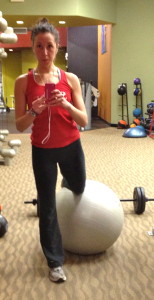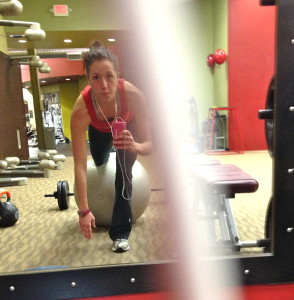 Leg presses 220 lbs 15 reps x 2 sets, then 260 lbs 10 reps x 2 sets
Calf raises 80 lbs 12 reps x 2 sets, then 90 lbs 12 reps x 2 sets
Leg extensions 80 lbs 12 reps x 2 sets, then 90 lbs 12 reps x 2 sets
Single leg squats on the bosu ball (flat part). Shift your weight to one leg and squat down and up. 12 reps x 2 sets each leg
Lunges on the bosu (flat part). 15 reps x 1 set each leg
20 more minutes on the arc trainer, some stretching and I headed home!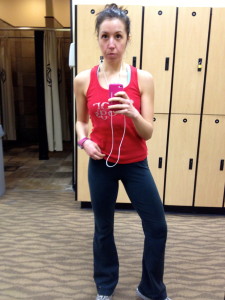 Since it was leg day I decided to wear my heart rate monitor… Well I think I am pretty much done with it, besides using it as my watch. Honestly I do not think it's accurate. I know I am a small person, but I am a beast in the gym and frankly I think I'm burning more than my watch is saying. I just don't believe my heart rate is only 120 something while using the stairmaster at a pretty high speed. I know my endurance has improved so much over time, but come on I'm drenched when I finish! That's not a 120 beats per minute workout.
I was liking the fat rate percentage though. So maybe it was accurate! Either way I'm not going to wear it, because I feel amazing! Who cares about the numbers?
At home I made a delicious clean dinner! I have been doing amazing with the clean eating! I don't miss anything at all. It's as if my diet has always been this way. In fact, it doesn't even seem like healthy food to me! Just normal and delicious! When people hear the word "healthy" they think zero flavor. Well they haven't met Skinny Minnie…. 🙂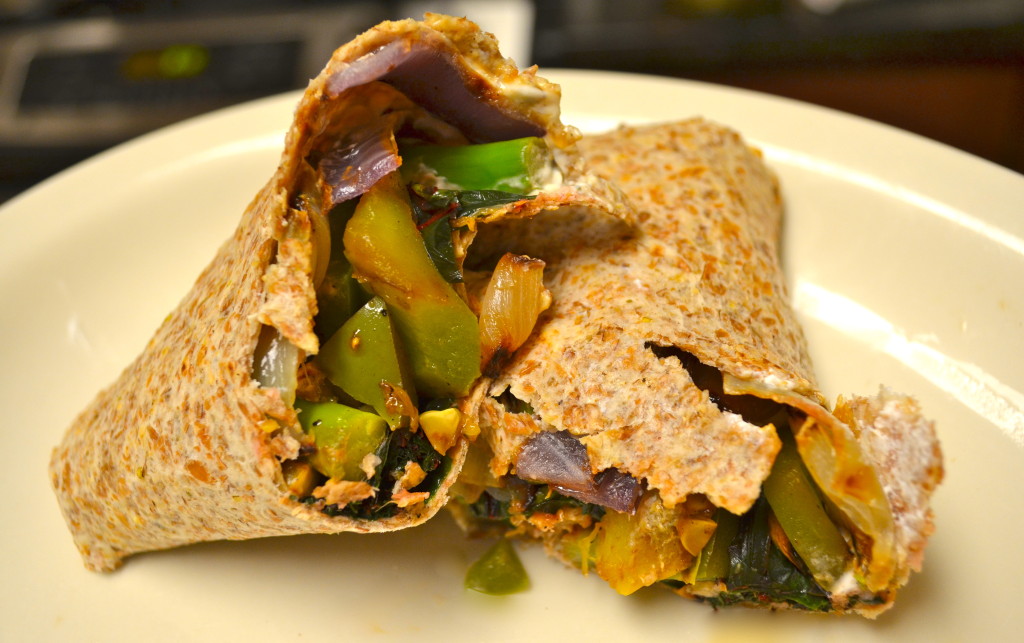 The Ezekiel Grilled Veggie Wrap is today's recipe! So click the above picture!
Was I blessed with some creative amazing chef gene? ABSOLUTELY NOT! I never cooked like this until about 6 months ago. All it takes is practice and some ideas!
I have so many more ideas floating around in my head that I don't have enough meals to fit them all in! I keep a list at home of new things I want to make and just pick one each day 🙂
You know that saying abs are made in the kitchen? It's 100% true! I actually work out LESS now than I ever have, and I'm the fittest I've ever been! It really is all about diet and putting clean foods into your body. So make the change and stick with it!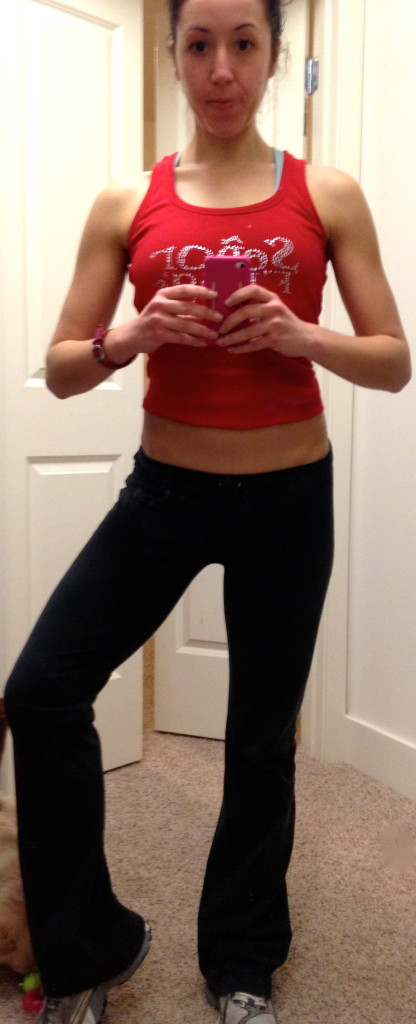 XOXO With a Cherry On Top,
-Minnie