Saturday Idea Fit – Cali
Good Morning!
Next up we talk more of what I experienced during the Idea Fit conference. This was filled with personal trainers and instructors galore! Most of it was continuing education for them, but I took part in some classes to get an extra workout and also learn some new things for the blog to share 🙂
I woke up bright and early again at 5:30am to head over to bootcamp with Shauna Harrison. If you don't know who Shauna is, you should! She's an under armour athlete, instructor, and smarty pants! Yes she kicks major butt, but I am mostly inspired because this woman has some brains on her. She has a PhD in Public Health from Johns Hopkins. She's known on her instagram for doing a lot of burpees. God bless her…
Sarah and I were ready to go!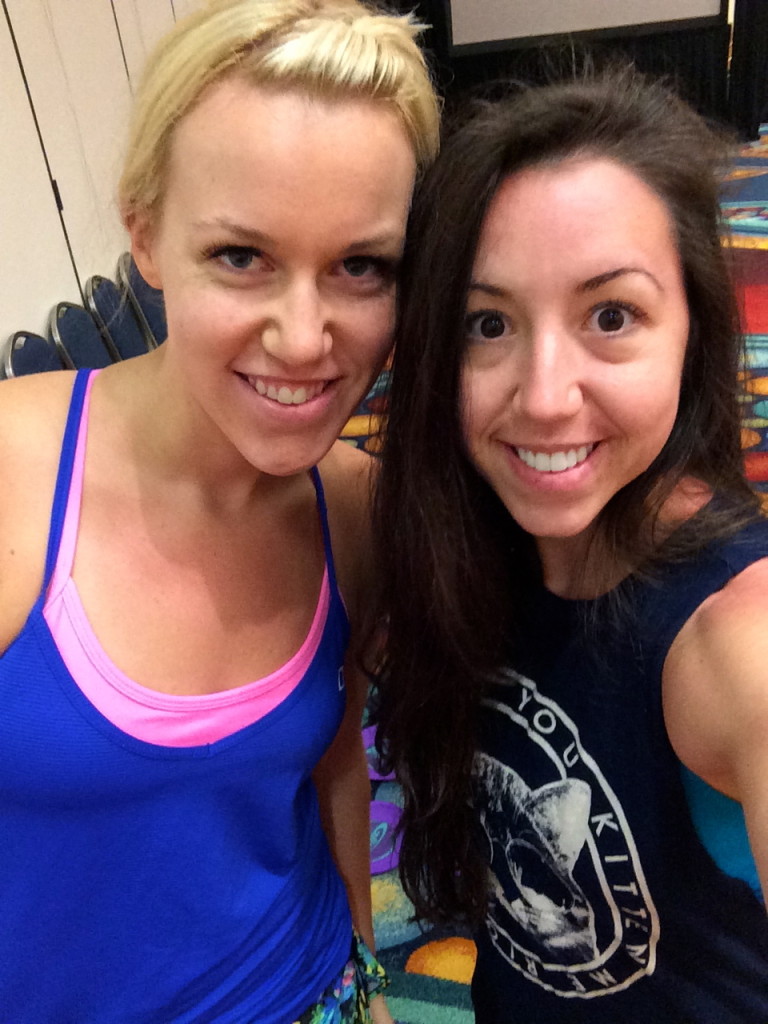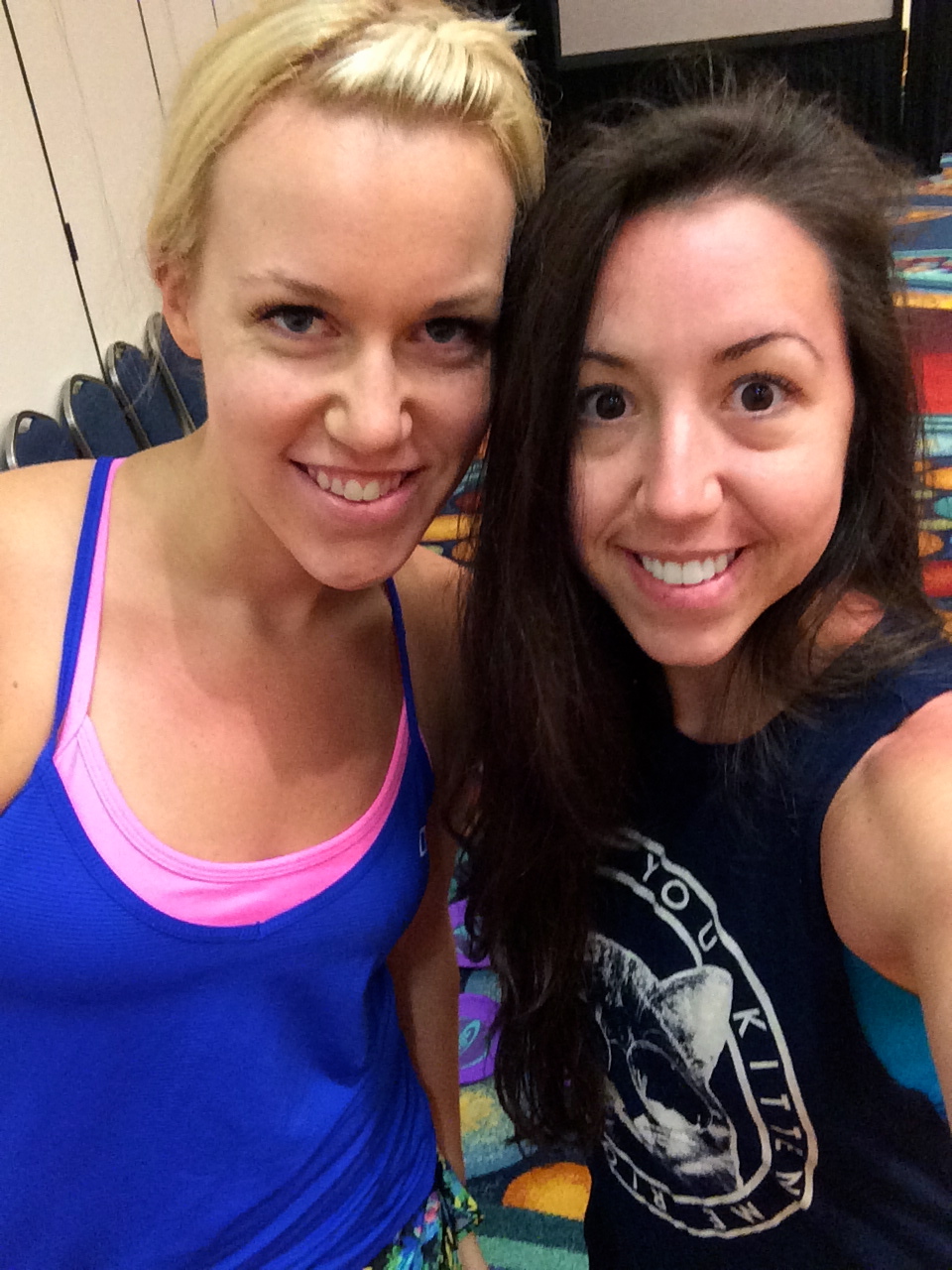 Under Armour was kind enough to give a few lucky bloggers their new Armour39 heart rate monitor to use in Shaunas bootcamp. It's amazing and syncs with your phone. You don't even need to keep your phone with you; keep it in your bag or locker and you can come back and see how hard you worked. Plus the app looks really cool, check it out!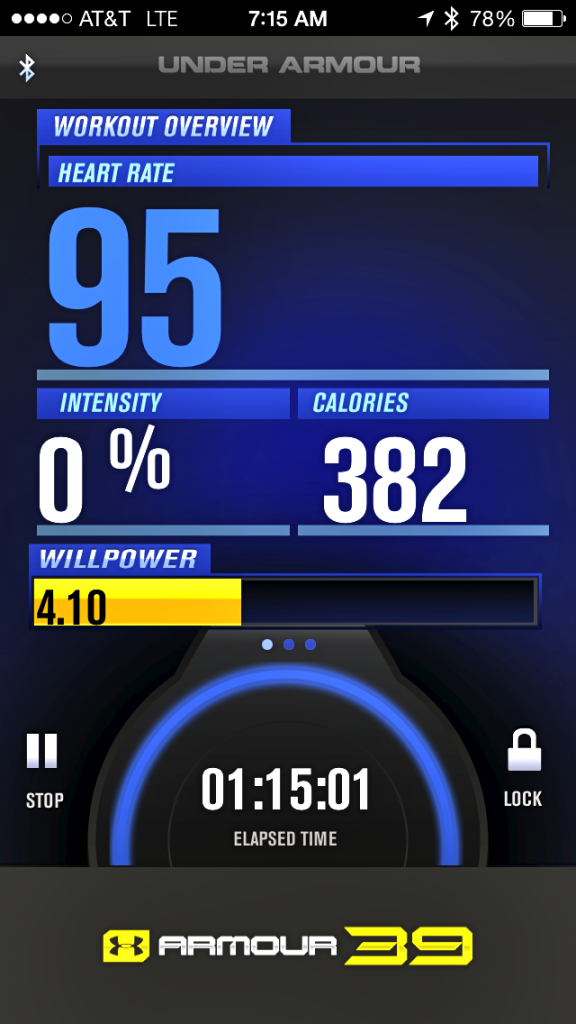 We did two intense rounds of bootcamp drills that included the long ropes, bands, these cool Step 360 pros (a mix between a step up and bosu), box step ups, lunges with gliders, and pushups. My heart rate was through the roof. Throw in some HIIT intervals for cardio and I was spent. We finished with some awesome arms, abs, and a bit of yoga to relax the body. Shauna really does it all!
After bootcamp I was signed up for TRX for idea fit. You pre-registered for the classes you were interested in and then went to them. There was so much to choose from!  They were really long classes (some almost 2 hours), but some of them were a lot of lecturing. I was so beat that I stayed in TRX for about 15 minutes before bailing. My body was saying "hello please let me rest", so I listened!
I went back to the hotel for chill time and then went back to the fancy hotel for a lift! I had to get my bicep workout in and I ended up doing some compound movements to challenge my body a bit more. Instead of just a double cable bicep curl I squat down and up in a plie stance, even lifting my toes. The focus is on the entire body rather than just biceps and it also works your core because you have to stabilize yourself. So try this little number!
After my workout I grabbed a coffee and found a cozy little chair. I just let myself melt in it 🙂 This conference was exhausting! I kept being told "oh you're on vacation". Well technically yes, but I'm working my butt off! I needed a vacation after this "vacation" 😉
Later on in the day I headed back to the expo to shop around. I ended up running into my old boss, Bre, from when I taught aerobics at the University of Maryland! Such a small world, I hadn't seen her since I graduated and yet we see one another in California.
I also managed to find this little guy sleeping under a rack of clothes. He snuggled right up to me and gave me love. It's like he knew I was a dog Mommy!
How cute is he? I immediately missed Phoebs even more.
At the expo I tried all kinds of neat things. Check it out!
Egg white chips! Yes EGG WHITE CHIPS! Made with corn, they were cinnamon sugar and seriously tasted like a healthy cinnamon toast crunch. Need to find these, so good!
This was a dairy free protein peanut butter ice cream bar for 80 calories. It had carbs- about 14 grams, but my carbs were SO LOW that day that I knew it would be fine.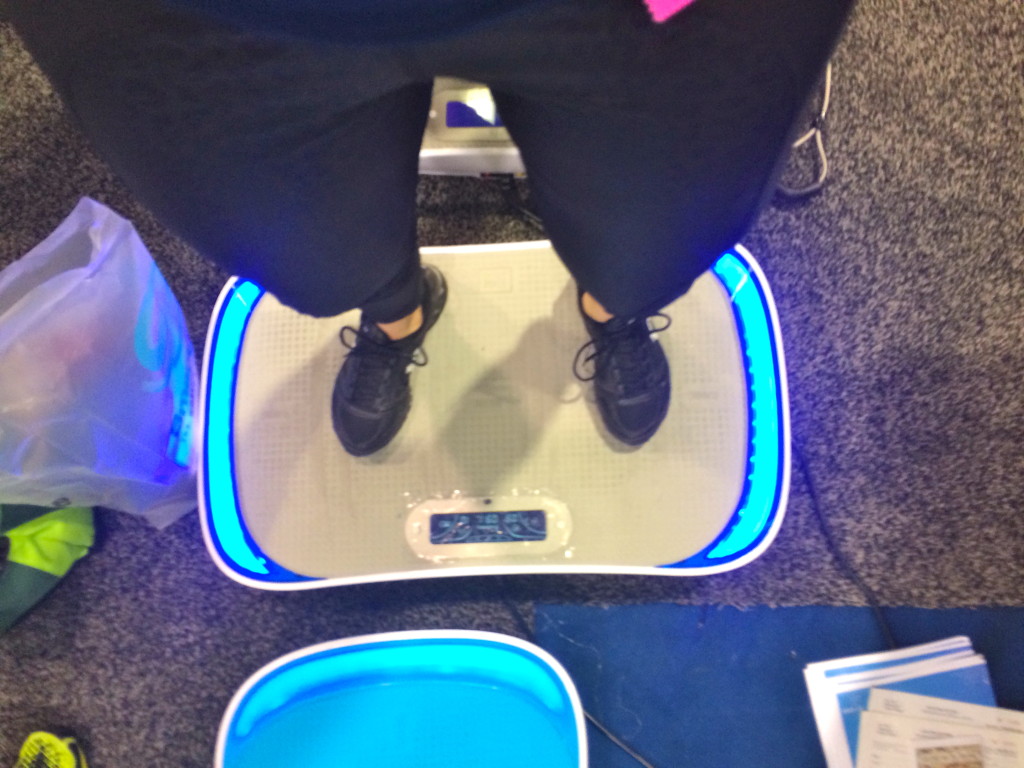 This little machine vibrated underneath you, supposedly burning calories and breaking up cellulite. Now I'm not out to bash anything, but do I really believe I burned 230 calories standing on this for 5 minutes? Absolutely not. As a medical provider I know that a little vibrating machine is not going to get rid of cellulite. You can reduce the appearance by squatting and getting in shape, but most of it is genetics and all women have it! And this little baby was close to $3000, so sorry lady with body glitter on her abdomen, I'm not buying what you're selling. 😉
I also did a really cool mini workout using slam balls! So much fun.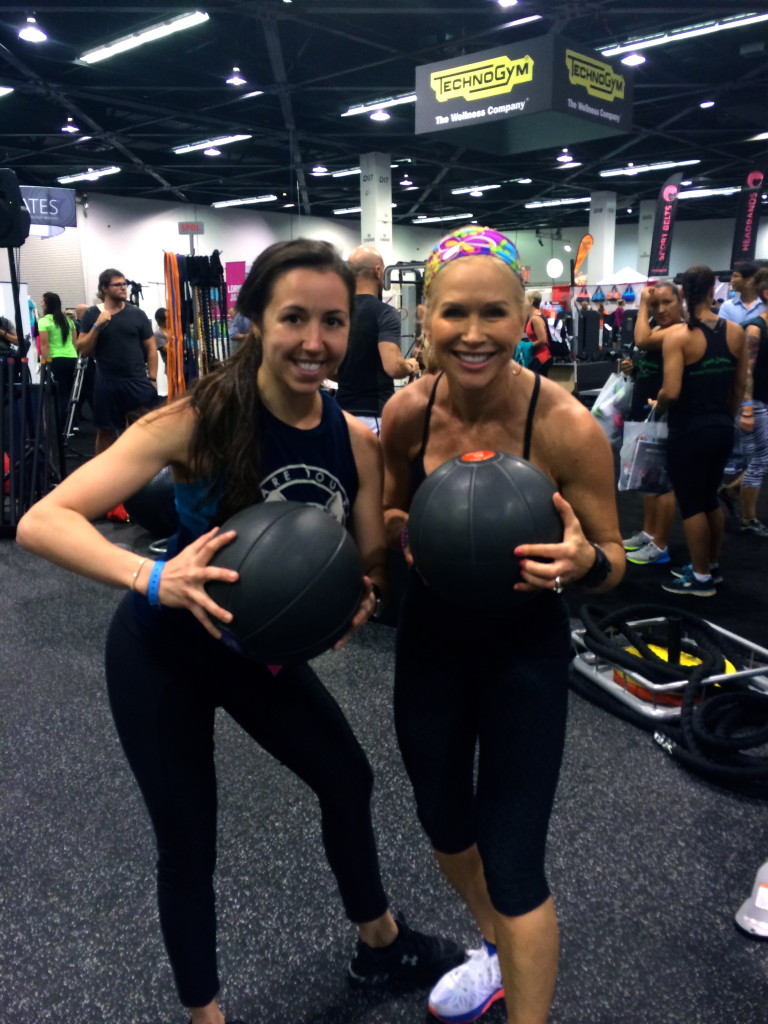 After expo fun, and MORE WAFFLES (ugh)…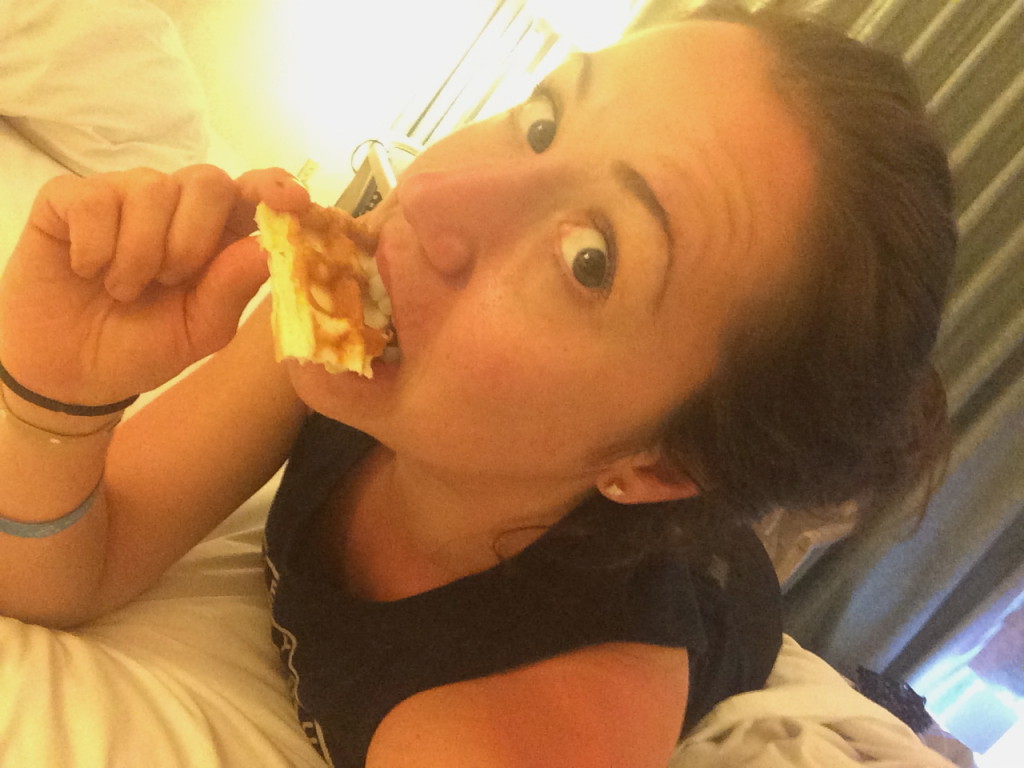 It was time to hit SPIN CLASS!
I had been waiting for this experience. The room was huge, lined up with bikes. They focused on "display motivation". I was texting Sarah saying oh my goodness I don't want to do this! Let me explain.
Display motivation is when you are in a room spinning with peers and how hard you are working shows up on the screen. Now, I'm a pretty fit person, but this is super intimidating and I don't think it would be the right way to motivate someone. I think it would scare more participants away than anything. Sarah had mentioned in another class the bikes had lights: red, yellow, green. Green meant you were working hard, yellow meant 'okay you're kind of working', red meant you are a 'big giant slacker'. Scary!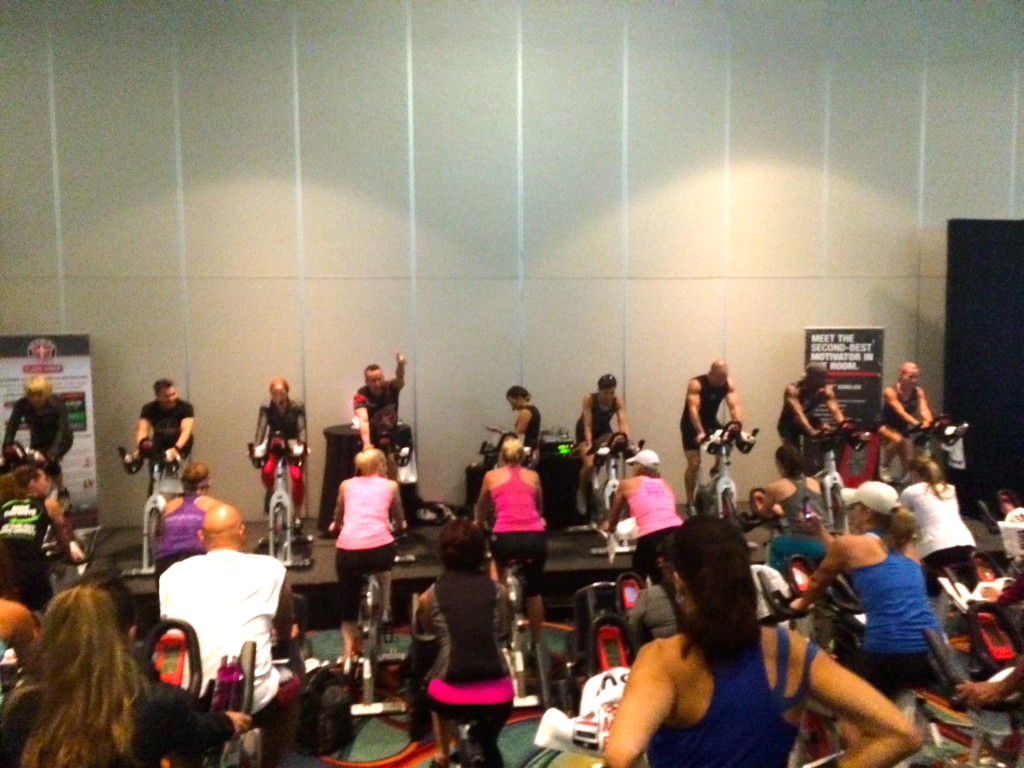 After the class started I realized our bikes were numbered and our mileage and watts were up on a giant grid.
No one really paid attention to anything but their own number of course, but I still felt a little sensitive about it because guess what? I was almost in last place. Well maybe not last, but the end of the pact. I had been working out constantly for the 3 previous days and I spin differently than the average person. I focus on what I need to as a bikini competitor, so I usually do my own thing. I hover over the seat to work glutes, I slow the movement down to get the burn, so of course my numbers weren't matching with the rest. I do my workouts for me and no one else! I encourage you to do the same 🙂
I also was given this AMAZING sweatshirt. Only a few were given out and maybe they felt sorry for me because I was slower? I'm not sure and I don't care, but I just love this!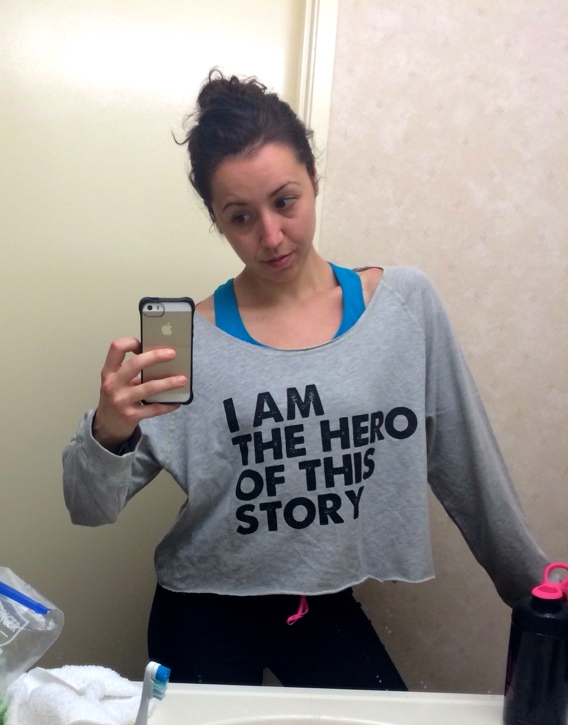 Later that evening Sarah and I showered and got ready for DOWNTOWN DISNEY!
Can you tell I just loved the palm trees?
Minnie is in DISNEY!
We had a lovely dinner, most of which I picked apart the pita, too many carbs!
Then I hit the Disney Store.
Look at the fun stuff I purchased.
And for my niece 🙂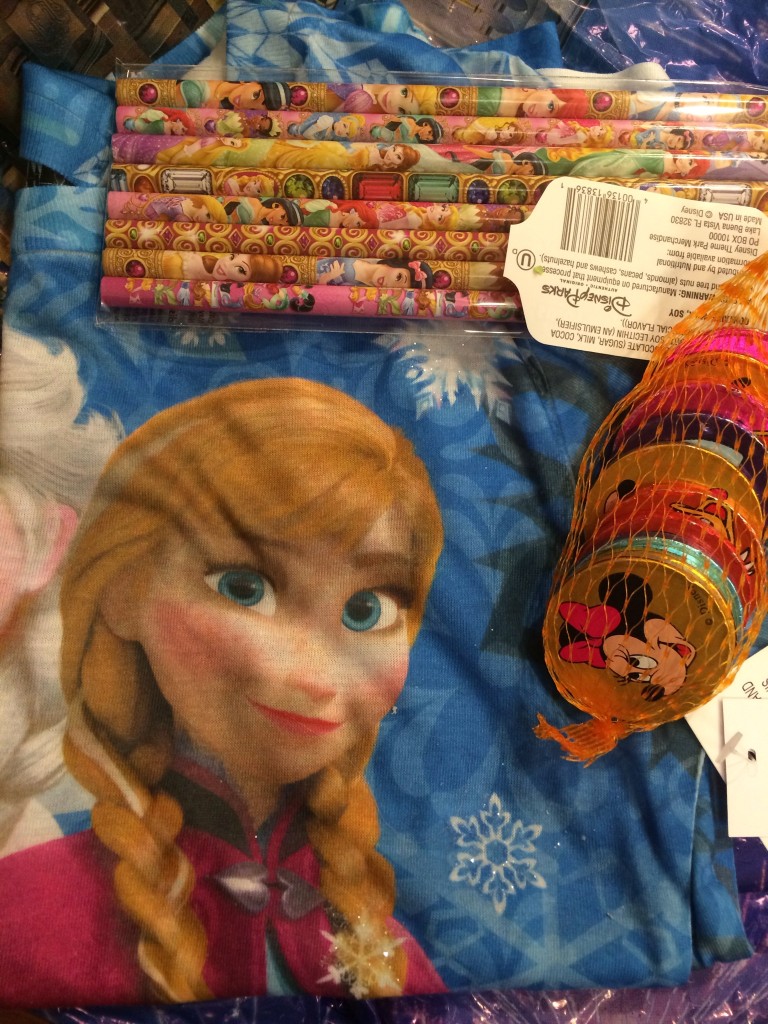 And had to stop by the Harley Davidson store for Coach. He's a biker, and no I've never been on it. I refuse! I'm a wuss.
Back at the hotel we started to organize our loot (believe me we came home with a lot of stuff). I had to sit on my suitcases to make it back to Maryland. In fact, I left quite a few things behind that wouldn't fit. Someone is getting a very nice yoga mat!
The following day was all day travels, on the road home to Maryland!
A 2 hour flight delay in LA made me want to pull my hair out. I was more than ready to see my girl. Finally around 11:00pm I was reunited with Phoebe Buffay!
My dad picked me up and brought her with him and I sent this picture to my mom. She said "I can't tell who is happier!"
Phoebe was so happy to be back home in "big bed" and so was I. There is just NOTHING like your own bed huh?
Overall, one of the best trips I've ever had. I had amazing once in a lifetime experiences, and made a new friend for life. Remember how I wanted to leave night one? Well, you never know how things will turn out. I would have missed out on an incredible trip had I gone home.
So thank you all for letting me share my awesome trip with you guys! I learned a lot this conference and have some good things to bring to this blog. I'll be working on a few videos soon so stay tuned 🙂
XOXO With a Cherry On Top,
-Minnie