The Catch Up Game
Good Morning!
I hope you all enjoyed reading about my trip! It's nice to document the entire thing so one day I can look back and say wow look what I did while I was young! One of the benefits of being a blogger 🙂
So this past week has been an emotional roller coaster for me. One day I thought I was right on track with prep, the next I said "I won't be able to do it in time". After a lot of thought, I quit. Yep, I quit. And then about 4 hours later I was back in the game. Bipolar bikini girl issues I guess you could say. Plus I have a lot going on in my normal day to day life, so my stress level has been through the roof, more than I can remember it being in a while. I actually fell asleep on the couch Friday night out of exhaustion. I woke up thinking "I am a strong woman. I've done a lot in my life all on my own by the age of 29. Blogger, Business Woman, Writer, Surgery PA, Bikini Competitor. I can do it". 
Here I was meal prepping 4 hours after I quit… 😉
And the people who believe in me the most? My mom and dad of course. Without their encouragement (oh boy… why am I crying right now?- I told you, bipolar bikini gal!), I wouldn't be half the woman I am. No dream was too big or too small. If I said I'm going to be the first female president, they'd believe I could do it. (Obviously not doing that, just an example). I am EXTREMELY fortunate to have amazing parents, with an incredible marriage. I hope to have that one day. I see the support they have for one another and it's the reason I told myself I'd never settle for less.
Okay enough with the sappy stuff eh?
This week I hit the gym everyday, taking it to the next level. Lean out time is NOW. No excuses, going full force. Yes, I'm absolutely exhausted, but I have a goal so I do whatever it takes. Other things suffer in my life, but as they say you only live once, and I'm living the way I want to!
Coach and I decided to take a week off from the heavy stuff and go light weight, high reps to give the body a bit of a shock. I really missed the heavy weights, but still felt the burn regardless. I guess heavy will always have my heart!
Sunday I took my 8 week progress pictures. Here's one of them I'm pretty proud of that shows my shoulder, legs, and booty progress!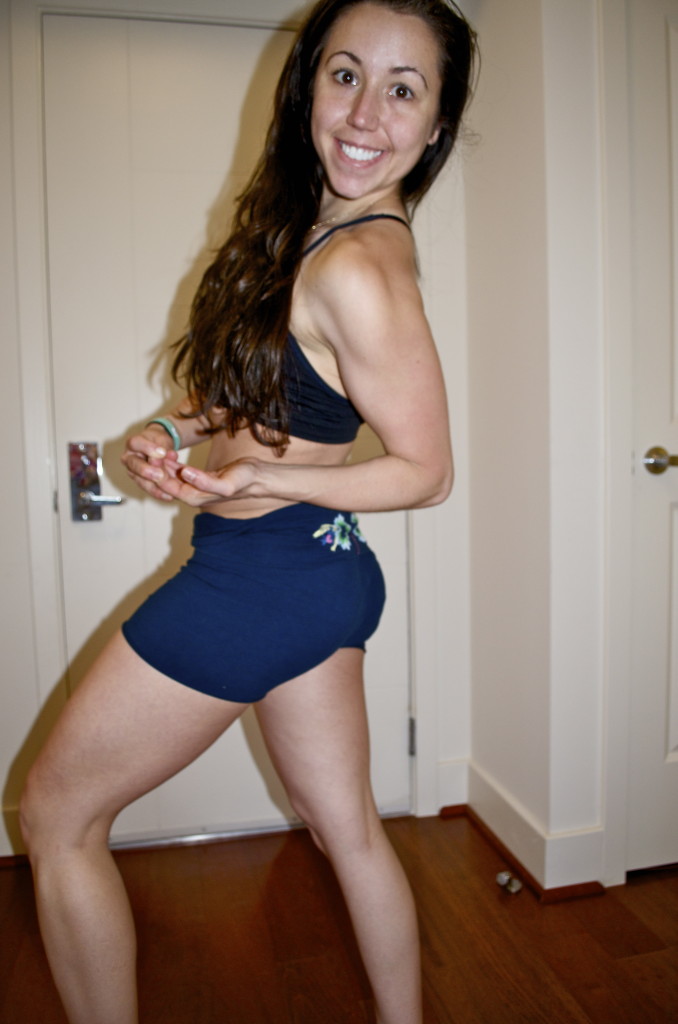 On the food front, I officially got rid of dairy. I had some greek yogurt and cottage cheese here and there, but it was time to let it go! Since I know many of you still eat greek yogurt (it's delicious!) I wanted to share this recipe I came up with the last night of my dairy portion of prep.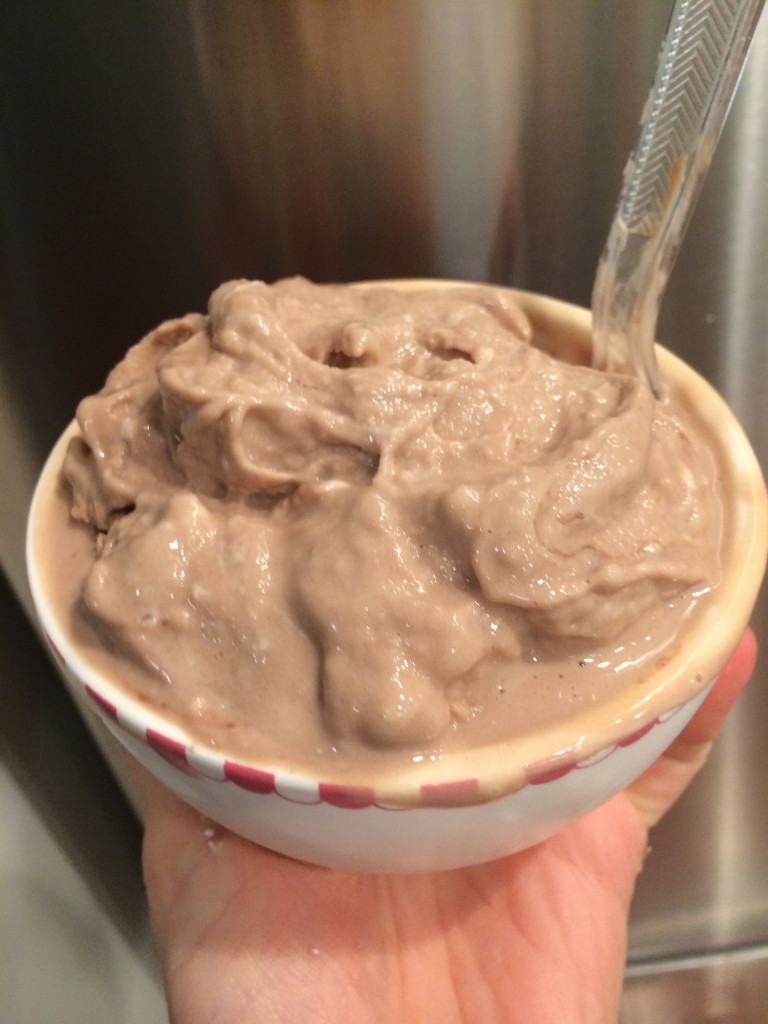 Soft Serve Pro-Yo! It tastes like soft serve ice cream!
Now that I've grabbed your attention…
Here's what you'll need:
8oz plain nonfat greek yogurt
1/3 pint of chocolate peanut butter arctic zero (don't be fooled, there is nothing scary and artificial in this, and frankly on it's own it tastes like NOTHING, ice milk and protein)
1/2 scoop of chocolate whey protein
2 splashes of unsweetened coconut milk
An ice cream maker
Now if you do not have an ice cream maker, you could probably mix all of this and freeze it, but the ice cream maker itself makes it soft serve like. Mmmmmm 😛
And the macros!
It's around 243 calories for that huge bowl! And the macros are on point for ice cream 😀 Look at all that protein!
For those interested, I own this ice cream maker and it's fabulous:
When I was in California, I found a great booth called Egg Whites International.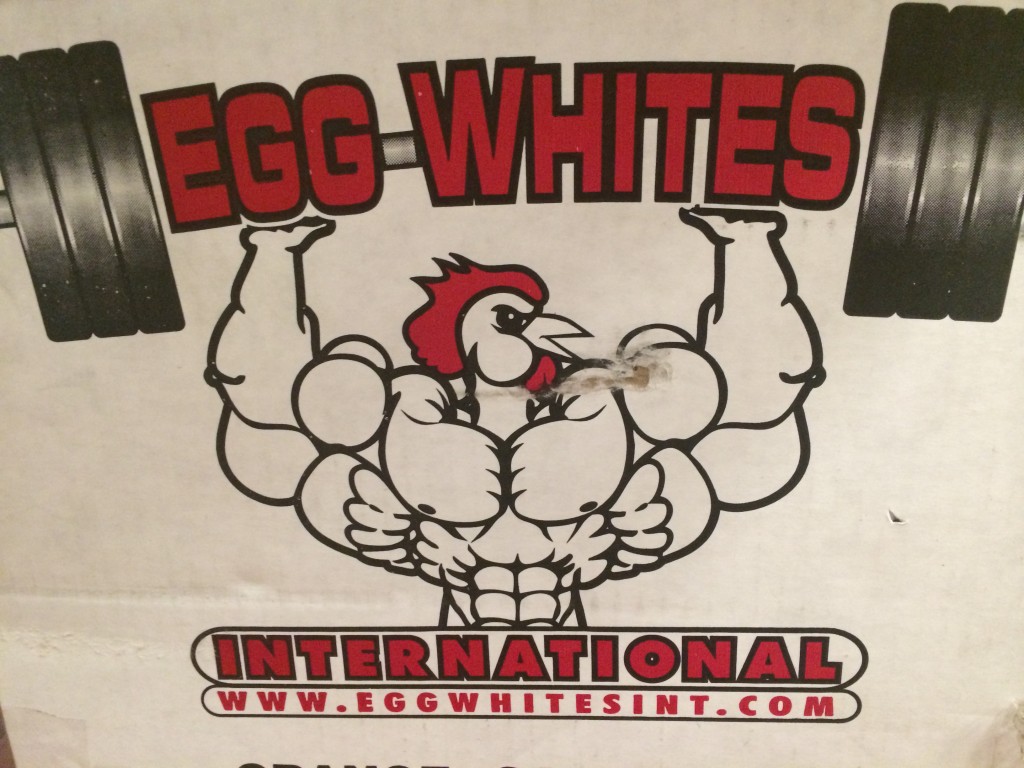 They are PURE 100% egg whites, no additives, no fillers (like some of those other companies). If you go through egg whites like me, this is your solution. It can get a bit pricey, so I bought two, TWO gallon bottles in bulk for $65 bucks! I did the math, just buying those carton egg whites from the store can get pricey. Buying these two in bulk saves me money! You can freeze and they will last about a year, or in the fridge 4 months. These will go in a few weeks 😉
Here at Skinny Minnie Moves I share the wealth…
So I end today mentioning Phoebe. I'm sure many of you saw on my instagram my little one is sick 🙁
She's doing okay though! Mommy was a BIT of a wreck in the vets… okay so I cried a little? Okay… a lot.
Phoebe has been having some tummy issues for a while now and doing a lot of this weird burping noise. We put her on medications for the reflux, but our vet is concerned she might have Crohn's Disease or Colitis. Phoebe was a trooper in the vets! Even with the blood draws. Big girl for sure.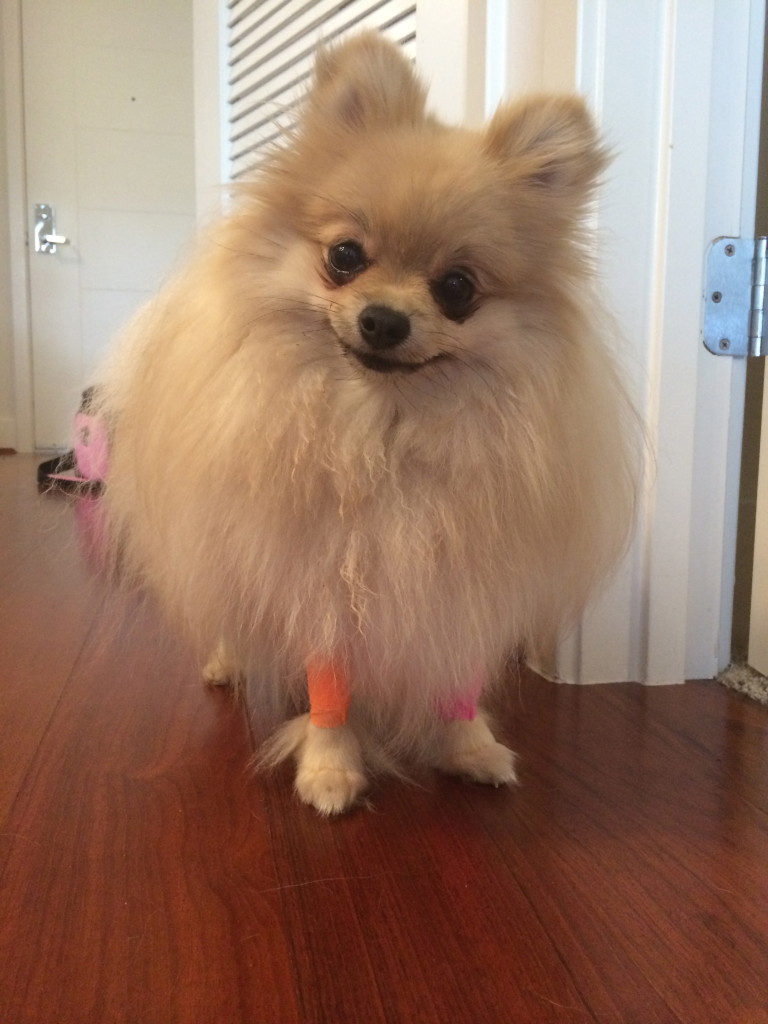 "What are you crying for? I'm the one with the bandages!"
We also have a prescription diet to follow that I hope will help solve the problem instead of having to go more invasive. Please keep my little girl in your thoughts. You know she's my whole entire world 😀
Have a great Monday!
XOXO With a Cherry On Top,
-Minnie