Skinny Minnie Loves Overtime Pay
WOW! That's all I have to say about my workday yesterday. Literally kicked my Skinny Minnie booty. It was insanely overwhelming. I've only been there 3 weeks and all the residents were gone taking a test, my boss was in the OR all day, so it was me managing the floor all day. Pager went off every 4 seconds (I'm not exaggerating guys). I have to say for someone that's only been there for a short time, and for being a person that only dealt with pregnancy before to now working with all surgical patients, I handled myself pretty well. Made me feel competent! Always a good feeling 🙂
On the way to one of the floors I stopped for 30 seconds to pick up this little treat
I literally said to the lady "Give me the biggest cup you have". Boy I NEEDED IT! When I woke up I was already dragging and at work I was trying not to be rude yawning during rounds, but couldn't help it. Before coming in, I only had half a scoop of coffee at home so it was too weak and I was suffering. This coffee was the dark roast! Mmmmmm good stuff
Later in the afternoon I finally saw a window, and this was happening
Not going to be a fun ride home! Actually I didn't hit traffic because I didn't leave until past 6 (supposed to leave at 430). GOD BLESS OVERTIME PAY! But the roads weren't even cleared! I couldn't believe it!
When I finally got home I raced down the hallway because I knew my baby was waiting for me! Only thing that stinks about overtime is more time that Phoebe is alone, but we have 2 whole days together now 🙂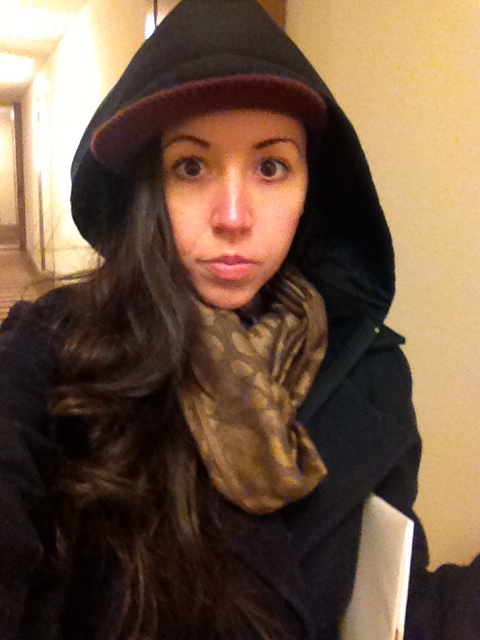 She was so happy to see me and didn't leave my side all night! I have to say I was so happy to see her too. I always sit on the floor when I get home and she leaps into my arms and attacks. Love this little one!
Dinner consisted of some shrimp marinated in just olive oil, lime juice, and pepper. I also had some other leftovers I scrounged up, and picked at stuff in the fridge because I didn't feel like waiting to make a major meal.
I then caught up on some TV, laundry, and started cooking a little. Even though I decided to take the day off from the gym, I really didn't want to. I felt like I could have benefitted from a little exercise after that day, but the body always needs a recovery day! I plan on hitting the gym hard for leg day today (Saturday) since I don't have any major plans (well of course G-Mama and Pop Pops- cannot wait!).
I love going in the kitchen when I'm upset or stressed. It really helps to calm me. Two days ago I was the happiest person in the world, I still am happy, it was just a hectic day and I am really missing socialization with my family and pup. I usually just text my family a few things each day, and hang with Phoebe an hour or so before starting the work day all over again.
So to cheer me up, I made these cute little fruity protein snacks!
These are Protein Yogurt Fruit Kabobs!
One of these darling little kabobs has 53 calories, 0.1 grams of fat, 2 grams of carbs, and 10.4 grams of protein. Wow protein on a stick! Click the picture for the recipe 
My eyes suddenly became heavy after I finished and off to bed I went. Never felt more deserving of sleep!
Hope you enjoy every second of your weekend!
XOXO With a Cherry On Top,
-Minnie