Strawberry Shortcake Waffles
The story of these waffles starts with two things: a waffle iron that I forgot I put in my gym bag and I carried it around the gym all day, and strawberry shortcake Extra sugar free gum.
I knew in my head I was going to make another protein waffle recipe, so I asked my mom if I could borrow her waffle maker. I didn't make them the night I took the iron, so I threw it in my gym bag and the next day at the gym I thought wow this bag is heavy…
I didn't have a choice but to carry it around the gym, oh well.
When I came home I had planned on making a vanilla batch, until I saw this gum sitting on the counter.
Then I thought wow strawberry shortcake waffles would be excellent! I had a few extra strawberries in my fridge I needed to use anyway, but what else could I use to make it extra flavorful? I definitely didn't want to use strawberry protein powder (that taste isn't always so good in recipes). So in my cabinet I went. A light bulb went off when I realized sugar free strawberry Jell-O powder would do the trick! As I rummaged through I had every darn flavor but strawberry. Then I thought okay Crystal Light! Again no strawberry. Then I came across this little gem I had bought MONTHS ago and didn't even know was in my cupboard.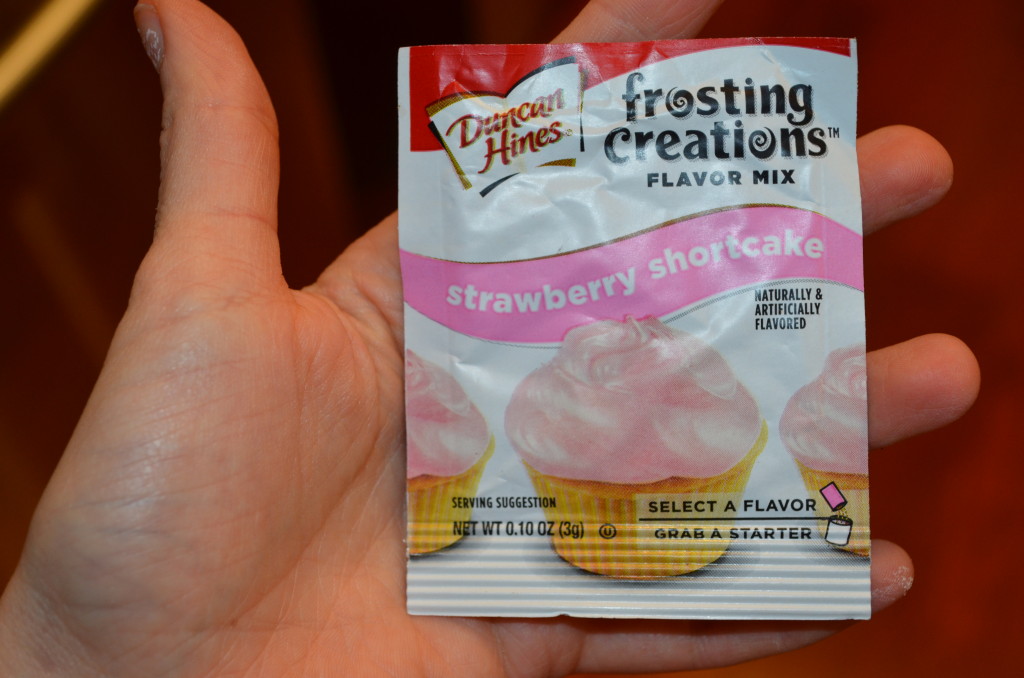 You can find these in the baking aisle next to the frostings. They are 10 calories for the whole packet and 2 grams of carbs! A good way to add flavor to things.
So the strawberry shortcake waffle is born thanks to this little packet.
For this recipe you will need: 
1 cup of organic oat flour
1 scoop of vanilla protein powder
1/2 teaspoon of baking powder
1 packet of frosting creations in strawberry shortcake (you can also use sugar free jell-o or crystal light packets)
1 Tablespoon of stevia in the raw
1/2 cup of chopped fresh strawberries
2 egg whites (or 1/4 cup of egg whites)
2 Tablespoons of unsweetened vanilla almond milk
3 ounces of unsweetened natural apple sauce
1-2 Tablespoons of white chocolate chips
1-2 Tablespoons of Cool Whip Lite for topping
Fresh strawberries for topping
Sugar free maple syrup drizzling for topping
Makes 2 large belgian waffles 
Start by mixing together the dry ingredients: oat flour, baking powder, protein powder, strawberry flavor packet, and stevia.
Next add in the wet ingredients: egg whites, almond milk and applesauce. Once mixed, add the chopped strawberries and some of the white chocolate chips. Fold in.
This alone looks great to me!
Spray your waffle iron with cooking spray. I used coconut oil spray! I found it at Wegmans. Fill the waffle iron and cook for about 8 minutes or so until the waffle firms and it starts to turn a little brown. It's hard to tell in these pictures but the waffle is a perfect baby pink color 🙂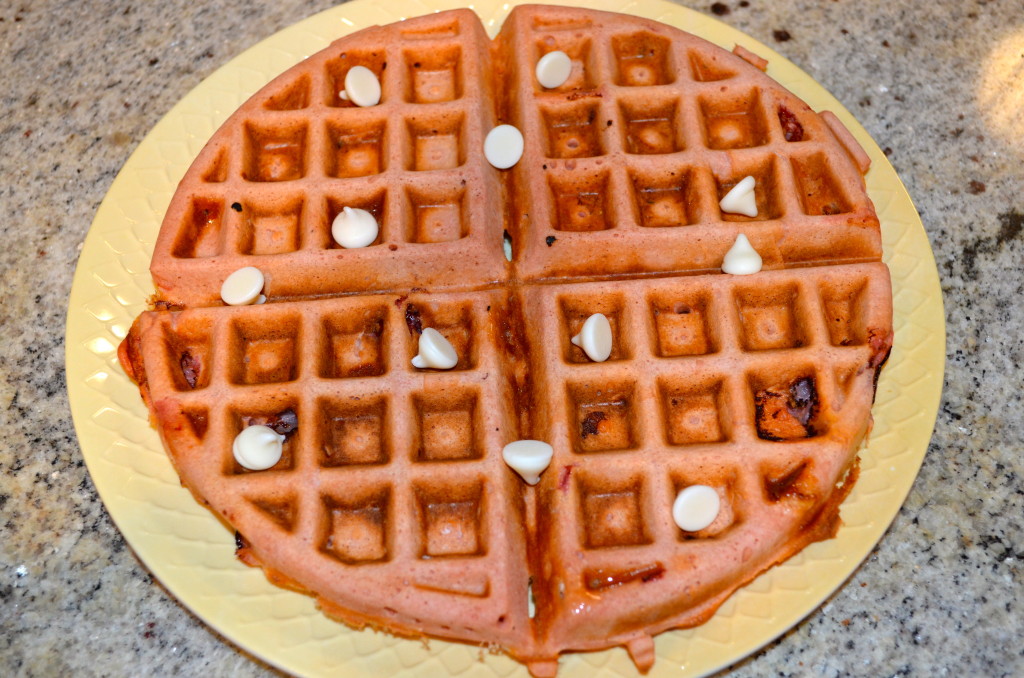 While the waffle was hot, I sprinkled in a few more white chocolate chips. They melt just a tad and it's AMAZING! My mom always put white chocolate chips in our waffles as kids and it was my favorite.
Top your waffle with some Cool Whip Lite, fresh strawberries, a few more chips, and a drizzle of sugar free maple syrup.
Mouth watering
By far the best waffle recipe I've ever made!
Too pretty to eat?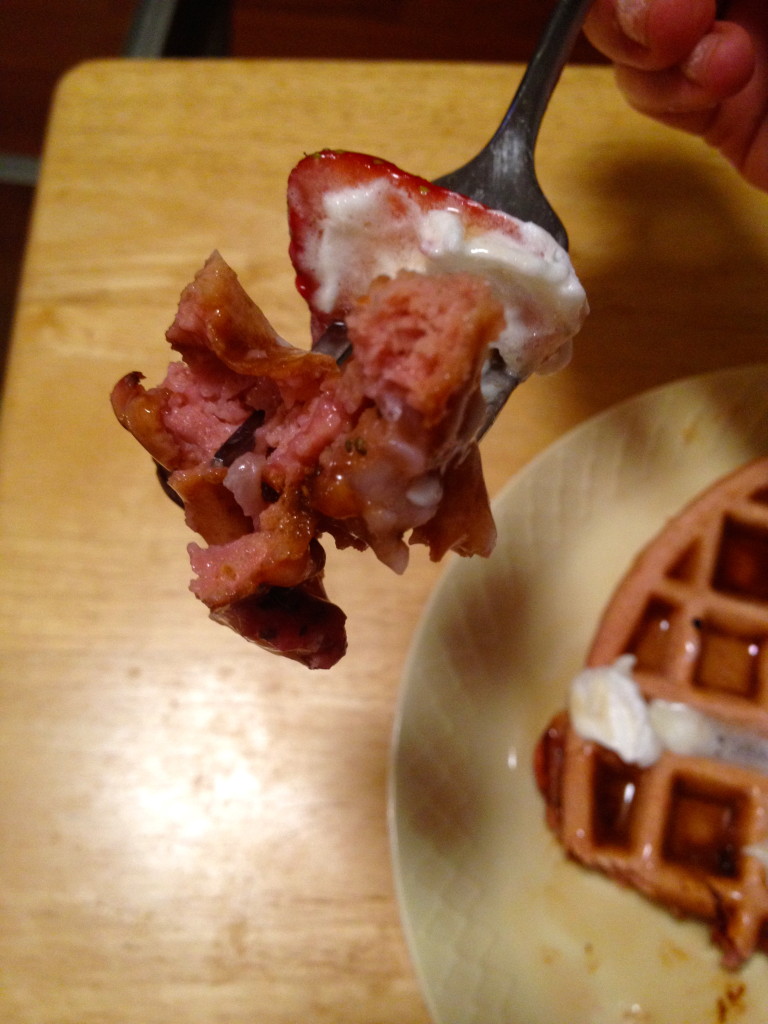 NOT A CHANCE!
I think I will be making these whenever I have a pancake/waffle craving because they blow any pancake I've ever made out of the water. Not to toot my own horn, BUT…
TOOT TOOT!
Nutritional info: (1 waffle-including all toppings): 341.5 calories, 6.15 grams of fat, 46.75 grams of carbs, 22 grams of protein. 
Happy eating…
XOXO With a Cherry On Top,
-Minnie