Stuffed Sweet Potatoes
I love sweet potatoes. They are one of those foods that you either LOVE or HATE. I've had discussions with people about the sweet potato multiple times. I seriously do not understand those that hate them. They are delicious! But I guess those are the people that love cilantro and do not understand my extreme hatred for the herb.
Sweet potatoes are the healthy carb and very versatile. You can make them savory or sweet depending on your mood. For this recipe I decided to go the savory route, and play with a few spices to kick it up a notch without adding extra calories.
This potato is pretty clean! If you want to make it 100% clean eating, just skip on the cheese. It also will save you an extra 13 calories and 1 gram of fat if you don't add it. I like melted cheese on top of things, so I'll take that teeny bit extra thank you 🙂
For this recipe you will need: 
3 large sweet potatoes (each potato is approximately 9.4 ounces) 

1/2 medium white onion chopped
6 ounces of fresh spinach leaves
1 teaspoon of garlic powder
1 teaspoon of curry powder
1/2 teaspoon of cinnamon
1/2 teaspoon of pepper (or more to taste)
1 ounce of reduced fat shredded Mexican 4 cheese blend (Sargento brand)
(Makes 6 servings, 1/2 of a potato)
Start by preheating your oven to 400 degrees Fahrenheit. Place the sweet potatoes right on the racks and cook for approximately 1 hour.
Take them out and let them cool before slicing them longways
While they are cooling, cook the onions in a pan with a little olive oil spray until they are translucent
Next add the spinach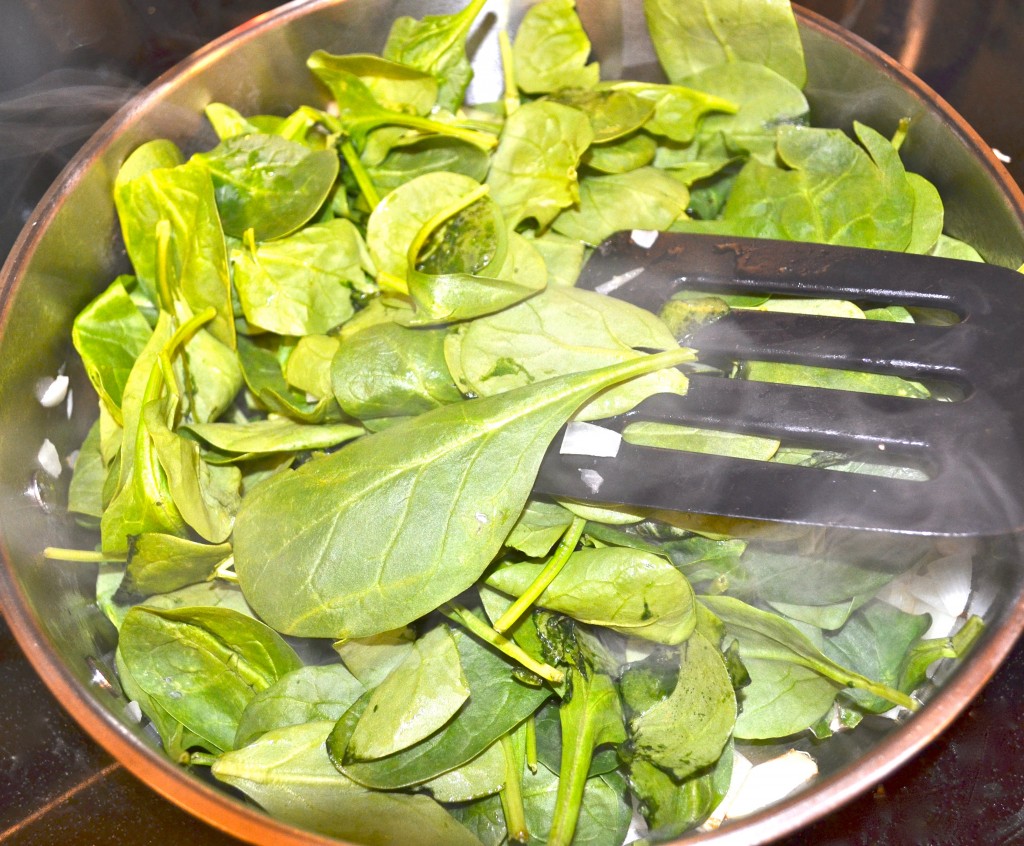 While this is cooking down, slice your potatoes longways and scoop out the insides. Place in a mixing bowl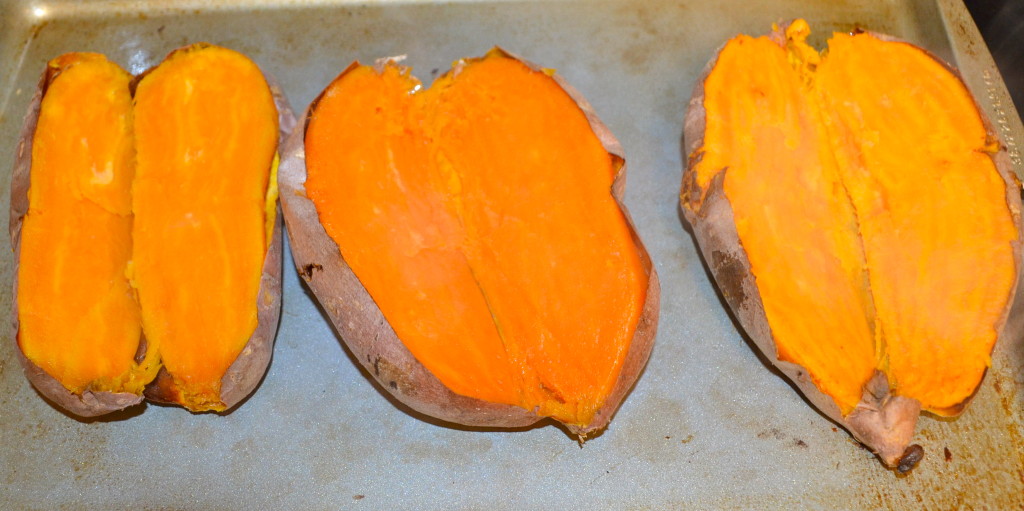 Then mash away!
Next add this to the spinach and onion mixture
Mix it up good, then add those yummy spices
Mix and spoon the mixture into the potato skins
Add the cheese for melting (or skip this part to keep it clean)
These are going to be broiled at 500 degrees for 5 minutes on the top rack. If you didn't add the cheese still do this part, it makes the skins crispy.
Nutritional info (1/2 of a potato): 143.1 calories, 1.3 grams of fat, 29.2 grams of carbs, 4.9 grams of protein, and 4 grams of sugar
I was really happy with how these turned out. They are SO filling, but taste really healthy!
Let's take a peek at the inside
Happy eating…
XOXO With a Cherry On Top,
-Minnie