Sweet Potato Burgers
Since I've been on this NPC Bikini diet, I've had to come up with new ways to eat the same foods over and over.
I love sweet potatoes because they have a great flavor all on their own and do not need any additives to taste good. A regular potato, hello pass the butter! Or the ketchup! Or the sour cream!
You won't miss any of that when you eat these I promise. I add spinach, onion, and a little extra virgin olive oil to give a little boost that compliments the potato perfectly.
So even if you aren't trying to squeeze into a glitter bikini in 11 weeks like I am, try this out anyway. It is summer after all 🙂
For this recipe you will need: 
3 small to medium sized sweet potatoes 

1 Tablespoon of ground flax meal
1/2 small white onion, diced
2 cups of frozen spinach
1 teaspoon of extra virgin olive oil
1/3 cup of uncooked quinoa
That's it! No spices needed.
Start by preparing your sweet potatoes
I wrap them in cling wrap, then put in the microwave for 3 minutes until soft. Watch out they get hot!
Next prepare your frozen spinach. I put in a bowl with water and microwave for 3 minutes, then I put it in a colander and really squeeze out the water
Next the extra virgin olive oil goes in the pan along with the spinach to get some more of that water out, cook on medium heat
Then chop up your onion and add it to the pan
While this is cooking, scoop out your potatoes and add to a bowl
When I mash, I add 1 TBSP of ground flax meal, you can omit if you like, it just binds a little better with it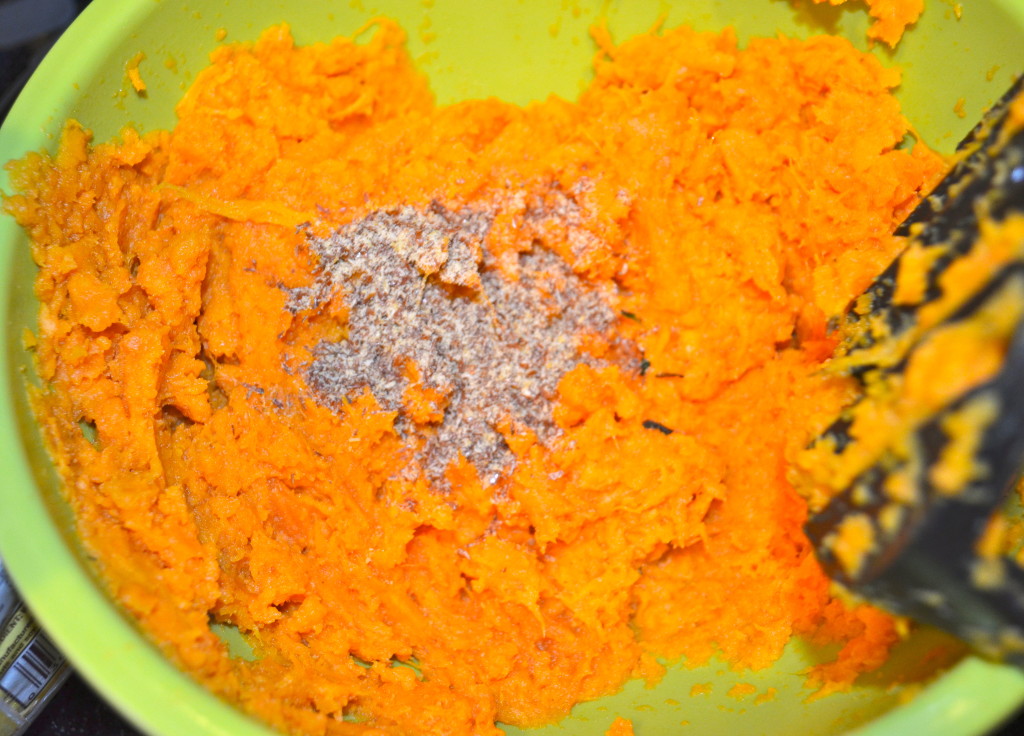 Fold in the spinach and onions (just cook until onion is slightly brown)
Since everything is hot, I pop in the fridge for 20 minutes so it makes forming easier on my hands
When it has cooled pour 1/3 cup of uncooked quinoa on a plate
Form the sweet potato into 3 ounce patties
Coat it in the quinoa
Then cook on high heat for 2 minutes on each side until the quinoa has a brown color
I put on a bed of lettuce (like a lettuce cup!)
So delicious and healthy. This burger has 127 calories, 3.3 grams of fat, 22 grams of carbs, and 6 grams of protein. 
I've been eating them all week for my carb side!
Happy eating…
XOXO With a Cherry On Top,
-Minnie