That is a Nice Boulder
Good Morning and welcome back to the week. Everyone please groan together.
I will be working my full work week (off Friday per usual), but then Monday is a holiday! Yippeeeeee for holidays. That week I took off Thursday and Friday for my move, so next week I'll only be working 2 days. You would think I would be so relieved, but moves are stressful!
Anyway so this week I will keep thinking okay one full work week, then I have 4 straight days to relax and start packing! If those things go together.
Yesterday I started my morning with more cleaning. I usually do this in one full sweep on one of my days off, but I did it in little batches this weekend instead. I had coffee, made myself a fluff, and had a kashi bar before snapping some pics then hitting the road with my girl.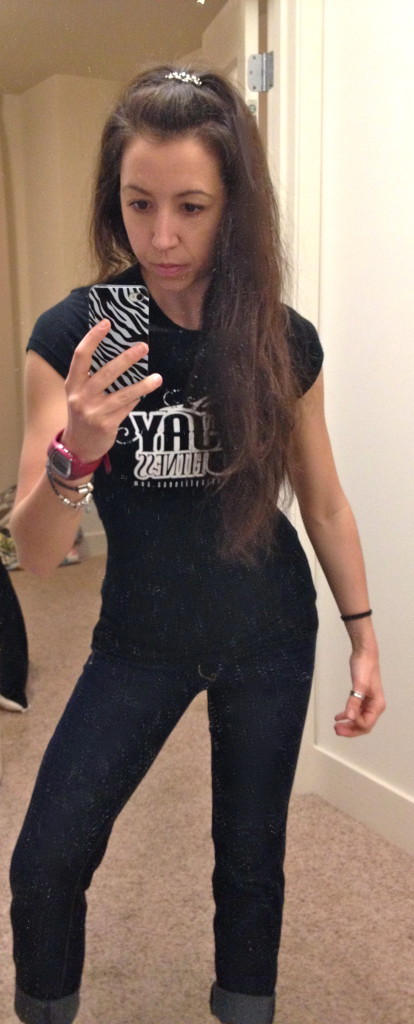 But here is Phoebe and I before leaving my place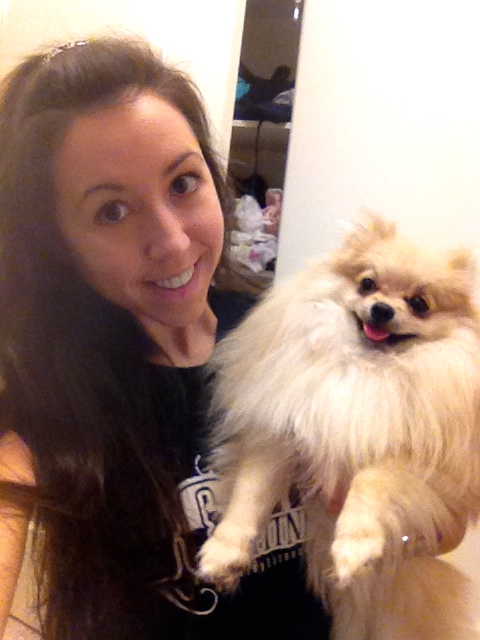 Once we arrived at G-Mamas, I decided to go to BJs for a little grocery shopping. I really needed to stock up on veggies for the week. My fridge was starting to get pretty bare!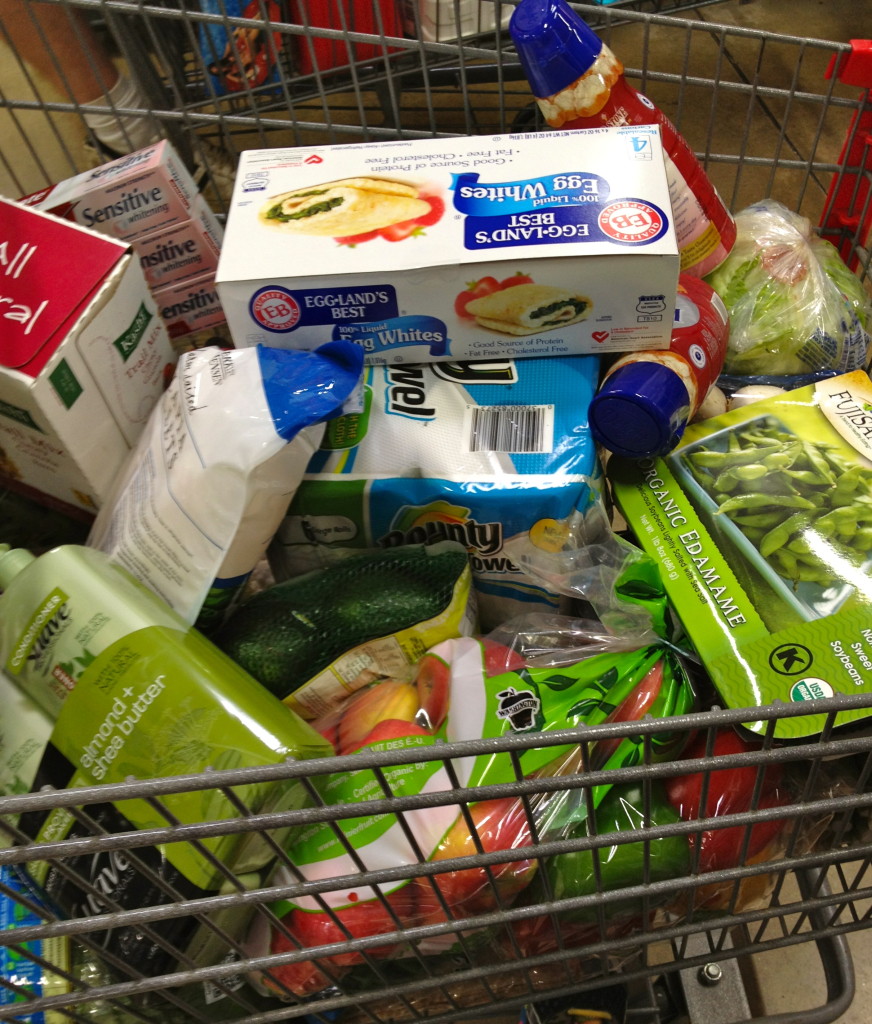 In the parking lot I was putting the last few fragile items in the front seat of my car and then this happened…
All over the pavement. The bag was open! I'm actually glad this happened because I wouldn't have known the seal was broken if they didn't fall out. I would have had to throw them away at home. I went back inside and they swapped them out for me. Hey that's 4 bucks!
Back at G-Mamas I had a snack before hitting the gym which included 2 of these and an apple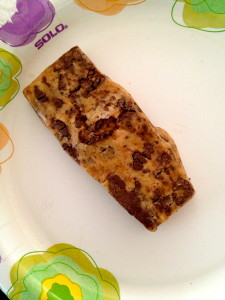 Then I hit the gym! I started with a long 40 minute session on the elliptical then did some shoulder work
Smith shoulder press, 50-65 lbs, 8-12 reps x 4 sets

Smith upright row, 50-65 lbs, 12 reps x 4 sets
Smith shoulder shrugs, 135 lbs, 8 reps x 3 sets
Car drivers, 25 lb plate, 10 reps x 2 sets, then 10 lb plate, 12 reps x 2 sets
Pushups 10 reps x 4 sets
Rear delt raise, 17.5 lbs, 15 reps x 4 sets
Dumbbell scaption, 8 lb weights, 10 reps x 3 sets
Front arm circles, 8 lb weights, 10 reps x 3 sets
Cable Face Pulls, 40-50 lbs, 10-12 reps x 4 sets
Cable diagonal cable cross pull (delts), 15 lbs, 10 reps x 4 sets each arm
Bench anti gravity press laying prone, 22 lb bar, 10 reps x 4 sets
Bench front delt raises laying prone, 22 lb bar, 10 reps x 4 sets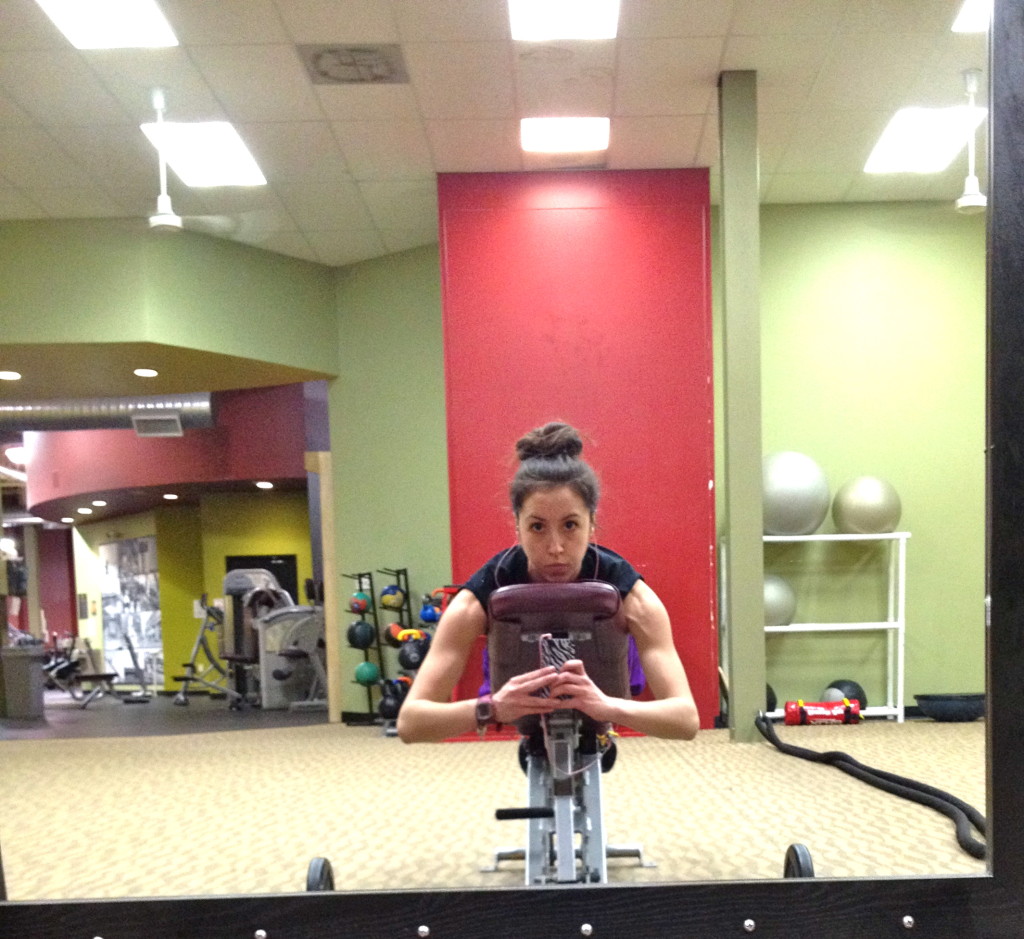 Rotator cuff abduction, 20 lb weights, 10 reps x 4 sets
Wow those shoulders!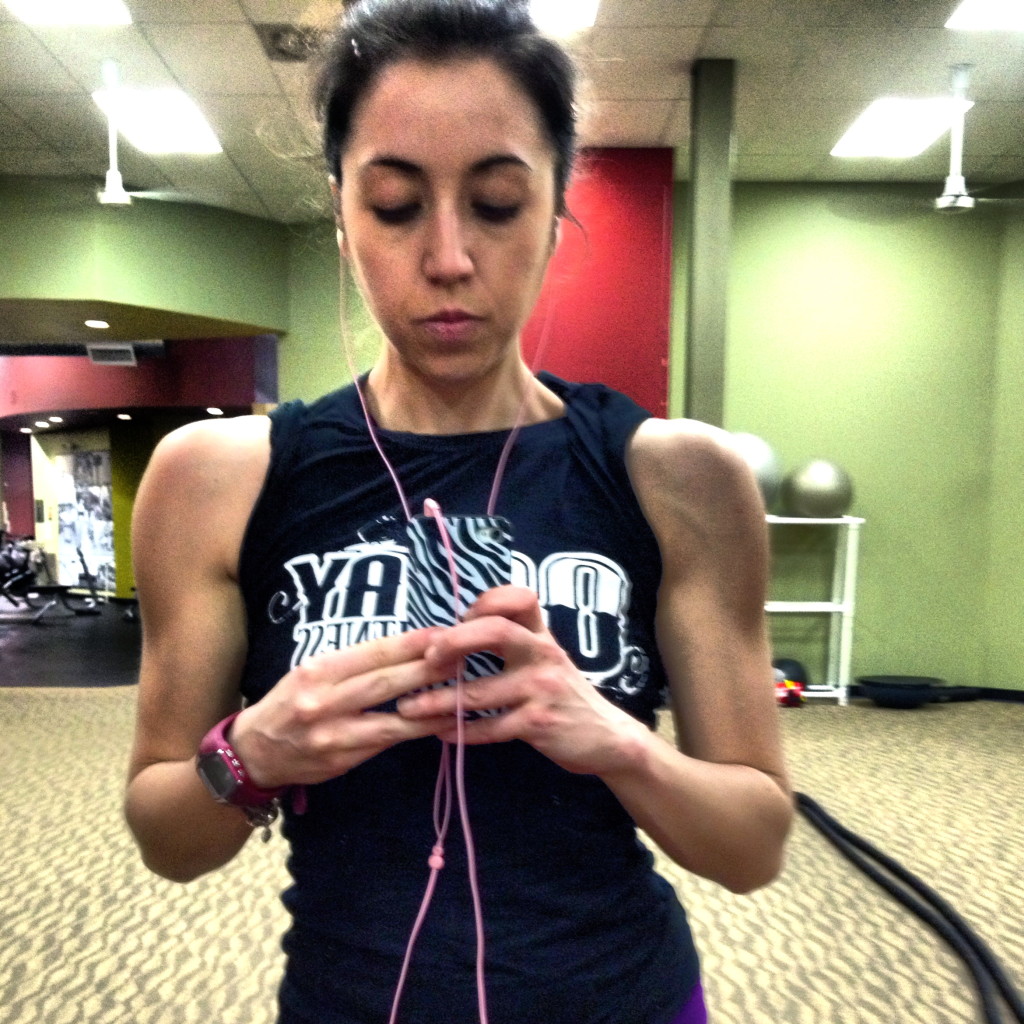 I finished with 12 minutes on the stairmaster. Nothing difficult, just a steady little climb.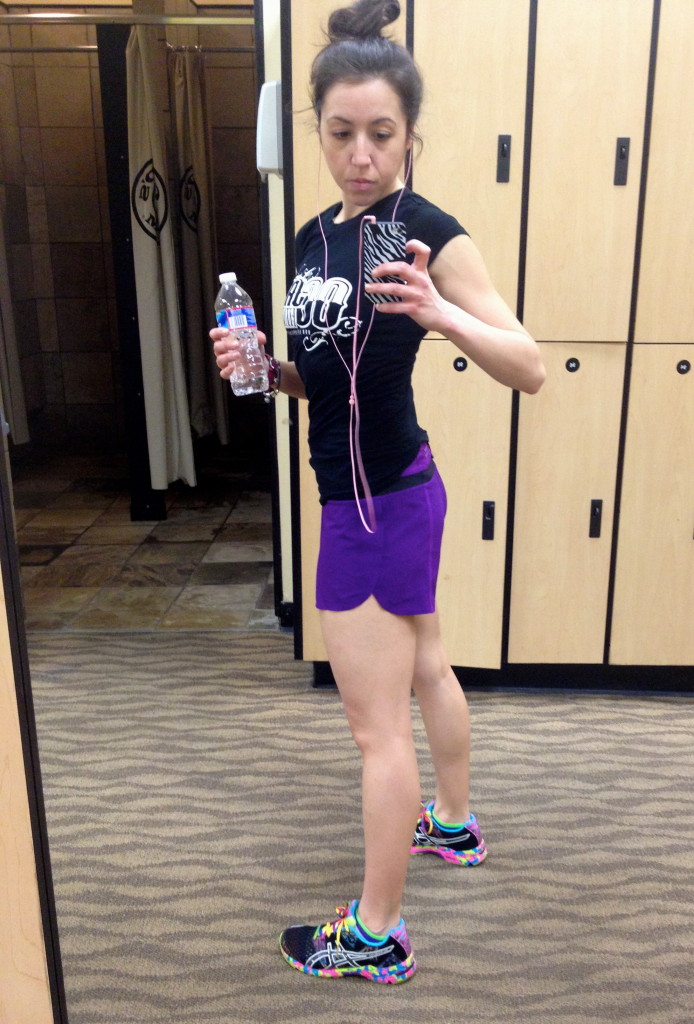 After some stretching, I headed back to see my baby, packed up my groceries, and we headed home!
I bought Phoebe these treats at the store but she didn't care for them too much. She prefers a bone any day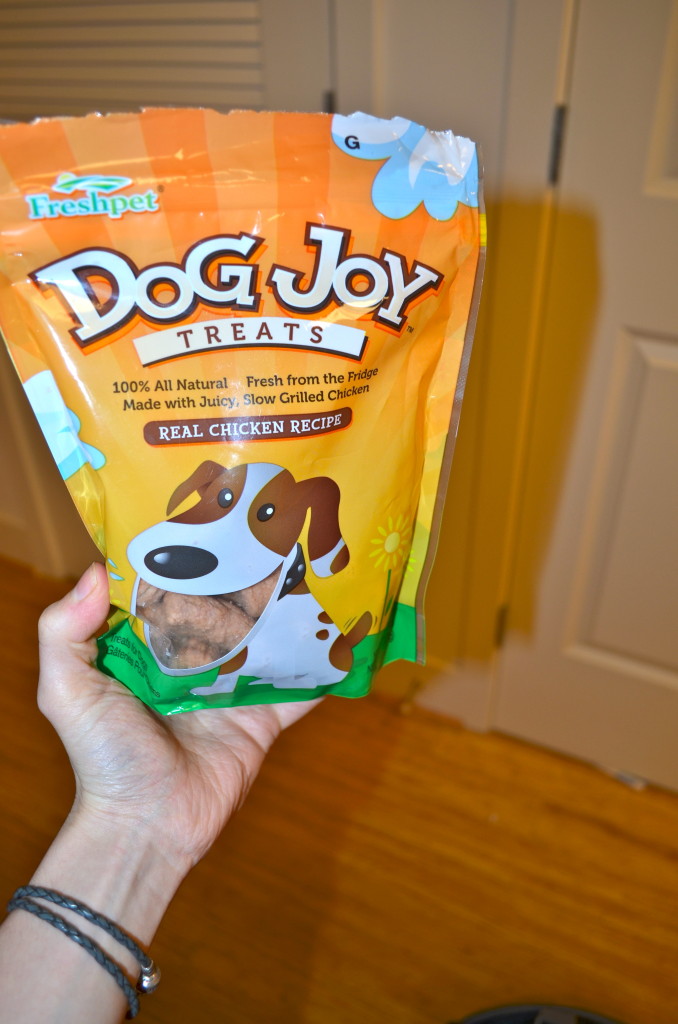 VEGGIES!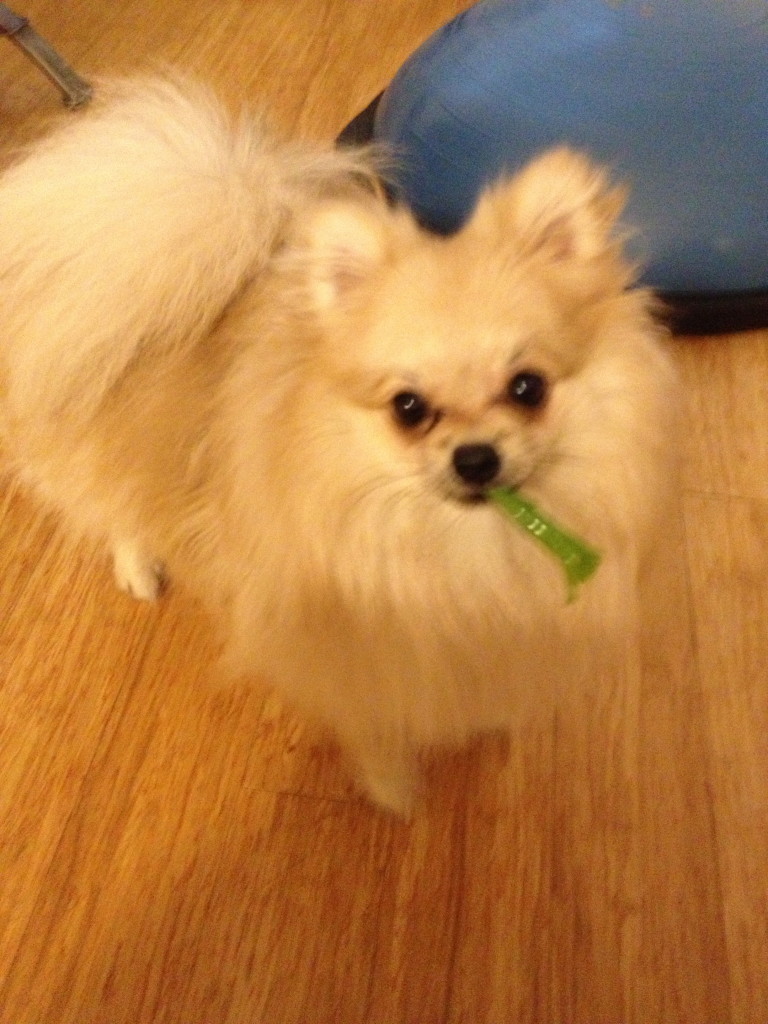 Phoebe is so weird, she loves green veggies. Especially spinach and asparagus. I guess because I eat them so much that she wants what mama has. I feed them to her all the time because they are good for her! Bite for me, bite for Phoebs 🙂
I ended my Sunday with a much needed meal prep.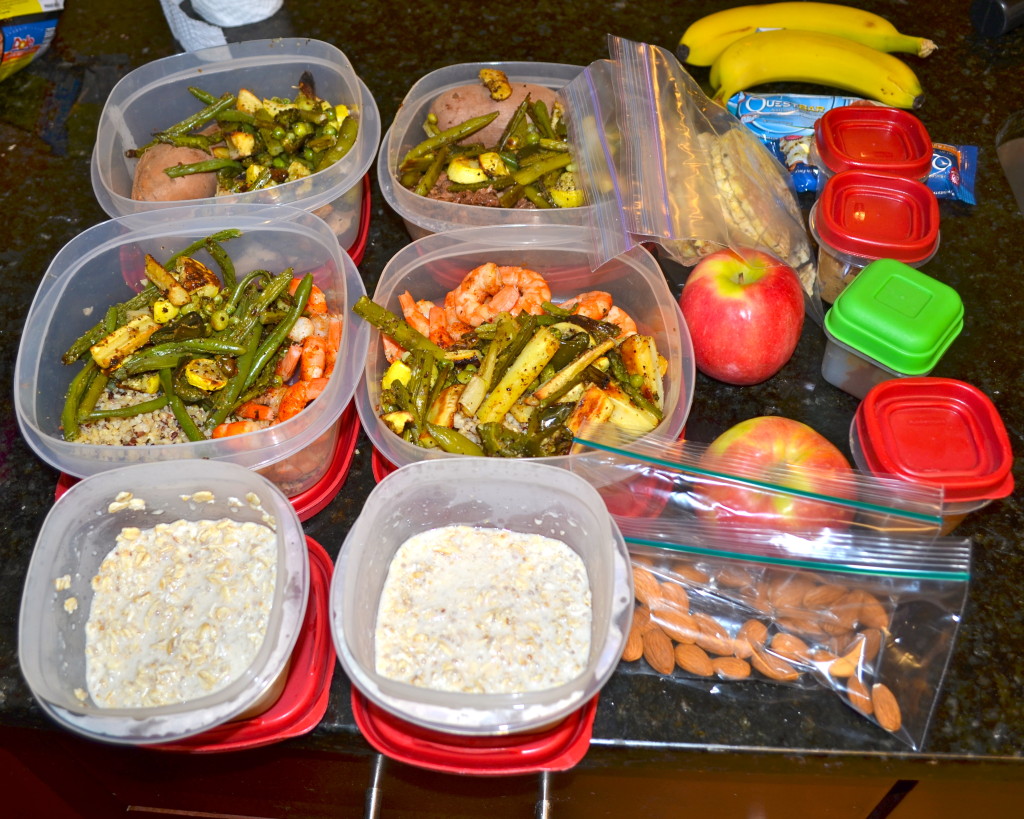 This is for the next 4 work days up until I get home from the gym. Only thing missing from the picture are my protein shakes (I like to make fresh in the morning).
This week I am going to publish a post on how to meal prep. I know it sounds silly, but I am asked all the time how I do this, how much, etc. I will break it down for you guys. All the pictures have been taken, I just need to upload, edit, and write it! My posts take some time because I put my heart and soul into each entry. I don't just sit and write non-sense, I like it to be meaningful.
In the meantime, enjoy my recipe for my Peach Mango Vinaigrette. I ate it again last night on another salad. So delicious and refreshing. The perfect summer salad dressing.
Enjoy the week. Here in Maryland it's supposed to be rainy and gross! Look at this 🙁
XOXO With a Cherry On Top,
-Minnie