The First Trimester
Hi everyone!
I said on Monday that I would talk about the first trimester. Like I've said before, I consider myself pretty lucky and have had a "normal" pregnancy. I realize MOST people have normal pregnancies, but since I work in labor and delivery, I really do see it all (from 5-6 weeks pregnant to 40+ weeks). All the aches, pains, and waddles I just brush off because I know she's perfectly healthy in there. The kidney stones were the one wrench in my "normalcy".
Anyway, I think I was the biggest wreck in the beginning. Again, I'm someone who knows WAY too much and it played with my mind all the darn time. It's really hard not knowing if everything is "okay" in the beginning. It's all a wait and watch kind of game and it was enough to drive me crazy. I didn't tell people at work until I was 13-14 weeks pregnant, which is really hard when you work in that environment. I had an ultrasound machine at my finger tips all day long and a fetal doppler, but I pretended like I was a normal patient and didn't have access to those things. I wanted Tony and I to experience everything together so I waited for my sonogram and hearing the baby's heart beat for the first time. Even after we did these things together, I still never checked myself at work. It was just better off that way and I'm glad I did. It's so special with your partner!
I really could have sworn I was going to be as sick as a dog. They say you follow in your mothers footsteps, and my mom was pretty much sick with all of her pregnancies. I was definitely queasy, but once I ate some type of carb I felt better. In the beginning bagels, bread, rolls, potatoes, etc were my friend. One time we went to dinner with Tony's side of the family and I had yet to tell anyone I was pregnant. The wait was over an hour and I felt like I was going to get so sick without something in my stomach. Leave it to Tony to take matters into his own hands. My hubs went to the kitchen and grabbed some rolls for me right off the warmer. Gotta love him 😉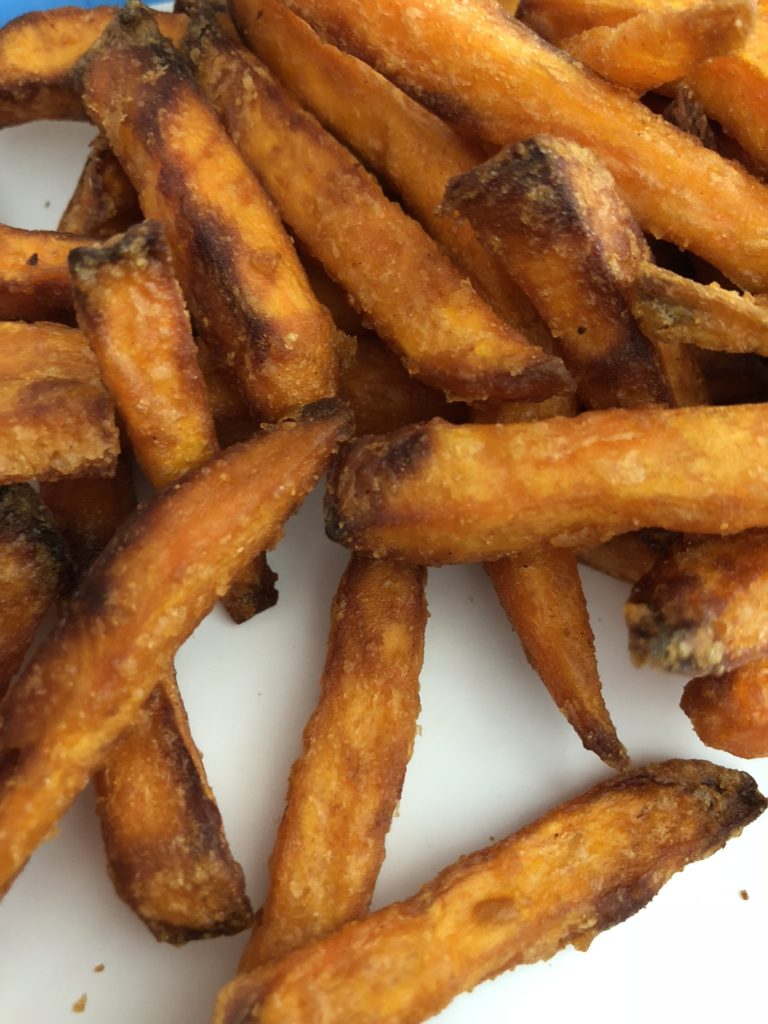 Air fryer sweet potato fries CHANGED my life. I got an air fryer for Christmas from my parents and it makes everything so crunchy and delicious! Fries in 7 minutes and cooked to perfection. This is the one I have. It's pretty big and cooks a lot at one time!
I also really got into McDonalds soft serve. It tasted exactly like I remember from my childhood. Creamy vanilla! The calories actually aren't bad on this baby. About 200 a cone. Totally worth it.
Like any new mom I was in search of a bump that wasn't quite there.
I had terrible bloat in the early stages. Once I was 9-12 weeks my pants felt like they were going to bust any minute. Stretchy yoga pants were my go to, and I had no shame in that. I'm currently rocking gym shorts at any given hour of the day. Comfort is a MUST.
I look back and giggle at this photo too! I remember sending it to my mom and saying look! A tiny little something. I mean you really have to squint hard here. Oh how things have changed, but it was exciting to see a little change even if it was bloat 😉
My biggest issue in the first trimester was how extremely tired I was. Now they say pregnancy fatigue is REAL in the beginning, but I had no idea just how tired I was going to be. I certainly had an idea that it was going to be bad, but most days I could not function. I look back and wonder how the heck I survived my shifts at work, because on days I was off I would lay on the couch and not move all day long. My case was so extreme because I also was diagnosed with Narcolepsy two years ago. Yes, I'm one of those weirdos who has excessive daytime sleepiness (among other horrific symptoms), but I was controlled with medication. I literally thought everyone was that tired. Turns out I had a real medical condition and coming off my medication before I was pregnant sent me into a very sleepy state. Fortunately I have adjusted somewhat. I'm still pretty tired, but I got over the bad part of it. My girls were my partners in crime for days off and we snuggled a TON.
Valentines day rolled around and it was the day we were waiting for so anxiously. Our first trimester sonogram with genetic testing to make sure baby was okay.
I thought I had a pretty significant bump here. More bloat! It was coming soon enough though 😉
Everything was good with our sonogram and the relief we felt was like no other. We were so excited!
This was such a wonderful day and I get all weepy just looking at it! It seems like it was just yesterday, but it was 21 weeks ago today. Time flies, and I know baby girl is going to grow up so fast.
Afterwards we had a very special Valentines Day lunch at a place I had been dying to try for a while, Thames Street Oyster House. It's pretty famous in Baltimore, but so tiny and the wait was always 2+ hours. They have the best lobster rolls there.
I remember eating this and thinking "this is the best thing I have ever tasted in my entire life". It's funny how GREAT everything tastes when you are pregnant. It's like your senses are waking back up again! We haven't been back since and I am going to publicly call out my husband here to please take me one more time before the baby comes. Okay, Tone?
So that was the first trimester! Lots of memories, carbs, and LOTS of naps.
I hope you all have a great Wednesday 🙂
XOXO,
Minnie