The Rise and Fall of Skinny Minnie
Happy Saturday! The weekends feel so great don't they? I especially love them for 3 major reasons.
I get to sleep in (duh given)

I don't have to rush my workouts at the gym
Phoebe and I go to G-Mama and Pop Pops!
I woke up a lot later than I anticipated yesterday morning. I'm not sure why but I always feel bad about it. Guilt for sleeping in! I'm sure one day when I have more responsibilities than just a pup, I will appreciate these days.
I started my morning with a whipped protein shake. Another plus about the weekend! This one was chocolate protein powder, a banana, and unsweetened almond milk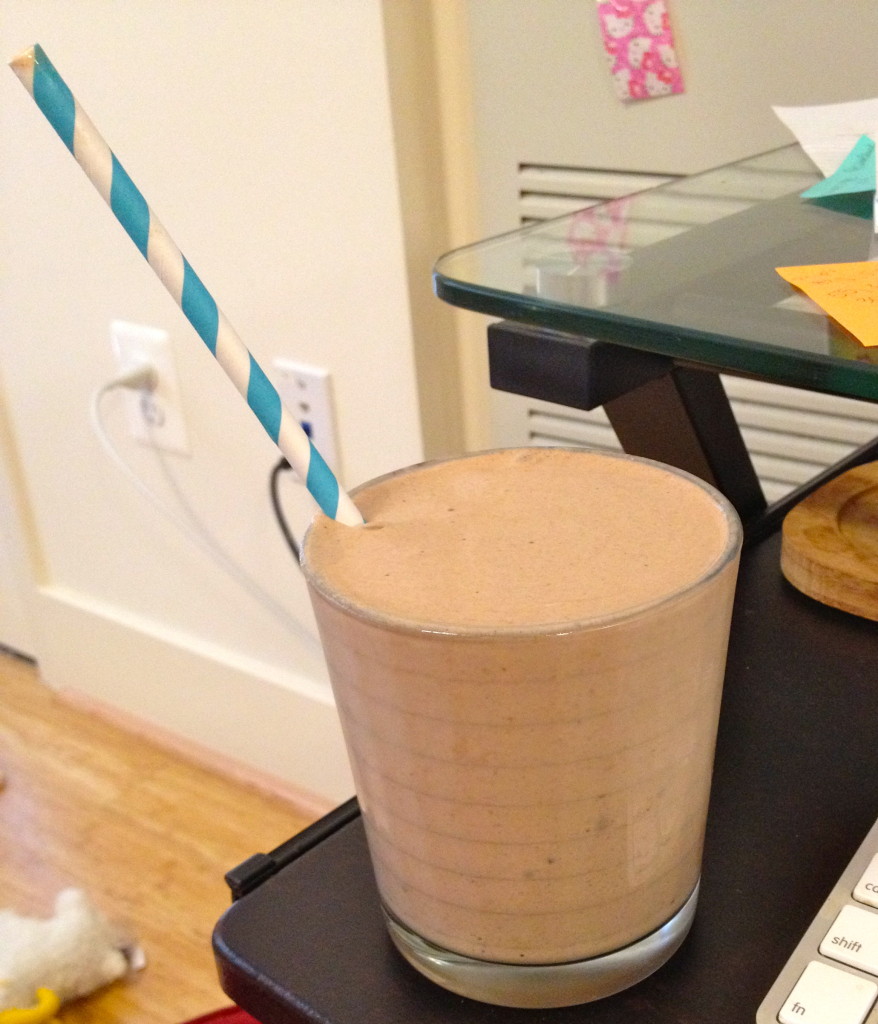 Then I received a phone call saying I had a package waiting. Woot! I ordered a few things but was hoping it was a pair of new gym shoes for Nordies…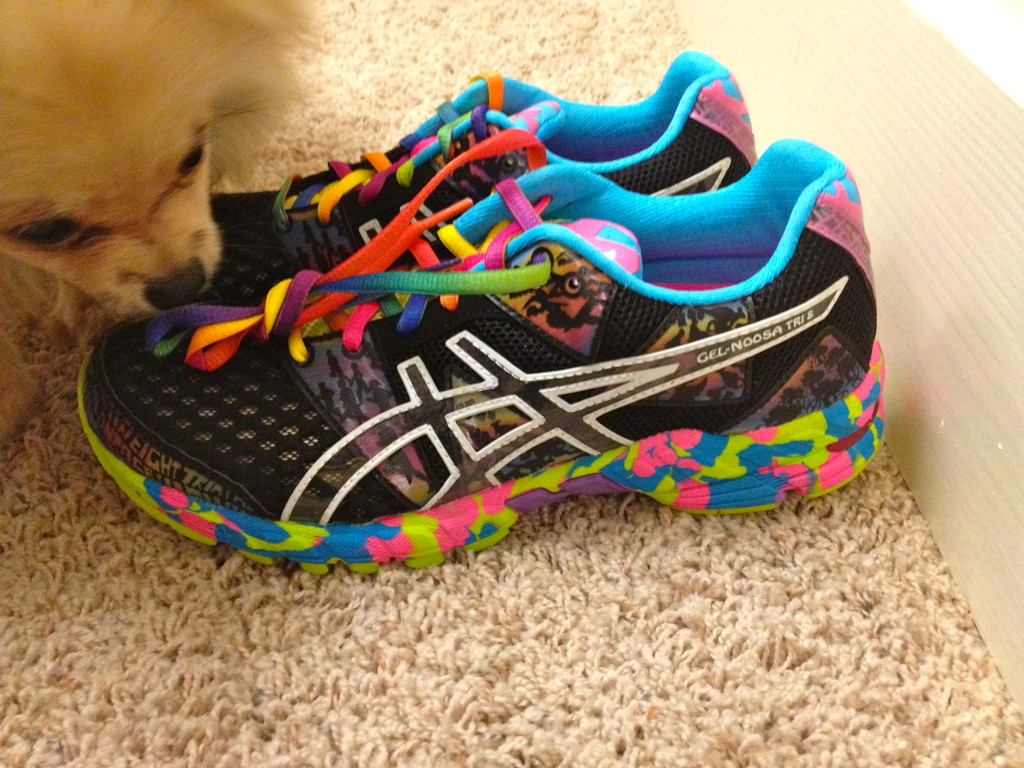 Aren't these just the coolest? Bright workout gear is so fun. I spend a lot of my income on workout stuff because it never goes untouched. Plus fun workout gear makes you want to get in the gym more.
I just love everything about them. The laces, the back, even the bottom of the shoe is awesome!
And they only cost me $15 bucks because I took something back to Nordstrom from Christmas time that had been sitting in my closet. No point in letting something so expensive sit there, so thanks mom and dad for the new shoes 🙂
Speaking of mom and dad, Phoebe and I then headed to their house. I was in my bedroom and I said "you ready" and I hear this scuffle and ZOOM! There she is! Phoebe knows the phrase "you ready" means we are going to G-Mama and Pop Pops. I never realized I say it every time we go until yesterday. I just have to be careful now not to say it when we aren't going there or she will be super disappointed!
After catching up with my peeps, I headed to the gym. I was super excited to be back after 2 days off from not feeling good, and also excited to wear my new shoes! They looked good on me too 🙂
My workout consisted of cardio and a tricep/chest combo day. I started with 25 minutes on the elliptical, I like a heavier resistance rather than speeding. My how times have changed…
Then I hit my 100 push-up challenge. This makes me out of breath like nothing else!
Then I went downstairs and hit the cable cross
There's so much you can do with this machine. I could spend my whole workout here! But I know it's a popular machine so I try not to hog it. Here's what I did with it:
High chest crossovers (cables high, cross arms in front of you, alternating which arm goes on top each time), 30 lbs, 12 reps x 4 sets

Chest pulls (cables low, pull with your arms and chest up and forward), 30 lbs, 12 reps x 4 sets
Pec pull downs, 50-60 lbs (cables high, squeeze chest, flex and pull down), 12 reps x 4 sets
Single arm torso twist (cable at waist level, both arms pull handle and twist torso away from cable), 10 reps x 2 sets each side
Then I moved onto more chest work with some triceps thrown in
Tricep kickbacks, 17.5 lbs each arm, 15 reps x 4 sets

Pec Squeeze, 17.5 lbs each arm, open and close and squeeze chest, 12 reps x 4 sets
Tricep dips with 25 lb weight on legs, 12 reps x 4 sets
Chest Fly (machine) 50-60 lbs, 10-12 reps x 4 sets
Chest Incline Press, 50 lbs, 10 reps x 3 sets
Tricep Ribcage press with 40 lb bar (on bench), 10 reps x 4 sets
Chest Press with 40 lb bar (on bench), 10 reps x 4 sets
Side bends with 25 lb plate, 10 reps x 3 sets each side
I also did a 20 minute high incline treadmill walk. I really sweat with this and it's been a while since I've done it. The trick is to NOT hold on to really work your legs. I did an incline of 6.0-11.0 from 3.7-3.9 mph. The higher inclines (10s and 11s) I usually do 2 minutes at a time, for most of my walk I do 7-8.0. It's really difficult when you don't hold on and you burn more calories that way.
I also do an in and out walk. I'll walk regular for 4 beats, then walk wide for 4 beats. It looks kind of weird and awkward but changes things up and works different parts of your legs. So try this next time!
I hit some nice long stretching on the cage. Why I never used this until a few weeks ago, I'm not sure…
Before heading out I took this pic of my scarf. My mom made this when I was about 15. I have one in pink rainbow too, and I just found it in my parents coat closet the other day. I seriously rocked these every single day in college and I forgot how much I missed them. They are beautiful and I'm super attached because my mommy made them for me 🙂
At home I made a shrimp dinner using a sweet chili sauce. It was really simple all I did was chop up some yellow peppers, throw in some shrimp, and cooked it in this sauce
I also had a big salad with it!
After the big rise of Skinny Minnie (meaning I killed it in the gym after 2 days off), the big fall came. I have hardwood floors in my apartment as you've seen in many of my pics. Well I was rushing a little too much I guess to make sure something didn't burn in my oven, and I slipped on one of Phoebes many chewies and WAM! Down I went. I'm not talking a little fall, scrape your knee, say a curse word and then get over it. I'm talking the kind of fall that made my building shake. I hit so darn hard down on my right hip that initially I didn't make any noise because I was in such shock and panic. I was frightened for a second that I may have done something bad to my hip I hit that hard. I didn't even notice I messed my knee up pretty bad, then lost some skin on my ankle (which also started to swell later).
No pics were taken of the hip because it was half my bum, half hip (which might have a giant league of their own bruise, you ladies know what I'm talking about). After eating I iced it some and then relaxed and watched Friends. I break out these DVDs constantly because they comfort me and make me happy!
Speaking of Friends, you know the episode where no one is ready on time for Ross' event and he drinks the fat? Am I the only one on Ross' side on this one? It almost irritates me that this is a big deal for him and they won't get ready! Like come on throw on some clothes! It's not about you people! But then I guess there wouldn't be much of an episode. I still actually really like that one because Joey puts on all Chandler's clothes 🙂
My recipe today is for a bigger recipe that will be featured tomorrow! This is Homemade Taco Seasoning! Don't go out and buy those seasoning packets. They are LOADED with sodium. You have everything at home in your pantry to make your own, I guarantee it.
I'll be heading to the gym earlier in the day for leg day! (Hopefully if my hip isn't too messed up). Then home to finish up an awesome recipe using this taco seasoning, I started last night!
XOXO With a Cherry On Top,
-Minnie