Thirsty Thursday
Hello and Welcome to Thirsty Thursday. My version of Thirsty Thursday is water, not alcohol. Yesterday morning I mentioned waterpalooza (what I call my crazy water chugging escapades) in patient rounds and the medical students thought it was a festival or some fun event I was going to. I thought it was pretty entertaining. Nope, just my water intake!
Here is a blurb from an article I found on Bodybuilding.com about water intake and lifting! This describes why I am doing it.
"From a fitness and bodybuilding perspective, the more water inside your muscles, the better they function. More water in your muscles increases strength and size capacity.
Nutrition consultant and author Chris Aceto explains: "The consensus in the bodybuilding community is that high water storage within muscles acts as an anabolic factor. This allows the muscles to maintain a positive nitrogen balance, which directly impacts muscle growth." Just like plants, our muscles need water to grow."
See? Water makes you stronger! Muscles need to grow 🙂
I had only 5 small meals yesterday instead of my 6. I had a slightly larger dinner, and by the time 9pm rolled around I couldn't even think of more food! Let me share my meals since some are new!
Oh and work was definitely not fun. Lots of stuff I had to deal with that I wasn't too excited about, but I made it through.
My morning started with the oatmeal mixture I showed you guys yesterday. I also had my coffee and a splash of creamer (I count this in my calories). I absolutely am not giving up my creamer. When I went clean and only did black with a packet of stevia I got used to it quickly, but then when I reintroduced the creamer it was heaven. I'm not giving up my heaven!
8:00am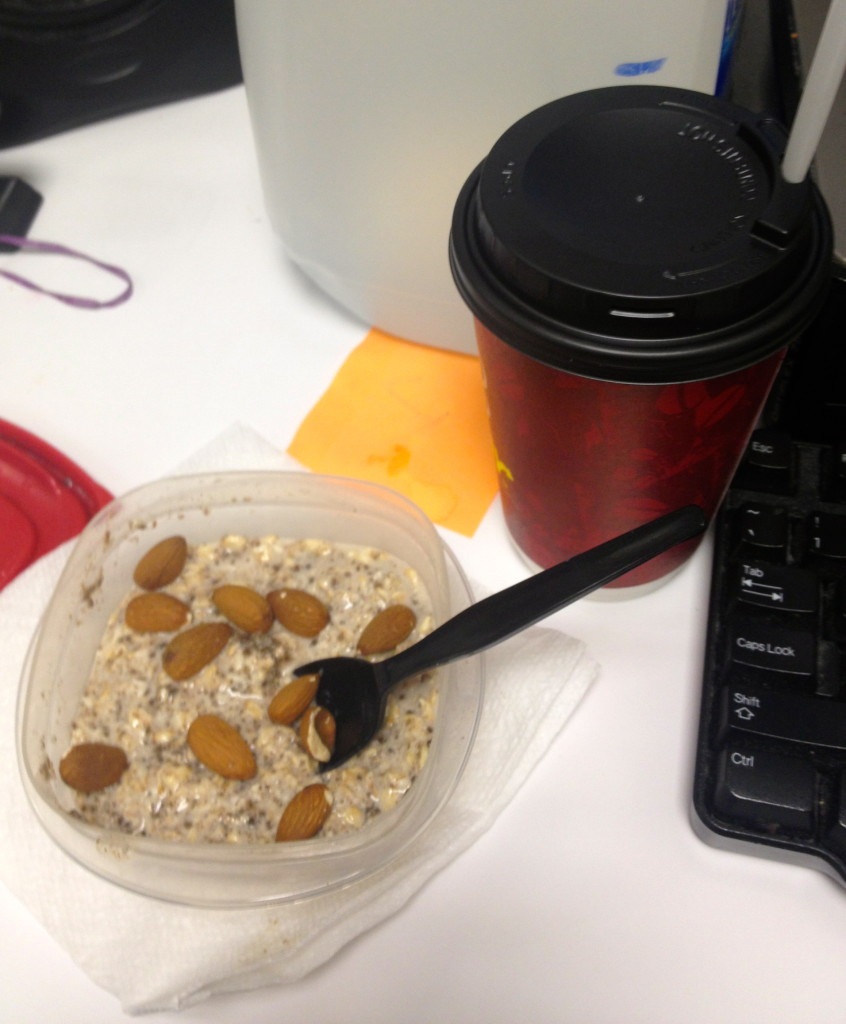 Let me discuss my rant about oats. I despise people that buy the oatmeal packets! Especially when they raise the price for saying "reduced sugar" "low fat" "heart healthy". Number 1, oats are all of these things on their own. Number 2, I don't even cook my oats, so it takes NO time at all to soak them in some almond milk then eat them the next day and heat a little in the microwave if you like. Number 3, the PRICE! I had a huge discussion with my BFF for life about this because I told her I don't understand why people buy oatmeal packets (at the time I sent the text she was actually eating an oatmeal packet, weird BFF ESP!). Her hubby said he agrees with me too and they bicker about the oatmeal pricing. To prove my point, my oats cost me 6 cents a serving when I buy the huge canister of old fashioned oats. Compared to the box packets that cost 50-70 cents a serving. Don't throw away your money! Plus you control exactly what goes into your oatmeal. You would be surprised at the things they throw in there. Okay rant over 😉
Meal # 2 @ 11:00am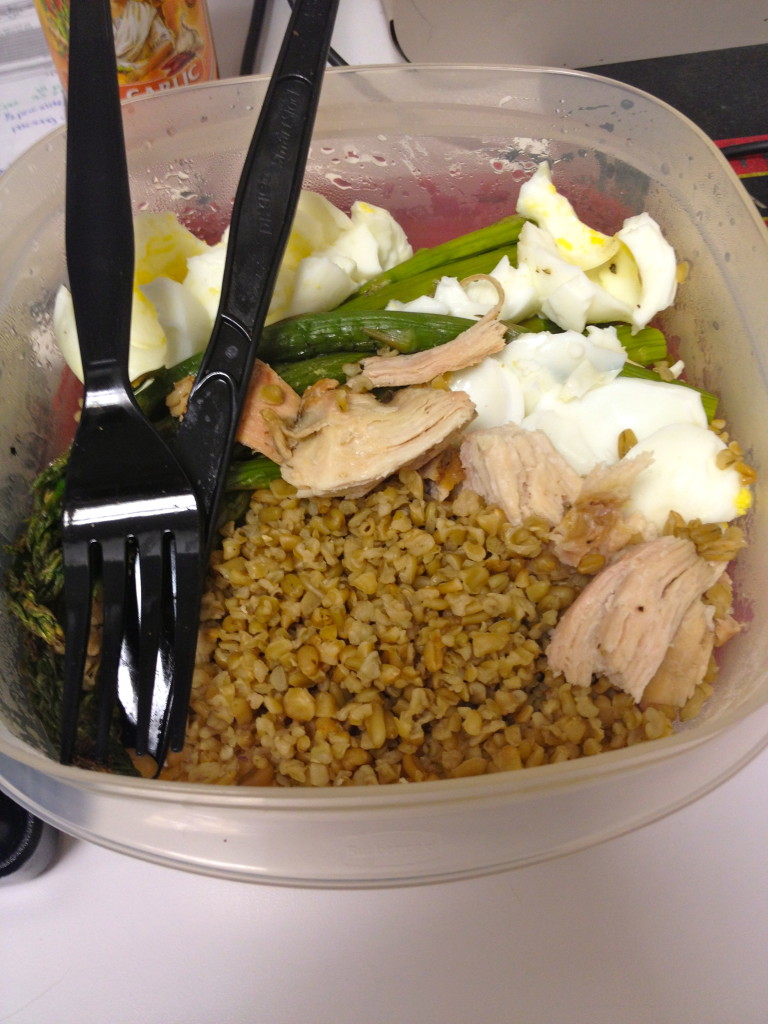 Around this time was when things started getting busy at work. I hadn't touched my water in about 2 and a half hours and I was SO thirsty! I was already half way through too! It's crazy that my body has already adjusted to the water intake. I crave it now.
Meal #3 @ 2:00pm. This was my FAVORITE one.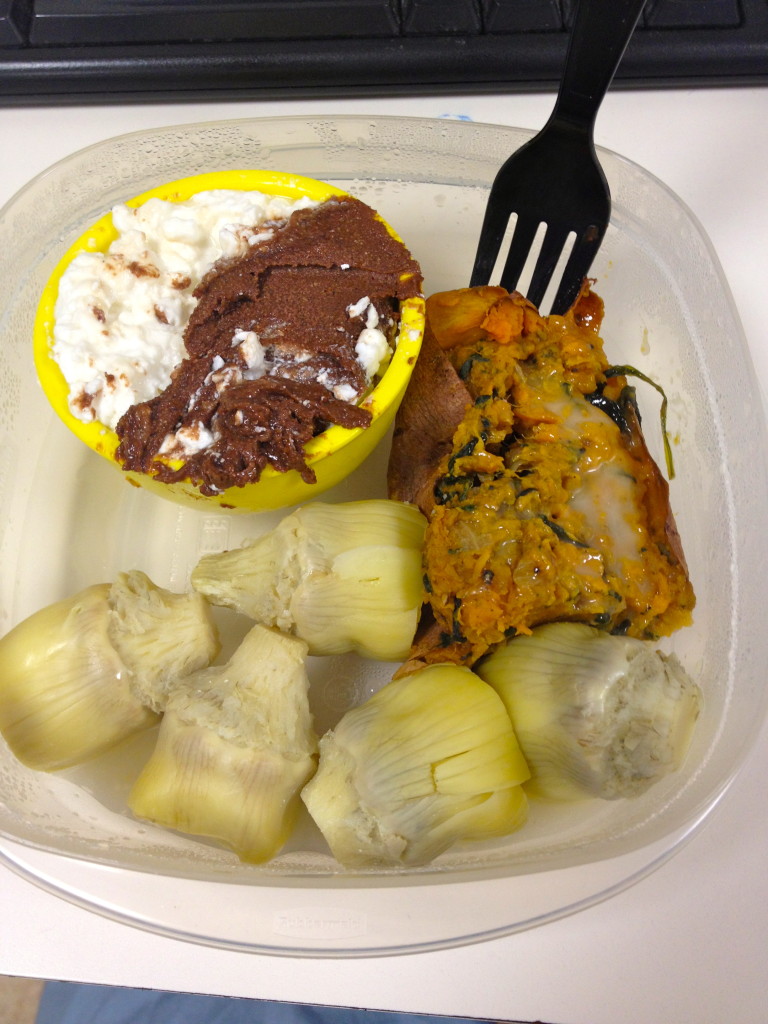 The cottage cheese with the chocolate almond butter… I don't usually say things like this in my blog but I can't think of anything else but OMG! It was like a dessert! In a weird way since the cottage cheese was cold, it reminded me of an ice cream treat. Yummy, will be eating this regularly.
I stayed busy the rest of the day and couldn't wait to leave and GO HOME!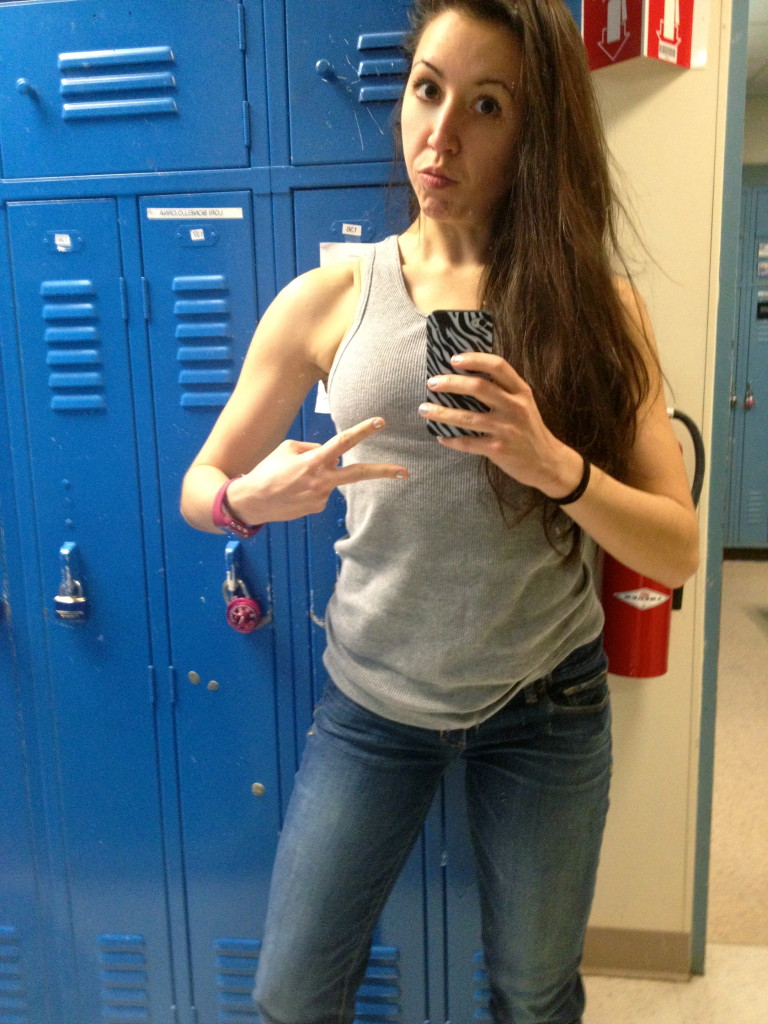 I usually have meal #4 on the drive, but I waited until I got home.
Meal #5 @ 5:30pm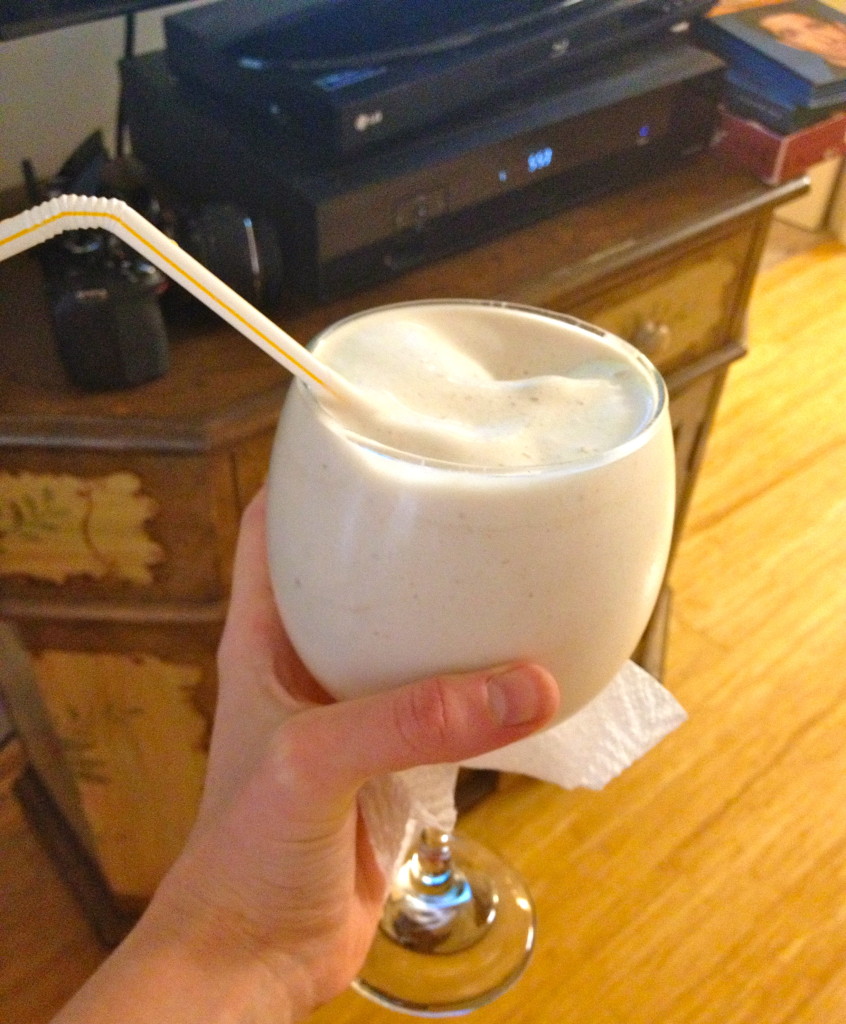 I was finished my water (woo hoo), and laid down to take a nap. You know you have serious water intake problems when you dream you cannot find a restroom!
Phoebe ended up waking me up around 7:30, so we prepped dinner. I made a tuna salad loaded with veggies! It was so delicious and filling. I don't understand people that eat these small meals or clean meals and eat the same thing every single day. There is so much you can do with ingredients keeping it super healthy. Maybe I should start a service where I go to bodybuilders houses and offer my expertise for a day and cook for them? How cool would that be?
Meal #5 @ 8:00pm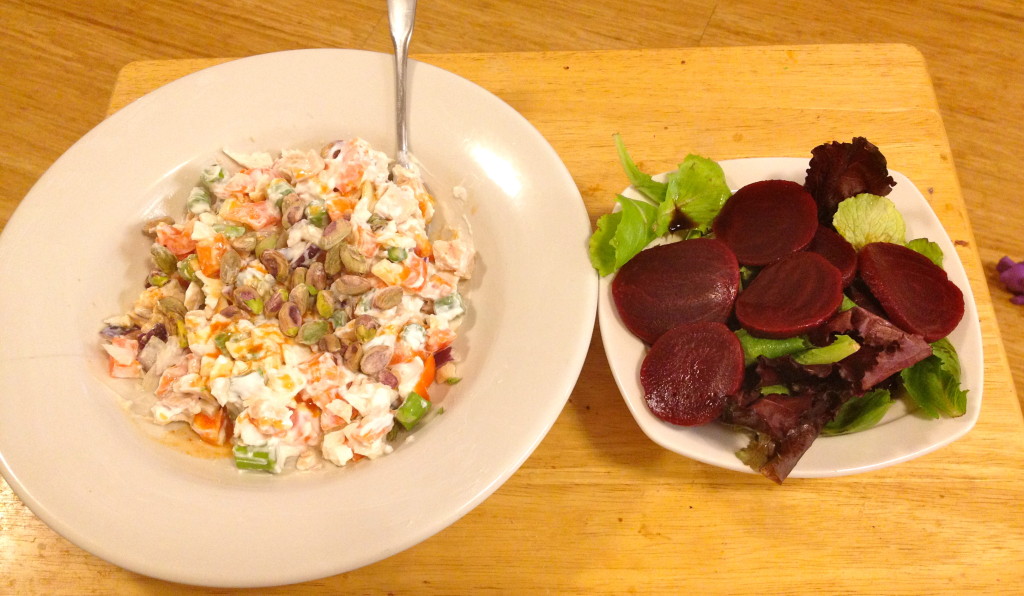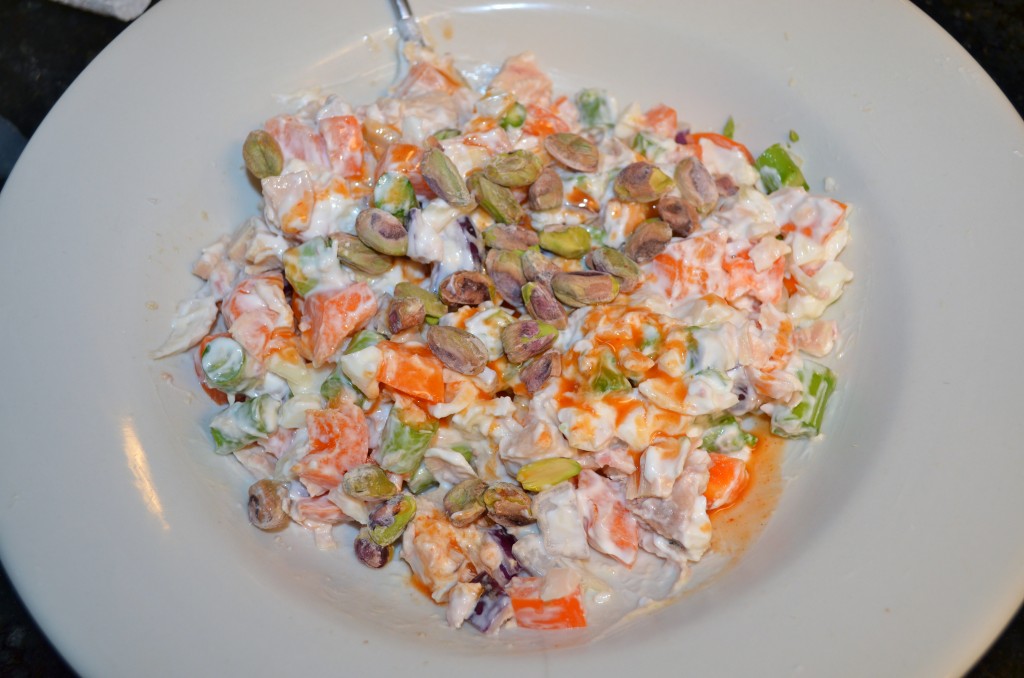 This was so incredibly filling and I loved it. Since I skipped my workout yesterday (I seriously needed the rest day), I didn't do my casein shake at night. I still came in around the same calorie intake as the past few days. I upped my fat intake a little bit with the nuts. For my body weight, I should be taking in around 45 grams of fat, and I've been coming in around the 30s.
My meals: 1,513.55 calories, 42.06 grams of fat, 154 grams of carbs, 127.5 grams of protein
I will update tomorrow with another one of my "most commons". In the meantime, try that tuna salad above! It's good for you 🙂
Hitting chest land later today, and hoping to leave work by 4pm. I feel a rough day brewing… starting weekend countdown!
XOXO With a Cherry On Top,
-Minnie