Weekday Stress Bomb
Good Morning and TGIF!
I was really waiting for this weekend to come. Each day I'd say well that's 1 down, 2 down, etc.
For breakfast yesterday I had "prep food" just because I like it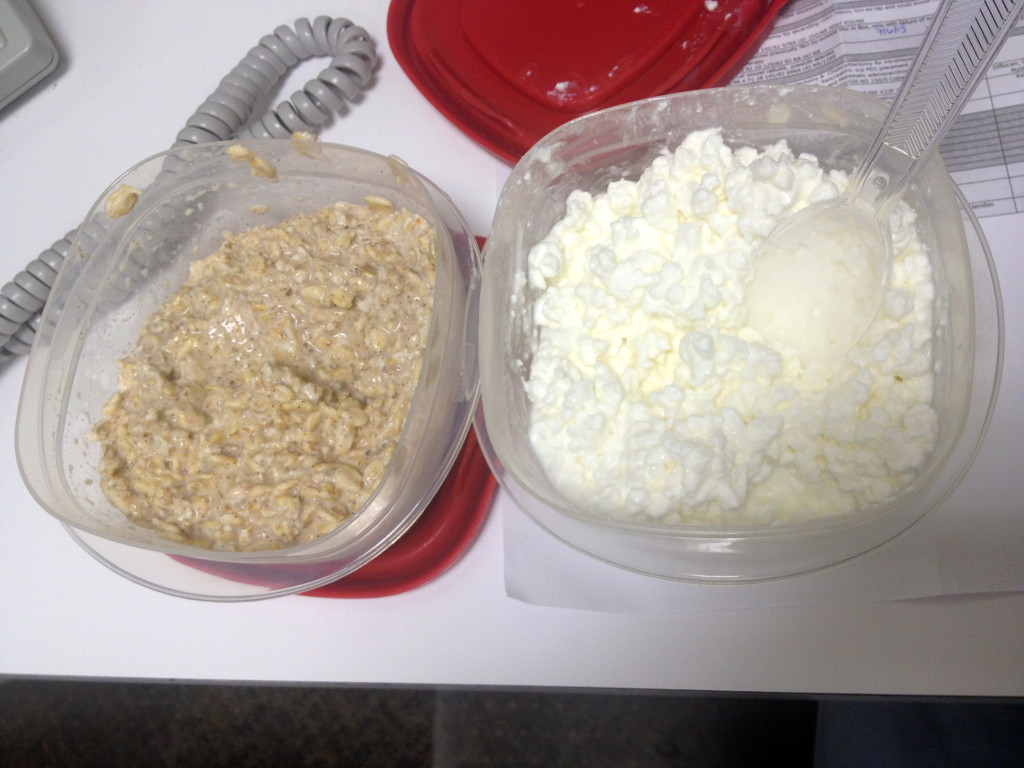 Tomorrow I'm featuring a new overnight oats recipe that is currently "overnighting" <—– okay not a word, but it's the way I had to describe it! Cake batter overnight oats. Sounds good huh!? I think so! Best part is they are quick and easy. Hopefully they taste good 🙂
My day at work was catching up on things that had been sitting a while AKA dictations. For those of you not in the medical field these are "spoken medical notes" you have to report into a phone to be typed up by a transcriptionist. They are one of my least favorite things in the world to do because it takes so much time to go through patient files and recite the story. I had a huge pile to do, but got through about half (more than I anticipated).
Then about an hour into it, I realized I left my gym bag at home…
This weekend I am focusing on a little R and R. Rest and relaxation. This certainly doesn't mean sit around and do nothing (please we all know that is not happening). To me this means take it easy, don't stress about things, get things done when you want, and get some sleep WOMAN!
———————————–
So recently I've been doing a lot of reading on other blogs. I love to see what other people are posting and I get inspired! Especially after my conference, one of the things they talked about was focusing in on your posts. This isn't usually my writing style unless I am specifically writing an article for an outside source. I usually just talk about my life, what I did during the day, and my workouts. But today I thought I'd shoot in a different direction.
How many of you out there follow an awesome healthy lifestyle during the week? You feel great, you're on point working out and then the weekend hits and WHAM you bomb it. Well for me it's the exact opposite believe it or not! When I have free time I'm less likely to ruin all my hard work because I can stay focused on the tasks I need to do more easily. During the week and at work I am so stressed, so I sometimes won't work out as hard or I'll grab those extra few snacks or cups of coffee with creamer at work. Weekends I'm more aware of what I am doing and I am doing things I enjoy. Sometimes at work, I find myself staring at the clock waiting to take a lunch break… not good.
Whether you are a weekend healthy lifestyle bomber or stressful weekday bomber like ME, here are 10 tips to diminish that a bit!
Drink more water. Okay, I know this is a given. But when I am constantly sipping on something, I'm less likely to grab that can of almonds in my lunch box and destroy the whole thing (yeah I did this yesterday, whoops).
Pack your lunch. Okay another given. I definitely do not pack just what I plan on eating for the day though. I always keep some extra emergency snacks for on the go just in case I can't sit down and eat. Even if it's the weekend and I know I am going somewhere, I still pack snacks to bring. Always be prepared, do not be stranded without food, it sets you up to have a slip up!
Gum. I chew between meals so I don't grab more food.
Make a schedule for yourself. This is extremely helpful for me. I like lists and I like organization, so I write down things that need to be done for the day and I tackle them. What does this have to do with eating? Well if you keep busy rather than lay around, you're less likely to grab those potato chips. Even if it's scheduled blog time I will mark that down for 2 hours, and say I will eat dinner after, instead of picking inside the fridge!
If you are going out to eat, eat something before. Really it's not a good idea to go to a restaurant starving, because what will happen? You will eat that entire bread basket before the actual meal comes. I know I would. Some treats are fine, but I don't like to feel so guilty when I leave a restaurant that I feel like I need to be rolled out of there.
Keep your gym clothes CLOSE by. I usually keep them in my work locker and change at work, rather than in my gym bag in the car. This way I'm reminded when I open my locker "hey lady you need to workout". If I am going to my parents house I bring my gym bag with me, ALWAYS.
Make sure it only happens once. If you do "bomb it", make it a one time thing and not a whole day thing or weekend thing. Cheats happen, good meals happen, life happens. Just don't continue or else it washes away all your hard work! Get in the gym the next day and pickup where you left off to get it off!
Save the NEW stuff. This is a good one for me. Make new workouts to get excited about. I'll either make up a new lifting routine, or do something different so I won't bail on the exercise! OR save that new exercise outfit for a day you know you might flake. I love wearing workout clothes that make me feel good and I save the super cute ones for weekdays to get me to go to the gym. This also works with making new playlists. Change that gym playlist up to stay motivated!
White board and post-its. Going back to # 4, I like lists and writing things down. I keep a white board and post-its in my apartment to write random things on. Whether it's a recipe I want to remind myself to start working on, or a motivational quote to keep me going, I like seeing it written down so I will do it and stay inspired!
Read what other people are doing. Seriously this works. I go on blogs and my instagram all the time to see what workouts people are doing. It motivates me to get my bum in the gym! Plus I'm super competitive so I always think OH YEAH? Well I can top that! 😉
Today is a busy little errand day for me. Haircut (no worries just a trim, I NEED my long hair), oil change, bank, gym sesh, parents house, HOPEFULLY spray tan, etc.
Oh and shout out to all my new readers! Thanks for finding me and continuing to follow 😀
See you tomorrow!
XOXO With a Cherry On Top,
-Minnie