A Proud Day for Skinny Minnie
Yesterday I had a really off day. Do you ever have one of those days where you are just angry at the world? I guess everyone is entitled to one of these. I got out of work on time, but when I got to the gym it was so insanely crowded there wasn't even room for me to lift. I don't take up much space boys! Let me have a little hunk of the mirror please 🙂 Things quickly took a turn when I came home, and I couldn't be happier!
Today is a VERY proud day for me. I have been blogging since the end of November, a very short period, and I am now a published author on another website. I never thought I'd see my work somewhere else besides this little blog. I put my heart and soul into my work, and I guess no matter how long you do something, if you put your mind to it and are determined enough things will happen.
Veria Living has featured an article and original recipe of mine I was asked to write for Super Bowl Sunday. You can check it out here: Veria- Skinny Minnie Sesame Peanut Kale Chips. As of right now, my biography picture has not been included yet, and neither has the picture of my actual kale chips. We were having problems with my attachments, so I HOPE they are able to put it on the site soon! I would love to see my mug up there! 🙂 But in the meantime check it out anyway!
I have to say I am super impressed with the way it turned out. It was barely edited, which makes me feel amazing and that I can write! I would absolutely love to contribute more and I hope this article can be a stepping stone for more opportunities 🙂
Oh and I do believe I have accomplished one of my listed "goals" for 2013- #6 Have my blog featured in a magazine, or somewhere important/special.
Again, I am so blessed and honored. I cannot express this enough. When I started writing this blog 3 months ago I would tell people about it and they would roll their eyes, laugh at me, or say okay have fun with your little hobby you nerd. It's not just a hobby to me. And I know the people that do follow this blog regularly understand that. I write because I love it, I want to inspire, and I feel good about what I am able to present. I could easily come home and go to bed every night after a long day of work and a workout. But I sit down at the computer, write, and share my recipes! I make it sound like a job, and technically it is because I put hours and hours of work into it daily. I wouldn't trade it for the world though. It makes me incredibly happy and I love the feedback I have received so far.
I hope this blog continues to grow and I hope my regular readers enjoy because I'm never quitting! Oh and I absolutely have to give a shout out to my parents for encouraging me to write. Extra special credit goes to my mom because she was the one who saw a feature in the New York Post about the television channel and encouraged me to submit my work to the website. I never thought they would reply, let alone ask me to contribute. So thanks mom, you always know best 🙂
Okay moving on to yesterday's workout! I was able to power through some arms. My chest was actually super sore from the day before, I think it was from those around the worlds!
I did the arc trainer for 35 minutes (I did 20, some arms, then returned for 15 more)
Tricep overhead pulls with cable rope, 40 lbs 10 reps x 3 sets
Tricep pulldowns with cable rope, 50 lbs 12 reps x 3 sets
Bicep curls with 15 lb kettles, alternating for 2 sets (12 each arm), then together for 2 sets, 12 reps
Uppercut punches, 15 lb kettles alternating, 12 punches each arm x 5 sets
Tricep pushbacks (palms towards butt, little pushes backwards with weights), 15 lbs, 15 reps x 2 sets, then 20 lbs, 12 reps x 2 sets
Hammer curls, 17.5 lb weights, 12 reps x 4 sets
Overhead tricep extensions with 12 lb kettle, single arm, 12 reps x 4 sets each arm
Bicep pushouts, weights up, palms up push weights up and out and back in (45 degree angle), 15 lb kettles, 12 reps x 4 sets
Tricep dips on bench, 12 reps x 3 sets
Drag curls with 30 lb bar, 10 reps x 4 sets
Tricep pushups on flat part of bosu ON TOES, 10 reps x 4 sets
The tricep pushups were super hard I must say! But worth it 🙂

At home my dinner wasn't too exciting. I did more scrounging of leftovers. But I did make a delicious new recipe that is emergency work snack friendly!!!
Here's the problem with this snack… IT'S INCREDIBLE! Believe me when I say you won't be able to stop eating it. I had to hide it before I sat there and ate the whole bowl 🙂
Later in the evening I noticed Phoebe chomping on something…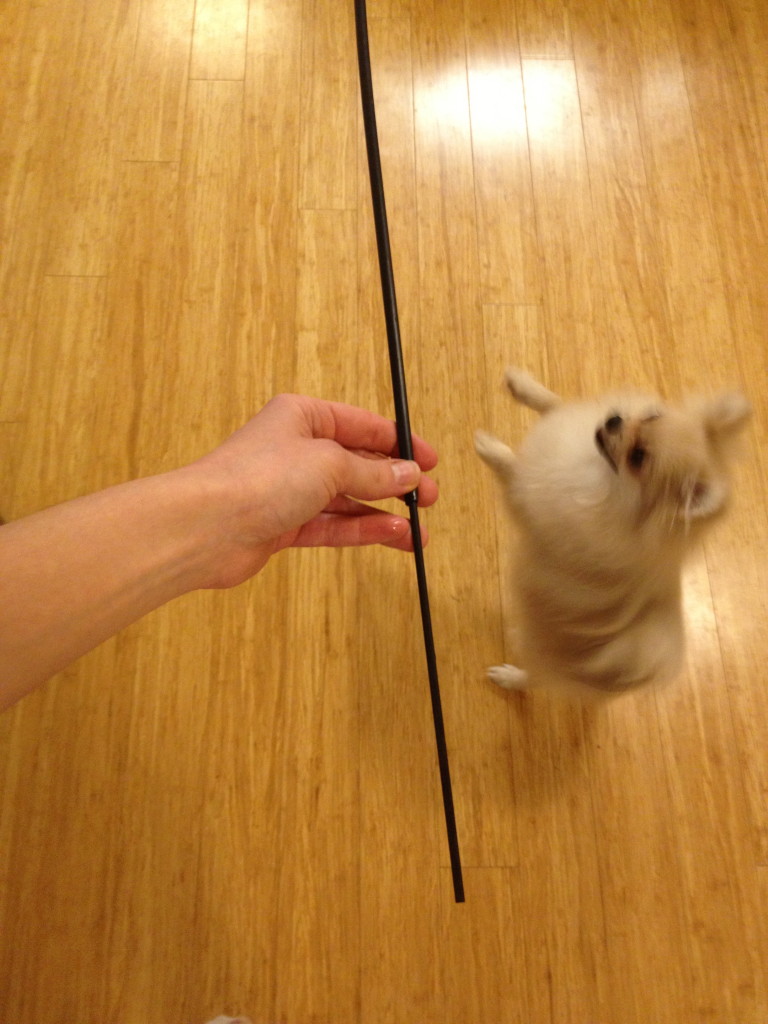 If anyone can figure out what this is I would greatly appreciate an e-mail or comment. I have no idea what it is, where she got it, or how long she had it. There is an inner piece that slides out too (wand like) and it had puppy slobber all over it. I hope it's not to something important! I stared at it for a very long time.
Hopefully after work today I can make it to the gym again. It was supposed to be back day, but there is absolutely no way after doing chest and arms. I need a cardio day to flush everything out. So cardio and abs it is!
Here's to a terrific Tuesday 🙂
XOXO With a Cherry on Top,
-Minnie