Anniversary Fun
Hi everyone!
I apologize for missing the past few days. No need to put my face on the milk carton, once again work is just crazy busy and my days are exhausting.
This past Friday was a big milestone for Tony and I. It was our 1 year anniversary! We made reservations for a really fancy dinner in Baltimore. In fact it was the nicest place I've ever been to. I wanted it to feel special and it really did. We dressed up pretty nice for the occasion.
So I'm not even going to try to hide the fact that my makeup probably cost more than my entire outfit. The dress I got on sale last November at Target. Pretty sure it was $9.99… MAYBE $5.99. I remember buying it for Seattle "just in case" and I never wore it. I'm telling you guys, winter is the best time to get these types of items. You can always save them for events or wedding season. The shoes are ::drumroll please:: Payless from a few years ago. I NEVER wear heels unless they are boots so I can't see spending crazy amounts of money on heels that will collect dust in my closet. Also the pearls on my wrist are from Charming Charlie, maybe 8 bucks. I think my "fancy dinner outfit" came to a whopping $30.
Actually Tony's outfit cost about 10 times as much as mine!
Tony in his terminator sunglasses. Gotta love it!
Dinner was salads, a shrimp cocktail for Tone, Filet mignon and asparagus, and then I got a lobster tail on the side of my filet. It was huge and yes, I ate every single bite.
I skipped the butter, and the rolls, even though they looked so beautiful. These are the kinds of cheats that I don't feel guilt over. Healthier options than lobster mac and cheese and cream of crab, but delicious none the less.
We were so surprised when the waiter brought us a lovely dessert and champagne on the house. It couldn't have been more perfect.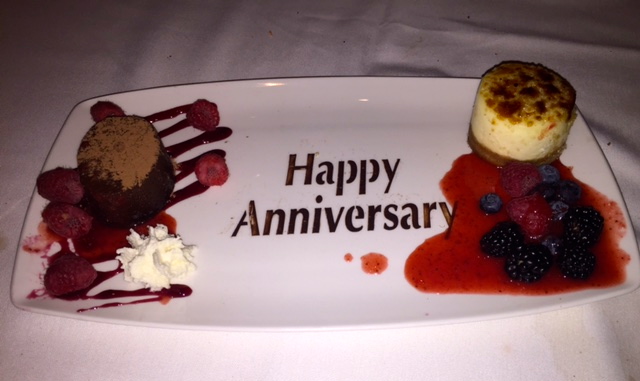 Our bellies were full and we were happy people 🙂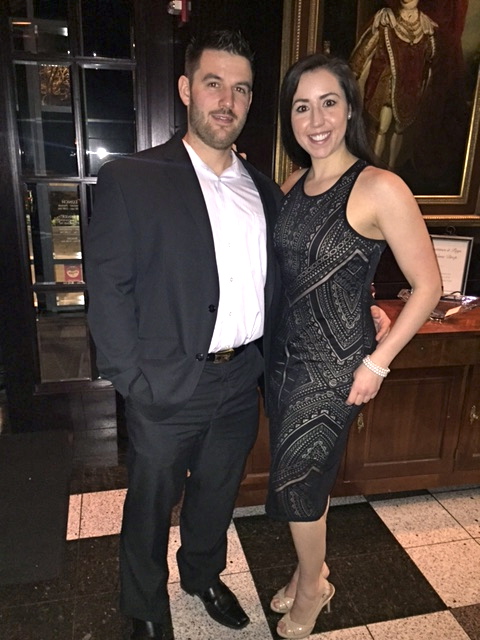 Saturday we FINALLY had our furniture delivered. I may not have mentioned that we have been living in an empty living room. It's been a little hard to see things not come together as quickly as I hoped, but it's our first home and those things take time.
The biggest problem was the couch not fitting up the stairs. Solution? Over the deck.
I watched from the window in a panic upstairs. The delivery men ran around and helped him bring the couch up. Good thing he's a bodybuilder, huh?
We have a couch with a chaise lounge and then a love seat that I decorated with these pillows.
I love the gray and yellow combination. Warm, cozy, and inviting at the same time. The ruffle/floral pillows are from Pier 1. The middle pillow is from Home Goods. Don't you guys just LOVE those stores? I go to Home Goods at least once a week, there are always new finds. Sometimes you walk out with nothing, sometimes you walk out with 5 things. And Pier 1? Let's not get me started. I go in there and I WANT EVERYTHING! I've gone to Pottery Barn and Crate and Barrel and neither of those places are really my style. Pier 1 though… you have my heart.
What other home stores do you guys use? Anything online? 
I'm off, but I'll be back soon! Have a great Wednesday.
XOXO With a Cherry On Top,
-Minnie