Baked Shrimp Egg Rolls with Sriracha Dipping Sauce
Appetizer week is coming to a close! I received great feedback from all of the recipes. Really I am not surprised because everyone loves finger foods! Anything I can "pick" at is my kind of meal. And for some reason I have the "fridge complex" where I will pick at stuff in the fridge and consider it empty calories. I hope I'm not the only one who does this! I used to eat a really big dinner before, but now I will make a smaller meal and then snack. I like this better!
I think I also did a good job of picking a little bit of everything. Some people like Mexican food, some are vegetarians, some like a lighter snack, some a heavier appetizer. It's good to venture out and not stick with one thing 🙂
My last appetizer recipe is a baked egg roll. When we think egg rolls we think heavy and fried! Okay yes these are delicious, but I'd rather not spend my entire weekend trying to burn it off.
These are healthy and only 200 calories for two huge egg rolls WITH the dipping sauce! 
If you were to go to a restaurant some of those egg rolls have insane amounts of calories! I couldn't believe the numbers after doing a little research. One place had 1,123 calories for their appetizer serving and 65.1 grams of fat! Holy Cow! And that's the appetizer! You haven't even ordered the meal yet and you've used almost all your calories for the DAY. Geez.
Let's try this instead 🙂
For this recipe you will need: 
-4 large shrimp, peeled and deveined
-1/2 cup of broccoli slaw
-2 asparagus spears, sliced
-1/4 cup of spinach leaves
-1 Tablespoon of fish sauce
-1 Tablespoon of rice vinegar
-1/2 Tablespoon of miso
-2 egg roll wrappers
For the dipping sauce:
-2 Tablespoons of plain greek yogurt
-1/2 to 1 Tablespoon of Sriracha (depending on how spicy you like it)
-1/4 teaspoon of sesame seed oil
(Makes 2 egg rolls)
Preheat your oven to 350 degrees Fahrenheit
Start by placing the broccoli slaw, asparagus, and spinach in a pan on high heat. I just used a little olive oil spray here. Add the shrimp after a few minutes of cooking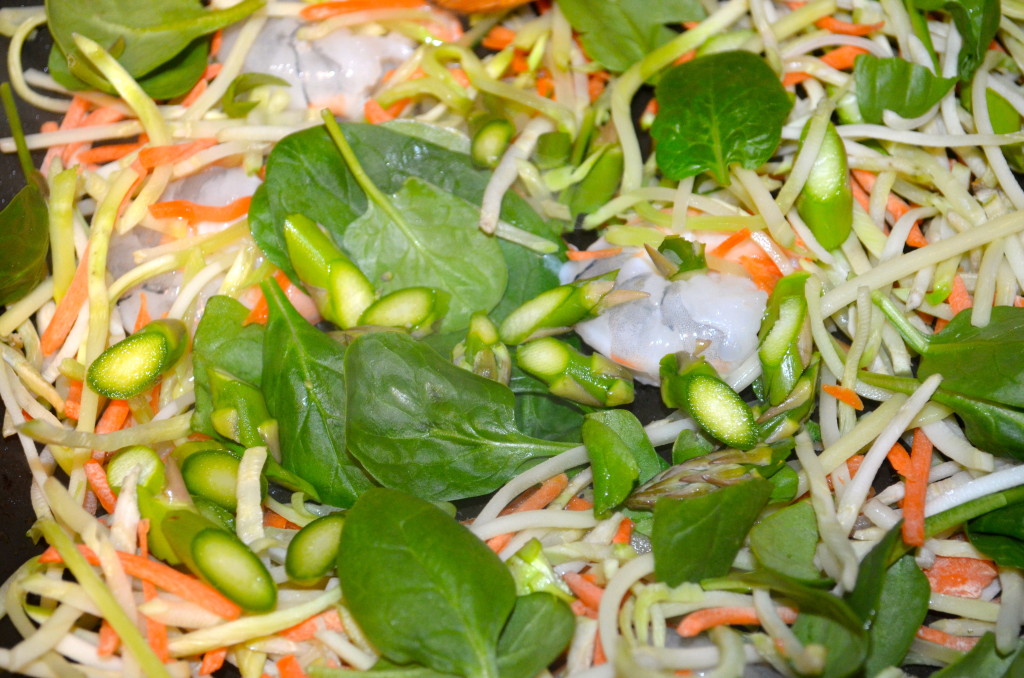 After a few minutes add the miso, fish oil, and rice vinegar. You will end up with this:
Now time to roll the egg roll!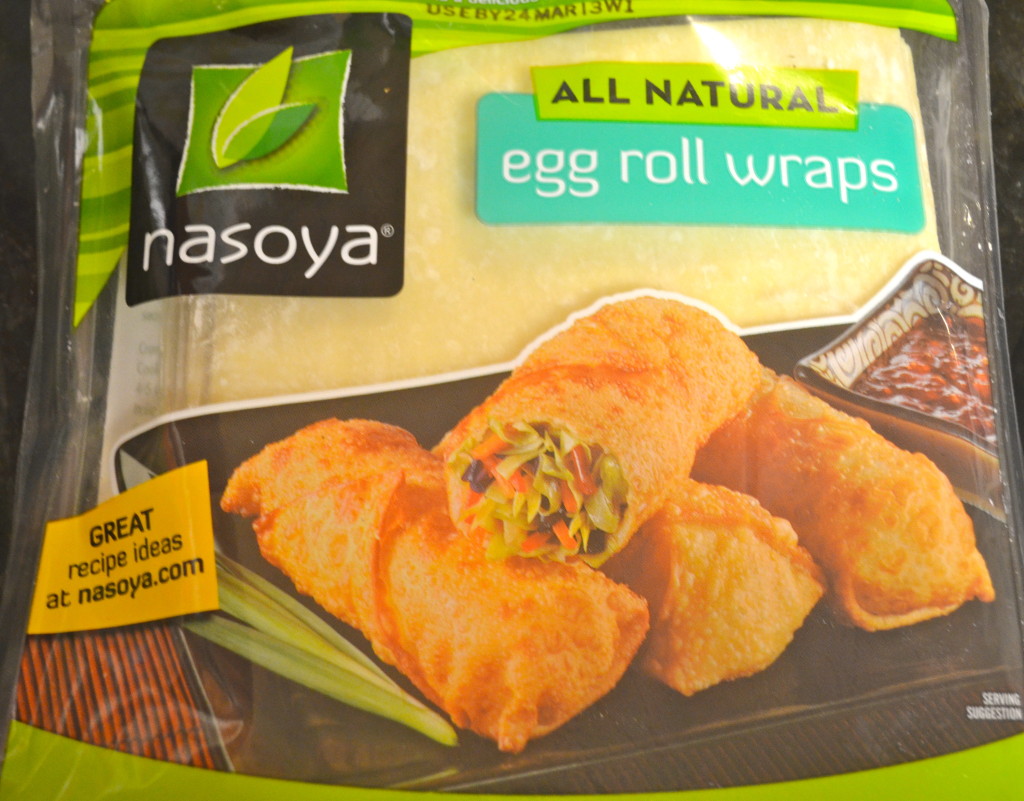 Place 1/2 the mixture inside each egg roll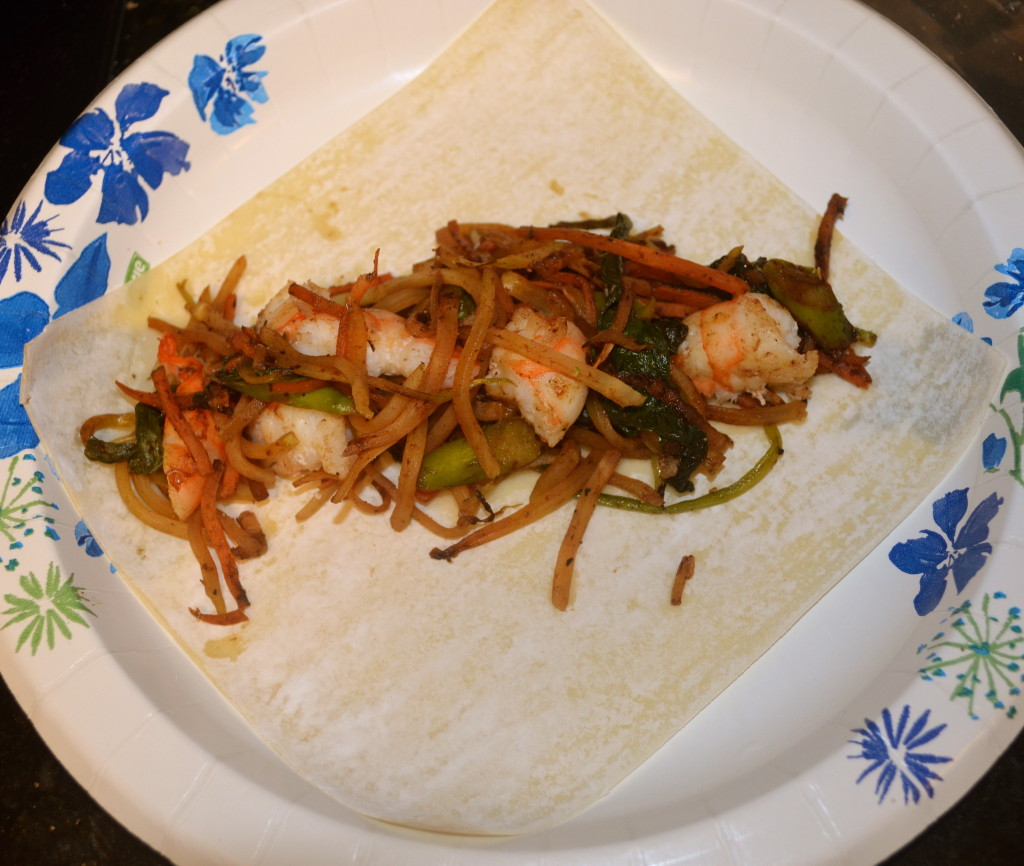 Fold the corner facing you over the mixture and tuck it under the filling
Then you fold in the sides, and then the remaining corner (moisten this flap to keep it shut). Sorry I didn't take a picture, but usually the back of the wrappers show you how in case you are not sure.
Spray a pan with olive oil spray and place the egg roll on it. Spray the top as well so it ends up nice and crunchy! Bake for 25 minutes
While it's cooking work on the dipping sauce. This is so simple! Just 2 Tablespoons of plain greek yogurt, 1/2 Tablespoon or more of Sriracha, and 1/4 teaspoon of sesame seed oil. It's like a spicy mayo you find in sushi but HEALTHY! Only 42 calories and 1.4 grams of fat for the whole thing 🙂 Compare that to 21 grams of fat and 220 calories for the dip!
Once your timer goes off, look how they turn out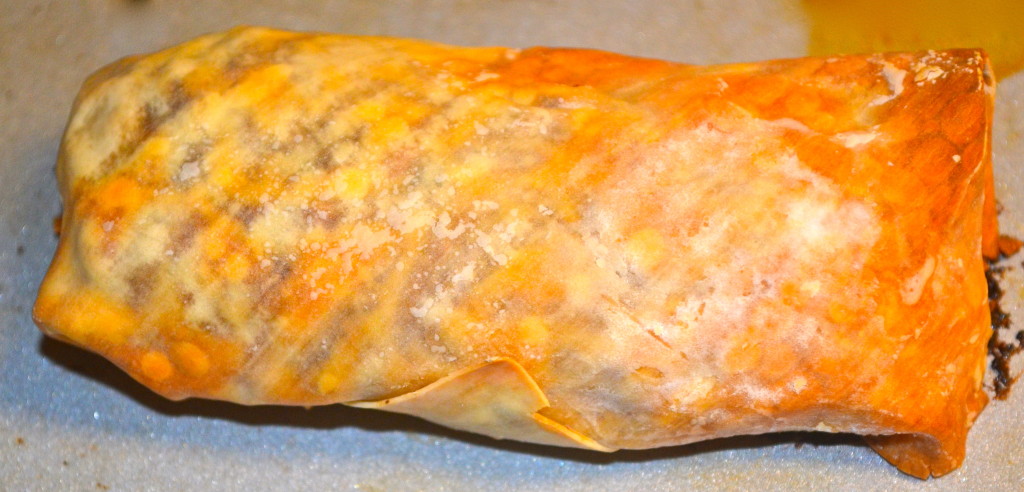 Crunchy!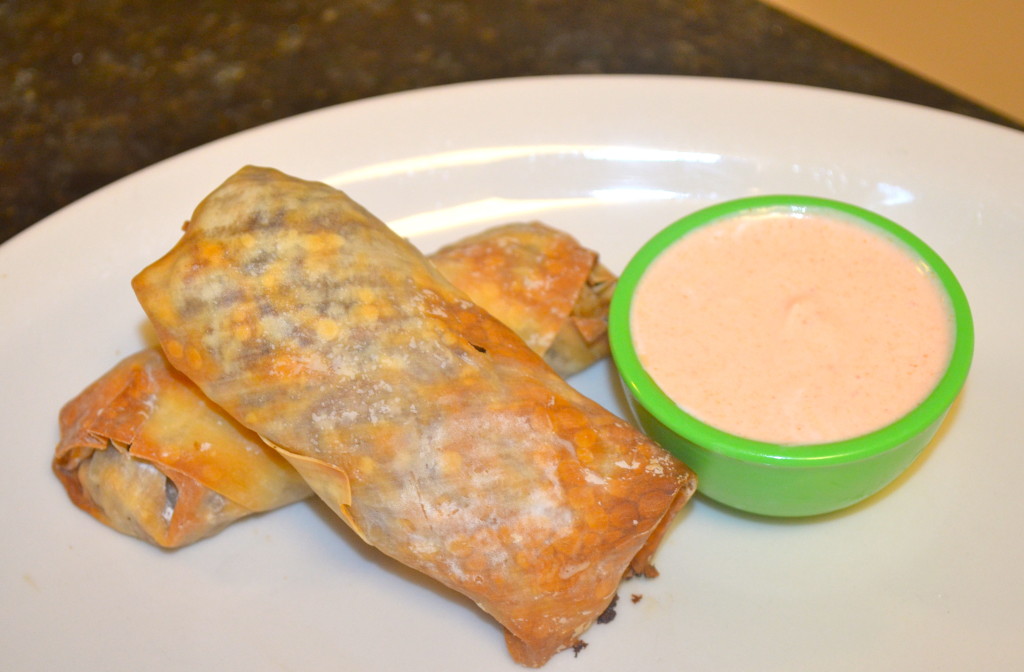 Nutritional info: 200 calories, 1.64 grams of fat, 32.2 carbs, and 17.3 grams of protein
ALL OF THIS FOOD!
These are spicy, crunchy, sweet, and healthy all at the same time. What a bargain huh?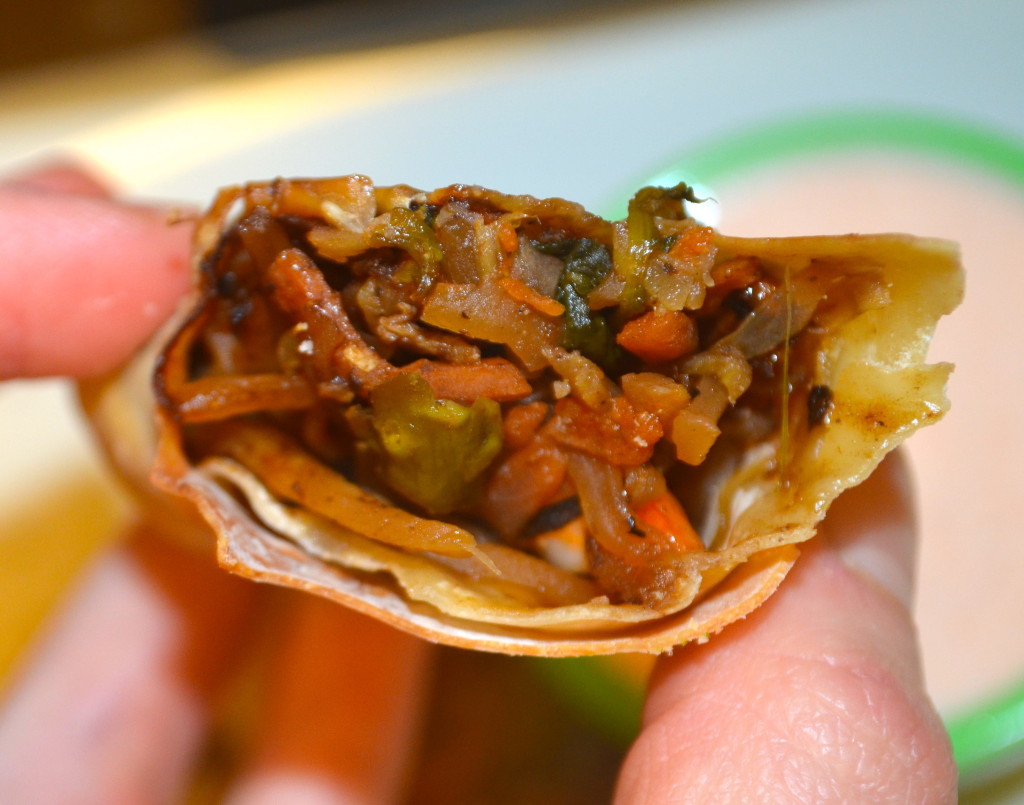 These would be fun for a date night!
Happy eating…
XOXO With a Cherry On Top,
-Minnie