Booty and Booties
Hey there. HAPPY THURSDAY!
This was my first full week back to work since I got sick with the flu and it's always so hard getting back in the groove.
My week actually went pretty fast so far so I can't complain. Yesterday after work I was excited for the gym because it was glute day and I really wanted to work hard now that I'm feeling better!
And I'm going to share my workout 🙂
22 minute spin bike HIIT
28 walking lunges with 15 lb dumbbells x 4 sets. After each set 10 traveling side squats back and forth unweighted.
Hip thrusts with barbell- 50 lbs. 12 reps x 4 sets. In between each set 8 donkey kicks each side
Here's a tip for those of you who can't get the positioning right on hip thrusts. I actually start sitting on the floor Indian style and place the bar on my legs. I push up with my butt and shoulder blades go on the bench. Dip down and up. This is the easiest way I've come up with when you don't have a spot to help you get into position.
Straight leg dead lifts 50 lb bar 10 reps x 4 sets
Alternate with 8 box step ups
Cable kick backs. 4 sets regular. 4 sets at an angle working the outer side of glutes and hip. With each leg this will be 16 total sets. You'll be there a while but it burns so good!
Plié squats (as low as possible) with 35 lb weight, 12 reps x 3 sets
Alternate with curtsy lunges x 10
Finished with a 12 minute incline speed walk and a couple side shuffles
I love this lucy top!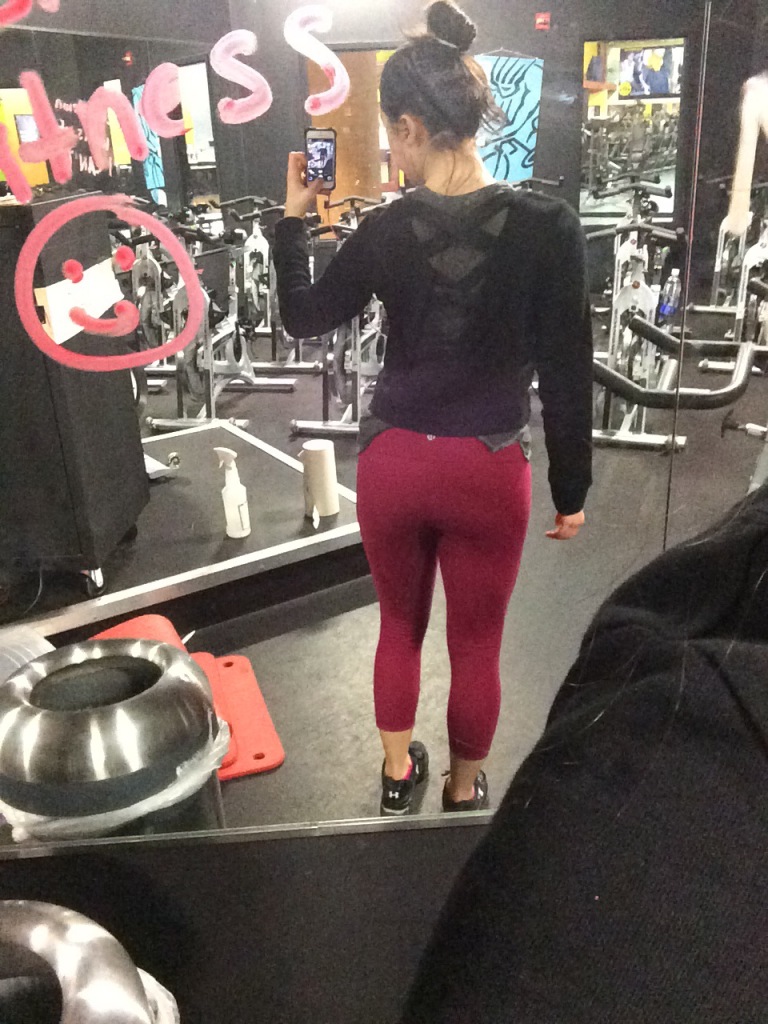 Glutes felt great! When I came home I was super excited for a package and this box staring back at me.
I spoiled myself this weekend and bought these shoes. I had to try them on right away!
Still in my gym gear, but really they go with anything 😉
I'm a little more than obsessed with these booties. I'd wear them every day if I could.
When you spoil yourself what do you buy? Normally I'm not a shoe girl, other than Nikes, but I'm loving cute shoes lately!
That's all for today. Try out the glutes. You'll be sore in the AM! 🙂
XOXO With a Cherry On Top,
Minnie