Bringing SexyBack With a Suit and Tie
As if yesterday wasn't a good enough day (Golden Globes), today is getting that much better!
Let me flash back to 15 years ago. I was a screaming tween at an Nsync concert shouting for Justin Timberlake to marry me (guess that's out of the question now) while doing the heart pumping dance to tearin' up my heart. Awfully embarrassing huh?
Not really. I look back at that time and smile. My parents were the best because they let me go to every single concert each time they toured and never complained about it. G-Mama would stand there with the screaming 12 year olds until her ears bled, and Pop Pop always drove and let my friends and I decorate the car with horrendous banners and glitter. One time he even booked us a Limo! I will always thank my mom and dad for that! XOXO
Anyway, today is the day Mr. Timberlake returns to music after years of waiting! It's only been 2 albums in 10 years since going solo, and when he came out with Sexy Back I was lucky enough to score 2 tickets to his "club tour". The 930 club is a teeny tiny venue in DC (probably holds 1000 people) and it sold out in 30 seconds. Somehow I scored a pair, and it was one of the best nights EVER. Seems like yesterday, but it was 2006!
If you go to Justin Timberlake's website you can listen! It's called "Suit and Tie" Until today there was a countdown on his website with the time left until the music released. Well I stared at it until midnight struck. I instantly got up and started dancing. I love Justin because he is original and doesn't follow the crowd with his music. He branches out and changes things! My favorite singer/performer of all time and that will NEVER change 🙂
So yesterday morning I had a protein shake to start the day, it was the "chocolate plant protein" packet. Well let's just say it wasn't my favorite…
It tasted like chocolate grass… but I chugged it anyway. Hate wasting food! And I also wanted something light in my tum before my workout.
I am not a morning exercise person at all. I don't like it, and I'm not sure I ever will. My main problem is I'll work out really hard and then the rest of the day I'm STARVING and I'll end up eating way more than I would in a regular day. I had some things to do later on in the day so I needed to squeeze it in somehow.
I started with my stairmaster session. I just love this form of cardio. Best out there!
Since Justin is bring Sexy Back version 2.0, I thought it was only appropriate for it to be back day! Sexy back over here please 🙂
standing cable rows (mid abdomen height), 50 lbs 12 reps x 4 sets
standing low cable rows, 70 lbs 12 reps x 2 sets, then 80 lbs 12 reps x 1 set, 100 lbs 12 reps x 1 set
Cable torso rotations (hold a single cable mid abdomen height and clasp both hands around it. Pull the cable and twist away from the machine and back in-from the waist ONLY). 12 reps x 2 sets each side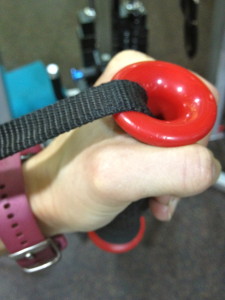 Assisted pull-ups wide and narrow grip, 10 reps x 4 sets
Wide grip low rows using a 50 lb bar, 12 reps x 4 sets
Narrow grip low rows using a 50 lb bar, 12 reps x 2 sets, then 60 lbs, 12 reps x 2 sets
High lat pull downs using the machine wide and narrow grip, 50 lbs, 12 reps x 2 sets, then 60 lbs, 12 reps x 2 sets
I then moved onto ab work on the stability ball. These exercises take some balance but really work your core.
Oblique ball crunch. Lay on your left hip, place ball between calf/ankle area. Leaning on your left elbow, bring legs up and crunch the oblique and back down. 12 reps x 2 sets each side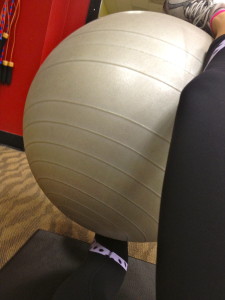 Ball roll ups. Place your heels on the ball, tummy in tight, roll up into a V (crunch at the top) and back down. 12 reps x 3 sets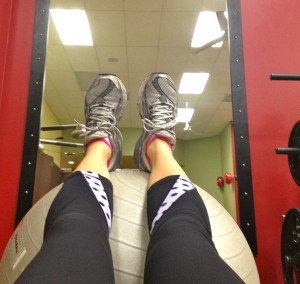 Air punches. Place the ball between your ankles and raise straight in the air. Crunch up and do small crossing punches in the air. 12 reps x 3 sets
Also did some other regular crunches with the ball and some bicycles 🙂
I finished with a mini arc trainer session, a 10 minute stroll on the treadmill, and a nice stretch!
I came home, showered, and put on a cute little outfit!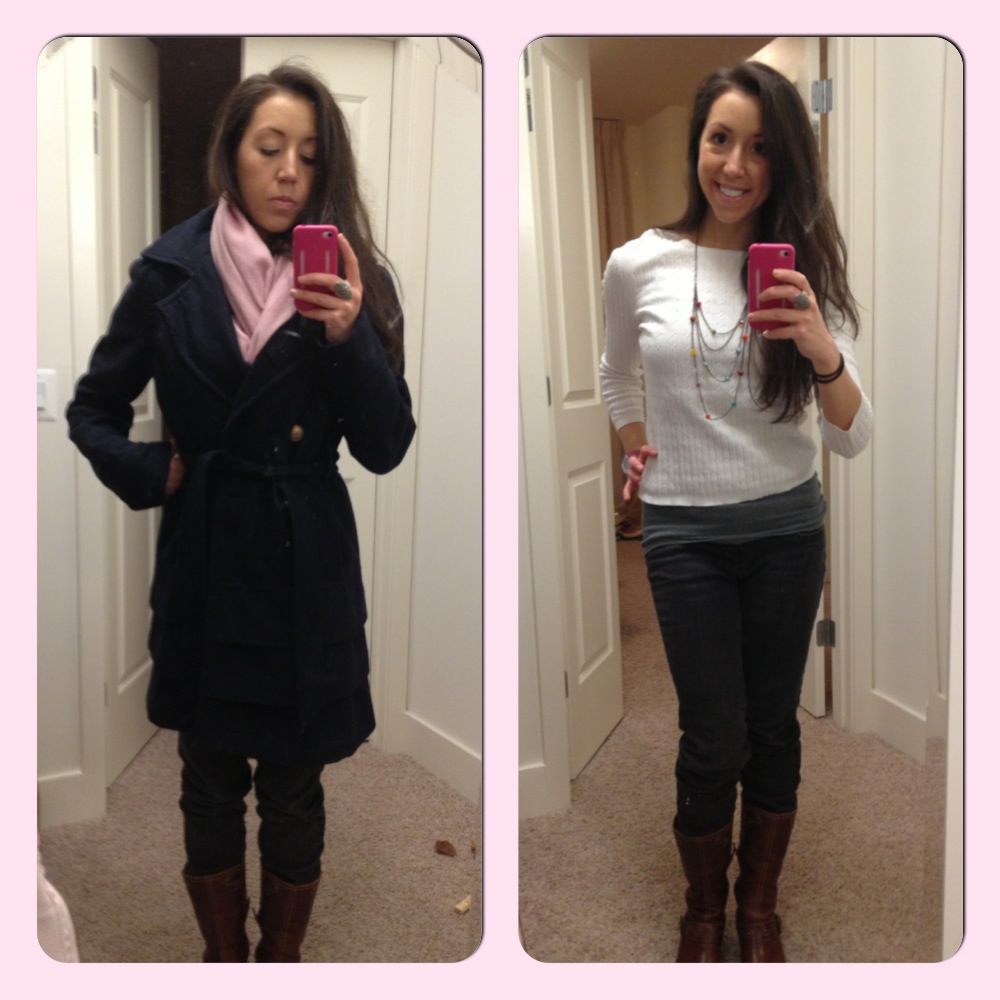 And then Phoebe and I had to go to her post-op check up!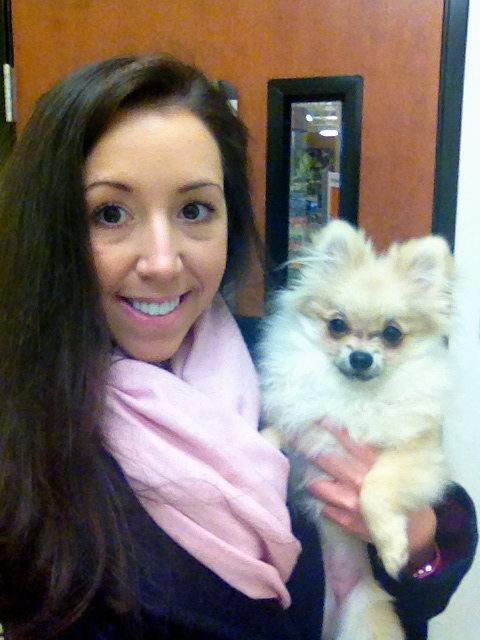 She did great and her scar healed beautifully. So grateful for our wonderful vet! We had a hard first few days after the surgery and he always treats Phoebe like the little princess she is!
When I got back I wanted a sweet snack, and it just so happens the night before I made a BEAUTIFUL new clean eating dessert. This is my homemade Frozen Strawberry Pie!
It is absolutely delicious. Only 170 calories per slice (6 slices per pie- hey I like a big slice), 7.8 grams of HEALTHY fats, 23 grams of carbs, and 4.3 grams of protein. Click the picture for this wonderful decadent recipe!
I then packed up Phoebe and off we went to G-Mama and Pop Pops, and then to my sisters house for Drue's (brother in law) birthday celebration. Drueby (what we call him) is turning the big 3-0 today. Happy Birthday Drueby!
Cake was involved, but I of course skipped. It smelled fabulous because my sis is a wonderful cook! Hey what can I say? Runs in the family!
Party hats were also included. Or party crowns?
And a couple goofy birthday faces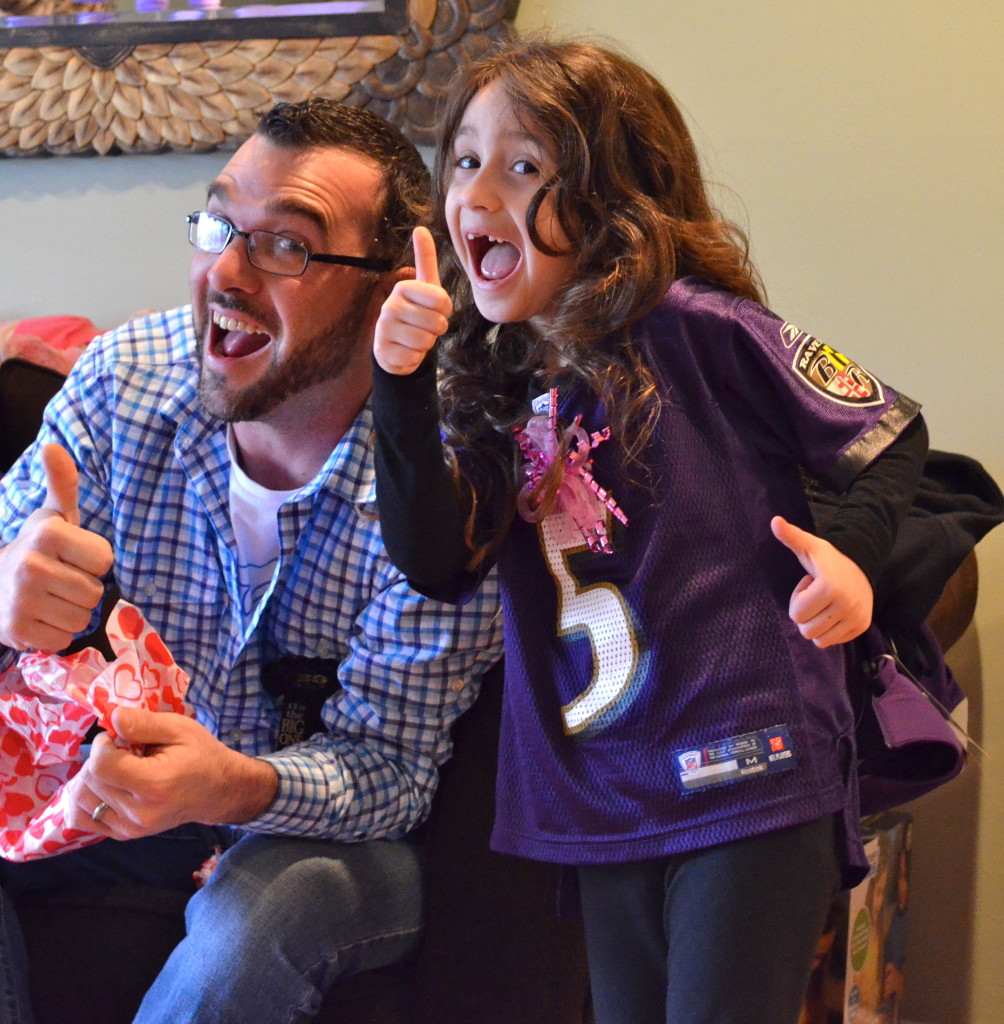 Later I went back to G-Mama and Pop Pops and the girls were so happy I was back! It's so wonderful when pets greet you at the door 🙂
And then G-Mama and I watched the Golden Globes Red Carpet! I was a little disappointed with this year actually. No one really "wowed" me. I guess it's always better when Brad and Angie show 😉
G-Mama also gave me a fab new scarf! I just love it!
Today is my last day of my 4 day weekend. It went incredibly too fast! I'm eager to learn more at my new job, but weekends are just as great! Big meal prep day later tonight and it'll be featured tomorrow! I also have more ideas for clean eats in the works 😉
XOXO With a Cherry On Top,
-Minnie