Casein Almond Butter Cups
I've done the peanut butter cup thing before, but this time I took it up a notch with a protein boost.
For those of you who do not know, casein is a type of protein powder but acts as a slow release protein. This leads to greater muscle retention and can even aid in more effective fat loss. I also like casein because it provides a lot of calcium, good for your bones 🙂
You can find casein at any supplement store, but I buy mine online.  This chocolate cake batter flavor is my NEW FAVORITE!
Click to buy- Note: I am an amazon affiliate 
As you guys know I also love my almond butter, so why do a peanut butter cup when I can do an almond butter cup? Sounds like a win in my book!
And the best part? The recipe is NO BAKE and so easy!
For this recipe you will need:
2 1/2 scoops of chocolate cake batter casein (or you can use regular chocolate)
Approximately 1/4 cup of water
3 Tablespoons of almond butter (I like to make my own)
muffin liners and a muffin tin
Makes 6 cups 
Start by putting your casein in a small mixing bowl. Slowly add the water about a tablespoon at a time and mix. You have to eye ball this and judge accordingly. You want your casein almost like a play doh consistency, or like a cookie dough. You CANNOT use whey protein. Casein is special because of the way the molecules form, it makes a gelatinous like substance.
Line your muffin tin with paper liners and scoop about a Tablespoon (or a teeny bit more) into the bottom of each liner. Press down with your hands.
Now add 1/2 Tablespoon of almond butter to each liner.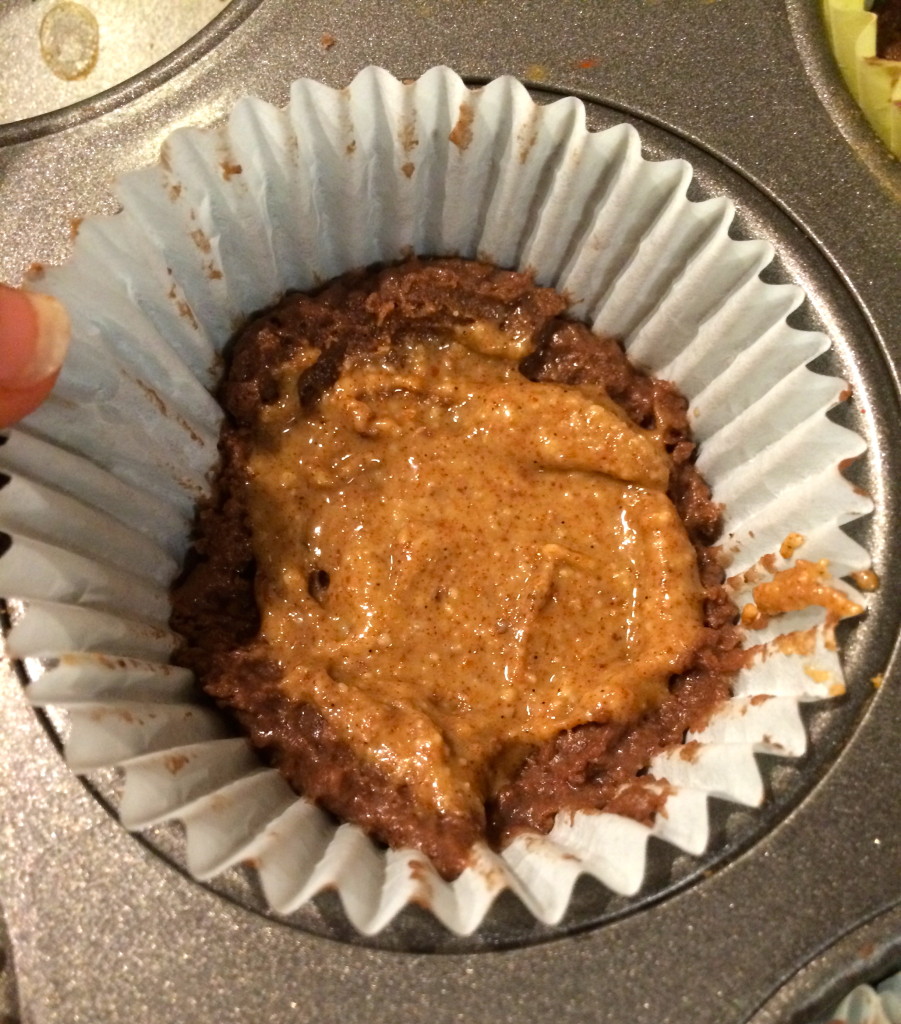 This is a messy recipe… and it was on the fly!
Pop in the freezer for 10-15 minutes
Add another Tablespoon of casein to the top of each muffin liner to form a cup
Back in the freezer it goes for another 15 minutes!
Peel off the liner and you have a scrumptious almond butter cup!
This is the closest to a Reese cup I have come while still remaining insanely healthy. I've done peanut butter cups before, but this one is my new favorite!
Nutritional information, PER CUP: 110.5 calories, 7.5 grams of fat, 4.3 grams of carbs, 13.5 grams of protein, 2 grams of fiber.
If you want to use PB2 or peanut butter you can do that too, but I like the almond butter! If you use PB2, the calories and fat will be slightly lower, but your sugars/carbs will increase. Remember almond butter is healthy fats that our bodies need 🙂
Happy eating…
XOXO With a Cherry On Top,
-Minnie
P.S. Casein is a milk product, so if you have a milk allergy, please avoid!