Clean Body, Happy Body
Well hello there! Are you on day 2 of your New Years goals? Or did you just start?
Yesterday I listed my "To-Do" list for 2013. The first thing on my list is a 30 day clean eating challenge. What is this exactly? Basically it's not a diet, I don't believe in them. It's eating all natural healthy foods that aren't processed and no added chemicals. Most of my diet is already like this, but I've heard AMAZING things about people who "eat clean". So instead of saying, hey I'm going to eat clean from this moment on, I've decided to do 30 days straight to see how my body likes it!
Want to do this with me? Check out the Clean Eating Challenge Tab under my banner. This page includes a long list of what clean eating is, helpful hints, and foods you can eat.
Also, for the next 30 days I will be doing clean eating recipes only! I simply cannot cook food and then not eat it, so wasteful.
I also want to track what clean eating is going to do for my body physically. I workout 6 days a week anyway, so nothing will change there. If I have any results it will be solely on what I've been eating. They say a healthy lifestyle, weight loss, and getting fit is 30% gym, and 70% diet, so let's see what happens!
Am I looking to lose weight? I've packed on just a couple pounds from the holidays (hey it happens), so yeah I wouldn't mind knocking those out. Overall, I'm perfectly happy with my body though!
In my Before & After section, I talk about how I stopped weighing myself. I believe about feeling good and ignoring the numbers. If you gain, you feel really bad about yourself, and if you lose, sometimes you take it too far. So yeah, I typically stay off the scale.
But since I want to know what's happening with my body through this process, I decided to step on the scale this morning. I'm about 5 lbs from where my final goal weight is, which I think is great! My number is still something I'm perfectly happy with. I realize I've also put on quite a bit of muscle since I stopped weighing myself a few months ago. So let's see if I can shed those extra 5.
Anyway, I went to BJs yesterday and picked up foods that I needed. Really my cart was nothing out of the ordinary since I buy so many fruits and veggies anyway. The only difference was I bought shrimp, chicken, and lean turkey. Looking over the meats and fish section I started to get major anxiety. Crazy, right? It's just I have a hard time with change and I'm used to being a vegetarian. I sucked it up and said "Minnie, you need the extra protein". This was my cart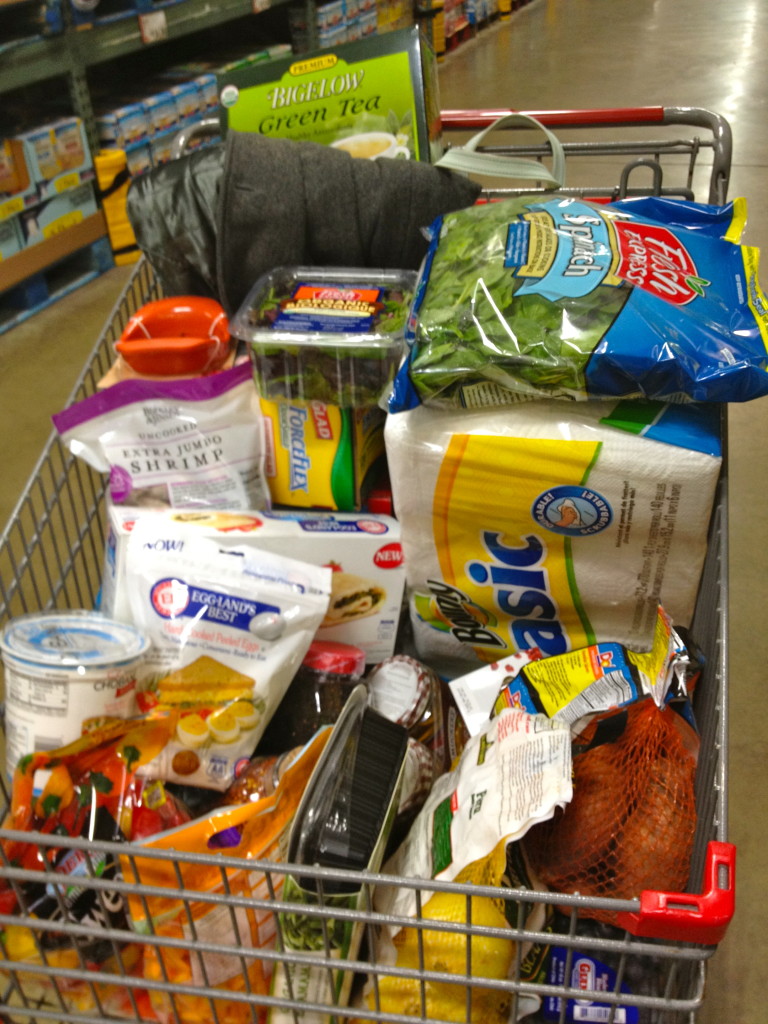 Lots of fruits and veggies in there! I love egg whites too, I eat them a lot! And of course greek yogurt. I also picked up some natural peanut butter (smuckers brand). Be careful with peanut butter. Other brands had extra sugar in them. This was simply peanuts and salt.
Green tea is going to be an essential!
I also passed my dream TV! 80 inch LED. Anyone that knows me, knows I'm a TV junkie 😉
At the checkout counter I couldn't help but pick up this magazine. Jamie Eason is my idol!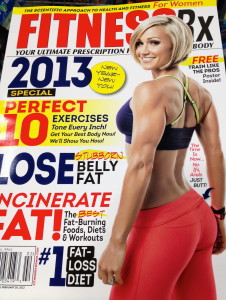 I was able to hit the gym around dinner time. I decided to wait till then because I wanted to see if I could avoid some of the crowds. Boy oh boy, I was pleasantly surprised. It was EMPTY! At first I thought, wait did I miss something? Is the gym closing soon? But then a friend pointed out most people start January 2nd because they are too hungover… I guess because I don't drink I didn't think about it!
I hit the stairmaster for some quick cardio, then did chest. Like I said in other posts, not huge on chest day, but I do it anyway!
Chest: 
Chest presses using the machine. 50 lbs 12 reps x 2 sets, then 60 lbs 10 reps x 2 sets
Chest flys using cables, 25 lbs each hand 15 reps x 2 sets, then 30 lbs each hand 10 reps x 2 sets
Cable crossovers, 30 lbs 10 reps x 4 sets
Pec presses while balancing on the bosu ball (open and closing with dumbells) 15 lbs each hand 15 reps x 2 sets, then 17.5 lbs each hand 12 reps x 2 sets
Also did side bends with a 30 lb dumbbell 20 reps x 2 sets each side
Back to the arc trainer I went for more cardio and then stretched it out! (I forgot pushups today so I'll bust some out tomorrow!)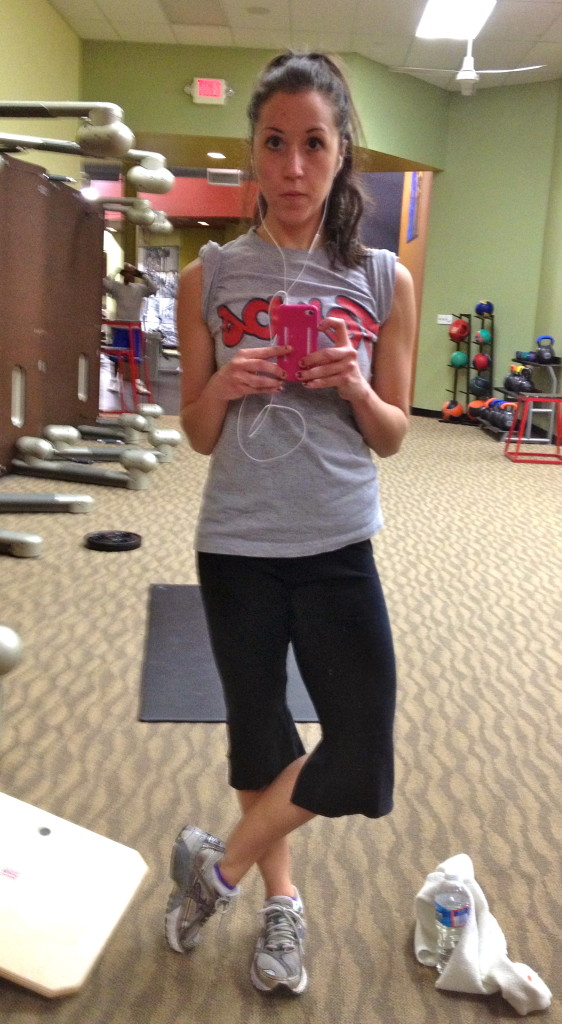 At home Phoebe played while I was getting my cabinets and refrigerator "clean"
It took me quite some time to go through all my food items! I didn't throw anything out unless it was near empty or expired. I'm going to give away some of the condiments I won't be using.
Here is the finished product!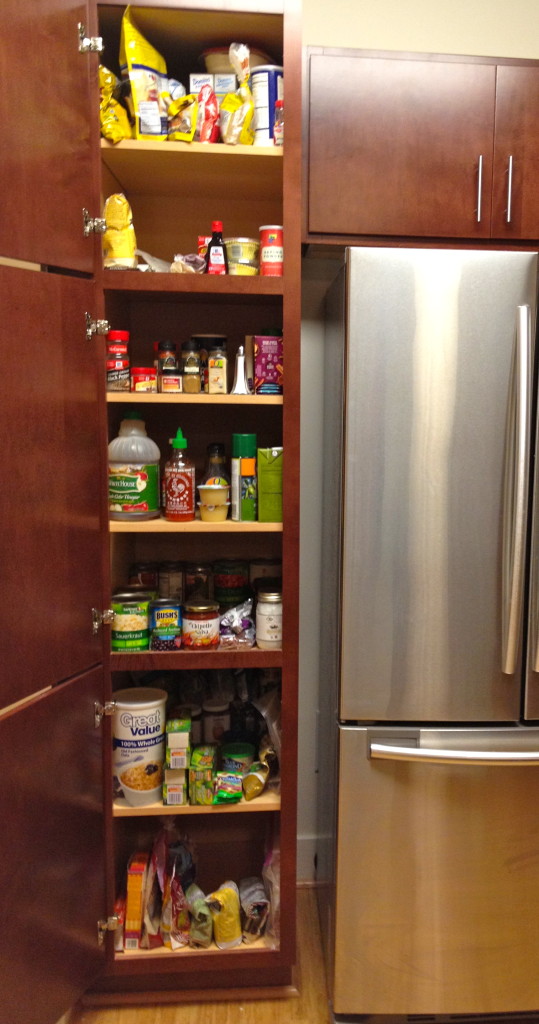 The top of the cabinet is not "clean eats". It's baking ingredients for when I bake for other people 🙂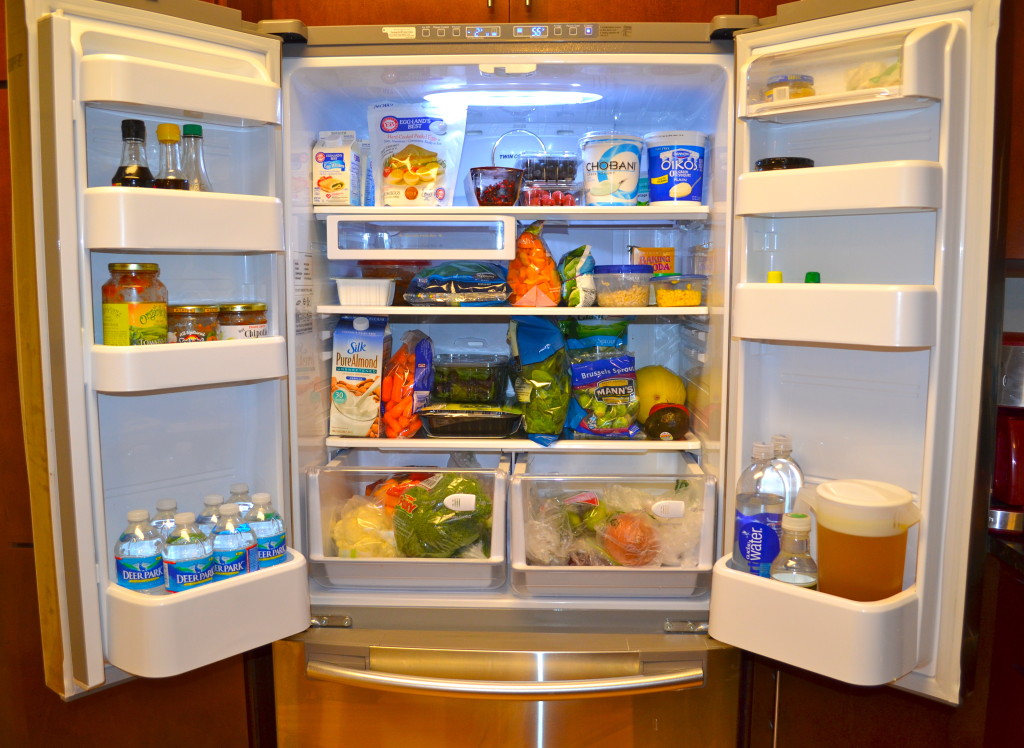 Here's a close up of the shelves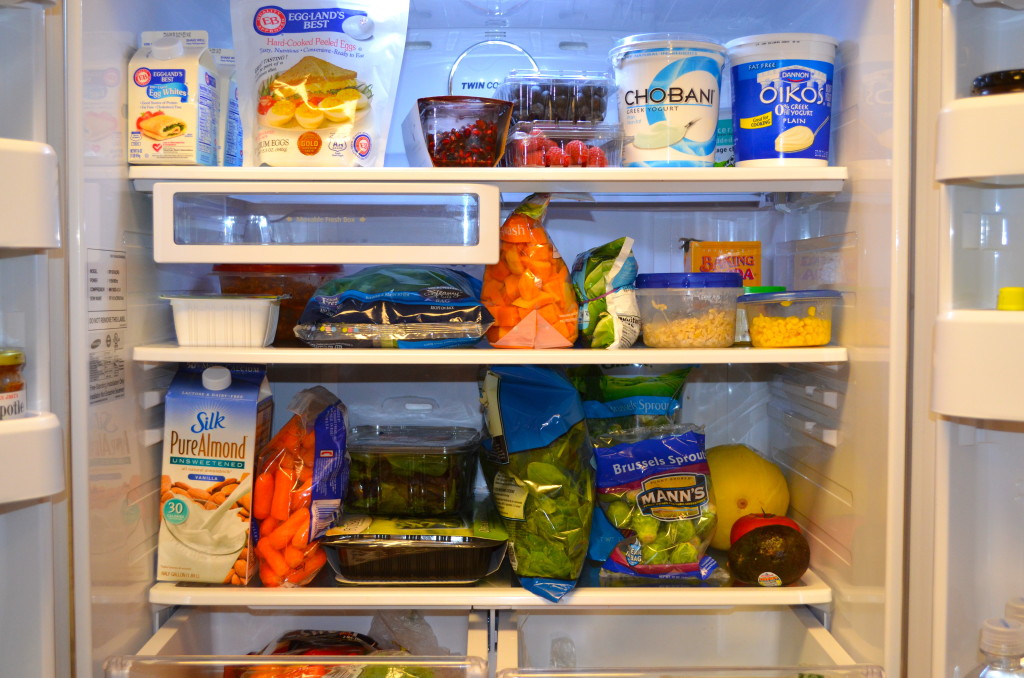 I also brewed some Green Tea for the week!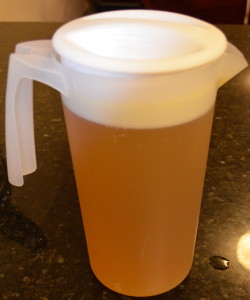 If you are interested in joining me in this little challenge, comment here, on the Clean Eating Challenge page, or email me! I'd love to talk to you guys about it and share progress stories 🙂
Luckily I have a partner in crime already, my BFF from college Leah! I was happy that she decided to do it with me. I wasn't surprised she agreed, she's a bad mamma jamma, really fit, and kicks peoples behinds training them every day in the gym!
Tomorrow is my first day at my new job (still a PA, just switched my specialty from OBGYN to Surgery). I'm super nervous, but ready to get back to medicine! I'll talk more about this tomorrow.
XOXO With a Cherry On Top,
-Minnie
P.S. No recipe today because I focused on the Clean Eating Challenge page. I'll feature a clean bean dip tomorrow!