Clean Twist Fish Tacos
Fish Tacos have become increasingly popular over the years. They are often seen as a lighter, fresher version of the meaty taco. They often remind me of California, even though I've never been! I'm not sure why, but whenever I hear fish taco I think "SoCal".
Unfortunately sometimes those fish tacos you order are still not good for you. They can be battered and fried (eek), come with that huge side of chips and guac, or just be loaded with heavy ingredients like sour cream and cheeses.
This version is a clean eating fish taco with a little twist. I didn't load it with your average iceberg or slaw. I put in grilled bok choy and mixed greens! Different flavor, yet delicious.
Also, I found a CLEAN corn tortilla. I have been to every local grocery store in search for one. I looked at every corn tortilla the stores had and every single one had extra ingredients and preservatives. I even checked the international aisle.
Well Whole Foods was my savior! Food For Life is the same company that makes the Ezekiel bread and they have a corn tortilla made of only organic sprouted corn, salt, lime, and water. They are only 60 calories and a gram of fat per tortilla. Awesome! 🙂
Ok let's move onto the recipe
For this recipe you will need (makes 2 meaty tacos):
-8 ounces of mahi mahi
-1/2 small lime
-1/4 teaspoon of ground ginger
-1/2 cup of mixed greens
-1/4 cup of white onion (I like to grill in rings)
-2-4 large bok choy leaves
-1 Tablespoon of cholulu hot sauce
-extra virgin olive oil spray
-pepper to taste
Start by preheating your oven to 400 degrees Fahrenheit
Usually I do a quick pan fry on the stovetop with fish, but this time I decided to bake it so it would just flake apart so easily for the taco!
Prepare your fish. I made a bunch of brussels sprouts with my fish, so I made a little cubby for the fish to go into so the juices wouldn't go everywhere. Just take tinfoil and bend the sides, making a box around the fish, spray the top and bottom with olive oil spray
Squeeze 1/2 fresh lime over the fish (I ended up just rubbing it all over the fish too), sprinkle 1/4 teaspoon of ground ginger, and season with pepper to taste
Place in the oven for 17 minutes (odd number I know, just set your timer!)
In the meantime grill your bok choy and onions. I used my little inside grill (sprayed with extra virgin olive oil top and bottom and that's it)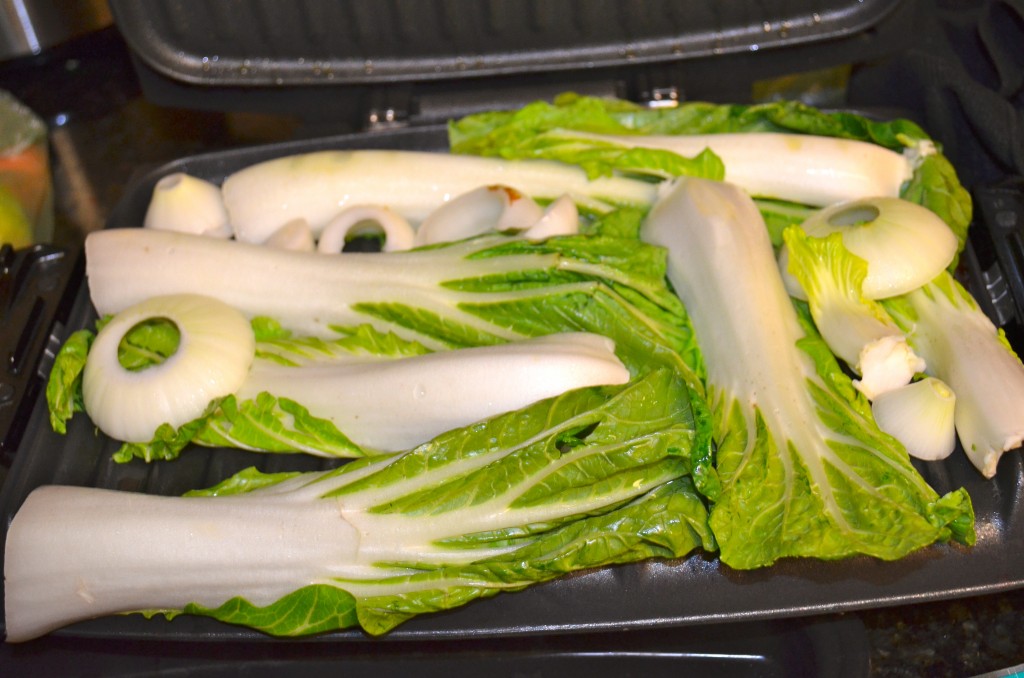 Takes about 10-12 minutes to get this…
When the fish is almost done, pop in 2 corn tortillas in the oven to get them warm
Now take everything out  🙂
Take the tortillas, and start building your taco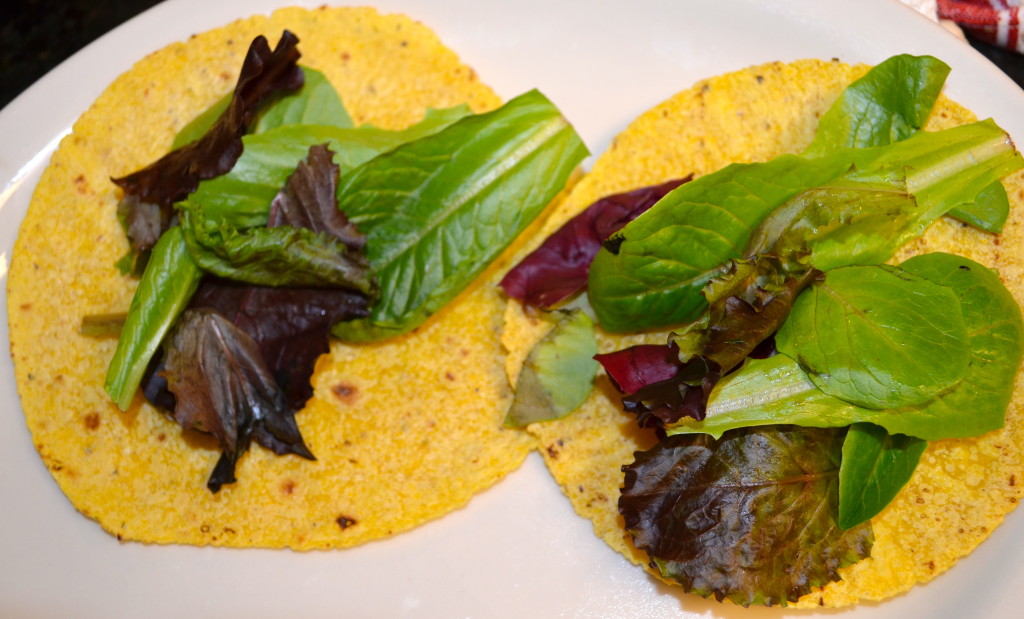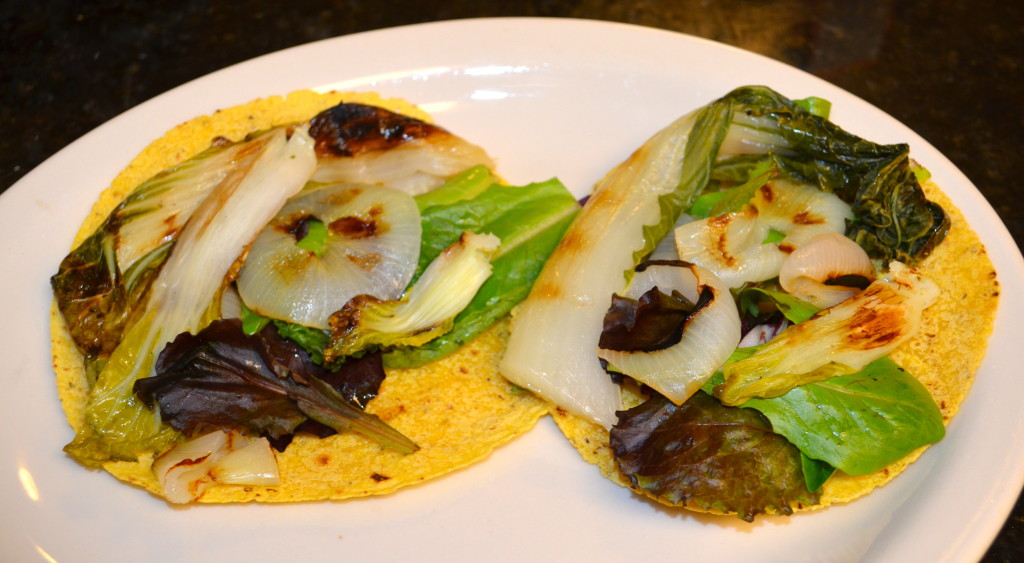 Now the fish, it'll just flake apart with a fork!
I like to top with a little Cholula brand hot sauce (plain). It's one of the only clean eating hot sauces out there. And it's really good! Some hot sauces have too much of a vinegar taste. This is perfect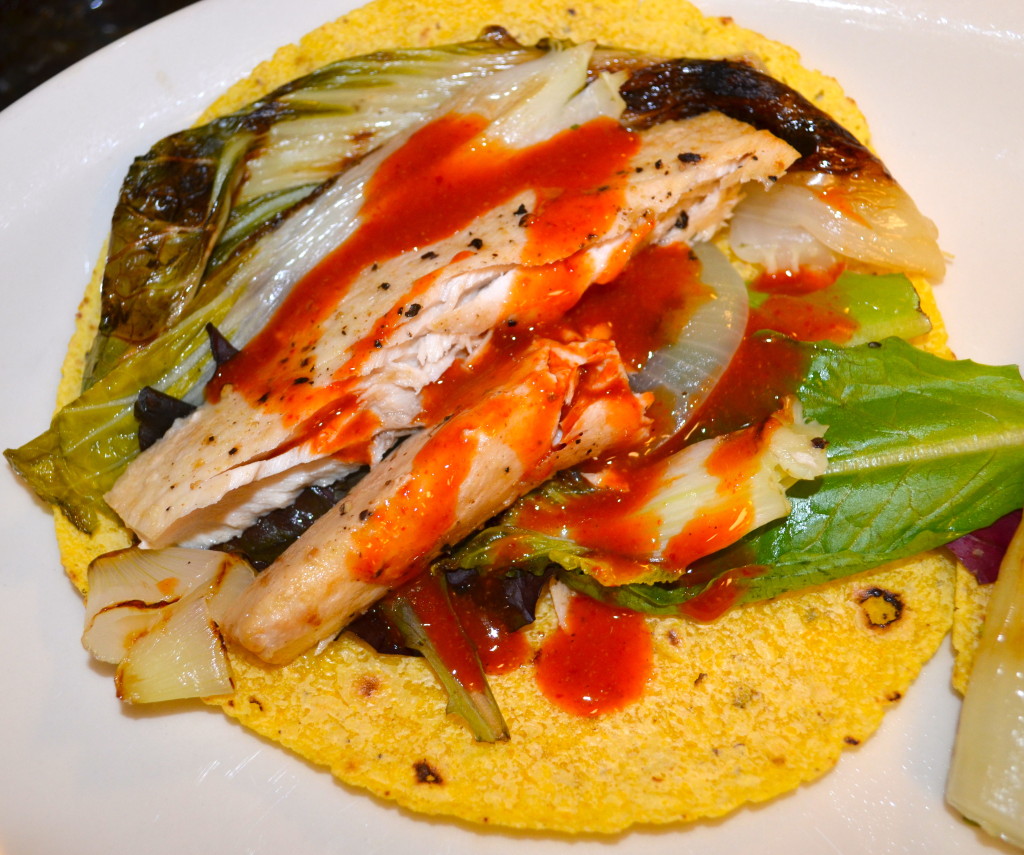 Fold it up and chomp away!
Oh and don't forget my little side of brussels 🙂
These fish tacos are so good for you! LIGHT, REFRESHING, and seriously amazing on your waist line.
Check out these nutritional facts! One fish taco has: 200 calories, 2.5 grams of fat, 18 grams of carbs, and 30.5 grams of protein!
I underlined the protein for you and made it blue in case you missed it. 😉 Almost 31 grams of protein in one serving! This is the perfect meal for after the gym to replenish your body after a heavy lifting session.
Happy eating…
XOXO With a Cherry on Top,
-Minnie