She Works Hard For the Money
Good Morning! It's Friday! Yipee!
We've made it to the end of the week. While you are reading this, I am at work probably pondering if I will get lunch today. Yesterday I didn't again, but loaded my white coat with nuts and dried fruit. Driving to work I had my greek yogurt and a protein shake too, but that is super early in the day. I was still hungry at the end of the day, but it wasn't as severe.
When I was getting ready to leave, my boss pulled me aside and told me what a phenomenal job I am doing and that she can't believe how fast I've caught on! I tell ya, it's certainly wonderful to hear! She hardly ever gets a lunch either so she feels my pain. It's good to know that even though I just started I am a helping hand and I'm making a difference 🙂
As I was walking out the most BEAUTIFUL piece of paper entered my hands
After I opened it I was so excited! I definitely made the right decision by accepting this job. Even though I don't get a lunch, and I often stay way later than the time I'm supposed to leave, the overtime is WELL WORTH IT! 🙂 Can we say Nordstrom?
Oh and by the way, this was what I rolled into work wearing. Don't judge! I change into scrubs the minute I enter the building anyway!
At home Phoebe was so happy to see me! This was the first day I didn't hear her crying when I unlocked the door. It was oddly quiet, and when I opened the door she was in her bed yawning. Beauty sleep I guess! I gave her a nice little treat 🙂
After grabbing a snack myself, I hit my apartment gym. Really I was in a good mood to workout, but I didn't want to leave Phoebe again for more than an hour and wasn't sure if the weather was going to take a turn for the worse.
I settled for cardio day instead! I forgot to take a lifting day off this week, so I made yesterday that day (today will be shoulders). I planned on the elliptical and the treadmill, but my knee was feeling off so I stayed on the elliptical for 62 minutes! The first half I sprinted every time the chorus of a song came on while listening to my iPod. For the second half, The Big Bang Theory was on TV and it was my FAVORITE episode of all time! "The Adhesive Duck Deficiency". This is the one where Penny slips in the tub, dislocating her shoulder, and Sheldon has to take her to the hospital. Hilarious! I love when they sing soft kitty 🙂 So the time just flew by.
Oh and I also like hill mode, the resistance changes
After showering, I made a healthy clean dinner. I thought I was out of scallops, but found some in the bottom of my freezer! I wanted to do something different with them and in my fridge was a pomegranate that desperately needed to be used.
So I made Pomegranate Glazed Scallops!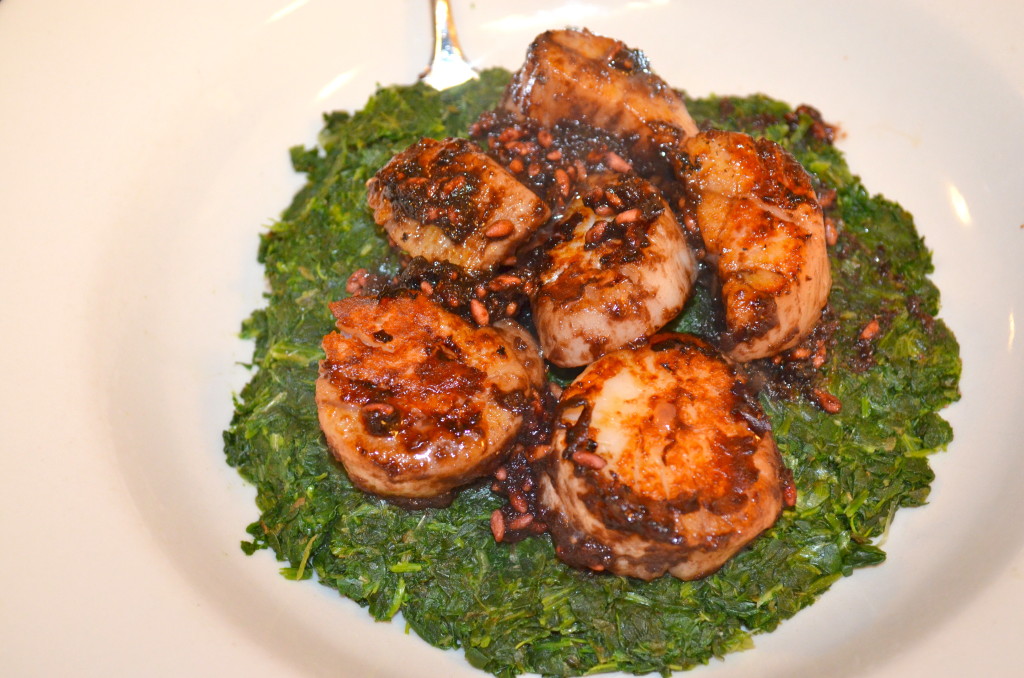 Click the picture for the recipe! The bottom is just chopped spinach. On the side I also had some of my yummy clean corn chowder, I just couldn't say no to another bowl of it.
This weekend I am looking forward to lots of things. Number one, cashing that paycheck and paying some bills! And course I'll go back to my regular gym and do my thing. It's pretty much a given Phoebe and I will be heading to G-Mama and Pop Pops, where Phoebe will be getting a bath! SHE NEEDS IT. We also plan on sleeping in (most sleep I've had in one night this week was 4 and a half hours), doing our weekly apartment scrub, and working on some new recipes and workouts. I swear one of these days I will create Youtube workouts. It's just hard to find the time!
Not sure what else the weekend holds for me, but as long as it's relaxation and fun I'm game!
XOXO With a Cherry On Top,
-Minnie