Cold November
Thursday is here. Throw the confetti in the air, pop the champagne (okay the protein shake- I don't drink), and blow the party horns.
Wow I really am looking forward to the weekend huh?
I have had such an ITCH to work on my recipes and photography that I can't wait to do some work this weekend! I found some great tips online and I plan on hitting a flea market to find some props. The antique-y look is very in for food photography.
I've also been pretty excited about the gym recently. Switching up to my old gym was really good for me, but I will continue to go to my regular gym on weekends. Plus all this water is helping to get rid of my bloat and water weight; happy girl 🙂
So when 4:30 hit yesterday, I was really looking forward to my gym session. When I walked outside…. Brrrrr! The temperature has dropped quite a bit here recently. We went from 60's to 30's pretty darn quick. Break out the gloves, scarves, and heavy coats! I love it 🙂 Except my outfit said "snow bunny" on the top, "gym bunny" on the bottom!
At the gym, I made it a glute day. I needed a break away from arms to let them rest a little. I started with a 35 minute spin session and to my delight, this gym has a black light. I looked down and my Nike Frees were glowing! So was my lulu top. And my teeth a little… okay so I had Ross teeth, oh well 😉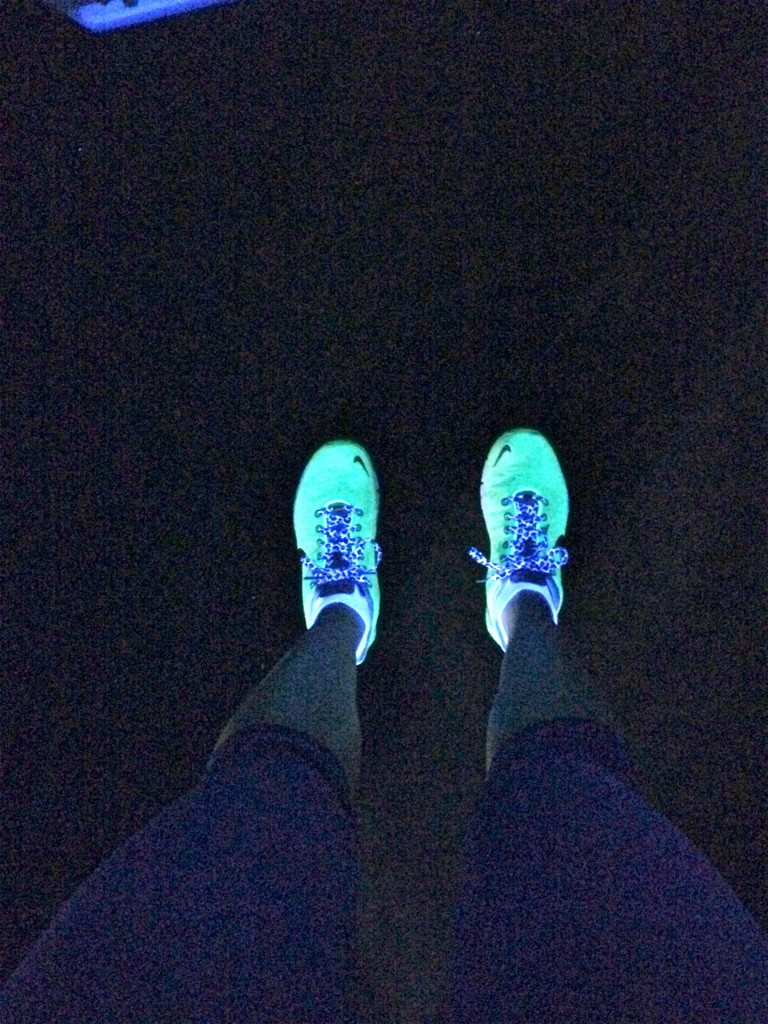 Can you see me!?
Here was my lifting session:
Smith squats, 95 lbs, 20 reps x 3 sets
Smith booty bridges. For this one you lay on a bench, bring the bar to the top of your upper thighs and push up into a bridge and back down. I added 10 lbs to the smith bar, 12-15 reps x 4 sets with 10 pulses at the end
Plie squats, 40 lb bar, 15 reps x 3 sets
Leg lift booty pulses, 10 reps x 3 sets each side
Side bends, 30 lb weight, 10 reps x 2 sets each side
Good Mornings, 40 lb bar, 10 reps x 4 sets
Cable Donkey kicks, 40-50 lbs, 10 reps x 3 sets each leg
Then I took advantage of this big space. This gym has so much more room than my other one. I have to fight for space at the old place. Here I can hog the mirror without an issue 😉
Plie squats on toes squeezing the calves, 25 lb kettle in hand, 10 reps
Curtsy lunges with 25 lb kettle, 16 alternating reps
Box step ups with 12.5 lb weights, 8 reps
REPEAT 4 times! Ouch!
I like doing workouts like this. Almost circuit-like. It keeps things interesting.
Back at home Phoebe was thrilled to see me. In an attempt to take a comfy and cute selfie of the two of us…
My face? Well SHE SNEEZED ON IT! And in my mouth….
And then the brat laughed about it.
 Notice the paw on my shoulder 😉
Only Phoebs…
So quick and to the point. Let's get Thursday going!
XOXO With a Cherry On Top,
-Minnie