Cran-Nan-Jam
Okay so how do we make this wonderful yummy treat you could slap on just about anything!? Well lucky for you it's super simple!
You will need:
-4 cups of fresh Cranberries
-2 very ripe bananas
-1 1/2 cups of water
-1/2 teaspoon of cinnamon
-1/2 cup of sweetener of choice (I used splenda, but you can use sugar, stevia, whatever is on hand)
-1 box of pectin (you can find this in the baking aisle near the Jell-O and stuff)
Dump your 4 cups of cranberries into a big pot with the 1 1/2 cups of water on high heat. When you hear the cranberries start to "POP", and believe me you will hear it! Turn down the heat to low. Once you've been popping for a few minutes start mashing baby!
Be careful mashing. Because these pop, they also squirt and can burn you when you mash. So don't go crazy, take your time mashing to prevent ouchies.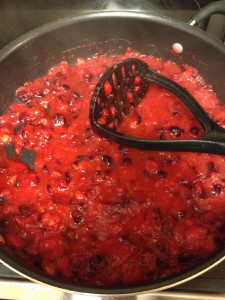 Looks good huh?
Stay on low heat, add the bananas. You can either pre-mash them up a little bit before you put them in the pot, or throw them right in and start mashing. They should be super ripe so this will be easy to do.
Once you are mashed, add your cinnamon.
Now you want to crank up the heat to add the pectin. You need to be bubbling for this to set. I used almost the whole box. This made my jam VERY jam-y. It's almost like a fruit spread. If you want a looser jam you can add half the box, a quarter or even skip this step all together. But I like the spread 🙂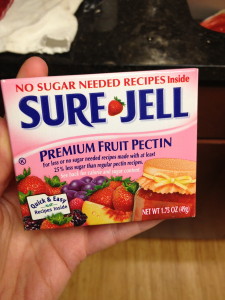 Now dump it in and STIR STIR STIR. You have to keep it moving until it is all dissolved and bubbling nicely (about a minute) By now your kitchen will be smelling FAB. Once your minute is up and you are still bubbling add your sweetener of choice (1/2 cup)
Now you are going to remove this from the heat and immediately jar. If you don't have mason jars, you can get them from Walmart for cheap. Or really you can put it in a bowl and keep in covered. I sometimes do this with leftover jam that I know I will power through anyway!
Once you are in a jar, the trick to making it set is letting the jam sit in an ice bath. Since the pectin is already being used, I only did the ice bath for an hour. Actually it turned into 2 because I just forgot about it. Take a bowl fit it with ice water and sit your jar in it (make sure its closed tight!)
Now they say wait 24 hours to enjoy the jam but please people I couldn't wait that long
I went to G-Mama's today and ate some there. I slapped it on a banana bread muffin I made.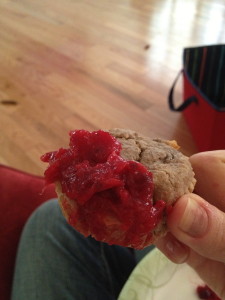 G-Mama said it would taste great on something salty like a saltine cracker, since you get the tangy, sweet, and the salt. But literally you could put it on ANYTHING. Smear it on a sandwich (leftover turkey sandwich anyone?), a bagel, crackers, or my personal favorite STRAIGHT OUT OF THE JAR!
Happy eating…
XOXO With a Cherry On Top,
Minnie