Date Night
I'm back to work! Oh no….
Usually by this time I'm going stir crazy (almost 6 days off), but I was absolutely okay with being off. Plus since it was Christmas there wasn't much "down time". I was always doing something! My poor Phoebs is probably at home going "what the heck, where'd she go?". When I tell you that dog has been attached at my hip, that would be an understatement. For 5 days I literally carried her everywhere I went. Minus the gym 😉
So what have I been up to? Well a lot of insane gym sessions to feel less guilty about the holidays! One day I decided I wanted to be Steven Tyler…
Just missing a feather and a braid 😉
And then another day I found my twin on Instagram!
I had to do a double take. I seriously thought it was me as I scrolled by. She's just a little more tan. Okay and maybe a little more ripped than I am. But still darn close!
That's me!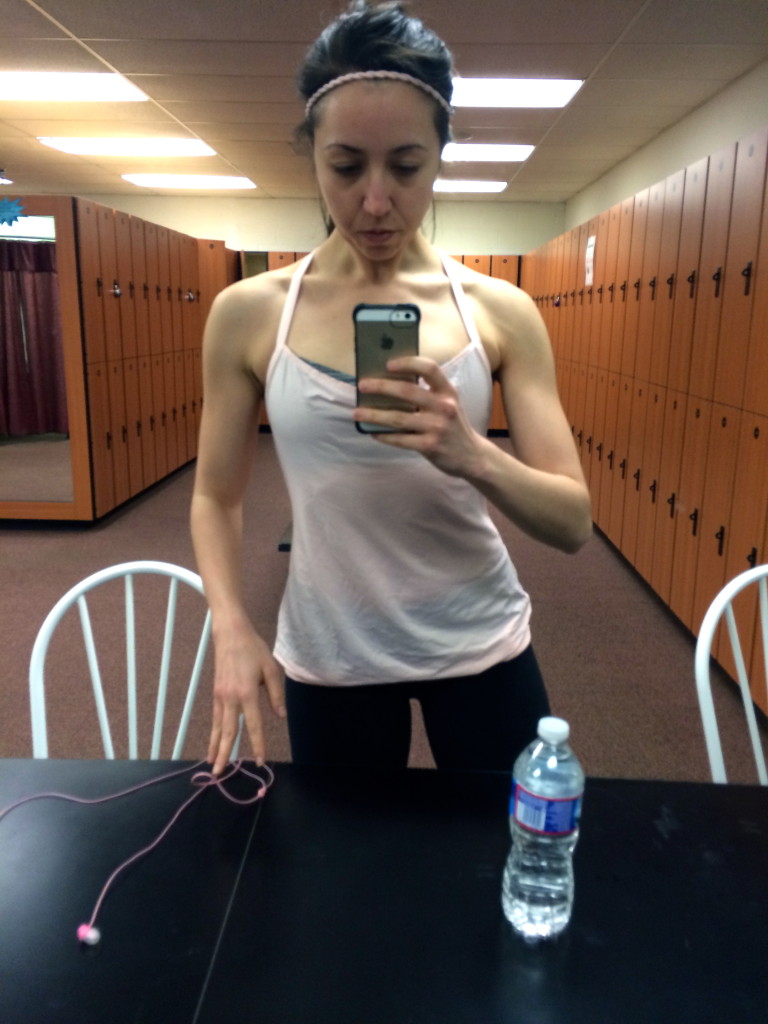 On Saturday I did legs. Do you guys use the hack squat machine? It's my new favorite. It KILLS. For those unfamiliar…
You hold onto the handles at the top and squat down and up. I even use this for calves, you just move your feet closer to you. I alternate a regular squat for 10 reps and then 10 reps of a plie squat. The plie squat BURNS like crazy on this machine. Except make sure you are in a corner like this doing it and not facing people while doing that squat, because… well ya know, it's not exactly the most lady like of squats.
My goal for this week is to hit arms pretty hard. They are my best feature and lately haven't been as great as I would like! But vein is still alive and kicking. I think Jane is here to stay.
Saturday night was DATE NIGHT! 
I got all dolled up in a cute little outfit for fun times.
Top: StitchFix, cami from express, pants were old Kohls skinny jeans from college days, shoes from Nordstrom, Michael Kors watch 🙂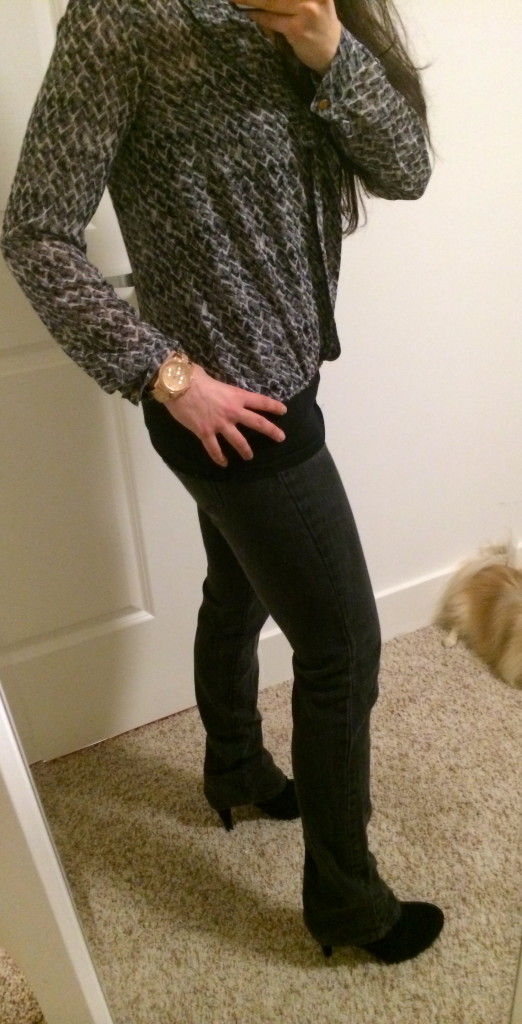 I LOVE these shoes, but I rarely wear them. They do not go with scrubs or Lulu pants.
Phoebe bomb.
It was a good hair day too. I try not to blow dry my hair, but sometimes it is necessary to look the best. Side note: See how BIG my eyes look here? Little trick! Line the inside of your bottom eye lids with white liner. Totally works! Makes your eyes pop.
I'm so in love with my watch too. Thanks again to my Mom and Dad for this beautiful gift. I had it sized at Nordstrom and couldn't wait to wear it.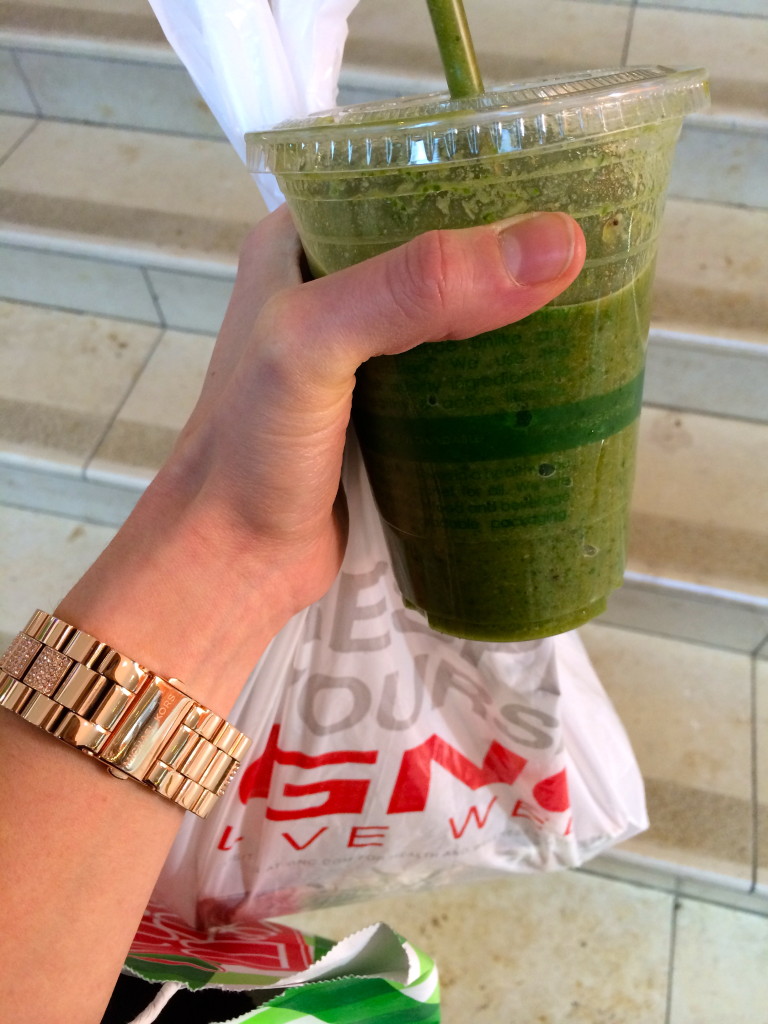 When I had it sized you know I had to stop for a green smoothie and some Quest bars!
Anyway, Phoebs freaked out when I left without her. She kept jumping at me and didn't want me to go.
But I made it out the door in time to meet my DATES. Yes plural, DATES.
My girlfriends, Tiffany and Mary 🙂 We had a blast. I had never been to The Melting Pot before, but always wanted to try it! I LOVE to dip things. Plus cheese and chocolate? I've never met anyone who dislikes those things.
For the cheese course we ordered the spinach/artichoke cheese. Gotta get those greens in 😉
Delicious spinach salad.
Mary and I ordered the vegetarian plate for our entree, Tiff ordered a mix of land and sea. Look how pretty the veggie plate was!
I am so that annoying blogger that photographs the entire experience. These girls understand though.
Pose for the camera Mary!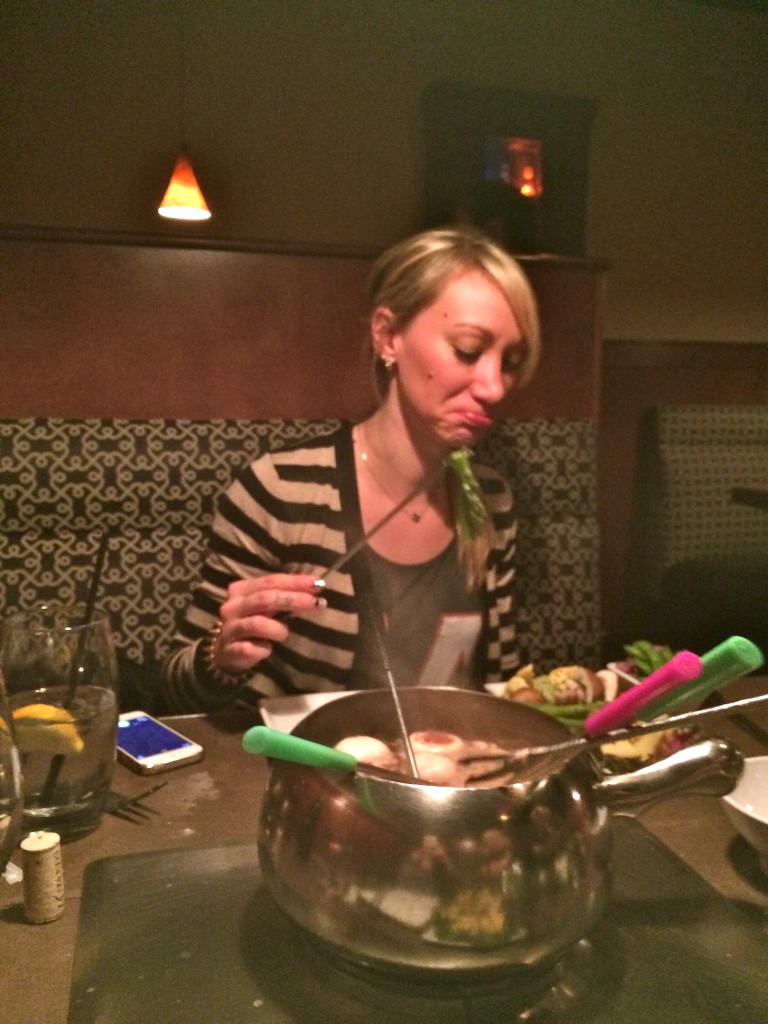 Okay her asparagus broke…. TAKE TWO!
A mushroom. That'll stay. Pretty lady 🙂
The tofu was my favorite, and I really enjoyed all the dipping sauces they offered. The sweet chili sauce was my absolute favorite, it tasted like the orange sauce from PF Changs… somewhere G-Mama is saying "oh boy her favorite!". Plus the plate? I sort of wanted to clean it off and put it in my purse. A dippers dream!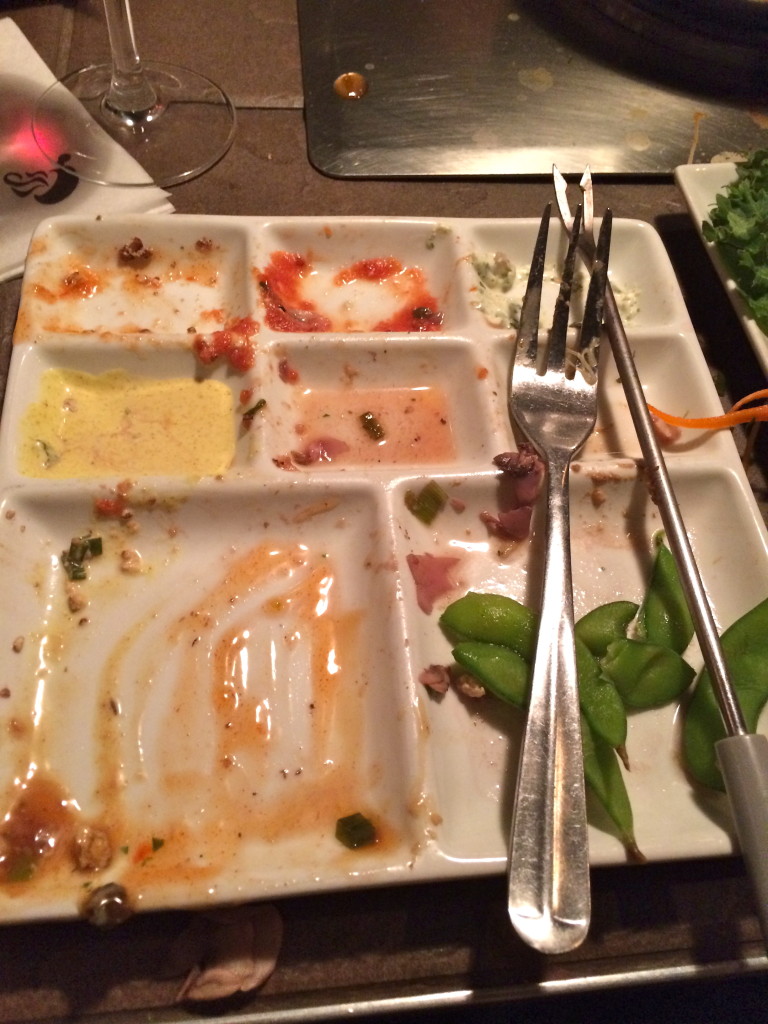 I'm a messy eater… whoops.
We had to save room though because the dessert is the best part!
This was the milk chocolate one with peanut butter. Delicious.
I didn't realize Tiff's flash went off on this one. But on the right were little Rice Krispie treats. Oh my…
Our favorite? The marshmallows! They gave us extra, yippeeeeeeee
Such a fun experience! I highly recommend it, even to try it once.
It was so nice just chatting with girlfriends. Sometimes you need that. I think Mary and I probably annoyed Tiffany with all the "puppy talk". We are both obsessed with our little fur babies.
But back to the week I go, off Wednesday for New Years day, bring on the packed gym madness!
XOXO With a Cherry On Top,
-Minnie