Detox Smoothie
Every now and then a good detox is needed. Since I take in a lot of protein supplements for my lifting, my system needs a good flushing.
The word detox is often thrown around as a quick diet fix, but really what does it mean?
Basically detoxing is removing toxins from the body. This is good for giving your body an energy boost and cleansing at the same time. Think about when you eat a really bad fatty meal. How do you feel after? Besides the guilt trip, you feel bloated, gross, fatigued, and swear you will never eat it again. Am I right? So when you put good natural foods into your body, you will feel refreshed, alert, and overall healthy!
There are certain foods out there that help aid in this process and I've brought some of them together in a delightful smoothie!
For this recipe you will need: 
1 cup of frozen mixed berries (blueberries, raspberries, blackberries) 

4.5 ounces of chopped apple with the peels (or one small apple)
0.5 ounces of raw organic almonds
1/2 cup of brewed raspberry green tea (or regular green tea)
1/2 cup of unsweetened vanilla almond milk
1 Tablespoon of ground flax seeds/meal
1 Tablespoon of freshly squeezed lemon juice
2 cups of ice
Throw everything into a blender or food processor, mix and serve!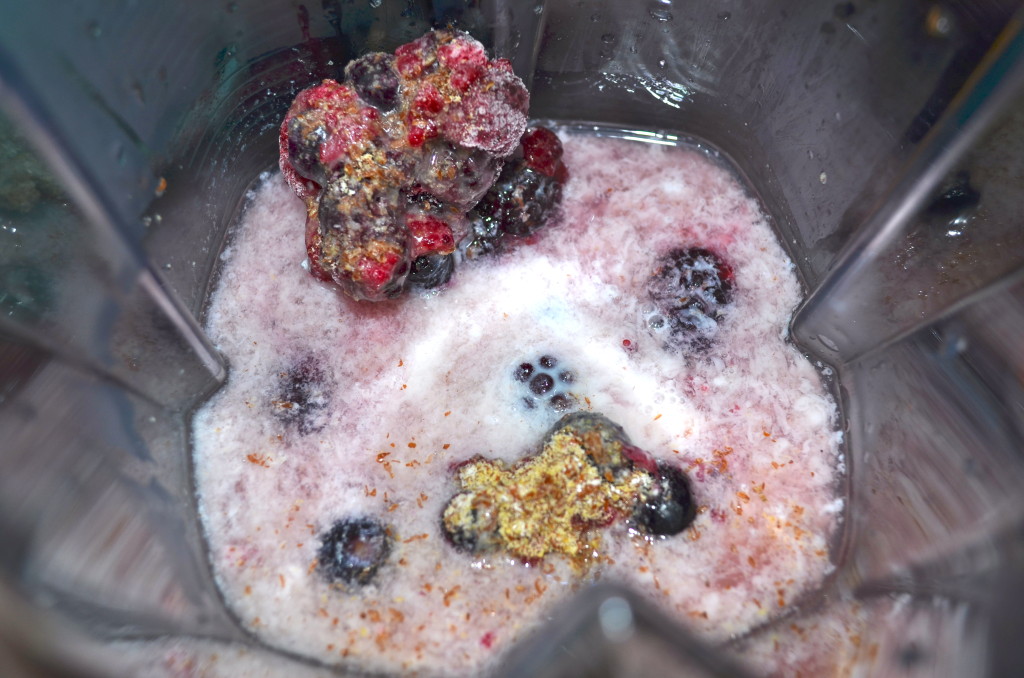 This makes a huge serving.
I poured into my glass twice! So fresh and delightful. I felt great after drinking it!
Nutritional info: 265 calories, 11.4 grams of fat (good fats coming from almonds), 39 grams of carbs (good carbs), 5.8 grams of protein, 14 grams of dietary fiber, 25.2 grams of sugar (NATURAL sugars).
Don't let the nutritional facts scare you off. The fats are good healthy fats your body needs. The carbs and sugars are coming from the natural fruits. So please drink and enjoy something your body will love 🙂
Happy detox drinking…
XOXO With a Cherry On Top,
-Minnie
P.S. This is absolutely not a replacement for all meals. Please eat!