Lean Mean Minnie Machine
Sunday Funday!
For some people out there Sunday Funday includes sun, sports, and alcoholic beverages. For me it's just another day off that I enjoy with my family and Phoebs. Plus some much needed meal prep!
As summer time approaches, I am excited about bikini season because it's the first time EVER that I will feel comfortable wearing one. Yes I still have areas I want to work on, but this is by far the most fit I've ever been. Even during my "scary skinny days", I didn't feel comfortable in a suit. Now I'm lean and mean and ready for that suit!
Yesterday morning I started off by using my vitamix (Lucy) for something other than a fluff! I've been feeling a little bloated lately from all the protein I take in, so I really wanted to flush my body a little bit with a yummy detox drink.
Check out this Detox Smoothie I made!
I got to work on this thing!
Phoebe and I did some cleaning in the kitchen and then got dressed for G-Mama and Pop Pops. Nothing fancy, no makeup, just a lazy little day.
Once we were at our 2nd home, I took a long nap on the couch. What started as "oh I'll just shut my eyes and fall asleep for 30 minutes", turned into 3 hours later… whoops! Hey isn't that what weekends are about? Well for me they are. You guys know I never sleep during the week!
Speaking of during the week, it is my goal to be in bed by 10:15 on 3 out of 4 work nights. Sunday nights I never go to bed early because I'm not that tired, so the rest of the week I am going to try my best to make it work. Seriously I just need to shut off everything electronic and go to bed!
After my nap I changed for the gym. I made it a quick session because I was feeling it from leg day, so instead of shoulders, I decided on a cardio power hour and a few bicep exercises just to get my veins a pumpin'.
Plus people won't judge me for taking pics of myself. I'm pretty sure the people that belong to my gym think I am the most vain person alive. I want to say HEY I'M A BLOGGER DARNIT! 😉
So I started with 20 minutes on the treadmill. I did a half mile run to warmup (between 6.0 and 6.7) at a 2.0 incline- never run flat! Then I did a speed walk for the rest of my time up to an incline of 10.0. Phew!
Then to get the pump in my arms I did a few little exercises:
Cable bicep curls, 40 lbs, 12 reps x 4 sets

Alternating diagonal hammer curls, 15 lb weights, 20 reps x 4 sets
Pushups, 10 reps x 4 sets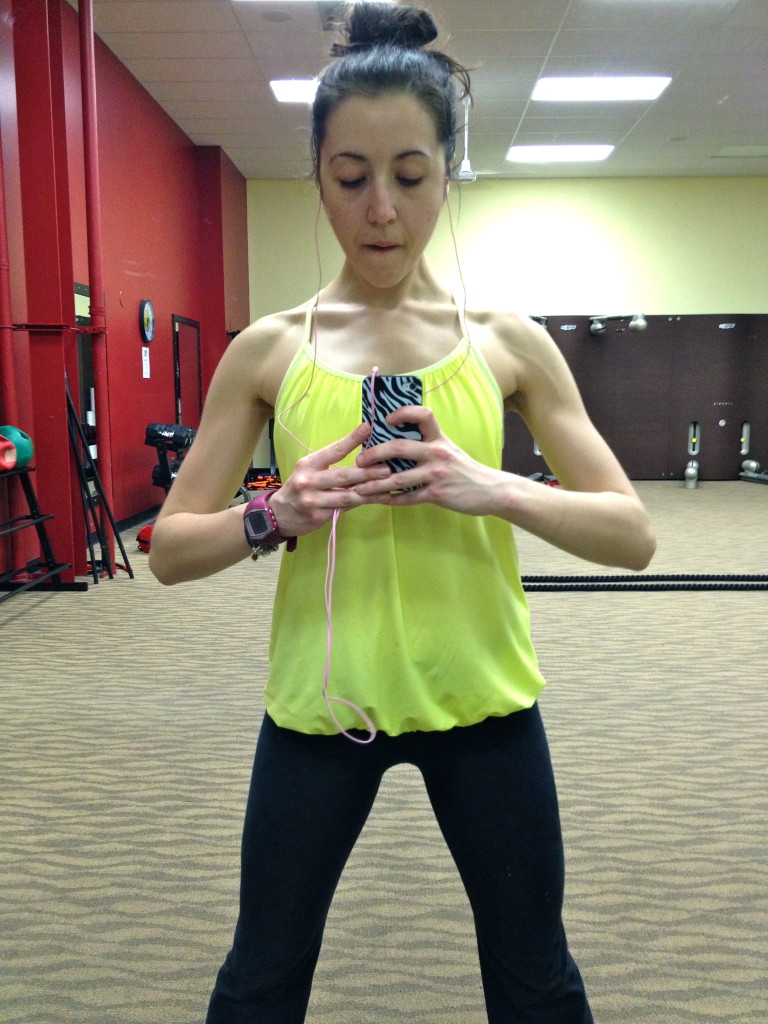 Then I hit the stairmaster for 20 minutes. I was really sweating during this session. The gym was super hot and the stepmills are upstairs. Heat rises for sure!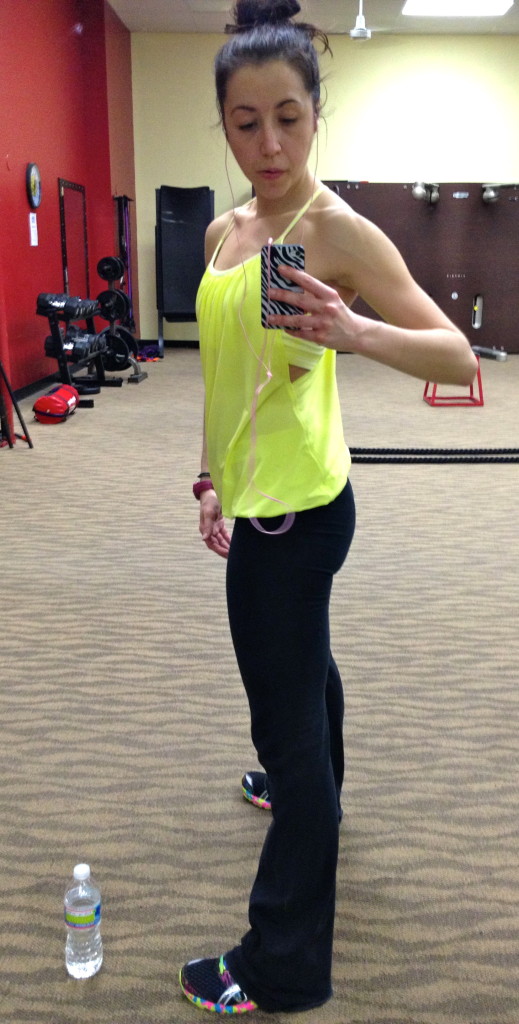 Finished my cardio power hour with 20 minutes on the elliptical at a high incline and resistance. Then just 2 sets of ab pikes using the TRX ropes.
I stretched it out and did a little flexing since the gym was pretty empty.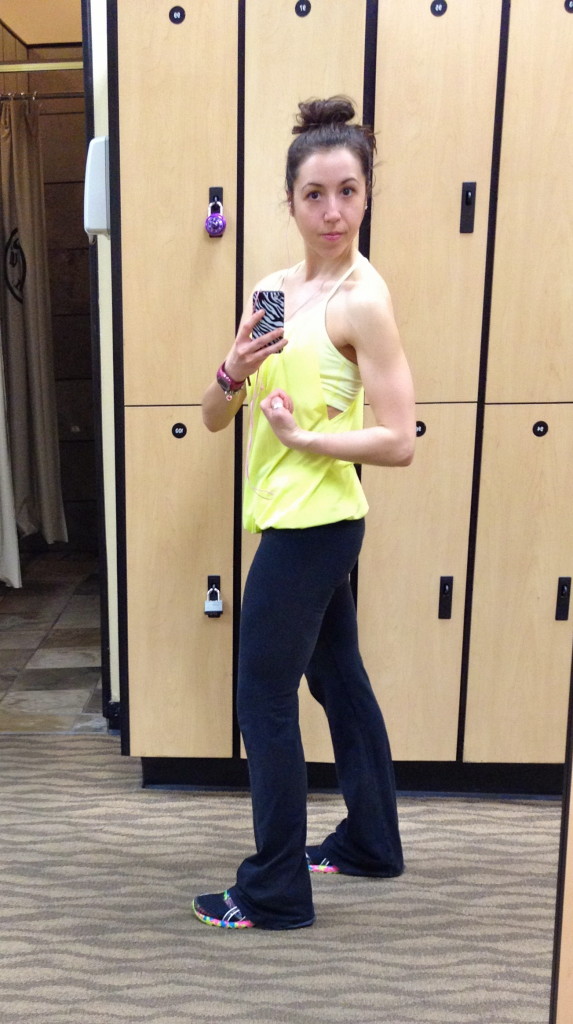 Back at home I finished up a recipe I was working on and had dinner. Actually it was 2 recipes! G-Mama sent me home with a salad (thanks ma!) so I made a nice dressing for it. This is a Peach Mango Vinaigrette.
My protein for dinner was a Tangy Pulled Pork on a flax pita
These two recipes will be featured this week! So make sure you come back and check them out. I still have that shrimp dish to share too with the buckwheat noodles. Just need to find time to get them all done and uploaded 🙂
Later today I hit the land of shoulders! Woo hoo! My favorite day. It was pushed back this week and I wanted to save it for a day I had plenty of time to get all my favorites in. And then I remembered last week I did shoulders on a Sunday and regretted it Monday morning because I am in the OR all day on Mondays… whoops. Oh well, no pain, no gain!
Have a great Sunday, and soak up the rest of this weekend. Monday's come too quick!
XOXO With a Cherry On Top,
-Minnie