Don't Drink the Body Wash
Sad Sunday has approached. I totally feel ripped off this week since I only had a 2 day weekend. Wow I sound like a brat don't I? Let me stomp around a bit!
Like every week, I get the Sunday blues. I'm like a little kid that is devastated with summer being over. Was I ever that kid? Nope! I loved school. When I came home from school I played school. My sister… not so much. I was alone on that one. Bella is just like me and plays school all the time! If I could make a career out of going to school I would. Wait, those are teachers 😉 I always thought it would be great to be a teacher! I actually taught a few PA school classes last year and LOVED it. Maybe one day I will do that when I get sick of the hospital gig. But for now, I like this paycheck 🙂
Yesterday I started my morning with coffee and then headed to a Pilates reformer class. I slept with my hair in a messy bun, I usually always take it down, but I fell asleep in my chair and then woke up and shuffled to my bed. This was the result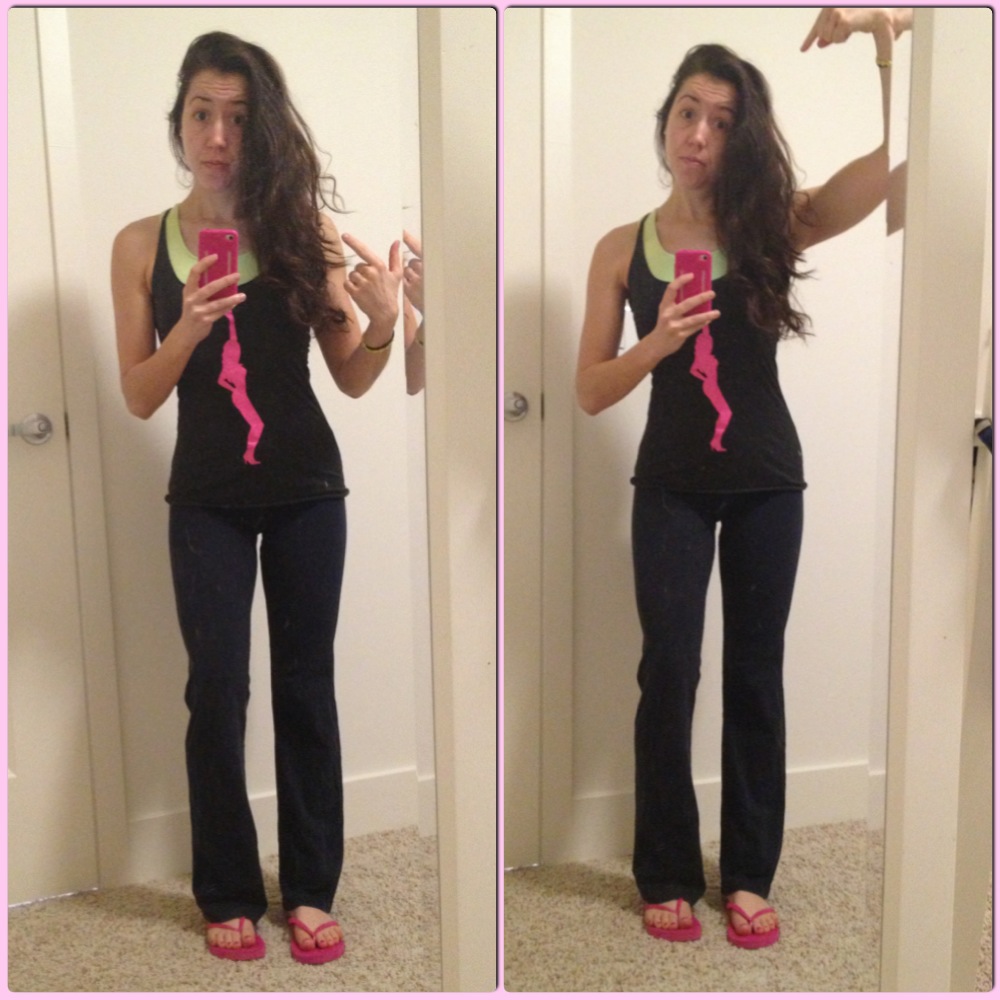 Pilates class was a level 2-3 and it was REALLY tough
All the exercises were very unique and I just loved doing different stuff that I hadn't done before. We even did some where the foot bar slid to the top of the machine and you pulled the reformer towards the tower like you were doing a sliding pull up and chin up. I FELT IT! By the end of the session my legs were shaking. It always feels good to switch things up and keep your body guessing. I bet I have trouble walking later.
I took a little post-pilates selfie and had to post because the look on my tired face is a little priceless. I look like I am in pain, and I was a little bit. It felt really good to stretch and lengthen my muscles though, definitely needed it.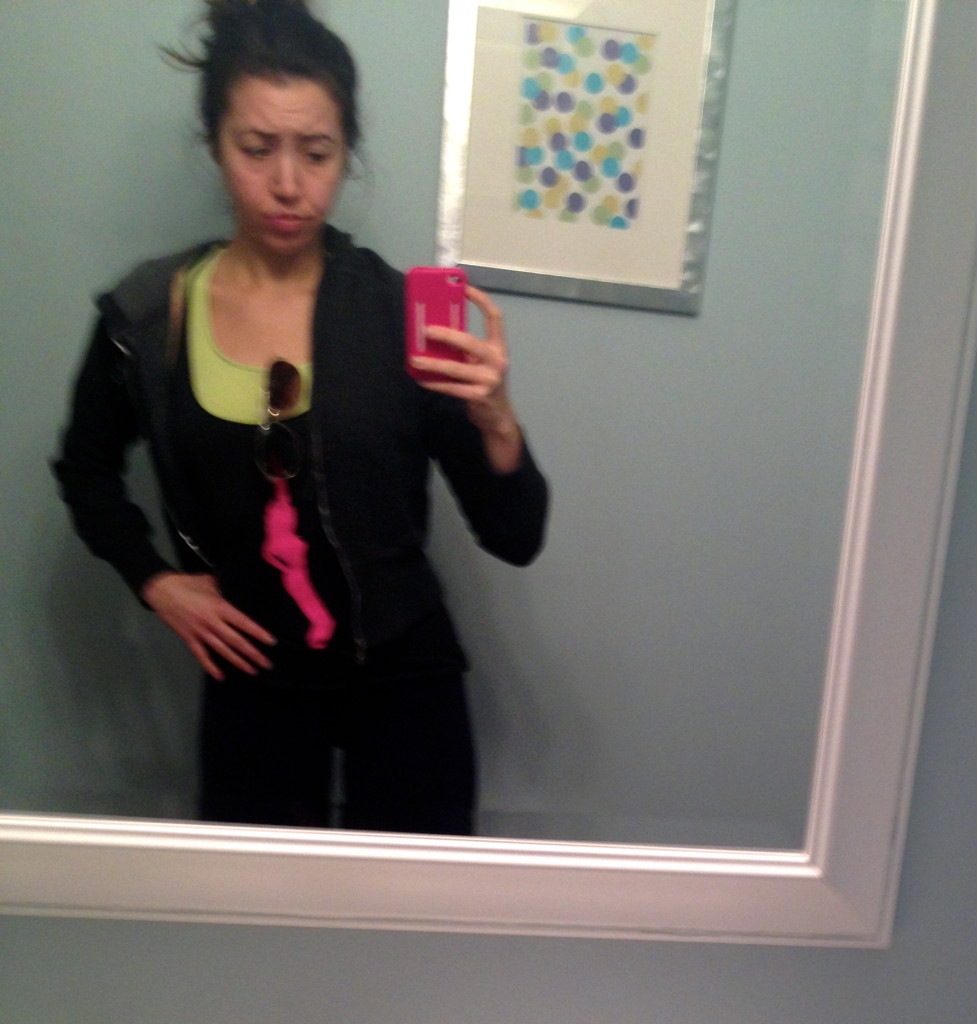 After Pilates, I headed to the mall in hopes of buying a few things at the Nike outlet. Well they had NOTHING. I stumbled in Neiman Marcus and ended up trying on these ridiculous shoes.
Okay, where would I even wear these? I am NOT Lady Gaga. I only wear yoga pants, and I don't think they really go…
Needless to say I put them back.
Later on in the day after taking Phoebe to G-Mama and Pop Pops I hit the gym for my cardio portion. I did about 40 minutes on the elliptical, followed by some chin holds, then stretching.
Seriously, I looked a HOT mess yesterday. Skin hasn't been so pretty lately. NEVER switch makeup brands kids. I was out of my regular Sephora stuff, so I bought a cheapie drug store kind last week at Wegmans. Big mistake. Broken out everywhere like a teenager. I've been trying to wear close to nothing for makeup all this week to let my skin breathe again.
After my gym session I stopped for an iced coffee. My friend Alexis swears by Dunkin Donuts blueberry iced coffees. She said you do not even need creamer, so I stopped for one. In the car it smelled amazing, just like blueberries! First sip, oh my gosh this is so good, she was right! No creamer needed. Just black. About 1/4 of the way in…. GAG! 
Seriously this stuff was terrible. First of all I HATE Dunkin Donuts coffee, I won't drink it. It tastes like very stale coffee to me. But I will try anything once and Alexis has never steered me wrong. Call me a Starbucks snob, I don't care. I even grind my own Starbucks beans at home and brew it.
It was just the combination of the artificial blueberry and the stale coffee that made the worst taste. I am not kidding you after about 7 sips I felt like I was drinking my Bath and Body Works body wash! I chucked it and then chugged some water. Send me back to Starbucks please.
Later on at home I showed Phoebe some much needed attention. Mommy has been a little crabby lately so we snuggled and watched one of my favorite Big Bang theory episodes.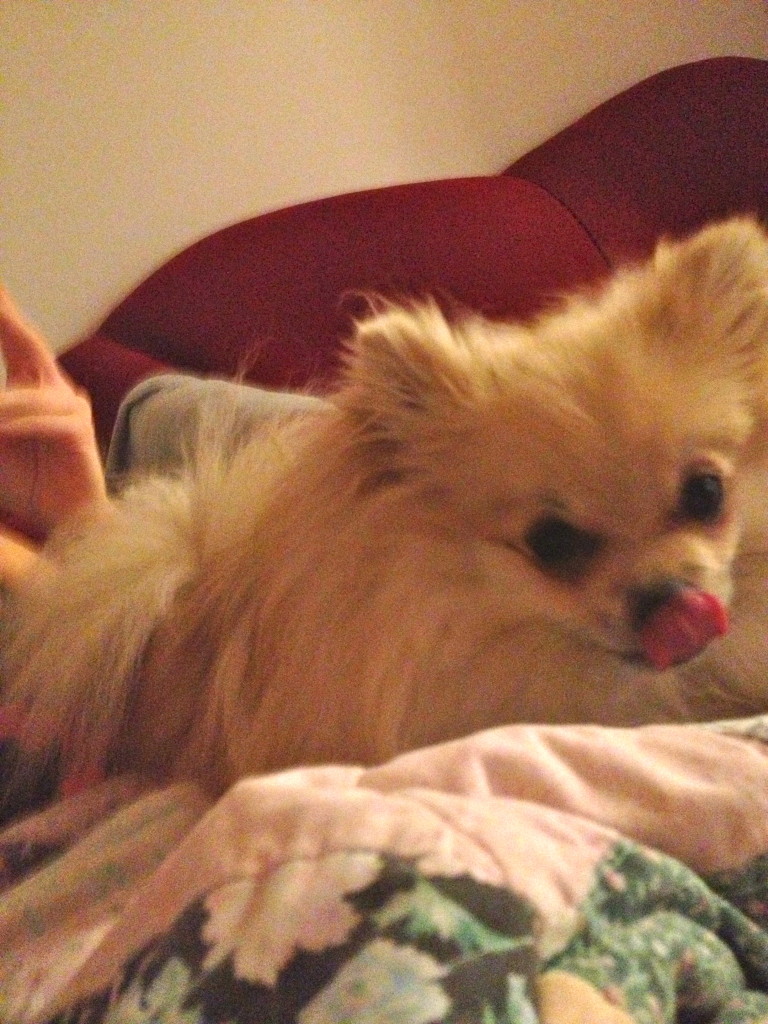 Is her tongue ever in her mouth?
Today I hit shoulder day! I also will be doing a major meal prep and getting ready for the week again. Hopefully it is good to me.
Have a great Sunday!
XOXO With a Cherry On Top,
-Minnie