Doughnut Funfetti Protein Cake
This post is sponsored by Almond Breeze Almondmilk.
Another one of my "on a whim" recipes came to life and became an AWESOME one. I had made a nice dinner the other night for Tony and I to enjoy after our lifts, but I needed a dessert. I said okay maybe I'll make protein brownies or a protein cake.
Of course I had to make it funfetti. I didn't have a regular cake pan so I used my bundt pan. I didn't even realize once I started to ice it that it looked like a giant doughnut. MAJOR WIN.
Side note: I obviously didn't use my fancy camera for this one because it was an "on a whim" recipe. Sorry about that!
So if you want a massive healthy doughnut here's what you'll need:
CAKE:
2 cups oats, ground into oat flour (about 1.5 cups flour). This is so much cheaper than buying oat flour. All you need to do is put the old fashioned oats in a food processor until it becomes a powder. Simple!
1/2 cup coconut flour
3 scoops corfetti/cake batter whey powder (or you can use vanilla)
1/2 teaspoon salt
3 teaspoons baking powder
1/2 cup baking stevia or 4-5 packets stevia
3 egg whites
2 Tablespoons coconut oil-melted
3 oz unsweetened apple sauce
2 teaspoons vanilla extract
1 Tablespoon honey
1 cup Unsweetened Almond Breeze Almond milk Coconut milk
ICING:
1 can of full fat organic coconut milk
1/4 cup baking stevia or 3-4 packets
1 teaspoon vanilla extract
3 Tablespoons strawberry juice or 1/2 cup mashed strawberries
1/2 scoop strawberry protein powder
sprinkles for decoration!
Serves 12
Preheat your oven to 350 degrees.
Start by grinding your oats into a flour.
Add all the dry ingredients and mix. Transfer to a large mixing bowl, I use my Kitchen Aid for convenience, but you can do it by hand if you don't have one. Add all the wet ingredients and mix well until you have a thick batter.
Note: this cake is very dense because of the protein powder. If you want it a little thinner, add more of the Unsweetened Almond Breeze Almond milk Coconut milk.
Spray your pan generously with non-cook spray. I like the coconut sprays they have now, but you could use anything, or rub with a little coconut oil.
Pour in the batter and cook for approximately 35-40 minutes. Keep an eye on it. The edges will start to brown. Do the toothpick test (toothpick in- if it comes out dry, it's done).
In the meantime work on the icing. You will need to refrigerate the can of coconut milk ahead of time for at least 12-24 hours. It allows the milk to separate from the cream. I like this brand.
Any brand will do though, as long as it's FULL FAT. This will not work with light. 
Separate the cream and put into a bowl. Make sure not to get any of the water in the bowl.
Add the other ingredients and whip on low until a creamy frosting has been achieved. Make sure you get out all the lumps! Oh, and where did I get strawberry juice from? I just let a bag of frozen strawberries thaw, and I used the juice remaining in the bottom of the bag! You can mash yours and grind it up though 🙂
I added sprinkles of course.
Once the cake is out of the oven, let it cool completely. The edges will look like this. WARNING this baby is heavy because it's dense!
If you are using a bundt pan take it out and flip it to the prettier side.
Let the cake rest for at least 30 minutes to make sure it's cool before icing it.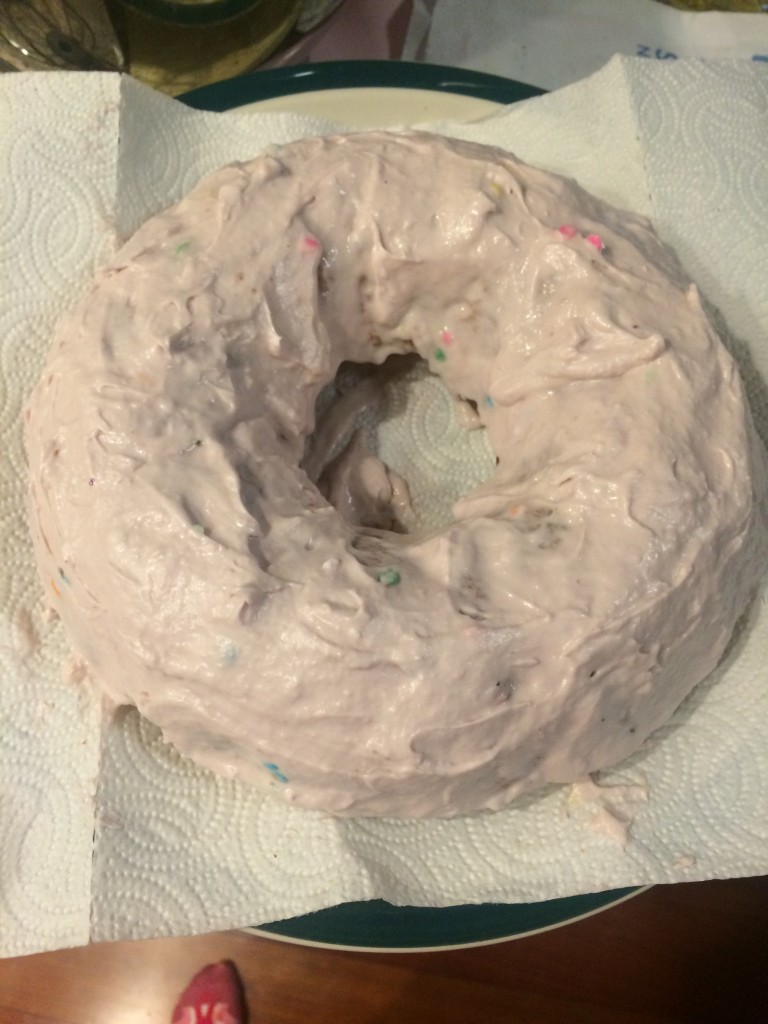 Add the icing (I put paper towels underneath to grab the excess). You will have left over icing from this recipe. I just stored in a container for good eats later 😉
Add sprinkles of course.
Slice
And enjoy!
This makes 12 pretty nice sized pieces, but you could do more. In the picture I just cut a sliver. If you are worried about portion sizes mark the cake after you finish with toothpicks. A little trick I do to to prevent the cake from going stale if you pre-slice everything.
Macros per piece (includes frosting): 188.5 calories, 9 g fat, 17.3 g carbs (3.75 g fiber, 3.9 g sugar), 10.1 g protein. 
As a bonus this cake is loaded with iron and vitamin C! 🙂
Happy eating…
XOXO With a Cherry On Top,
-Minnie