Everybody Clap Your Hands
I'm about to be made fun of by every person out there reading this. Yesterday when I was leaving work I was in the locker room and started busting out the cha cha slide. You know that cheesy wedding line dance song every one does at parties and receptions. Slide to the left, slide to the right, criss cross, criss cross! Cha cha real smooth 🙂 And the best part "everybody clap your hands!". I didn't bust out the clap though, I held it in. My outfit also made people laugh. Oh well… it's cold out here in Maryland, but I needed to be in my gym attire too.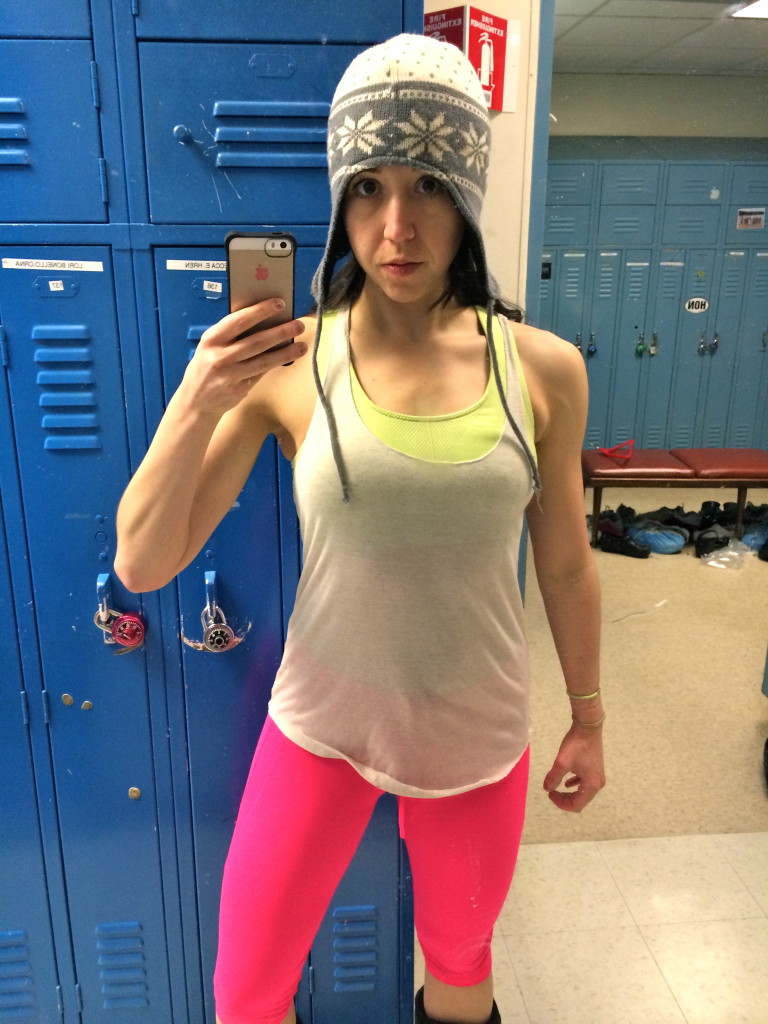 Okay I was a little more than excited it was the weekend. You know things are looking up when you start dancing as you leave. I just love my time off, sleeping in with the pup, and our mornings blogging and having coffee. On the drive home yesterday I was thinking that my two favorite times of every day involve drinks. I would've thought it would be food! Especially dinner. But nope.
Coffee time. There's nothing like that first sip in the mornings
BCAA time. Again there's nothing like that first sip after a workout. I love the foam at the top!
For those of you unfamiliar with BCAAs. I drink it after every workout. BCAAs are branched chain amino acid supplements. So what do they do? Well they help to increase the rate of protein synthesis and increase the cells capacity for protein synthesis. Some fancy words huh? Let me break it down. They are good for maintaining the muscle you are working so hard for if you are trying to lose weight at the same time. Not that I am trying to lose weight, I just want to be keep my muscle!
Here's the best flavor out there!
Note: I am an Amazon affiliate 
It tastes exactly like a watermelon Jolly Rancher! Yum.
At the gym yesterday I did chest and triceps. Wednesday was a very over due rest day that I actually didn't want. When I'm not at the gym I'm lost. It's become an addiction. A good addiction though.
Here's a little arm progress. I swear each week I see changes since my diet has been so good.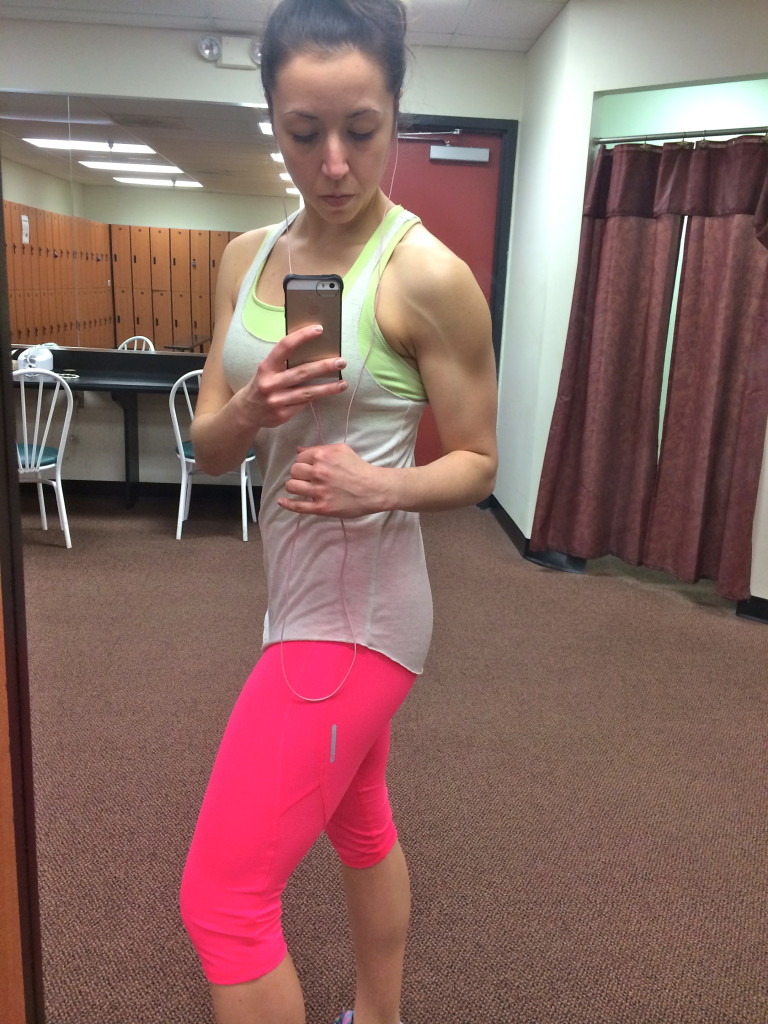 I'm big on telling you guys to NEVER give up. I never thought I'd be here. And half of the time I still don't think I am until I go back and look at pictures. The mind is a funny thing. Half of the process of losing weight and getting fit and healthy is psychiatric.
Here's a little chest/tricep combo I did yesterday to get my heart rate up. Grab a box, or step up and try it out!
5 tricep pushups on box, 5 regular pushups on box, alternating jumping toe taps on the box for 12 seconds
REPEAT the above
10 regular pushups on box, alternating feet up and down fast on the box for 12 seconds
REPEAT the above
10 tricep dips on box, heel digs (heel taps) alternating fast on the box for 12 seconds
REPEAT the above
It'll make ya' sweat!
And look, Jane now has branches 🙂
Back at home I needed a good refuel so I made ground bison. I love the flavor of bison, but wanted to finally use the marble mortar and pestle my parents bought me for Christmas. It's SO heavy, but beautiful!
In here is black pepper and coriander to get things started. Some more spices were added… the final result?
NO SALT HERE! You don't always have to buy Mrs. Dash. Use what you have in your cabinet and save a few bucks. Plus it's fun making your own combinations.
What's in here?
1 Tablespoon of coriander

1 Tablespoon of black pepper

1 Tablespoon of fennel seeds

1 teaspoon of onion powder

1 teaspoon of garlic powder

1 teaspoon of oregano

 
Tasted great with the bison!
Hopefully tomorrow I will be back with some great leg stuff for you guys since today is leg day! I probably will not have a blog on Sunday because my Saturday is SLAMMED! But a big update on Monday you will want to check out 🙂
XOXO With a Cherry On Top,
-Minnie