Friday Faves
Hi everyone!
The other day I saw on my BFF's blog she was doing Friday Faves. It's a blogger thing. We talk about things we are loving lately, and just fun stuff in general. I realized it's Friday and time to do it again!
First of all… DUH Quest Bars. And not just for me anymore! Tony has been taking them to work because he isn't able to stop and eat whenever he wants like he used to. These guys come in so handy when he's super busy and on the go.
Second, the new Carrie Underwood album. I pre-ordered yesterday and was able to listen to a few songs before it released at midnight.
Source
I listened on my way to work of course, but the song "What I Never Knew I Always Wanted" reminds me of my relationship with Tony. Until him, I didn't know if I'd ever have the typical "boy meets girl" life "boy falls in love with girl", but there's no doubt in my mind we are in it for the long haul 🙂
Flowers. Because What girl doesn't love to get them?
I hate to keep being mushy, but Tony surprised me with them on Wednesday night after a long day of work. If my weirdo anti-social personality can find a person to match with, there is hope for everyone 😉
Green Smoothies.
Full of antioxidants and the good stuff! They also help to fight off inflammation which is a good bonus. This one was made with spinach, banana, blueberries, greek yogurt, and skim milk. I asked them to change the skim milk to just water.
Makeup that looks like you aren't wearing much.
Here I have on just some cover up to even out my skin tone and cover some of the acne scars, a little bronzer, light eyeshadow from the Naked 3 palette, and mascara. When I was in my college years I'd do my face up FULL every day. I realize now that I'm older a fresher looking face looks SO MUCH BETTER. I wish I could sometimes tell girls that pile it on to take it down a notch, but I guess they'll realize one day. I like makeup as much as the next girl, but I still like to look like myself!
And probably the most important life changing thing….
NEW EMOJIS!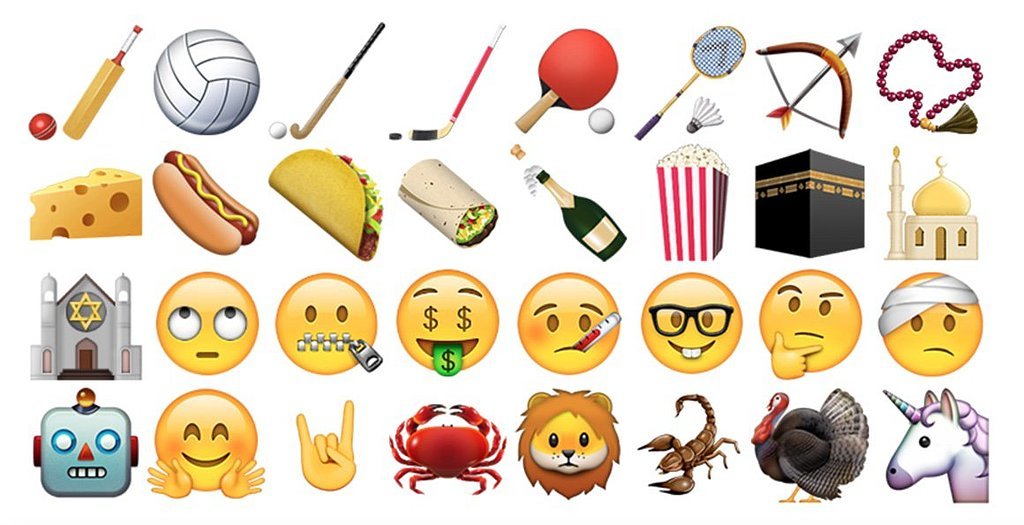 Source
No one understood my excitement like my friend Sarah. We have entire conversations in emoji characters. I usually am not good about updating my iPhone, but when I saw it included new emojis, I was right on it. My favorite ones are of course the one rolling it's eyes, the one thinking about his answer, and the unicorn. I'm also pretty fond of the lion because I'm using it as the Phoebe emoji.
It's a stretch, but it's the closest thing I have 🙂
Have an excellent Friday. Dream BIG and be happy!
XOXO With a Cherry On Top,
-Minnie