White Chicken Chili
The leaves are changing colors and starting to fall, there is a chill in the air, and you throw on a hoodie and scarf.
My favorite season… FALL!
And what comes along with fall? Soups, stews, and chili!
I've made turkey chili before, but this was my first time attempting white chicken chili and it turned out great. It's super healthy, and if you choose the lower sodium items, you can keep that belly bloat (well hands for me too) away.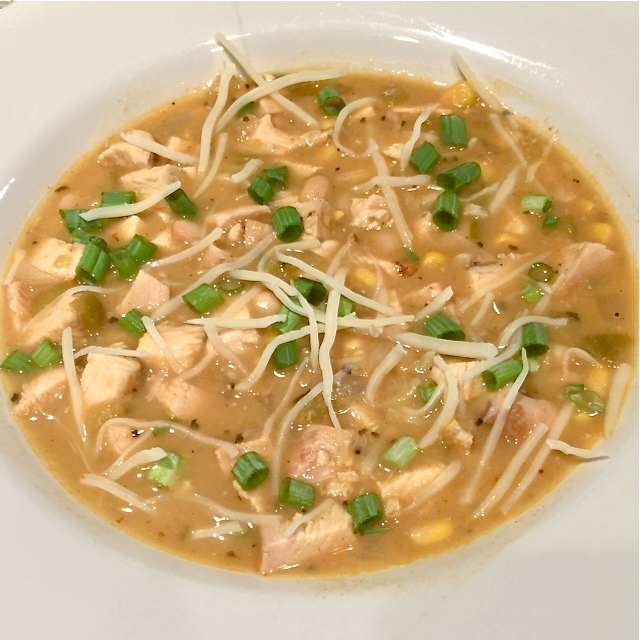 Here's what you'll need for this satisfying meal:
2 large chicken breasts (8 oz or more)
32 oz of low sodium chicken broth
1 small white onion
1 teaspoon minced garlic
1 Tablespoon extra virgin olive oil
1, 4oz can diced green chiles
2 teaspoons cumin
1 teaspoon oregano
1 teaspoon smoked paprika
Himalayan pink sea salt (to taste)
Pepper (to taste)
1, 15 oz can low sodium white cannellini beans
1, 15 oz can Great Northern beans
8 oz no sodium added canned corn (or frozen)
Green onions for garnish
You'll need to start by cooking your chicken. I used chicken breasts I already had smoked (thanks Dad!). I recommend baking them in the oven so they are nice and moist in the chili.
Next, heat up a large pot on medium heat with extra virgin olive oil. Dice the onion and cook until onions are translucent. Add the garlic.
Then add the chicken broth, green chiles, and all of your spices (minus the salt and pepper). I find SUPER low sodium chicken broth at BJs in a six pack. The brand is Pacific and its free range and organic broth. Can't beat it! Bring everything to a boil and cover for 10 minutes. Bring down to a simmer and cook on low for 15 additional minutes.
Next, take one can of the beans and puree it. I used my Nutribullet. You can add a little water to get things going, or some of the broth from the chili. This really makes the dish HEARTY, creamy, and chili like without adding crazy amounts of corn starch or other thickening agents.
Add the corn, can of beans you haven't used, and the puree to the pot. Things should start to smell delicious. Start to season with salt and pepper. Himalayan sea salt is the only salt I use now. It adds great depth to any dish. Finally, add in your chicken and keep on low heat for 10 minutes.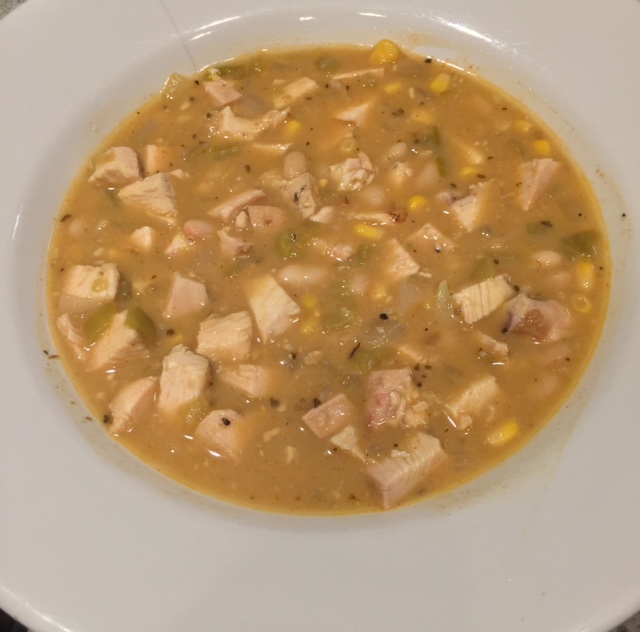 I topped my chili with green onions and small sprinkle of fat free mozzarella that Tony uses. I know it's not exactly "clean", but it's what we had. Feel free to use real mozzarella. A little won't hurt 😉
I hope you enjoy this dish on those chilly fall days.
Happy eating…
XOXO With a Cherry On Top,
-Minnie