Goofy Cup Pup
If you know me in real life, you can spot me a mile away because I am the person with my headphones in dancing as I walk. Seriously guys, this has been me since yesterday morning. Any chance I get I put on the JT album. What are you waiting for? GO DOWNLOAD IT NOW! I wouldn't steer you wrong would I?
Moving on, I went into Terrible Tuesday with a positive attitude. I said okay yeah it probably will stink a little, but I am going to smile and keep trucking. It's 10 hours, I can certainly get through that no worries. Then I found out my team was extremely short and I quickly turned into surgical intern Katie. Wasn't too thrilled, but I actually was EXTREMELY lucky with the patient load and everything that needed to be done I completed. Phew.
I flew out of there on time and headed down the beltway with the windows down, JT blasting, and an itch to lift something heavy!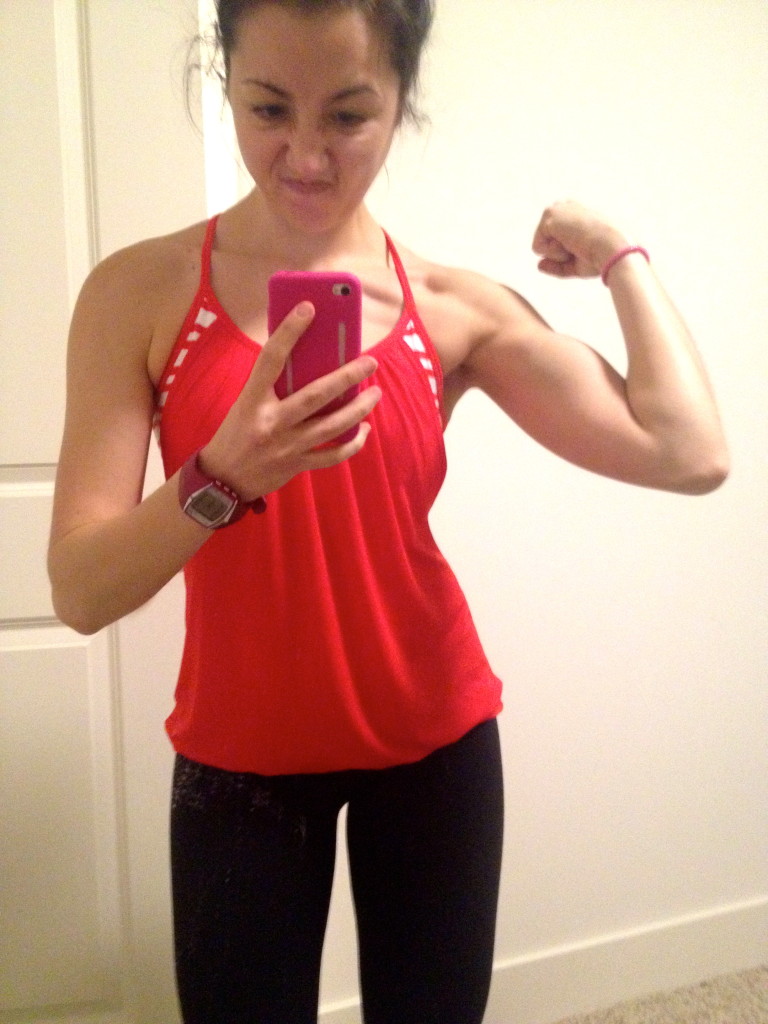 Obviously it was arm day: Everything was SUPER slow and controlled. Feel the burn 🙂
Barbell bicep curls, 30 lbs, 12 reps x 4 sets
Overhead plate tricep extensions, 25 lbs, 12 reps x 4 sets
Hammer curls, 17.5 lb weights, 10 reps x 3 sets
Tricep dips on the bench, 10 reps x 3 sets
Alternating uppercut punches, 17.5 lb weights, 16 reps x 3 sets
Tricep kickbacks, 17.5 lb weights, 12 reps x 3 sets
Side bicep curls (MY FAVORITE!)- 12 lb weights, 10 reps x 6 sets!
Seated cable overhead extensions, 25-30 lbs, 12-15 reps x 4 sets
Look at those mini boulder shoulders! Getting there…
My cardio consisted of 20 minutes of the elliptical and then 13 minutes on the spin bike. I snuck in and did a quick bike session before a class started. Get in what you can!
Let's talk about this top I have on. I thought I was going to RIP IT OFF at the gym. Seriously the straps at the top felt extremely tight. I'm not sure why, it was fine before and I definitely haven't picked up an enormous amount of weight to make it so uncomfortable? I'm gonna go with my arms are just so jacked that it was cutting off my circulation… yeah that's it 😉
 I kind of look like I'm ready to fight here, I have the "death grip" on my keys. Hey can't be too careful?
At home I noticed my vascularity!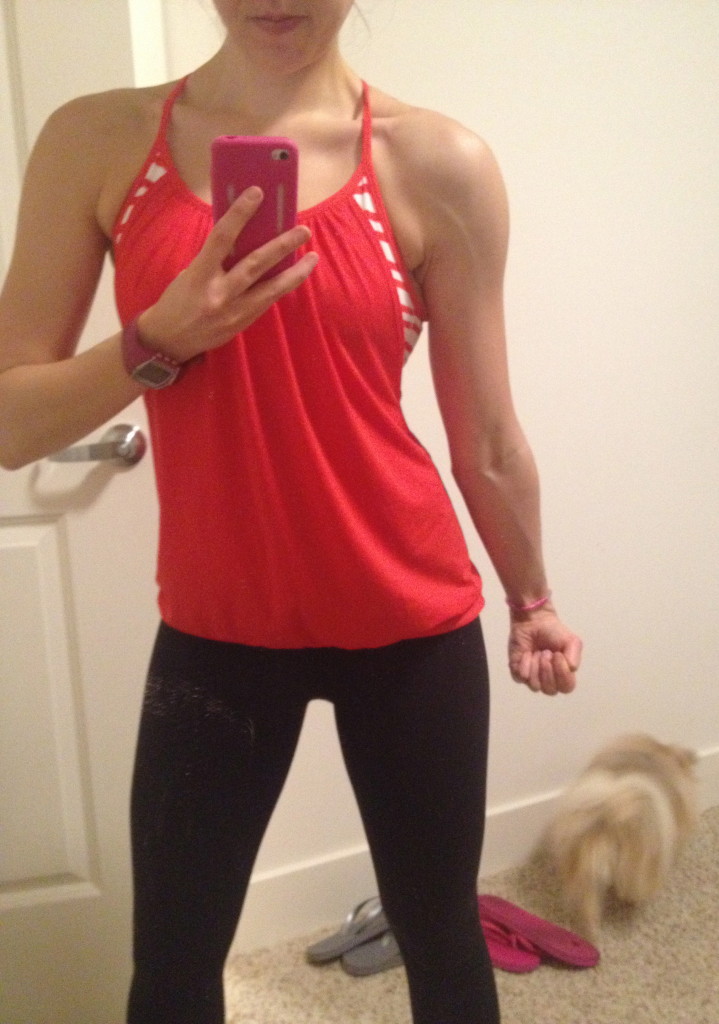 Phoebe in the back again
Dinner was a little bit of a bomb. I stopped by Safeway because I was out of fish. Lesson learned, don't buy fish there. I am usually a huge fish snob and will only purchase fresh, Wegmans, or eat the kind my dad gets me. I saw some flounder at the store on sale so I said well I'm just going to throw salsa on top anyway, it's probably the same.
IT WASN'T. Too darn fishy. Plus the pieces looked HUGE but cooked down to nothing. Good thing I was smart and made two pieces.
I guess you get what you pay for. The salad was good. Grilled onions, peppers, and portobello, on a bed of lettuce with avocado, balsamic and salsa. I've been preferring salsa over salad dressings lately. It lightens things up a bit too!
Then Miss Buffay and I played and I laughed the whole time. My dog is INCREDIBLY smart. Okay I know I sound like one of those crazy parents that says "my child made the honor roll", but really everyone agrees this little dog is super smart. Here we are playing with various toys.
 Tugging on a snake
Tugging on a pig
 She needed a breather.
I just giggle watching her. She's so goofy and entertains herself most of the time. Her new favorite toy? Not a toy at all. It's the top of the olive oil spray. KIDS!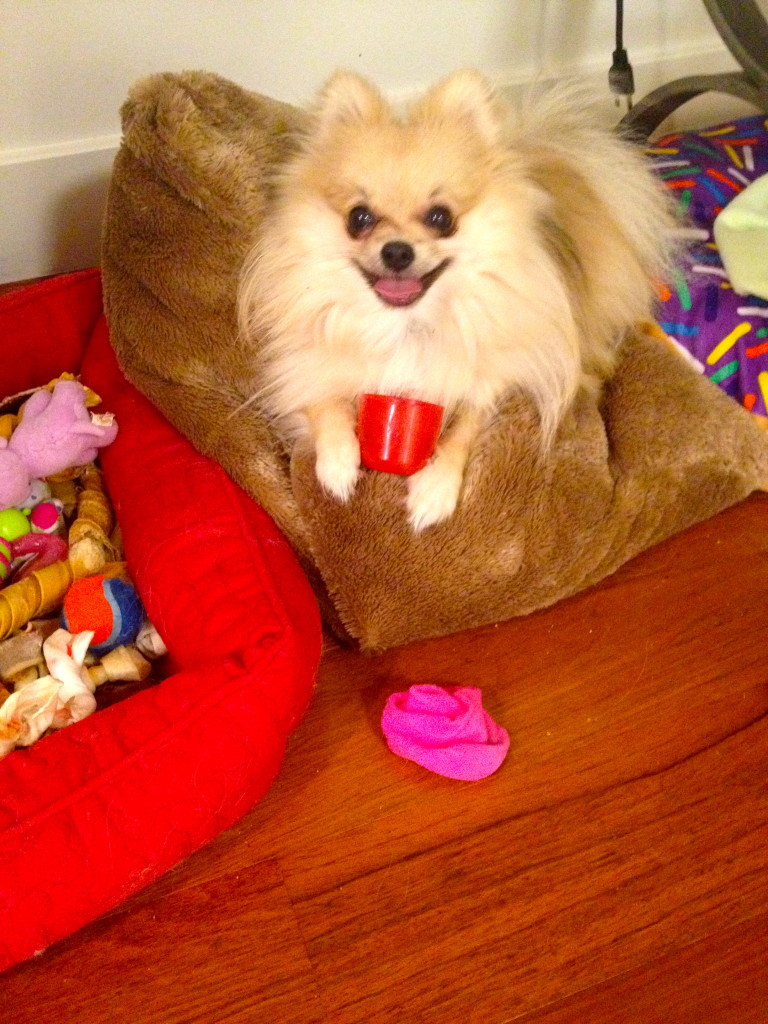 As my mom pointed out, she has that whole bed of toys to the side of her and she wants the darn top of an olive oil spray can. I call it her "cup". Oh and a sock. She never chews them, she just likes to take them fresh out of the laundry.
I hope you are all working out on this Wednesday! What's that the camel says on those commercials? "Guess what day it is!?" " It's HUMP DAY!"
Have a great one. See you back tomorrow
XOXO With a Cherry On Top,
-Minnie