Not a Sucker
Hey Bloggies,
Thankful Thursday has hit. I always say Thursdays are tough but I am thankful it has arrived. I've been such a good little girl about gymming this week and staying on track with my diet. No gymming is not a word, but let's just go with it.
I'm on day 6 of being positive Polly and happy Holly and to tell you the truth I feel better all around. My skin feels like it's clearing up, I'm not as exhausted and I have more energy to workout, Phoebe is getting WAY more attention, and I'm in a better mood at work even though things haven't gone as I would like. Nothing a good attitude won't fix. So in a funk? Feeling down? Flip the switch. I honestly was VERY lost and no matter who tells you that you need to change, it's up to you to do it. I had to realize myself something was off and want to feel better for me, not anyone else. It took time, but that's life! I've worked hard to be me, and I'm not a sucker. I control my fate 🙂
Speaking of suckers. I had a flu shot yesterday at work and couldn't resist the lollipops in the bowl. Kid at heart! One little lolly I don't consider a cheat. And it was just one of those teeny Dum Dums. Strawberry of course!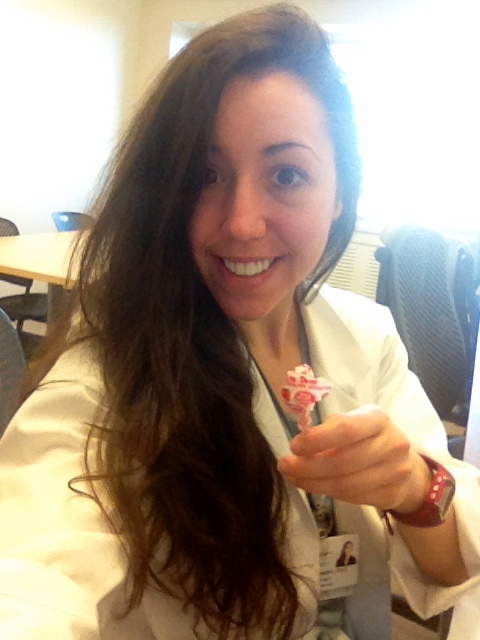 Itty bitty sugar snack!
 I did have regular food. Here was some of my food throughout my work day:
 Egg White Frittata (topped with some light cream cheese. My favorite!) and overnight oats with berries.
 Bison steak, freekeh, broccoli.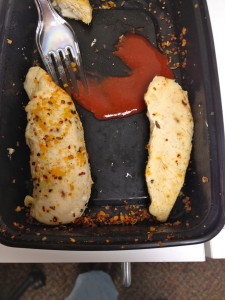 Chicken tenderloins with sriracha for my pre-gym snack. It really makes a difference!
Since I had my flu shot, I made it a short leg day. I knew Wednesday was flu shot day so I made sure arms and chest were done for the week in case I was sore. Heck yes I worked my gym schedule around the flu shot. I'm just prepared!
Here was my leg workout:
Alternating side squats, 50 lb barbell, 20 reps x 3 sets
Good Mornings, 50 lb barbell, 12 reps x 3 sets
Deep bosu squats, 12 reps x 4 sets
Plie squats holding 35 lb plate, 12 reps x 4 sets with 2 sets of pulses (10 pulses for each set)
Smith squats, 115 lbs, 8 reps x 3 sets
Smith Calf raises, 115 lbs, 12 reps x 3 sets
Smith-Alternating step back lunges, 95 lbs, 10 reps x 2 sets
Box step ups with 15 lb kettles, 8 reps x 4 sets
Leg extensions, 80-95 lbs, 10 reps x 4 sets
Cardio: 20 minute HIIT on spin bike, 15 minute treadmill walk on an incline.
I didn't take any gym pictures because I was trying to get in and out of there! I snapped one with Phoebe when I got home though 🙂
I made dinner (Phoebe had turkey bacon- don't judge us!) which consisted of veggie rice paper wraps and some ground turkey meat with spices. I also had a little side of miracle noodles with salsa.
 I was in the mood for something SWEET, so to satisfy my sweet tooth I made a fluff 🙂
Then I heard a whimper… I know Phoebes different cries. Immediately I thought, uh oh the laundry basket.
 Not only does she jump in there, but she knocks all the clothes out too. Trouble maker!
My night ended with surfing the web and I came across this little gem that was a part of an article called "40 things that will make you feel old". This one hit hard…
 BEN WOULD BE 18!? Holy cow!
Anyway, I'm going to end today by saying don't believe everything you see on the internet, in magazines, or on tv. Angles are amazing things, and so are certain mirrors. Just look at this picture I took of myself.
 I could be on catfish! This angle makes me look EXTREMELY teeny, when in reality I have a normal healthy figure. So never compare yourself to things you see out there! Half the time it's not even what they really look like!
Have a great Thursday 🙂
XOXO With a Cherry On Top,
-Minnie